With the popularity of hammock camping increasing, there are so many pieces of cool gear for hammock camping on the market today. I've done my research and I will share with you the pieces of gear that I thought were the most interesting hammock camping products around.
This list is different than the list that I previously wrote about accessories. On that list, I tried to think of gear that was practical around a campsite, specifically a hammock campsite, and on this one, I've listed gear that I thought was cool, although you wouldn't need every one of these items.
The following items are listed in no specific order as I find all of them to be really cool pieces of gear.
Now without further Ado here's the list;
Our Top Picks
16. Hammock Specific Pad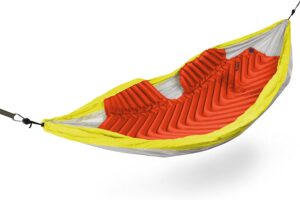 I've mentioned in a number of different posts in the past that it is important to have something to insulate yourself from the air on the other side of your hammock. Most people will do this with a camping pad, in fact, that's what I used when I went camping in my hammock the other day.
The problem with using a regular camping pad is that it is hard to keep it in place and it is easy to fall off of if you're moving around in your sleep. Besides that issue, they also aren't wide enough for most people's upper body and you may often find your arms and elbows sliding off of the pad on to the cold hammock fabric.
For people who are finding this to be a big issue, there is a solution for you; pads made specifically for Hammock Camping.
These types of products are all different. Something like the ENO Hotspot is made to be used with a regular camping pad to make it more suitable for hammock use. There are also pads like the Klymit Hammock V Sleeping Pad or the Therm-A-Rest Slacker Pad that are made specifically for Hammocks.
15. ENO Fuse Tandem System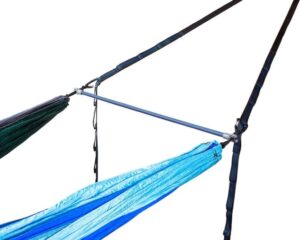 There is nothing else like the ENO Fuse Tandem System, at least not that I was able to find.
Anyone who's tried to camp in a hammock with two people knows that it is a very difficult thing to accomplish; even if you have a two-person hammock. The fuse hammock system by ENO tries to solve that problem by allowing you to hang two hammocks side by side from the same trees.
Although you won't be able to be inside the same hammock with another person, two people can use one set of anchors and still feel intimately close. In my opinion, this is better than the other solution that I've seen which are setting up a hammock directly on top of another.
The fuse tandem system is easy to use. It basically works as a spreader bar at one end of the suspension.
14. ENO Roadie Hammock Stand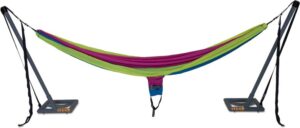 This is another really cool piece of gear from ENO only this requires that you are using your hammock beside your car. I personally have not used the Roadie Stand as I primarily backpack but I think it would be really cool to have if you normally stay at a pull-up campground.
The stand Is designed so that you drive your car onto the base of the two separate poles of the stand so that your tires hold them down. Then all you have to do is hook up your hammock and you can sleep right there right beside your car. This is perfect for when the campsite that you rented doesn't have any trees.
Two big things you would have to take into account before you buy this product is the length between your two tires (front and back), and the price of the stand.
13. Ridgeline Pocket

A ridgeline pocket is one of the most convenient things that you can have when you are camping in your hammock. That's why I make sure to always have a ridgeline even in a hammock that comes without one.
In the ridgeline pocket, you can put anything that you need to keep dry or keep with you. I personally like to keep my alarm in here when I sleep, as well as my flashlight and a bottle of water.
The ridgeline pocket Is perfect for anybody that doesn't want anything in the bed of the hammock while they sleep but have items that they may need to have close to them.
12. ENO Nomad + Shelter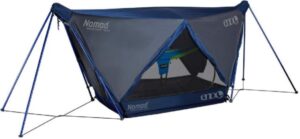 The ENO Nomad shelter system is another product that I probably wouldn't buy due to the size and weight but it is cool nonetheless. The Nomad shelter system is composed of The Nomad stand (sold separately from the shelter), as well as a bug net and a fly with two vestibules. It also has a waterproof floor.
I think that this is interesting because to me it looks like a tent in which you set up a hammock inside of it. This product is it definitely not ideal for backpackers or thru-hikers but seems like it would be awesome for people who'd like to camp in luxury.
11. Hammock Socks
Hammock socks are pretty cool and useful too. These socks can be used to protect yourself from the wind and from bugs and they are usually not too heavy.
How hammock socks generally work is that they are placed on one side of your suspension and then pulled down over the hammock when it is needed.
Another item coming up on my list, the Cocoon, is also pulled over the hammock in a similar way, although it is generally not left sitting at the bottom of your suspension when it isn't being used.
10. Tentsile Hammock Tents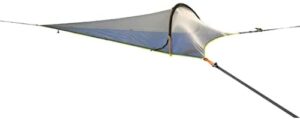 The Tentsile hammock tent is another piece gear that I have yet to try but would very much like to. These are hammock tents that use three or more anchors and can generally hold much more weight than a traditional hammock.
When I said above that it is uncomfortable to sleep with two people in a hammock I did not have these hammock tents in mind. Not only do they make hammock tents that can hold two people, they also make ones that can hold three!
One downfall of the Tensile line of products is that they are not as cheap as some of the other hammocks that you can buy. Another potential downfall that I can think of is that you need more trees and more space, therefore, it might be harder to find places in the bush to set up this tent.
Either way, at this point in time, the reviews that Tensile Hammock Tents have been getting seem to be pretty good. I can't wait to try one out!
9. Adjustable Suspension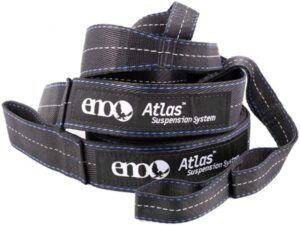 When it comes to hammock camping I feel that adjustable suspension is a must. Pieces of gear like Whoopie Slings make things so much easier when it comes to having adjustable suspension. You especially want to have an adjustable suspension system if you are not using Ridgeline so that you can get your sag the way you like it.
Although I have promoted the use of whoopie slings many times, there are other methods of setting up an adjustable suspension system. Some people install buckles onto their straps, and some people may tie adjustable hitches in the cord of their suspension.
Whatever you do you're going to want to make sure that your suspension is adjustable so that you can reach the maximum level of comfort with minimal effort.
8. Ultralight Hammock Stand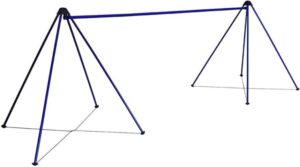 I've mentioned this particular stand in the past, It's manufactured by DD hammocks and it is called the Ultralight Hammock Stand. I have seen pictures of people using this, and promotional videos from the company, however, there does not seem to be enough reviews out yet for me to determine whether or not this is worth buying.
If this product does turn out to be easy to use then to me it would be a game changer. I feel that way because this stand is so much lighter than anything else and as far as I'm concerned it would be the first backpack appropriate hammock stand that I've seen.
7. Micro Carabiners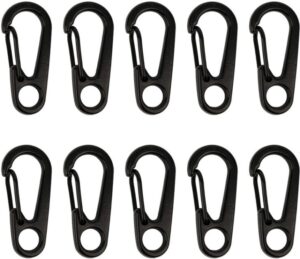 Micro carabiners are a must-have piece of gear for Hammock Camping. They can be used to hang almost anything to the ridgeline that you can't keep in the ridgeline pocket that I mentioned earlier. That isn't the only thing they're used for though, you can really use them to attach anything to anything around your camp.
The reason I am into micro carabiners is that they are so lightweight. I prefer to only use heavy duty carabiners when I need to support my weight. When it comes to hanging pieces of gear, even plastic ones will work most of the time.
6. Hammock Repair Supplies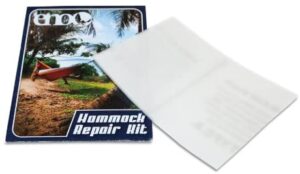 When you're taking a hammock camping, particularly a parachute hammock, it is very easy to get rips or tears in the fabric. With some hammocks it's easier than others, however, the risk is always there.
Most of the times that I have seen a hammock get ripped or torn is because of one of two reasons; punctures and burns. Often a small hole in the hammock bed will become larger over time if it is not taken care of.
It's a good idea to buy a patch and bring it with you in case this happens.
5. Hammock Pillow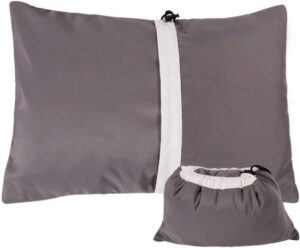 Camping pillows are awesome and this is especially true for camping hammocks. Just last week I had meant to bring one and forgot it at home. I ended up using my sweater inside a stuff bag instead. This was not near as good and a number of times I had to pull it up as I found it sliding down my back
A pillow will also help keep your head warm and up off of the cold fabric on the bottom of the hammock.
4. Hammock Cocoon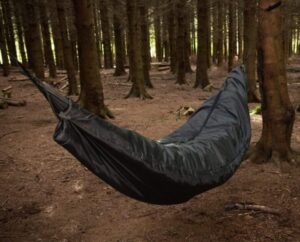 Hammock cocoons are pretty cool as I mentioned earlier. They're basically a top quilt and underquilt put together. The major difference is that instead of having your top quilt laying directly on you, it is covering your whole hammock set up instead.
Hammock Cocoons don't appear to come cheap and although I've seen many of these products on marketplaces I have not seen too many people using them.
instead of using a hammock cocoon most people would use either an underquilt or a sleeping pad below them, and a sleeping bag or a top quilt on top of them. Still, the hammock cocoon is one of the coolest inventions that I've seen lately.
There is also a home DUI method to making a cocoon. It uses a sleeping bag with a hole in ether end (there is already a hole in one end) and the hammock's suspension is fed through those holes.
3. Camp Slippers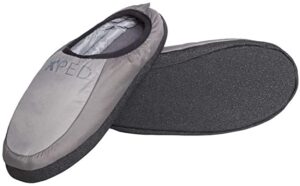 Camp slippers can come in downed or synthetic but either way, I would highly suggest this piece of gear. With these little booties, you can walk around your campsite and you can also sleep with them on without being uncomfortable.
I'm suggesting these specifically for sleeping as many people find that one of the coldest parts of their body at night ends up being their feet. Another issue that I've seen is people buying underquilts that do not cover their feet and these booties are a good remedy for that issue.
2. Quilts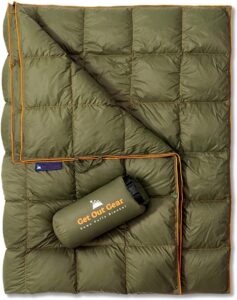 I've already talked about quilts, both when I was talking about sleeping pads and when I was talking about cocoons. I do think that quilts do deserve their own entry on the list though.
Underquilts are super cool and they are only used in Hammock Camping which makes them a unique piece of gear to the sport.
Under quilts are what I would personally recommend for most people. They are the most flexible and comfortable insulation source when it comes to sleeping in a hammock and they don't come with the breathability issues associated with sleeping pads.
If you are buying an underquilt you need make sure you look at the recommended temperatures for using it. Most people would also add another 10 degrees (Fahrenheit) as many people still find them cold at the coldest recommended temperature. ( I personally wouldn't use a 40-degree bag in 40-degree weather but I would use it in 50-degree weather)
1. Easy Hammock Straps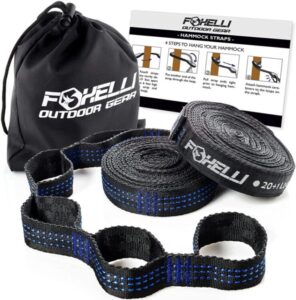 Easy to use hammock straps are probably the number one thing that I would recommend for somebody completely new to Hammock Camping. Straps like the Eno Atlas are easy to use and somewhat adjustable.
I say somewhat adjustable because how you adjust it is by unclipping your carabiners and then clapping them onto a loop either above or below the loop that you were just on. You don't have total control like you do with a whoopie sling, but you do have some degree of adjustability.
These drugs are so easy to use that it's almost impossible not to be able to figure them out and it's a great tool for somebody who doesn't know how to tie knots, hasn't invested in something like a whoopie sling, or someone who is just lazy and wants something super easy.
That's It
So those are the 16 cool pieces of gear that I was able to think of. I'm sure that I missed lots of gear that people find cool, so please let me know in the comments below. I would love to hear what your favorite piece of gear is.
Here are some other interesting models that you might like: