To make your camping trip memorable and successful, you need to pay attention from the very start. From the time when you are purchasing and packing the right things. It is the first and foremost step to make your camping trip perfect.
Some of the camping items are available that are designed for you to make your next camping trip more comfortable and convenient. They play an essential role in the ease and convenience of you and your necessities during camping.
No matter where your adventures are taking you, with these gears and items, you will be in the most comfortable position throughout your camping. Furthermore, these gadgets would be the best and unique gifts for those who love outings.
We are elaborating seven versatile and unique items that are available at affordable prices on Amazon. Get them and double up the fun of your camping by making each movement with peace and ease.
Must-Have Gear and Equipment for Your Next Camping Trip
Here is the list of 7 unique and necessary camping items for your next camping trip to make your camping trip perfectly comfortable.
1. Ozark Trail 10-Person Dark Rest Instant Cabin Tent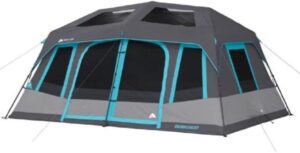 Cabin tents that are instantly created are an essential part of your camping trips. You will not only feel comfortable by setting them up in no time but they also save you from hustle and effort. They are remarkable in terms of speed and saving up your time. What you need to do is to unpack this instant cabin tent and assemble it within a few minutes.
This Ozark Trail Instant Cabin Tent gives you a space of convenient sleeping for up to ten persons. The stuff used in manufacturing this tent is highly durable and sealed enough to stop rain from entering inside. No assembling is required because the poles come pre-attached to the tent.
Furthermore, it has been observed that the tent is all set up to use within only 60 seconds. The total weight of the tent is only 20 pounds making it very convenient to move from one place to another. Polyester fabric and alloy steel used in manufacturing the tent makes the tent last longer than other tents and survive any harsh environment.
Pros
Durable
No assembling is required
Space for up to ten persons
Ozark Trail 10-Person Dark Rest Instant Cabin Tent is the first and foremost item I want you to pick up for your next camping trip. Being light in weight, this tent is easy to carry essential, and the material used in manufacturing makes it durable. Moreover, it can provide you with a comfortable sleeping space for up to 10 persons.
2. KLYMIT Static V Camping Sleeping Pad,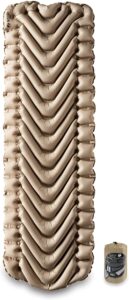 This is another essential gadget which you should have with you during camping. It is a lightweight sleeping pad used to put either on the tent floor or directly at the camping site. This sleeping mat ensures you are not directly in contact with the surface. Furthermore, this mat which we are mentioning is elementary to use. It is the only air pad that is entirely packable and handy to take to your camping sites.
You can inflate it within only ten breaths, making it ready for use within no time and with no extra effort of setting it. Similarly, the deflation of this sleeping pad is also convenient with the wider opening, which makes it deflate within a few seconds. The body mapping technology is inbuilt in this sleeping pad, which makes your sleep more comfortable and relaxed, no matter at what position you prefer to sleep.
The side rails of the sleeping pads make sure you sleep in the central position. It also helps in blocking the air movement during turns. Furthermore, the v-shaped design on this sleeping pad helps in making your sleep more convenient. The material used in the manufacturing of this necessary product is 75D polyester which gives you an extraordinarily long-lasting and lightweight experience to make it easy to carry.
Pros
Lightweight and portable
Durable material
Body mapping technology
This sleeping pad is the best alternative to your mattresses during your campings. You can carry them anywhere around with you because they are light in weight and easily packable. Body mapping Technology, manageable inflation, and quick deflation make it more convenient to use.
3. Coleman Portable Camping Chair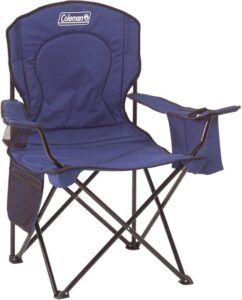 This is a portable camping chair which you can take anywhere during your camping. Even if you change your camping destination, you can take it as it is handy and foldable. An insulated cooler pouch is located under the armrests, which can store four cans and keep them chilled. So you can enjoy the chilled drinks and water anytime.
There are side pockets and cup holders also present surrounding the armrests. You can store your keys, headphones, and mobiles in this pocket and can use the cup holder for holding cans and cups to ensure they are in quick reach. The primary steel frame on which the chair is holding itself is solid and sturdy enough to carry up to 325 pounds of weight.
Additionally, not only the frame and pockets of the chairs are remarkable, but also the seat and the cushioning around the seat and back are well made. This made the sitting more comfortable and relaxed. Furthermore, you can fold the chair and make it handy so that you can take it around quickly with you. The seat is up to 24 inches in size, which is wide enough to hold healthy persons.
Pros
Cushioned seats
Side pockets and cup holder
Foldable and portable
This is another essential tool which you should always carry to your camping site. With this handy and portable camping chair, you can make your camping more comfortable. The robust frame and soft, comfortable seats of this chair make the chair ideal for sitting while camping.
4. Medical First Aid Kit
A medical first aid kit should be on the top of the list while packing your camping gadgets. This is the essential item you should keep with you no matter where you are traveling and how long you are planning to stay. This Swiss medical first aid kit gives you numerous essential items to deal with disasters and emergencies reliably and without panicking.
The quality of the product and customer satisfaction is what this Swiss company ensures in all of its products. There are numerous necessary items related to medical supplies which are helpful in any accident, traumas, emergency, and disaster. I am not elaborating on all of them but mentioning some of the most important ones, such as antiseptic wipes, alcohol pads, CPR masks, and multiple types of bandages.
It contains 120 total medical items to provide you with handy doctors in severely bad conditions. This medical first aid kit comes with organized compartments inbuilt in the box to ensure your quick access without any problem of finding the specific item. Furthermore, this also contains a mini first aid kit which has added 32 items that are amazingly lightweight and mini in size.
Pros
120 necessary medical items
Organized compartments inside
Includes another mini first-aid kit
You should always pack a medical first aid kit with you in your camping bag. This medical kit mentioned above contains 120 medical items to help you in any extreme condition. Furthermore, the compartments made inside the box are appropriately defined and organized to ensure no confusion in finding specific items.
5. BioLite Campstove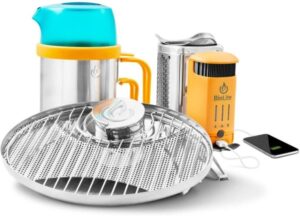 This BioLite Campstove is a versatile product that offers you multi-purpose functions to help you in your camping. It makes your camping more comfortable and complete by providing you with the necessities you need. It will not only help you in cooking stuff but also will help you in providing charging to your phones and giving the dark environment lights.
This is a very light in weight and portable camping stove which provides you with the energy to ensure quick boiling of water and cooking of food. This comfortability and easiness will make your camping feel like home. You can even charge your phone while cooking, and both can be done at a time. You will not only get the camp stove with this product but also will get Flexlight, kettle pot, and a handy grill.
This camp stove is upgraded to camp stove two, consisting of 50% more energy, LED dashboard, and inbuilt battery. Furthermore, this stove is an environmentally friendly product that makes 95% smokeless flames because of internal fans. The heat which is produced from the fire is converted into 3 Watts of electricity which is used for charging your mobile devices.
Pros
Multi-purpose features
Environmental friendly
Quick-cooking
This camp stove is another essential gadget you should take to your camping site to make your camping site more comfortable and relaxed. Furthermore, the product which we have mentioned here is a multi-purpose product which is not only used for cooking but can also charge your phones and is environmentally friendly too.
6. Cookware Kit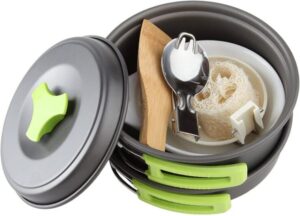 This product comes in a range of prices but is an essential and highly qualitative product to help you cook. It consists of 10 necessary products inside it to make your camping comfortable. It will make you feel that you are taking a mini kitchen with you. Bowls, spoon, spatula, sponge, nonstick pans, lid covers, and many other necessary items are present inside.
This massive product can be separated into smaller parts which makes it easy to handle and convenient to clean. It is the most lightweight, compact, and portable kitchen set, which you can carry anywhere during your camping trip. All the necessary kitchen wares are in perfect organization inside this bag to give you convenience and ease in picking up the one which you need.
No need to think about what is necessary and what is not. What is needed and what is not needed. Picks cookware kit and enjoy a handy approach to every necessary kitchen item you need during your camping time. Moreover, the material used in the manufacturing of the items and the bag itself is easy to clean and maintain.
Pros
It contains every essential item
Easy to clean products
Lightweight and compact design
This cookware kit contains many various sub-products inside to ensure you have all the necessary kitchen products which you will need in your camping. Furthermore, the construction of the products is durable and reliable in terms of cleanliness. The lightweight and compact design make the product convenient to handle.
7. COGHLAN'S 9961 Multi-Spice, Multicolor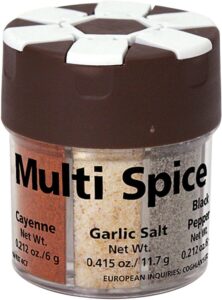 When you are planning for a camping trip, you should get this COGHLAN'S 9961 Multi-Spice, Multicolor, which is a set of multi spices that comes in a handy box. It comes with six basic spices, which are needed for basic cooking. Furthermore, you are not required to open them widely, as each different spice container contains a shaker lid present on the top.
There is Cayenne, black pepper, salt, garlic powder, curry, and paprika. Furthermore, other options are available for you with different sets of spices depending upon the food you are planning to cook. Go with selecting this product as it will benefit you in the long term if you are planning to stay for longer days.
It is an affordable product with multiple spices in handy package spices. Easy to shake, easy to pour with the top lid makes it more convenient to use. Moreover, the material used in the construction of this product is strong enough to withstand the abrupt movements during your journey and environmental conditions during cooking.
Pros
Multiple spices
Easy to pour
Availability of multiple sets
This is a great handy product that is a necessary one to keep in your camping bag. I recommend you buy this if you are planning to go on longer trips or shorter trips. An affordable and easy-to-use gadget that adds to the flavor of your foods.
Guide To Pick Gear and Equipment For Your Camping Trip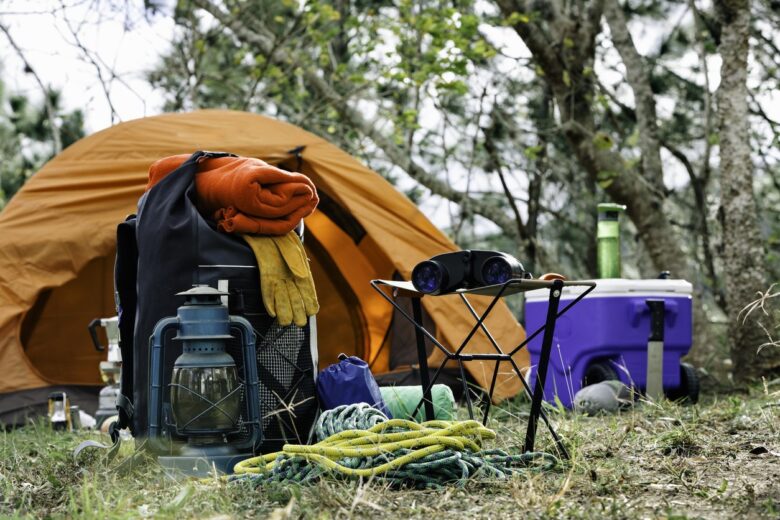 We are demonstrating here the questions which should be answered first and kept in mind to pack your camping bags with vital equipment.
How Long Are You Staying?
Ask yourself this question: for how long are you planning to stay at your camping site? In this way, you would know what gadgets are necessary and what are only increasing your luggage.
Because there are many products necessary for long trips but are unimportant for shorter or one-day trips, always keep in mind the days and weeks you are planning to stay out to carry the necessary gadgets only.
What Is The Weather On Your Camping Location?
This is another crucial question you should ask yourself: what is the weather on your camping site? After answering this question, you will know what clothes and equipment are essential according to the weather.
It is evident that in a hot summer climate, you will not take sweaters or ovens with you. So keep in mind that the weather at the location of your camping area is of high importance while buying the camping items for your camping trip.
How Many People Are You Camping With?
Before packing your final bags and purchasing items for your camping trips, ask yourself how many people would be camping with you. With the answer to this question, you will know how many items are necessary and will not carry the excessive ones.
Let's say if you are only two or three persons, then you definitely will not take a portable refrigerator with you or six portable chairs. And if you are more than 10 to 15 people, you will not take only one portable tent. So keep in mind how many people are you camping with.
FAQs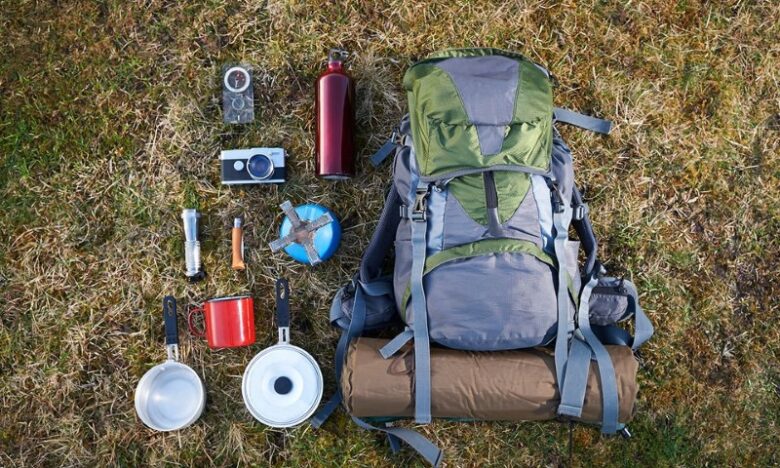 How much luggage should you carry with you in your camping?
Keep your focus on carrying much little luggage which only contains the necessary items. You would be pleased to maintain only little products and not deal with lots of mixed-up items. Moreover, it will be easy for you to maintain fewer gadgets and equipment instead of taking the whole house with you.
What to be kept in mind while purchasing the gadgets for your camping?
You should keep in mind some of the basic things regarding your camping trip. This includes the days you are staying put, the people you are camping with, and what is the atmosphere at your camping location. Furthermore, you should consider how much luggage you can maintain on your camping which should not affect your entertainment.
What are the necessary items to take with you on your camping trip?
The first and the foremost thing is the portable tents which should be light in weight and waterproof. Then, we have the sleeping pads, portable and foldable chairs, kitchen set, and medical first aid kit. These are the most basic and necessary items which you should not forget to take with you.
Final Thoughts
You will find this article a complete guide that is a must-read for you before packing your bags for your next camping trip. It contains seven unique camping products, descriptions, and advantages and disadvantages, which you should read carefully and understand thoroughly.
They are must-have equipment to make your camping trip highly comfortable and entertaining. Furthermore, we have some of the three basic questions which should be answered before getting the best camping products for yourself.
In the list below check more items you might need for your next camping trip: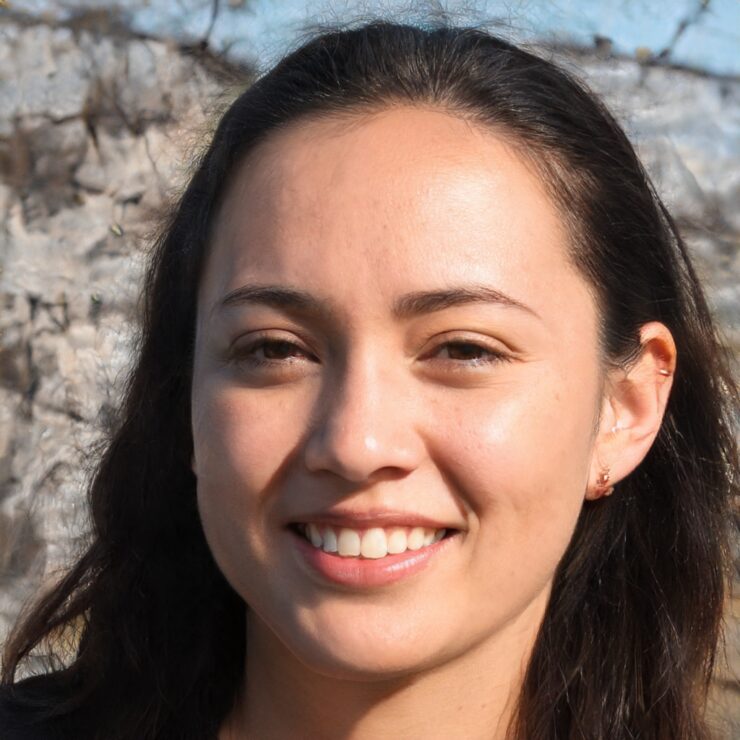 I am a passionate camping enthusiast and nature lover. I love the wilderness, solitude, and all the creatures who share my adventures!