When camping in larger groups or with family, a multi-room tent is by far the best solution you can go for. It offers lots of living space, privacy, and comfort, much necessary for an enjoyable camping experience. Today we are going to talk about the best multi-room tent for family camping trips you can get in today's market.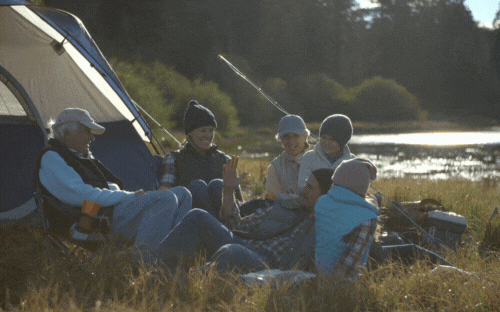 Although many people claim that larger tents ruin the charm of camping when you travel in larger groups, it becomes necessary to get enough room for everyone, and this is exactly where multi-room tents shine. They come in various shapes and forms, so if you plan to buy one, we will list you some of the best-reviewed units that will grant you extremely high value for your money's worth. So without further redo, let us get right into it.
List of Best Multi-Room Tents for Family Camping Trips
1. Coleman Camping 8-Person Montana Cabin Tent with Hinged Door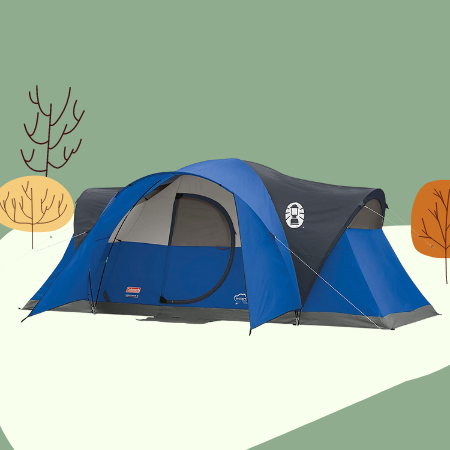 The Coleman Montana 8 is a fantastic multi-room tent that holds superbly against strong winds, and it is by far the best in this category. Despite that, this tent is pretty light but spacious as well, so it offers the best in various spheres that make a quality shelter unit.
Although it does not keep the rain out as good as it holds against the wind, it does offer sufficient protection from moisture, and it is much better suited for camping in desert environments. Many users claim that it holds well against the rain as well, but just to make sure, you can strengthen it with some seam seal and a tarp.
This unit is packed with tons of useful and cool features such as built-in lighting and an e-port that can supply you with electricity for lamps and electronics of different sorts. The tent itself is rather roomy and is suitable for eight-person max, so there is plenty of space to provide everyone with comfort and privacy. The price is also more than fair, so when you get a chance, check this tent out.
Pros
Lightweight
E-port for electricity supply
Built-in lighting
Holds excellent against the wind
Cons
It does not hold very good in rainy condition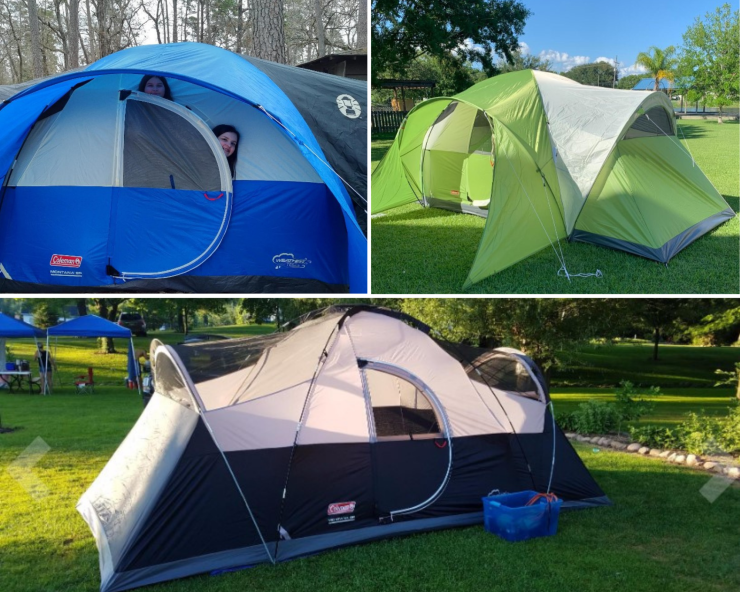 2. CORE 12 Person Instant Cabin Tent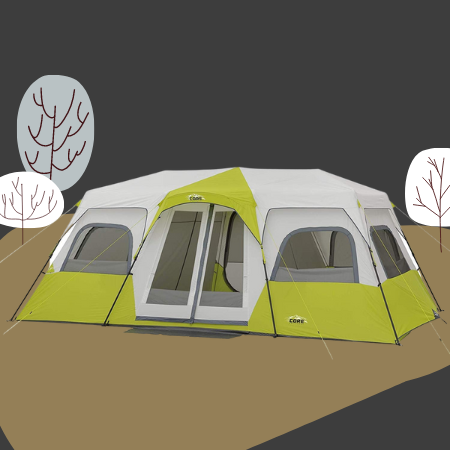 If you are not a fan of spending time getting your campsite up, then this multi-room tent might be exactly what you are looking for since you can assemble it in just a couple of minutes easily. It comes with a pre-assembled frame, so the whole process of setting it up is truly effortless.
Since it has 18 x 10 ft dimensions, this unit can accommodate up to twelve persons. However, if you want to get the best comfort with this tent and take full advantage of the rooms, it is best suited for four to six people. Each room has enough space to store a bed, so you have many options to go for in this regard.
This unit has two double doors that will grant some extra privacy for its residents, and there are also mesh windows that provide excellent ventilation and air circulation. This product is not without its flaws since it is only water-resistant and not fully waterproof, so if you plan to camp in rainy conditions, make sure to get fully taped rain fly and sealed seams for extra protection.
Pros
Very fast setup
Excellent ventilation and air circulation
Spacious
Tall
Two entrances for more privacy
Cons
Not waterproof
A bit heavy
3. Browning Camping Big Horn Tent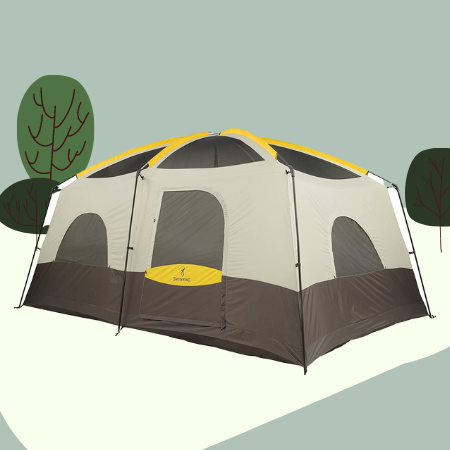 Coming from the Browning store, this two-room spacious tent offers a set of features that any modern camper will certainly appreciate. This tent is constructed with sturdy fiberglass poles and steel upright supports, so it is highly stable and holds excellently in harsh weather conditions.
This unit is rather roomy, and it comes with a room divider that grants some extra privacy for its occupants. It has a tall center height, so everyone in the tent will be able to stand upright and enjoy the utmost comfort this tent can provide. There is also plenty of room for your supplies, belongings, and mattresses due to plenty of space.
You will find six large mesh windows on this tent, so you can rest assured that there will be plenty of air circulation to minimize the risk of condensation, which is rather important for the tent's overall lifespan. There are also two doorways to make it easier for all occupants to get in and out. The one drawback is the rain fly design since it only covers the mesh roof leaving rather large windows exposed.
Pros
Two doors for easy entry and exit
Six mesh windows for superb airflow
Room divider
Lots of natural light
Cons
Rain fly covers only the mesh roof, so the unit does not stand well in storm
4. Ozark Trail 20 Person Cabin Tent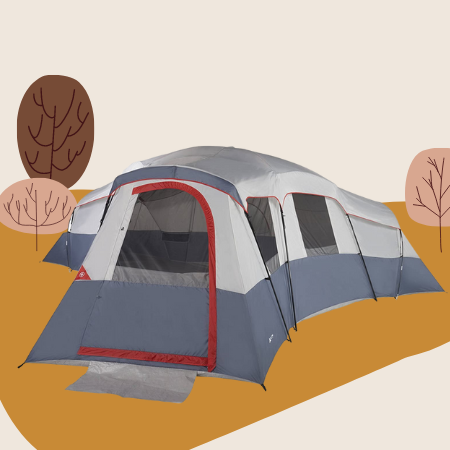 This multi-room tent offers numerous luxuries that you can enjoy in cabins without sacrificing the great time you can spend outdoors and the beauties that come with it. It is a massive tent that can host up to twenty people in sleeping bags and six huge airbeds, making it an excellent shelter for larger camping groups.
This unit was constructed with utmost comfort for its residents in mind, and it checks all the boxes necessary for a quality camping trip and then some. There are three entrance doors, and everyone can get in and out completely hassle-free; plus, you get three removable room dividers so that no one lacks privacy.
You also get two gear hammocks and four convenient pockets for extra storage space. There is also an attached mud mat at the entrance to reduce the amount of dirt you will bring to the cabin. You will find eight large windows truly accommodating as there will be plenty of natural light and airflow to go around.
Pros
Removable room dividers can make up to four rooms in the cabin
Spacious
Gear hammocks and four pockets
Mud mat
Excellent center height
Cons
It takes a lot of time to set up
Bulky and heavy
5. Coleman WeatherMaster 6-Person Tent with Screen Room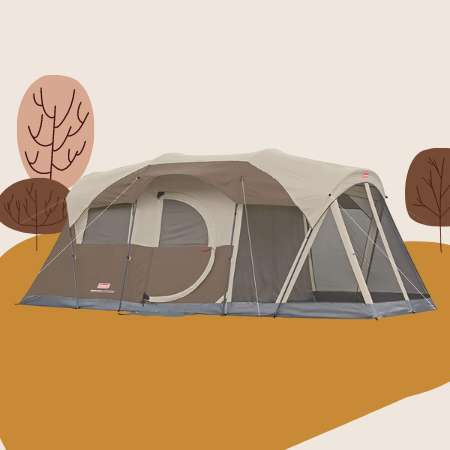 Coleman WeatherMaster is a perfect pick for anyone that loves outdoor adventures but hates the fact they have to deal with a lot of insects. It provides excellent protection from such pests and offers a screen room and plenty of space for a camping trip with family or larger camping groups.
It is a tent with a porch and two bedrooms, offering you great accommodations and lots of comfort and space. The screen room is covered with a rain fly, so you will be able to sit outdoors even when the rain is pouring. The auto-closing screen door is a nice little touch as it makes entering and exiting the tent much more convenient.
The rain fly has zippers and sealed seams, making it easy to put on the tent and improve on water resistance. It is a tent suitable for camping in a light rain environment, but when it comes to heavier rains and storms, it tends to leak, so it is recommended to use an extra rain fly or seam seal.
Pros
High-quality tent poles
It comes with a carrying bag and a rainfly
Plenty of storage space
E-port
Great air circulation
Cons
It does not hold up well in storms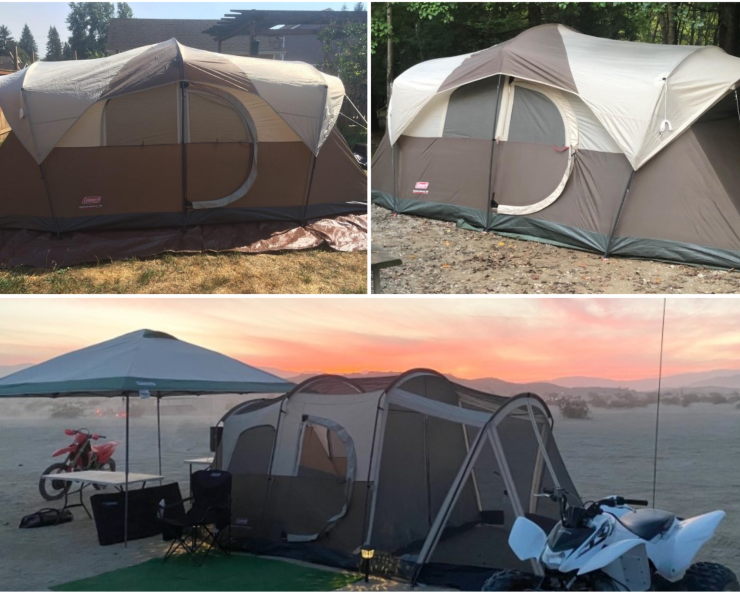 6. CAMPROS CP 8-Person Camping Tent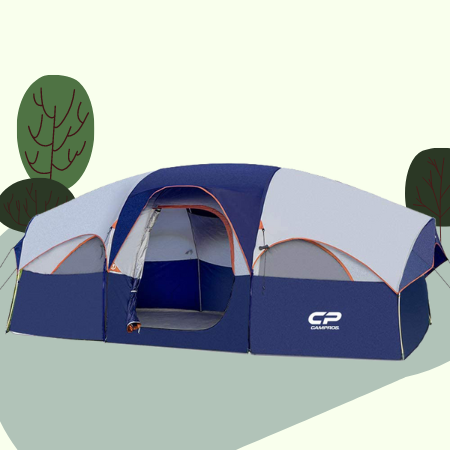 Camprops CP is a perfect choice for campers that require a lot of space but are tight on the budget. This is a spacious 8-person camping tent that comes with a room divider, allowing you to create two separate rooms. The divider hangs from the ceiling and is super easy to set up.
The whole unit is made from durable 185T polyester that grants excellent durability and weather resistance. The tent also features a 1000 mm PU coating which is a superb solution for rainy conditions but does not hold particularly well during storms.
You will find five mesh windows and a mesh top in this unit for better airflow and beautiful views. Another noteworthy thing is that this tent is very light and very easy to set up, so you will start your camping experience in no time once you find the perfect location.
Pros
Lightweight
Cost-efficient
PU coating for protection against light rain
Included carry bag
Mesh top and mesh windows for better air circulation
Cons
It is not stable in storms
Only one zipper on the door
7. Ozark Trail 10 Person Tent 3 Rooms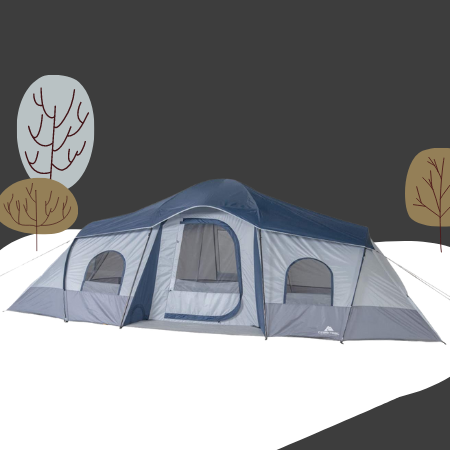 Ozark Trail 3-room tent is a cost-efficient, roomy, and valuable model packed with numerous features that will improve your camping experience and provide you with utmost comfort. It is a 3-room cabin tent split with two removable room dividers. This unit has a large door in the center section that grants access to the main area of the tent.
There are also two entrances that grant some extra privacy to the separate rooms and make getting out during the night hours cause much less disturbance and commotion for the occupants. It can store up to three mattresses and has a lot of storage space for your supplies.
The unit is only water-resistant, not fully waterproof, so extra rain fly will likely be necessary if you want to camp in rainy environments. It is a well-designed unit that is very easy to set up and use. You will quickly get used to it and take advantage of all the features it comes with.
Pros
Cheap
Two side doors for extra privacy
A lot of storage space
Lightweight
8. Fortunershop Family Cabin Tent 14 Person Base Camp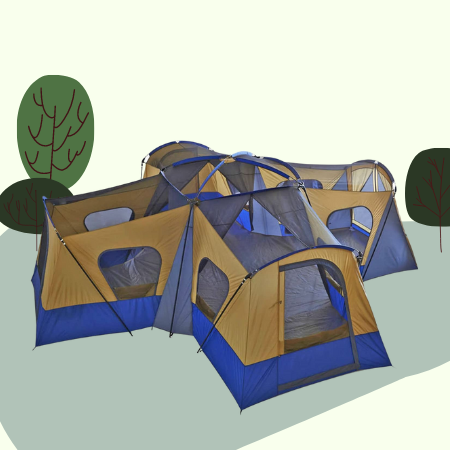 Fortunershop family cabin tent is one of the biggest units on our list, and it is able to house 14 people and can be divided into four separate rooms to grant privacy for the occupants. What separates this tent from the pack is the fact that it has a designated living room area that is also highly functional.
It is a perfect multi-room tent for families and larger camping groups due to its generous space and plenty of storage room for supplies and gear. The unit can hold up to five mattresses, and there are twelve windows and a mesh ceiling to provide you with superb ventilation.
Lastly, this tent features four doors at each corner, making it unbelievably practical and convenient, especially when you have to go out of the tent during night hours but do not want to stir the commotion. It is a 3 season tent that holds up well in various weather conditions, and it is a unit well worth checking out.
Pros
You get a door for every room
Several room divider options
Lots of storage and living space
Drink holder pockets
3 season tent
Cons
It takes a long time to pitch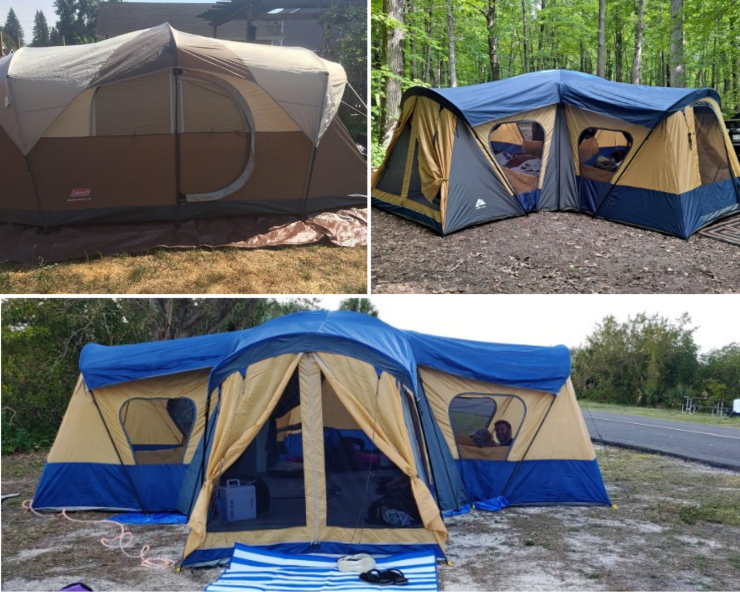 9. Ozark Trail Hazel Creek 12 Person Cabin Tent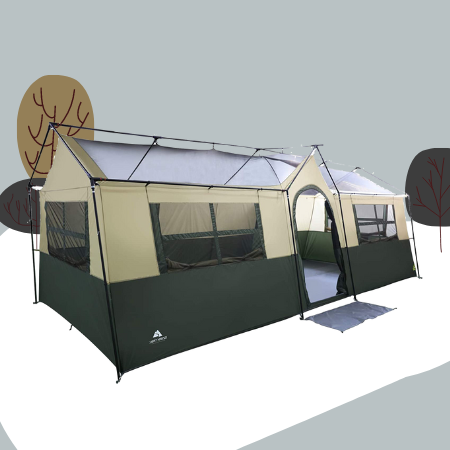 Coming from the OZtrail store, this spacious tent is one of the best choices when it comes to holding up against harsh weather. You can house up to 12 people in it and divide it into three separate rooms to grant everyone privacy. It is a luxurious unit that offers everything you can think of for enjoyable camping, completely hassle-free.
Another great thing about this unit is its ample storage space. There are hanging organizers, corner organizers, mesh pockets, and pockets for phones and other electronic devices. As we mentioned, this cabin tent can be divided into three rooms, and one of the dividers is colored in silver and can serve as a movie screen, which is a nice little touch.
Overall, this is an excellent tent for family and large group camping, and it offers a series of cool features that every experienced camper will appreciate. It has plenty of living and storage spaces that you simply cannot beat, especially at this price.
Pros
Plenty of space for storage
Movie screen divider
Spacious
Great ventilation
Things to Consider Before Purchasing a Multi-Room Tent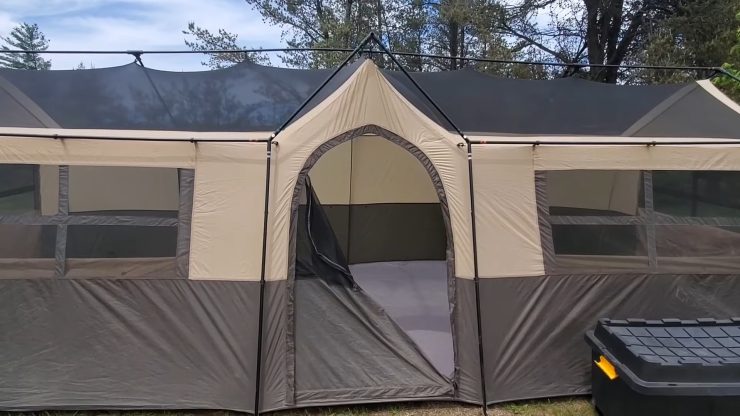 Multi-room tents are luxurious units that provide lots of cool features, and as such, you should look for ones that will provide you with anything you need for camping. In order to help you with this choice, we have assembled a brief buying guide you should follow in order to get the best value for your money's worth.
1. Size
The size of the tent you want to pick entirely depends on the camping group you want to bring along with you. It is wise to always go one up from the recommended capacity. For example, if you are bringing a camping group of four, look for a tent that can house five or six people to ensure everyone gets comfortable.
2. Number of Rooms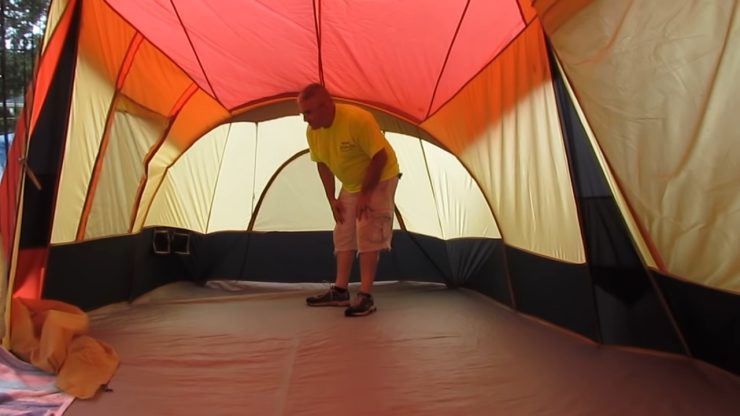 This is another factor that depends on how many people will stay in the tent. For example, if you are going with the family, a three-room tent will offer you sufficient space as you can put the kids in one, use the other room with your partner, and leave the third as a common space.
3. Doors and Windows
It is wise to pick a tent that offers several doors and windows. Extra doors are convenient when someone needs to leave a tent during the night hours and avoid disturbing other occupants. Several windows are a great option since they will improve air circulation and will bring you extra daylight.
4. Weatherproofing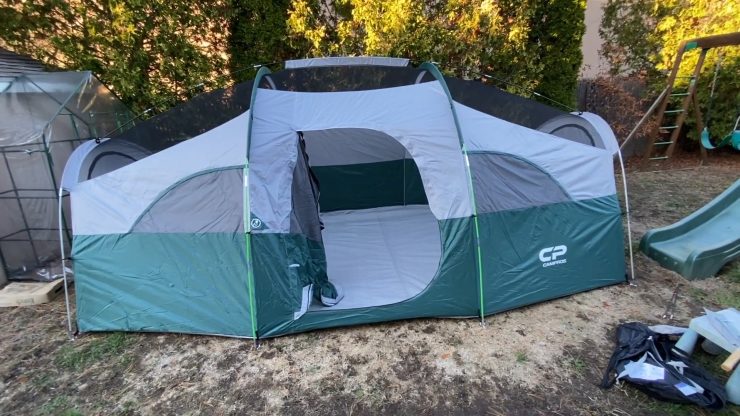 Since you will likely be camping in various weather conditions, it is highly important that your tent is weatherproof and can protect your gear from moisture. Invest in a tent that is water-repellant and has a rain fly. Look for the ones that are coated with polyurethane, as they are highly resistant to water.
5. Ease of Setup
A tent that will take much of your time just to set up is not something you want on your relaxing camping trip. Therefore, you should go for the one that is easy to set up. Although multi-room tents are quite big, there are still ones that can be pitched in no time, so pick accordingly.
Frequently Asked Questions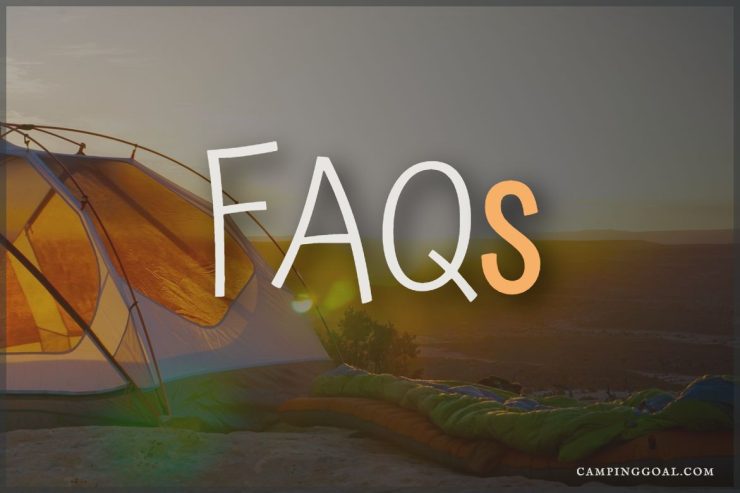 1. Why are multi-room tents good for large camping groups?
It is, of course, due to their size. These tents are pretty big and can house larger groups of people and give them privacy with wall separators and plenty of space to store their things and rest without any issues.
2. What to look for when buying a multi-room tent?
Look for a unit that offers excellent protection from harsh weather and that has ample storage and living space. Tent size is another of the primary considerations when purchasing such a tent.
3. How many people can fit in a multi-room tent?
There is no one-size-fits-all answer to this question, and you need to check the manufacturer's specifications before buying this unit. It is also important to know how many people you plan to house in it, as you can make a more educated choice when picking the tent.
Final Words
Multi-room tents are certainly one of the most luxurious and accommodating solutions for camping in large groups, and as such, you need to spend a lot of time researching to find an ideal unit. It is a significant investment, so take your time.
We hope you found our guide informative enough and that it will paint you a picture of how an ideal multi-room tent should look. In case you still have some doubts about the choice, please revisit our top picks and re-read our buying guide, as it will help you decide and get the highest possible value for your hard-earned cash.
References:
https://www.verywellfamily.com/planning-a-successful-family-camping-trip-1270694
https://www.cntraveler.com/story/family-camping-guide
https://www.aaa.com/traveltips/Planning-Your-First-Family-Camping-Trip-572007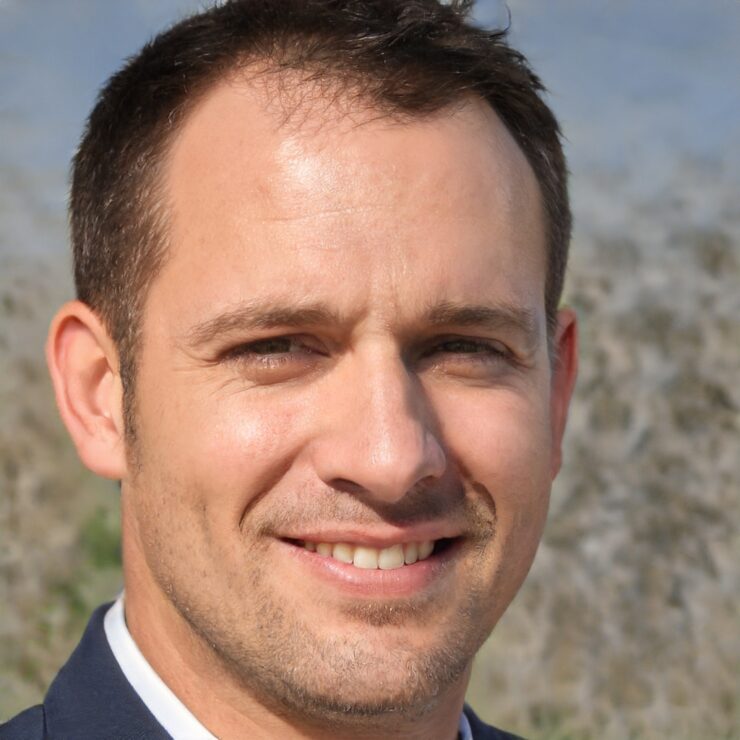 The outdoors is my playground 24/7, 365. Camping, hiking, mountain biking, grilling and all things related to the planet are my jam.