Camping is not only a fun activity but also a very educational one. Camping can imbibe values of survival and important lessons for making it out alive in life or death situations in the woods. One of the most important accessories to have during camping is the pocket knife. Not a normal kitchen knife, but an actual camping knife that can be very handy when needed.
The pocket knife intended for camping is made out of better quality metal and handled in contrast to the kitchen knife, which is limited to cut up food for the most part. Pocket knives meant for camping can be very useful for many situations and activities. Need to carve up a branch to make a fire? Need to scale a fish? Need to protect yourself from a wild animal? Knife to the rescue. Knives can be used for very simple activities, as well as essential ones like self-protection.
Hence with much haste let's dive into our top 8 picks for the best pocket knives meant for camping, brought to you with much thought and effort.
1. Helle Utvaer Knife

Helle knives, made in Holmedal Norway since 1932, is an extremely strong and durable knife. The blade is made from stainless steel which is highly resistant to corrosion and in general very durable. The blade is dropped point-shaped and having a V-grind blade edge making the Sandvik 12C27 knife Sandvik's most well-rounded blade expediting razor sharpness and exceptional hardness. It has a handle made out of curly birch and it is an excellent design choice as birch happens to have a straight wood grain, attractive pattern, light in color but also strong and durable.
It also happens to have good resistance to decay making it an excellent accessory to have during your camping adventure. It also comes with a genuine leather sheath designed by Jesper Voxnaes in 2014, who is widely considered the master of minimalism in nordic knife design. This is an extremely trustworthy brand as Helle knives have proven time and again their promise to uphold quality standards with their knives. The Helle knives go through forty-five different manual operations during the process of manufacturing. Their sheaths are made from specially tanned leather allowing you to feel the knife's quality while holding it. A must-have for camping enthusiasts.
2. UST ParaKnife with 4 Inch Serrated Blade

The UST Paraknife is a force to be reckoned with. If a statement were to be made about utility and economy it would have to mention the UST Paraknife. Designed to have a 4-millimeter thick stainless steel serrated saw-like blade edge for cutting ropes fast, this knife does an exceptional job at cutting fibers like ropes which happen to appear in abundance during your camping trip. It comes with a Magnesium fire starter which can start a fire up at a moment's notice even during the worst weather situations.
This is possible by using the blade to create sparks for the fire. It also comes with a parachute cord that can be unwound up to 6 feet during contingencies. The blade is coated with black oxide to prevent rust and corrosion. The core threads of the paracord serve as a multipurpose item of the knife. They can be used as a fishing line, sewing threads and so on. This knife also comes with a durable nylon sheath for travel and effective storage. This is a must-have for those camping aficionados that want a maximum utility for a cheap price.
3. Swiss Army Hunter Pro Alox Pocket Knife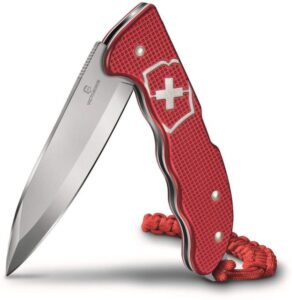 An absolute icon of quality and excellence, Swiss army pocket knives have been retaining loyal customers and keep adding more to their family since 1897. Of all the quality pocket knives designed by the Swiss army, the Hunter Pro Alox pocket knife is no exception. Designed to be very slim but at the same time highly corrosion resistant, the Hunter Pro heads a stainless steel blade that is razor-sharp and highly durable.
Easily portable, you can carry this pocket knife around without any hassle and is an excellent gift option as it is a multipurpose knife which can be gifted to young adults to help them use this knife in their day-to-day life. Extremely multi-purposeful, this knife is used from starting fires while camping to restarting engines and in space travel. Manufactured in Switzerland, Victorinox promises quality and lifetime guarantees against manufacturing defects and craftsmanship errors. Some of its key features are its large blade that can effectively cut things for you, a screwdriver which can be very handy in day-to-day life, scissors with sharp blades to trim leaves, cut papers, etc. It also has a bottle opener which can be very beneficial if you're about to pop a cold beverage with your friends.
An exceptional knife whose brand sustains itself on its 4 cornerstones – Quality, functionality, innovation and iconic design.
4. Gerber StrongArm Serrated Fixed-Blade Knife

One can only survive the harsh environment of the forests by not just working hard but working smart as well. This goes for camping as well. It is very important to optimally use every resource to ensure your survival or to just make your camping experience a pleasant one. The Gerber StrongArm knife promises to do exactly that. A blade that is innovatively designed to be of multipurpose in every situation. This knife is an all-in-one product that acts as the blade, sharpener, hammer, whistle and fire starter. Designed as a partially serrated blade, it serves both the purposes of rough and smooth cutting.
This means you can perfectly use this blade to cut both wood and vegetables alike. Innovated to have a comfortable rubber handle, this feature provides a non-slip grip while using your blade during an activity for precision handling. The hilt of the blade has a stainless steel pommel at the end of the handle which can be utilized as a hammer without compromising the very handle itself. Made out of a pyrophoric alloy (Ferrocerium) that creates sparks by oxidizing rapidly with a physical thrust which means that the knife comes with a fire starter for creating a flame during any predicaments or urgent need. It also comes with a nylon sheath that retains the blade on a click that sharpens the blade on the go. Another additional feature is the emergency whistle that can be used in times of danger or urgency.
5. Benchmade 15031-2 North Fork Knife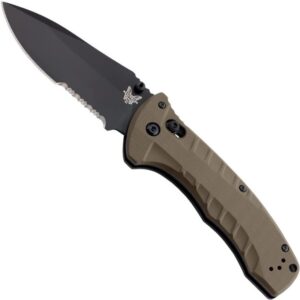 Available in jet black and beautiful olive green, the Benchmade brand is known for its heavy-duty and extremely durable pocket knives. Designed to last for virtually a lifetime, this pocket knife has one of the strongest locks in Benchmade's history. This is a very important feature as this allows users to make use of the knife in a rugged manner and it'll still hold its own. Equipped with an excellent handle for precision handling, it helps users to have an incredibly steady grip on the handle for intense circumstances.
It is made of G10 material which is a mesh of multiple layers of fiberglass impregnated with an epoxy resin binder the same material used in the manufacturing of gun handles, highlighting how durable of a handle the knife has. Made from CPM-S30V steel, the blade is extremely durable and versatile making it a multipurpose knife.
6. Spyderco Delica 4 Lightweight Signature Folding Knife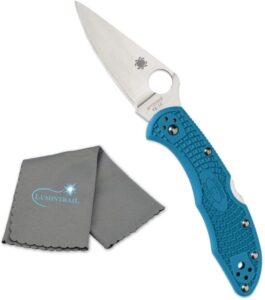 Rated a perfect score of 5 out of 5 stars, the Spyderco Delica pocket knife is available in black, brown, grey, purple, blue, green, orange and zome green. Made from VG10 which is the name of the steel manufactured by the Japanese company Takefu Special Steel Corporation which is one of the finest quality stainless steel for kitchen knives in particular.
It comes with multiple variations of steel for the blade as well as catering specifically to certain needs during your camping stay. The handle is designed to render a slip-free grip during usage. It also has Phosphor bronze washers for the open and close action making it smooth as a hot knife in butter. A necessary tool for fulfilling camping duties effectively and as well as efficiently.
Buyers Guide to Purchasing a Pocket knife for Camping
Purchasing pocket knives for camping, in particular, can be a little tricky as there are a few important factors that influence your purchasing decision. It is important to know those factors and know how they affect your buying decisions. If you're wondering what we're here to do, it is to put you out of your perplexity and bring clarity to the type of pocket knife that you see fit. Since you've come to this point I'll assume we can go down this rabbit hole right now!
    Identifying your blade needs
It is important to know the activities you want to undertake while camping. Based on this knowledge you can buy a pocket knife with the respective number of blades. There are single-blade knives that serve the principal purpose of heavy-duty cutting and carving. They usually have good lock mechanisms for rugged use with the only disadvantage being a lack of variety in usage.
Next up there are the multiple blade knives. They have two or more blades each with a different purpose. Depending on the brand there can be varieties of blade purposes. The final class of knives is the Swiss army and multi-purpose knives. This class of knives has multiple blades and multiple purposes. They can also have different tools altogether. For example, if you want a blade, scissors and corkscrews all in one you will want to go for the Swiss army knives.
There are three primary types of steel used in the manufacturing of knife blades namely Tool steel, Carbon steel and Stainless steel. A grade of tool steel A2 although cannot reach heights of hardness in contrast to other steel grades, it can, however, achieve extreme toughness. Carbon steel is an excellent choice for the type of blade steel due to the concentration of carbon in the steel which allows the blade to last a lot of wear and tear.
The most common grades of carbon steel are C1045, C1075 and C1090. So if you want to buy a carbon steel blade knife make sure to look for those grades in the product description. Stainless steel is the steel with chromium added into the regular mix of steel alloys that build a greater corrosion resistance. Make sure to look for grades 420 and 440 in the product description if you want a stainless steel blade for your knife.
Your price range determines the quality of the knife and the variety of use. from $30-$60, you find knives that suit everyday basic purposes. $60-$100 price range gives you knives that are of better quality than the previous range and the blades on the knives tend to be more lustrous. Anything above $100 is of high quality and a high variety of uses.
Conclusion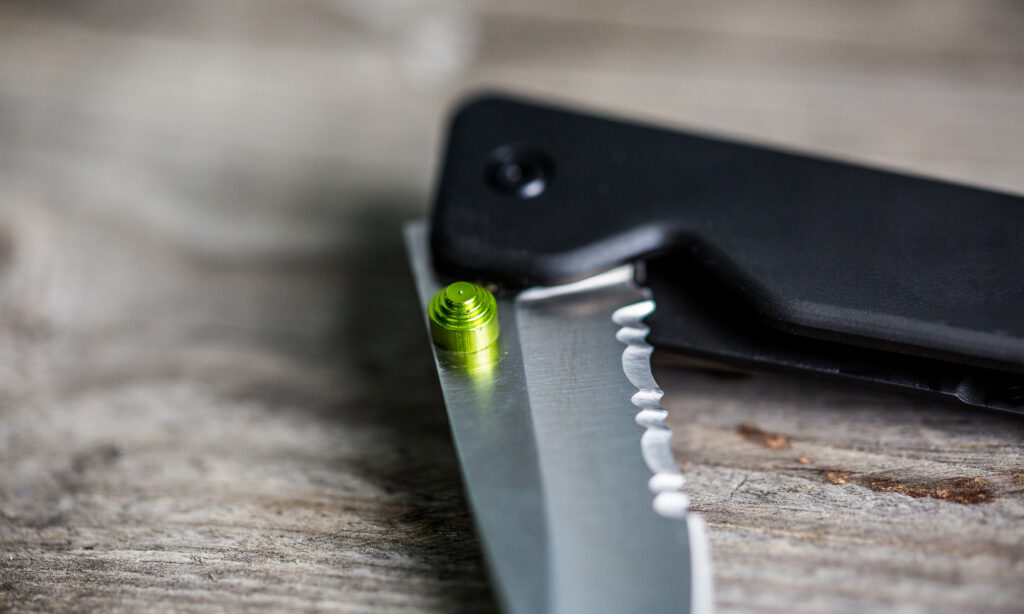 Picking out the right pocket knife need not be rocket science. A little bit of information and knowledge about the steel types and multipurpose benefits can go a long way in your camping experience. We hope we've helped you pick out the perfect pocket knife that suits your camping needs! Be sure to not cut yourself, these pocket knives can be extremely sharp you know? Happy camping!
FAQ's
    What are the three main types of pocket knives?
The three main types are multipurpose knives, jackknives and penknives.
    What makes a pocket knife illegal?
It is illegal to hold a pocket knife longer than 2 & 1/2 inches. It is also illegal to carry a razor that is unguarded without a sheathe.
Check out also: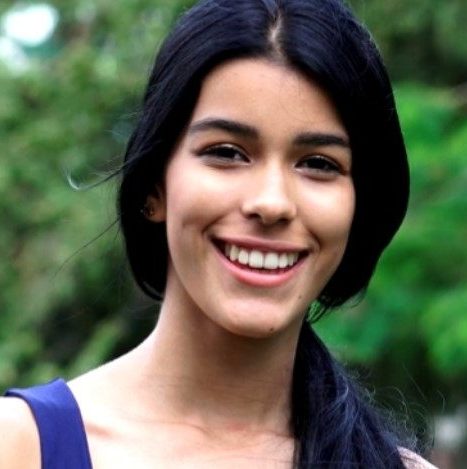 Christina Joyner is a seasoned expert for camping gear and everything related to outdoor adventures. With ten years of experience in this branch, she is an integral part of our team and author of comprehensive guides about equipment, best camping locations, and valuable tricks you should know when spending time in the wilderness.