Camping is always a joyous and revitalizing experience. The lush greenery, chilling weather, dramatic experience, wildlife, birds chirping, adventures, and many more.
The lack of food facilities and other luxuries at the camping pushes you to carry various tools like cutters, scissors, screwdrivers, bottle openers, and other camping essentials.
Yet, carrying multiple tools always isn't a piece of cake. Either for opening food packages or fixing fundamental tent issues, you need various camping tools.
But what if you've forgotten a bottle opener, knife, or any other camping essential tool? Instead of enjoying and exploring, you end up with unnecessary frustrations. Isn't it?
Have you ever experienced such scenarios? However, here's a multi-tool that comprises various camping tools into a single piece. The multi-tool made camping easier and effortless.
As you can avail of all the tools in a single device, it's easy to use, store, and fix basic to complex camping issues.
Top-Notch Camping Multi-Tools That You Shouldn't Miss Out This Year
Whenever you think about camping, your mind dreams up solid tents, scissors, cutters, screwdrivers, blah, blah, blah. However, the camping multi-tools mentioned here make the camping effortless, joyous, and memorable.
Either you're looking for razor-sharp cutters, robust scissors, or hard-gripping pliers, the camping multi-tools provide you everything that you need. In a nutshell, the below camping multi-tools are versatile, holding functionalities of various tools.
1. Leatherman Surge Heavy Duty Multi-Tool – Best for Heavy-Duty Chores
This is one of the best multi-tools holding 21 tools into one tool. If you're looking for heavy-duty camping multi-tools, this Leather Surge Heavy-Duty tool is your best choice.
Usually, this tool comes in various styles, such as stainless steel premium nylon sheath, stainless steel nylon sheath, black molle sheath, and finally, black premium nylon sheath.
The product has side pockets and comes with the highest warranty rate of 25 years. Finally, it's easier and convenient to use, even for beginners.
Quality:
The leatherman multi-tool is made of robust stainless steel blades and accounts for its durability. Due to the massive carbon percentage in the multi-tool, it prevents corrosion.
Similarly, sharp scissors blades, strong cutters, and screwdrivers make up the durable camping toolkit.
21-in-1 tool:
The multi-tool includes 21 various single-purpose tools into one. The multi-tool comes with strong pliers, scissors blades, knives, blade exchangers, and cutters.
Moreover, the tools are made from carbon and stainless steel. So, they have high durability and make camping effortless.
Lock security:
The lock security system prevents self-injury while working. The 21 tools lock in a place and ensure high safety.
Pros
The various tools don't interfere with other tools while working.
High-security lock mechanism
Corrosion-resistant tools
The tools don't crack or bend even if they're packed in heavy luggage.
All tools are easier to access
Highest warranty
Cons
The product is a bit heavier
Hard to use a saw and file at a time
2. Stanley Multi-tool – Best Product at an Affordable Price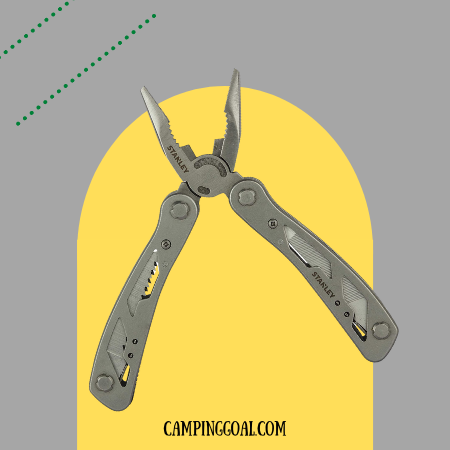 The Stanley multi-tool is another best camping tool for 2023. If you're looking for a cheaper, chic, accessible, and durable multi-tool, this is your choice.
The tool consists of 12 various camping tools, including bottle openers, screwdrivers, wire cutters, cork opener, saw, pliers, small knife, large knife, curve jaw pliers, and many more. The robust nylon holster and stainless steel material make the multi-tool durable.
Versatility:
The Stanley multi-tool acts as the best camping tool kit holding 12 multiple camping tools into a single unit. The ergonomic handles, strong outer covering materials, and stainless steel are great reasons to buy this multi-tool.
The tools are handier and easier to use. Unlike other multi-tools, this Stanley product is comfortable in hand without compromising on its efficiency.
The razor-sharp scissors, blades, cutters, strong-gripping pliers, and accessible screwdrivers are well equipped in the multi-tool.
Quality:
The sturdy and robust nylon material and stainless steel construction contribute to the product's high durability. Moreover, these materials make the product more accessible and easier to use. It's the best value product at a lower price.
Pros
Well-built product with athletic materials
Inexpensive
Durable
The tools don't interfere with one another while working
Best for beginners'
Cons
The screwdrivers are less quality compared to other tools
Before using the product tools, the pliers need to be activated
3. WETOLS Multi-Tool – Premium Choice for Best Camping Experience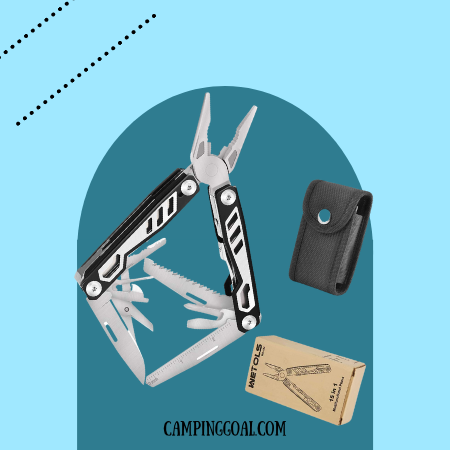 Wetols multi-tool is a brilliant product because of its versatility, premium quality materials, and features. This is a multifunctional 15-in-1 multi-tool.
The comfortable construction, high-security mechanisms, and premium camping tools are the best reasons to buy WETOLS multi-tool. If you're looking for a premium camping multi-tool, then don't miss out on Wetols multi-tool.
Versatility:
The Wetols multi-tool holds 15 camping tools with ultimate features. Moreover, the product is well-built, lightweight, and compact. So, it's easier to fit in either tight or free baggage.
As it's foldable, the product fits anywhere without a hitch. The product holds needle-nose pliers, combination pliers, sharp scissors, slotted screwdrivers, robust and chic design bottle opener, can opener, saw, metal file, and other essential camping tools.
The product has a unique feature to tie to the belt, ensuring high accessibility.
Quality:
The product is made of craggy and robust stainless steel with a 3D texture. The product tools don't deform though they fall from paper building floors.
Also, the tools are sandblasted and prevent corrosion and oxidation reactions. In a nutshell, you'll enjoy high durability and quality.
High-security mechanism:
The product has auto-locking mechanisms that prevent self-injuries or accidental injuries because of razor-sharp cutters, blades, or knives while working. Place the multi-tool either in your teeny-tiny pockets or belts for easier access.
Comfy design and construction:
The product is well designed to ensure high comfort and reduce hand fatigue. The pliers come with spring to reduce hand tiredness. At the same time, the hard-gripping handles with 3D texture prevent slipping.
Pros
Compact and lightweight
High security and safety standards
It comes with a nylon bag
Oxidation and corrosion resistant
Versatile tools in a single pack
Durable
Comfortable and easier to use
Cons
Available in limited colors
Sometimes, the product is strenuous to close.
The handle is sturdy and leaves hands with pain if used excessively.
4. Gerber Mini Multi-Tool – Best Mini Portable Multi-Tool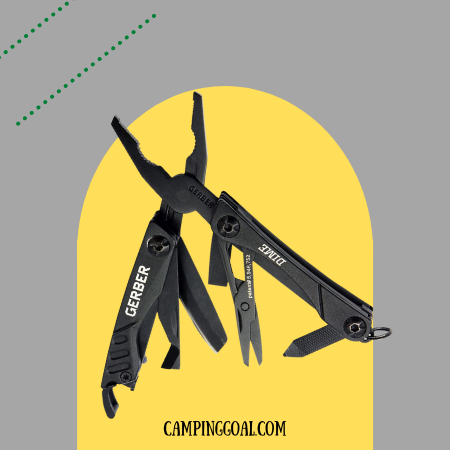 This is one of the best mini multi-tools that perfectly fit in your mini pockets. This Gerber camping multi-tool is best for small and basic complications. The product comes with ten tools in a single piece.
If you're looking for a mini portable multi-tool at an affordable price, then add this Gerber's product to your camping list.
However, if you're expecting heavy camping work, then this tool might not be your best choice. The Gerber's mini tool is best for mini works and basic fixations.
Versatility:
This product is conducive and easy to use. Usually, the product comes with needle-nose pliers, wire cutters, stinging blades, fine scissors, package openers, bottle openers, flat drivers, and a few other essential camping tools.
The product is readily used for anything from package opening to wire cutting to woodcutting. The well-built blades safely cut plastic covers, nylon coverings, or other robust stuff.
Moreover, the multi-tool comes in various versions and colors.
Quality:
The product is made of robust stainless steel and prevents oxidative reactions. The sturdy construction of the multi-tool is excellent for basic chores.
Pros
Best mini multi-tool for descent works
Butterfly opening
Lightweight, portable, and compact
Great product on a low budget
Cons
Less durable than other camping multi-tools
No auto-locking system
Pliers are not so useful
Fewer tools are available
5. Gerber Gear Truss Camping Multi-Tool – Premium Multi-Tool Choice

This is one of the premium camping multi-tool with 17 tools in a single piece. The highly functional and efficient tool eliminates the camping difficulties and heck.
The pro-grade materials used in the product account for their durability.
The premium features of the product like lock mechanism, spring pliers, molle sheath, vertically or horizontally mounted on a belt, compact design reduces hand fatigue and makes excellent reasons to buy this product.
Versatility:
The product has 17 vivid single-purpose tools in a single entity. The flathead screwdrivers, ruler, file, can opener, tool lock, needle nose pliers, bottle opener, cutters, blades, scissors, awl, and wire stripper fix simple to complex camping works.
The well-designed handle ensures further strength to grip the items and reduces hand fatigue. The spring-loaded and high-functionality tools make this product outshine from rest.
Quality:
As the product is made of stainless steel, it provides a sturdy and robust design. Also, the handle is comfortable to hold and swift the entire camping works.
Pros
Compact and easy to access
All tools are made of high-quality and rugged stainless steel material
Auto-locking mechanism
Spring-loaded pliers
Good warranty
Cons
Bit heavier
Complex design
Sometimes, the tools start moving even in fully locked mode
Camping Multi-Tools – The Ultimate Buyer's Guide(For all Beginner's to Experts)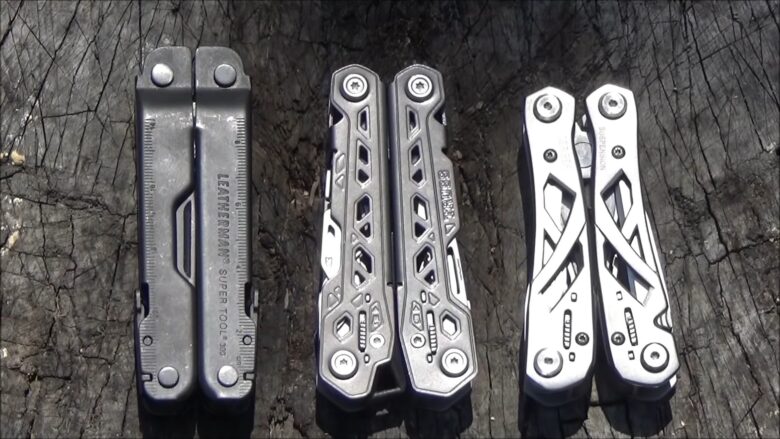 Choosing the appropriate multi-tool from a bunch of products isn't a plain-sailing task. However, to make your buying journey feasible and effortless, here's a simple camping multi-tools buying guide.
Here, you'll find:
A few essential factors to consider while buying a multi-tool.
And mistakes to avoid before purchasing a multi-tool.
Factors to consider while buying a multi-tool
While buying a camping multi-tool, answer a few questions such as how this multi-tool is helpful in daily life, which materials are used to prepare the product, how to carry it, the tool warranty period, and safety measures.
Considering these questions filters the best multi-tool from multiple choices. However, consider the below-given factors even to choose the best camping multi-tool.
Material Quality
Material quality plays a crucial role in its durability. High-quality materials like stainless steel or carbon content prevent corrosions and oxidative reactions. So, choosing high-quality materials cut down the maintenance costs.
Ease of use
If you aren't able to use the tool efficiently, it's not an ideal multi-tool. A good camping multi-tool must be easier to use and accessible. Make sure to choose the lightweight, easy to carry, and compact-sized camping multi-tool.
Safety features
Check whether the multi-tool has safety locking features that prevent accidental hurts or self-injuries. The auto-locking tool prevents damages when you're working with a multi-tool or dipped the tool in your pockets.
Warranty
Warranty plays a significant role while buying a camping multi-tool. Paying a little extra for more warranty is better than buying a cheap multi-tool with less warranty. Moreover, the highest warranty period multi-tools are more efficient and reduce the unnecessary damages that help you in the long run.
These are the few features to consider before buying a multi-tool. However, to eliminate the mistakes while purchasing the product, here are a few frequent mistakes done by most people.
Mistakes to avoid before buying a multi-tool
People often tend to buy cheap products without considering their loopholes. Usually, cheaper products come with a lack of security standards, poor material quality, and less warranty.
So, don't tempt by less priced products, or else you may end up with a freaking experience.
After the pricing, the next thing you might peep into is its features. The more the product features, the more you indulge yourself in the product. However, going for the less is best.
I know it's hard to accept but enjoy the utmost juicier benefits and choose the product with essential features rather than numerous features with junky quality. In a nutshell, choose the best camping multi-tool that is reliable, efficient, and usable in daily life.
Frequently Asked Questions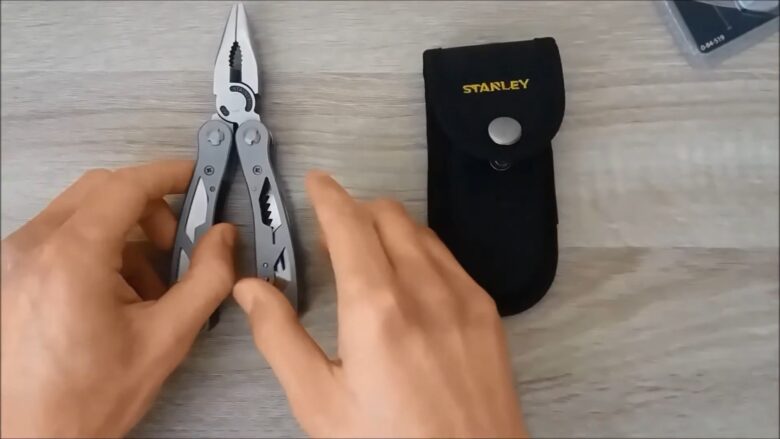 Is multi-tool worth it?
Yes. The product's versatility, multi-functionalities, and efficiency are the three best reasons to invest in camping multi-tools.
What are the uses of multi-tools?
Multi-tools are used to cut food packets, open cans, tins, cut wires, woods, and ropes. Either you're camping in dense forests or arid areas, the multi-tools are highly beneficial for various tasks.
How can I clean my camping multi-tool?
You can clean the multi-tools through the below-given steps.
Soak the tools in freshwater.
Rinse the tools and add a small amount of water-displacing liquid.
Then, wash it with soap and water.
You can even use mineral spirits to clean the camping multi-tools.
Take a look at these multi-tools also: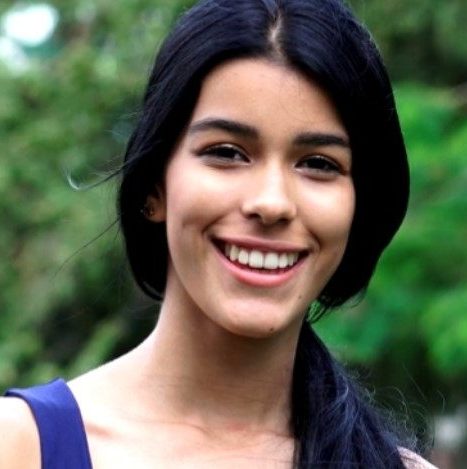 Christina Joyner is a seasoned expert for camping gear and everything related to outdoor adventures. With ten years of experience in this branch, she is an integral part of our team and author of comprehensive guides about equipment, best camping locations, and valuable tricks you should know when spending time in the wilderness.