Camping in the wilderness is fun; however, it might come with some inconvenience when it extends to several days. You have to force yourself out of your comfort zone and sleep close to nature. Worry no more; contemporary double camping cots have got you covered. You don't have to buy separate camping cots anymore when you plan on going on trips with your loved ones.
Double camping cots have more weight capacity and are oversized, allowing two people to sleep on them. They are specifically built for two people, so the durability and toughness aren't compromised. With these double camping cots, you can enjoy camping, staying close to your loved ones for several days.
They provide all sorts of comfort and reliability as they should. Listed below are the 7 best double camping cots 2023 with some amazing features to showcase.
Top Double Camping Cots
1. Coleman Camping Cot – Two Person Camp Cot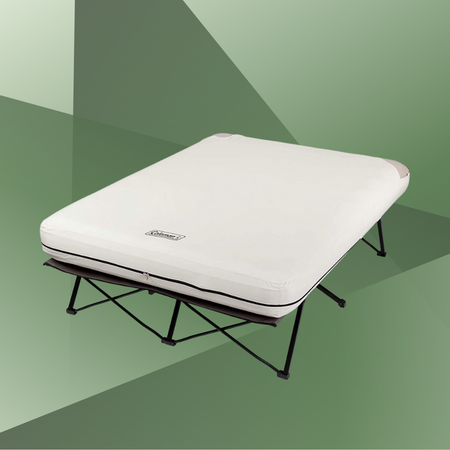 If you ever want to take your better half out for camping that might extend to several days, then you need to grab Coleman Camping Cot immediately. You will be stunned at the overall design, comfort, space, and durability. This camping cot is a widespread camping cot due to its tremendous performance in the realm of camping.
This camping cot measures 59 x 22 x 78 inches which means it provides ample space for two people to stay well-rested on it. It is a lightweight camping cot weighing only 41.9 pounds and can accommodate 600 pounds of weight which are jaw-dropping. If you look at the structure and durability, you will be amazed to see that this camping cot is the toughest of all.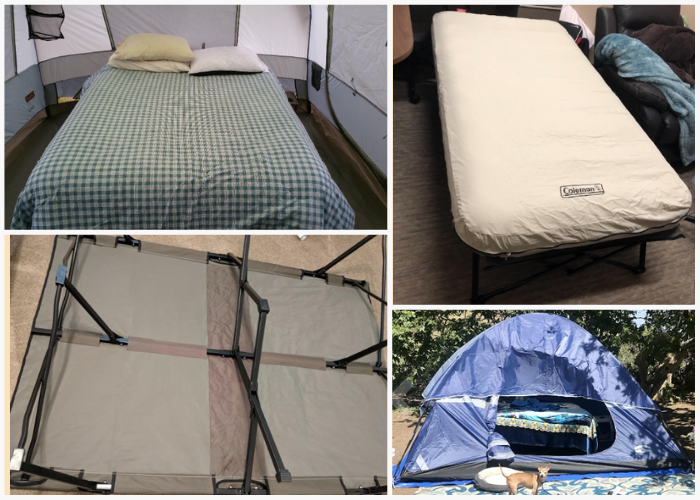 The best thing about this camping cot is that it comes with an air mattress that can be inflated with a battery-driven pump. You get a fully cushioned mattress once it is fully inflated, which provides ultimate comfort. You also get pull-out side tables with it, which keeps your stuff such as cell phones and books close to you. Lastly, this camping cot folds to become so compact, making it fit easily in your cars.
Pros
Durable structure
It comes with side tables
Compact once folded
Lightweight
It comes with an air mattress
Cons
It takes time to set it up
It is safe to say that this is one of the best camping cots there ever is. People have been purchasing and loving it a lot owing to its remarkable features and long-lasting durability. It comes with an air mattress which you can place over its sturdy frame that can hold up to 600 pounds of weight. Moreover, it comes with side tables that allow for great convenience.
2. Tent Cot Double Kwik-Cot – Double Wide Cot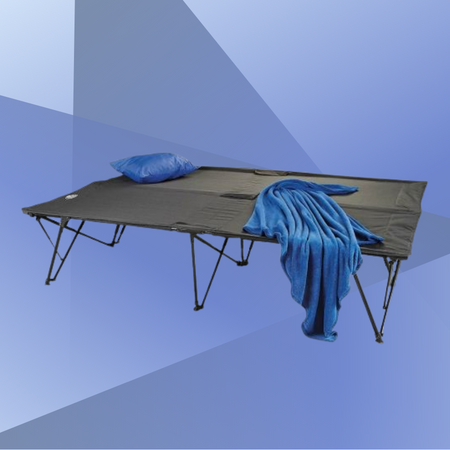 What's better than staying close to your loved one while you are camping? This double camping tent cot by Kamp-rite is one of the best double camping cots 2023. It is packed with some amazing features that will make it your best-loved. This camping cot has a solid structure with durable fabric that allows you to sleep safely at all times.
This is a large camping cot that easily accommodates two people granting you a comfortable night's sleep. The fabric isn't saggy and remains firm even after you lie on it. Besides that, it folds into a compact structure, making it convenient to carry around wherever you want. Also, it has a durable frame that can easily withstand the weights of two people.
You might find it hard to adjust to sleeping on it at first, but you will love it once you do. Something we loved the most about it is that this double camping cot doesn't make noises while you change positions. This prevents troubles while you are sleeping so that you can have a comfortable time. Last but not least, this camping cot is easy to set up; therefore, you will have the best camping experience alongside your loved one.
Pros
Spacious
Noiseless
Tough frame
Durable fabric
Cons
The seams are cut too short
For a nice and comfortable camping experience, you ought to get your hands on this double camping cot by Kamp-rite. It is pretty spacious and comfortable, granting you a peaceful sleep close to your loved one at night. It is robustly built and has a tough fabric that makes it a long-lasting product. Lastly, its assembly is effortless, and maintenance is hassle-free.
3. KingCamp Double Camping Cot – 2 Person Camping Cot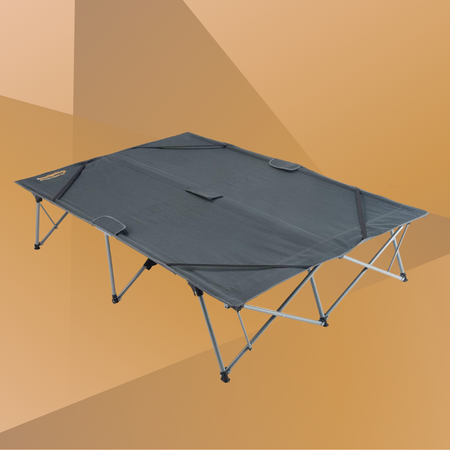 Next from our best double camping cot review list is the ultimate KingCamp cot. It has the most basic design yet serves the purpose efficiently. This product measures 84.6 x 55.1 x 18.9 inches which means it can conveniently accommodate two people and provide ultimate comfort. This camping cot has a color that doesn't get dirty easily, so cleaning isn't a hassle.
In addition to that, it has an ultra-durable frame that offers amazing weight-bearing capacity. For instance, the item can withstand up to 550 pounds of weight which means two people can easily enjoy sleeping on this camping cot when they are out for an adventure. Moreover, its steel frame doesn't rust and is less prone to weathering.
Besides, the steel frame doesn't bend even when two people rest on it, allowing its durability. You will be stunned at its fabric quality; its 1200D oxford fabric is enduring and made to last long. Besides, it is super comfortable and breathable, making your camping experience one of a kind. Lastly, it is super easy to set up and fold back, which allows for utter convenience.
Pros
Convenient setup
Durable steel frame
1200D oxford fabric
Amazing weight holding capacity
Cons
The middle bar is a bit uncomfortable
Overall, this double camping cot is the right one for your trips in the wild that might extend on many days. It has a sturdy steel frame that can withhold the weight of two people with ultimate efficiency. Moreover, it consists of 1200D oxford fabric that is super breathable and enduring. Lastly, this camping cot is easy to fold and set up in no time.
4. – Cot For Two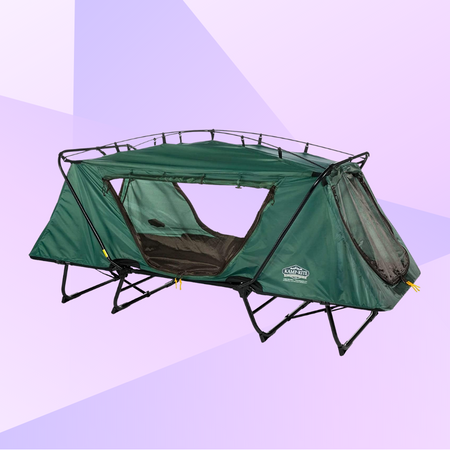 Next in line is this amazing and super comfortable and safe camping tent cot that gives you the ultimate camping experience. It has a domed tent that covers your head offering more room for your head by keeping you safe at the same time. Moreover, this camping tent provides an expanded sleeping area for two people.
You never have to camp alone with this camping cot as it is oversized, allowing you to sleep next to your sibling, friend, or loved one. In addition to that, this camping cot is extremely stable due to the additional two support legs at the end of the cot. Besides that, this camping cot takes the lead due to its versatility. You can convert it into camping, or you can simply remove the top cover so that you can enjoy stargazing.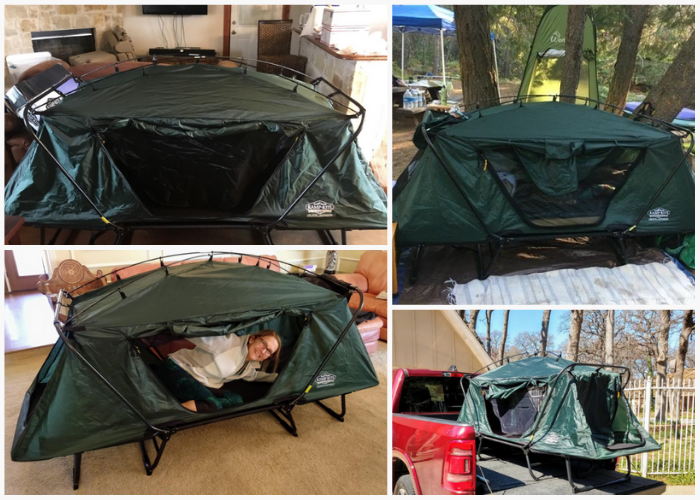 Adding to that, its frame is made with a powder-coated aluminum frame but also adds to its lightweight feature. The frame doesn't bend easily even if you put heavy weight on it. Furthermore, the fabric is heavy-duty 190T nylon that adds to the overall durability of the camping cot. Lastly, this camp can be assembled in just a few minutes; therefore, it's a hassle-free camping cot.
Pros
Convenient assembly
Durable powder-coated aluminum frame
Sturdy nylon fabric
Safe
Cons
Not ideal for very tall people
For a convenient and great camping experience, you can never go wrong with a Kamp-rite tent folding cot. It has a domed shape to cover that offers ample headspace so that you can freely move in it. Moreover, this camping cot provides convenient assembly; you just have to spend a few minutes assembling it fully. Last but not least, it has a sturdy frame and tough fabric, providing long-lasting durability.
5. ALPHA CAMP Oversized Camping Cot – Double Cot For Camping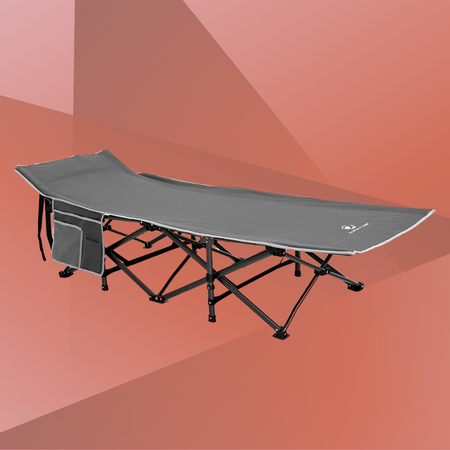 If you are someone who loves adventures and loves camping in the wilderness, then ALPHA CAMP oversized camping cot will be your best friend. It offers comfortable night camping no matter wherever or whenever you want to go. Its spaciousness and 600 pounds weight-bearing capacity is ideal for people to sleep on it.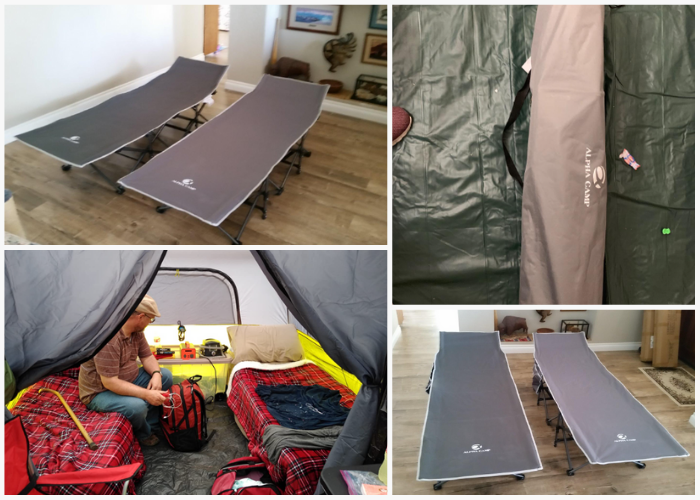 The durability and design of this camping cot speak for themselves. It is made with high-strength steel tubes that are pretty enduring and are less prone to damages. The camping cot is weatherproof and offers an extreme amount of comfort. Its triangular steel tube structure allows for great stability, and it doesn't make noise when you are changing sides.
Adding to that, the cot comes with 600D x 300D oxford fabric that is not only durable but is also ultra-breathable. You will sleep peacefully with utter comfort on this cot while you are out camping. Not only that, but this item also comes with storage space to keep your belongings close to you. Lastly, it is super lightweight, is easy to set up, and is extremely portable.
Pros
Lightweight
Durable steel tubes
Comfortable and sturdy fabric
Storage space available
Cons
The bag is not good quality
Safe to say, this is one of the best camping cots 2023 for its features. This camping cot is oversized and is sturdy enough to withstand up to 600lbs of weight. The cot comes with durable steel tubes that have a triangular structure that offers tremendous stability. Moreover, it comes with oxford fabric which is ultra-durable and breathable.
6. Kamp-Rite Compact Double Tent Cot – Double Wide Camp Cot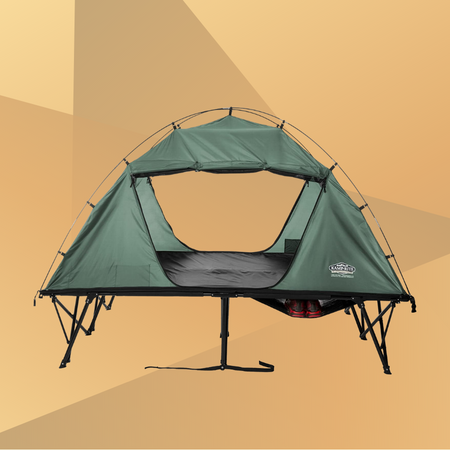 Presenting you another camping tent cot by Kamp-rite falls in the best double camping cots category 2023 due to its fantastic features. This is our favorite camping cot because it offers an elevated sleeping platform that keeps you safe at all times. You don't have to worry about bugs and snakes anymore if you have this compact tent cot by your side.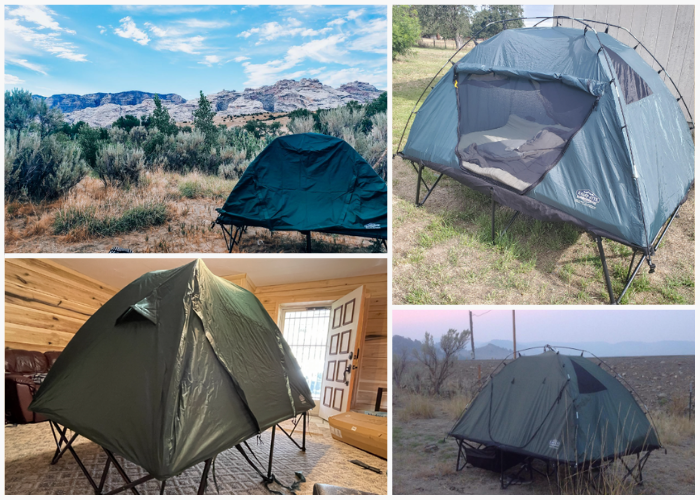 It is a heavy-duty tent and comes with a rain fly which helps in managing all weather conditions. So enjoy your camping time remaining dry even on rainy days and nights. Moreover, it makes a cozy room for 2 persons to allow you to have the best camping experience next to your favorite person. The zipper enclosure to the tent cot makes the closing and opening hassle-free.
This item allows for versatile usage as you can convert it into a lounge chair or flatbed. Not only that, you get the most sturdy aluminum frame, which is hard-wearing and lightweight at the same time. Therefore, this camping cot is the best thing you can carry anywhere you want due to its compactness and lightweight. Lastly, you can set this tent cot up in a few minutes.
Pros
Convenient assembly
Heavy-duty tent material
It comes with a rainfly
Large capacity
Overall, this tent cot is your way to go due to its convenience and durability. You don't have to buy a separate tent and a cot for camping when you have this double cot by your side.
Moreover, this cot is super easy to assemble, and the best part is that it comes with a rainfly, so it is compatible with all weather conditions. Also, it has a tremendous weight-bearing capacity allowing two people to rest on it with utter peace.
7. REDCAMP Folding Camping Cots – Sleeping Cot For Two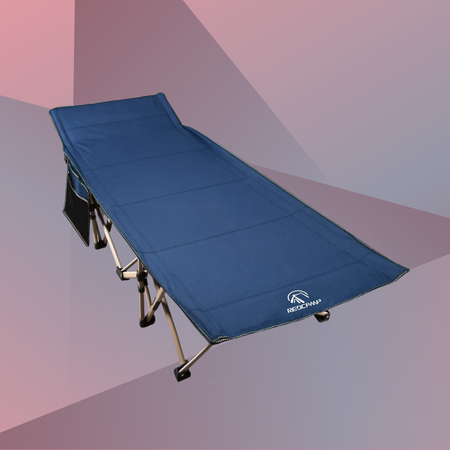 The last product from our best double camping cots 2023 review lists the ultimate REDCAMP folding camping cot. If you are looking for the most sturdy yet comfortable cot, then REDCAMP is your best pick. It comes with double-layered fabric that ensures you stay safe and comfortable at all times. The fabric is hard-wearing and hard to bend because the frame is non-bendable.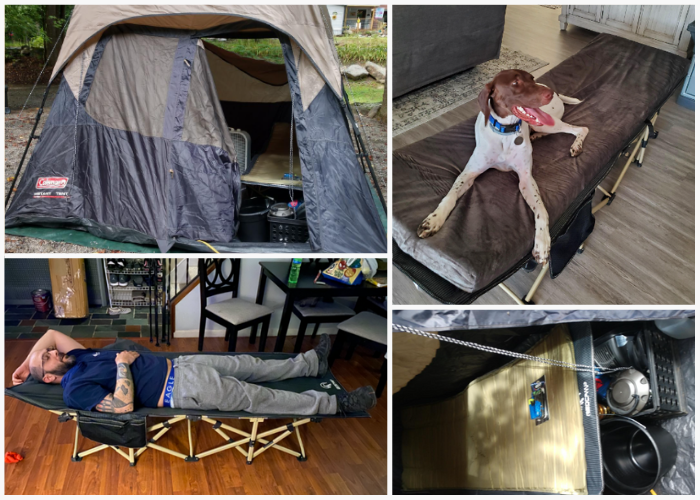 It comes with additional pairs of legs that offer a tremendous amount of stability. You will feel relaxed the moment you sleep on it. Besides, its frame is so sturdy that it can stand up to 600 pounds of weight. Therefore, it is compatible with people of all heights, weights, and age groups. Moreover, it is compact enough to fit in your camping tents so that you can be safe all the time.
In addition to that, this camping cot literally takes ten seconds to install and takedown. Therefore there will be no hassle in setting it up while you are out camping. It also offers multi-usage as it can be converted into a reclining chair.
You can fold it back to make it compact and then place it in a safety bag that comes with it, which makes it easy to transport. All in all, this camping cot will be your best bet for your camping adventures.
Pros
Lightweight
Portable
600 pounds weight capacity
Multi-usage
Cons
Few people have reported a broken leg
Overall, this is an extremely nice camping cot that allows you to sleep with peace and comfort. It has a tough frame with an additional set of legs that allows for ultimate stability. In addition to that, this camping cot is lightweight and durable that can hold up to 600 pounds of weight. Lastly, it is extremely portable; therefore, the transportability is hassle-free.
Some Tips To Buy The Best Double Camping Cots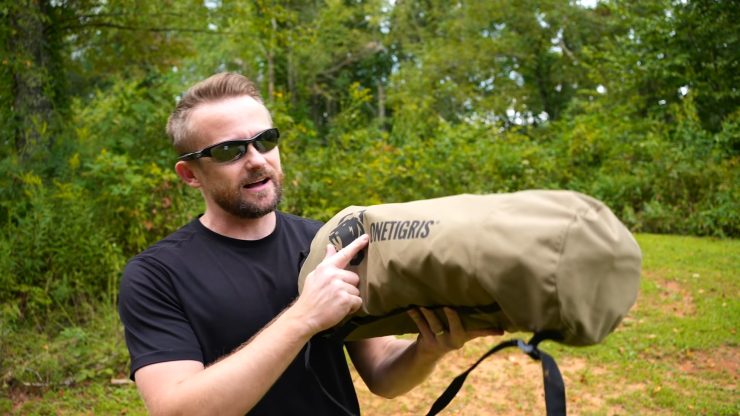 A double camping cot might look like a simple thing to buy, but you may end up buying a faulty product if you don't pay heed to little details. Certain things should necessarily be present in a double camping cot to call it the best one.
For instance, the durability of the frame and fabric for one. We have discussed all those characteristic features in the section below for your better understanding.
1. Durable Product
Like we said before, durability is something you should never miss before spending your hard-earned money on something. Besides, a double camping cot is something that should stay with you for many years. Therefore, you should always make sure you invest your money in a product that offers lifelong durability.
Your double camping cot should be well built; it should have a durable frame that can hold your weight properly. Moreover, always go for a product that has soft, breathable, and durable products.
2. Weight Capacity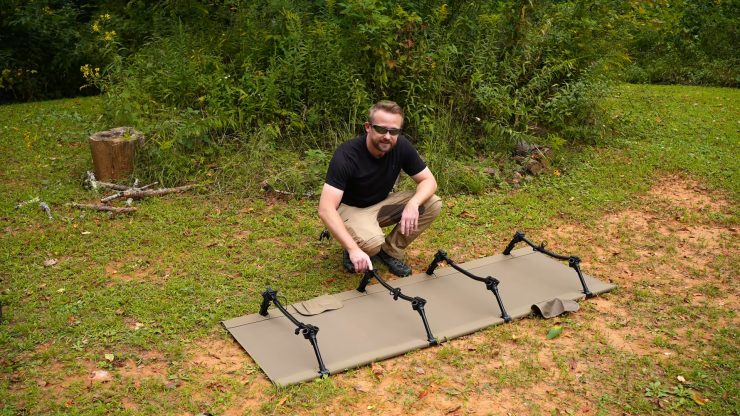 As the name suggests, the product is meant for two people to be sleeping on it. Therefore you should look for a product that has a good weight-bearing capacity. Some of the camping cots that have tremendous weight capacity are often heavier.
If you go to the camping site in the car, then you might get the cots that can stand great weight. If not, then you can go for the lighter options. Most importantly, you should always go according to your own weight so that your camping cot can suit you and last longer for you.
3. Material Of The Frame
Like we said earlier, the material of the cot's frame determines its durability. Therefore you ought to choose the one that has a sturdier yet lightweight frame. You can opt-out for a heavier frame if you never want to go to the camping site by walking.
However, if you mean to go to the camping site via walk, you should go for the lighter option. The best frame material to ever exist is aluminum, and it is popular for many reasons. For instance, it doesn't bend with heavyweights, and it's lighter than other metals. Moreover, it's sturdier and can hold great weight.
4. Fabric Option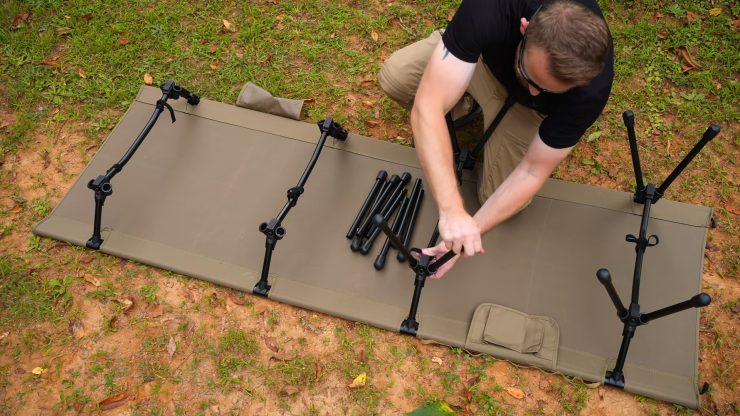 The type of fabric your camping cot has holds a crucial status. Remember, we are talking about double camping cots, so it's meant to hold the weight of two people. We don't just have to look at the durability of the fabric. There are other things that need to come under your scrutiny.
For instance, the camping cot you are getting should have breathable material that is easy to wash and clean. Nylon and polyester are the most widely used fabric for cots. These fabrics are easy to clean and do not attract dirt as such.
5. Assembly
As for assembly is concerned, you wouldn't want to end up spending hours putting your camping cot together. We recommend going for the cots that are easy to assemble.
Make sure the cot you are getting comes with an easy assembly manual so that you can easily follow each step. Besides, go for the product that doesn't require lots of nuts and bolts for its assembly.
6. Some Additional Features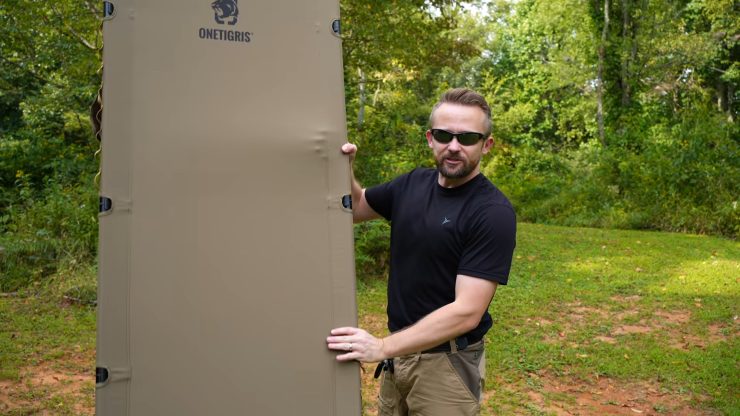 Nobody minds some additional features in the product they are buying. There are a lot of double camping cots that come with a rain fly which is a win-win. Also, some of the camping cots have storage pockets that allow for amazing space-saving. You can easily store your belongings near to you that you want accessible at all times.
FAQs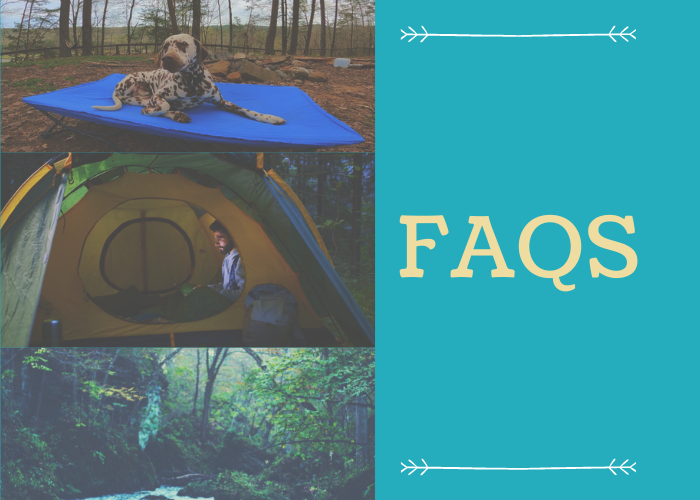 1. Is a camping cot worth it?
Camping cots are worth all the money you spend on them, provided it is manufactured by a well-reputed brand and is of good quality. It enhances your camping experience by providing a space for you to sleep on.
It offers a raised sleeping surface with comfortable fabric and an oversized sleeping area. With all these, you can stay on your camping site for days and enjoy a peaceful resting time with your loved one.
2. Do the camping cots fit in your tents?
Yes, many double camping cots fit perfectly in your camping tents which allows for a safe and secure stay. If you choose to rest in an open space, then you can always put your camping out and enjoy stargazing. Also, some of the camping cots come with storage spaces so that you can put your belongings in them close to you.
3. Do double camping cots take a lot of space?
The double camping cots are meant for two people hence they are bigger in size and more in weight. However, these camping cots can be folded to make them compact in size. Therefore, you can conveniently put them at the back of your car. Also, these double foldable camping cots offer easy setup.
Final Thoughts
Camping is a fun way to take a break from the daily grind to explore and connect to nature. With double camping cots, you don't have to go on adventures alone. Double camping cots allow space for two people to comfortably rest on it for as long as they want.
These cots are comfortable as they consist of soft, breathable, and durable fabric on which you lie down. We have listed the 7 best double camping cots in 2023, out of which these three are our top picks.
REDCAMP Folding Camping Cots, for its lightweight and multi-usage.
Coleman Camping Cot for its durable structure and ultimate comfort.
Tent Cot Double Kwik-Cot, for its noiseless structure, tough build, and spaciousness.
All in all, camping cot is a widespread time that offers a lot of utility and takes your camping experience to another level. The above-mentioned products are manufactured by some of the prestigious companies that offer lifetime durability and ultimate comfort. These camping cots are easy to carry to the camping spot in your vehicles and elevate your overall experience.
Check out these double camping cots also:
References:
https://www.rei.com/learn/expert-advice/camp-sleeping-tips.html
https://www.self.com/story/campers-share-best-sleep-tips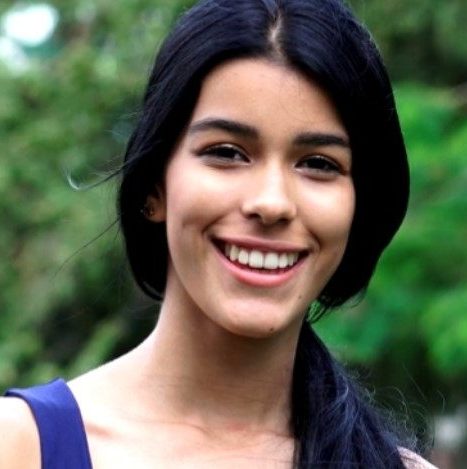 Christina Joyner is a seasoned expert for camping gear and everything related to outdoor adventures. With ten years of experience in this branch, she is an integral part of our team and author of comprehensive guides about equipment, best camping locations, and valuable tricks you should know when spending time in the wilderness.