Smoked marshmallows, hot chocolate, the starry arm of the milky way, ghost stories, friends, family, and memories. The days of camping as a child with your friends and family easily have a spot in your top 5 memories of your life. Camping embodies the spirit of adventure, thrill, teamwork and togetherness.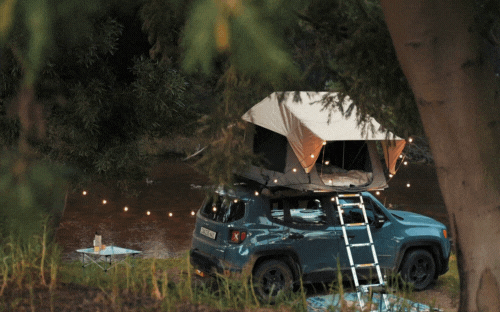 From setting up the tent, and making a fire to scaring that one person in the group who's deathly afraid of wild bears and ghosts alike, camping has an innumerable amount of memories that taught you a lesson or two in life.
If you've never gone camping and you wish to create invaluable memories with your friends or family, your greatest priority; as it should be, is a quality tent.
What's better than a normal tent is the SUV tent that lets you sleep within the comfort of your car. The tent shelters you from not just the weather but wild animals as well. Being said that, here are our top picks of SUV tents of 2023 carefully chosen for you!
Top Picks Best SUV Tents
1. Napier Backroadz SUV Tent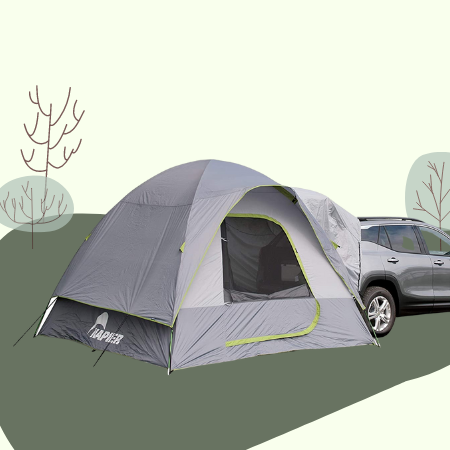 This spacious 10′ x 10′ tent attachable to the back of your car can accommodate up to 5 people. Perfect for a family of 3 kids or 5 separate individuals. This tent's key feature is its universal sleeve which fits all CUVs, SUVs, LUVs, and minivans flawlessly. Designed as a watertight fit, this SUV tent prevents any flow of water even during a moderately rainy day.
This tent is also designed to keep bugs out with its seamless but ultrathin mesh having one large door and 3 mesh windows, allowing free flow of air while keeping the pests out.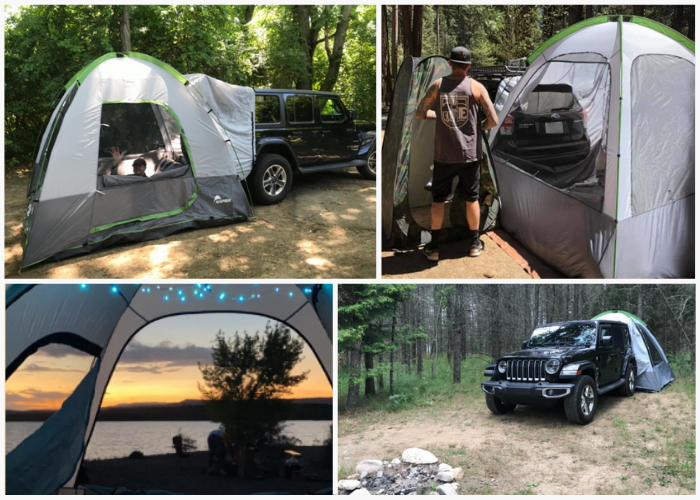 This tent also effortlessly connects to the back of your SUV and has a connection to power outlets keeping your devices up and running all night. This SUV tent takes only 10 minutes to set up made possible by the 2 shock-corded fiberglass tent poles. A fine pick satisfying money's worth for camping fanatics.
2. Napier Sportz Cove SUV Tailgate Tent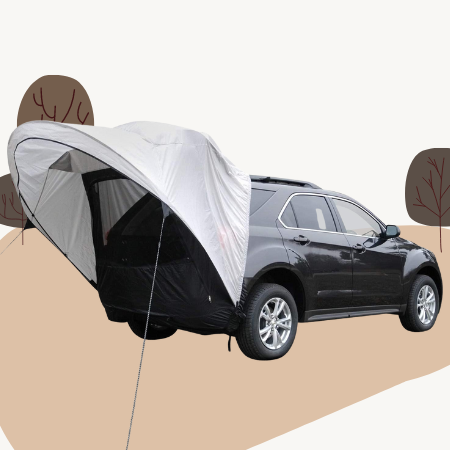 Accommodating 2 persons, this SUV tent is perfect for couples. Perfect for fishing, road trips, beach rides, tailgating, picnics and so much more, this compact awning attaches to the rear of your SUV providing shade from the rain, sun, and all-around adverse weather.
Protected with a mesh screen, this allows for a bug-free view of the beautiful landscapes that you visit. Completely safe, the Napier Sportz cove SUV tent provides security by providing easy access to the vehicle in case any unwanted varment were to ambush you.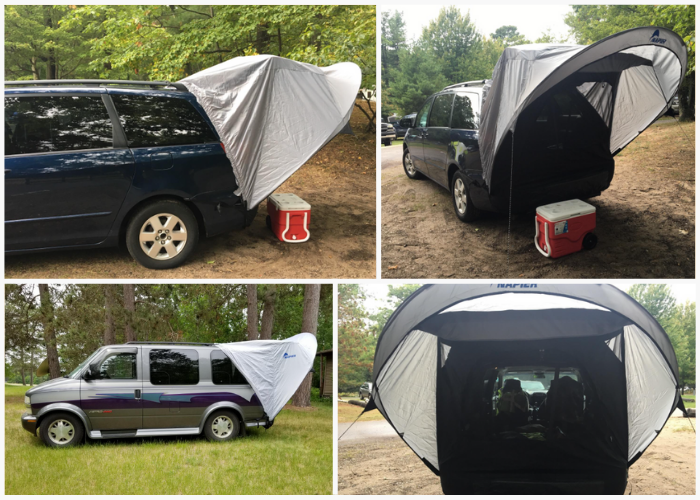 Its key feature being the 2′ awning tent which proffers a well-shaded area, to relax, fish stargaze you name it and it serves the purpose. The built-in storm flap provides much-needed security against environmental determinants.
Made from high-quality polyester taffeta ( a brusque plain-woven lustrous fabric of various fibers ) assuring extreme durability providing value for customers over the years.
3. Napier Family-Tents Sportz SUV Tent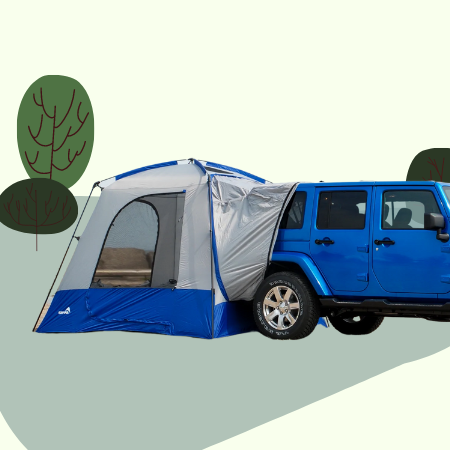 Designed distinctively for your comfort, this seamlessly compact tent not only enables an effortless camping experience but also equips you to be the master of your own adventure. Curated with the polyester of high quality and premium polythene, this tent will not only create a lifetime of memories with you but will also stick around for the duration of a lifetime.
Simply remove the vehicle sleeve, and watch your SUV transform into a comfortably 9×9 foot accommodative space, having an ample amount of sleeping area, playing space, and a comfortably luring lounging space.
This tent is expandable enough to house 4-5 adults, children, and of course, your precious furry little friends. If you're anything like the masses of travelers who pack heavy even for the shortest trip, you need not worry about storage space as this tent comes with an expandable carrying bag enabling extra storage.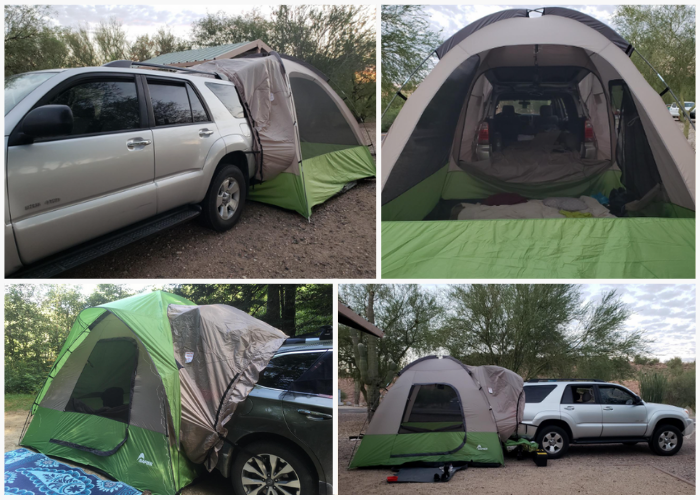 Carry an inflatable air mattress, a small picnic mat, and all your essentials, prepare yourself for the experience of a lifetime with this optimal product.
Appeal, comfort, and efficiency are all wrapped in one.
4. TailVeil Vehicle SUV Tent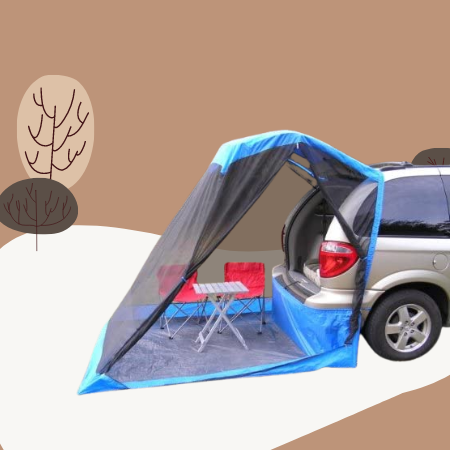 Rated 4 out of 5 stars, the Tail veil vehicle SUV tent is an exceptional pick weighing at just around 5 pounds making it an extremely efficient at the same time effective product. Perfect for those looking for a seated conversation in the shade.
Tired of driving for a long time? Craving for that much-needed coffee break? Well, guess what? The Tailveil SUV tent is the perfect companion taking little to no time for installation.
Designed with a moisture-resistant floor roomy enough for several chairs and tables, it is an exceptional design to watch children's sports and tailgate parties only limited to your imagination.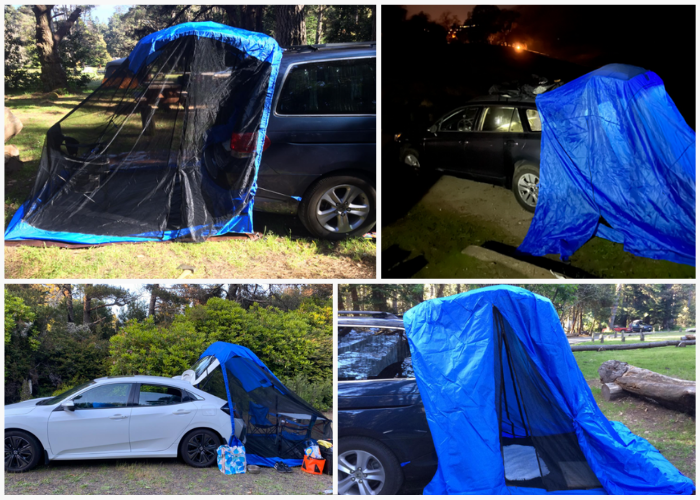 Purchasing the Tailveil SUV tent is the second best decision you would've made, the first one is deciding to go camping.
5. Hasika Tailgate Awning Tent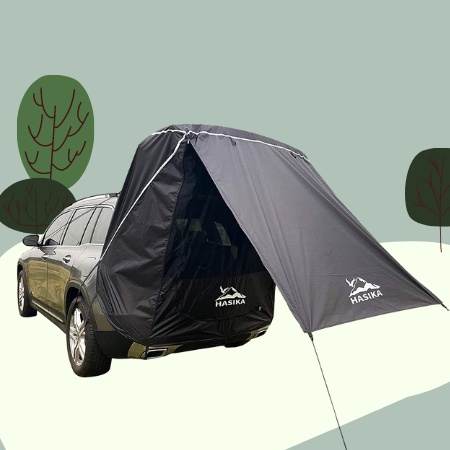 Rated a whopping 4.5 out of 5 stars, The Hasika brand reminds us that quality and price can be inversely proportional to one another. They remind us that the common man need not pay a fortune for his comfort.
Devised to provide over 2 feet of awning shade area, this SUV tent makes you feel like it's Christmas morning. Mesh screen designed to keep bugs, mosquitoes, and other pests away from you.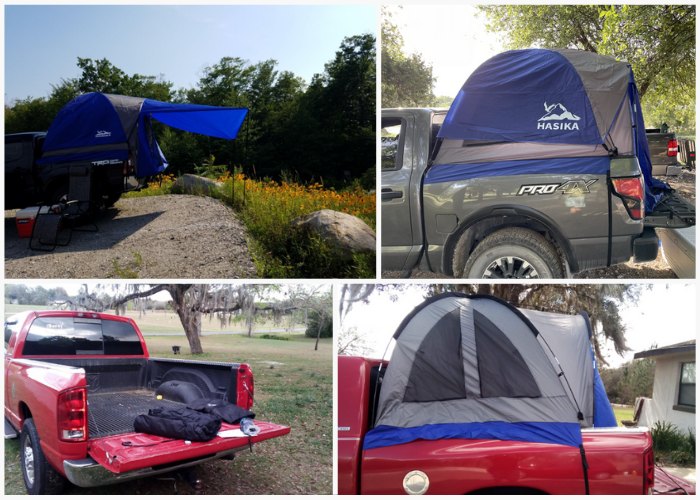 It is also draped with an integrated storm flap designed to protect you from adverse weather conditions. It comes with a storage bag adhering to convenience.
Probably not spacious enough for a lot of people but definitely spacious enough for a romantic gesture.
Buyers guide to buying SUV tents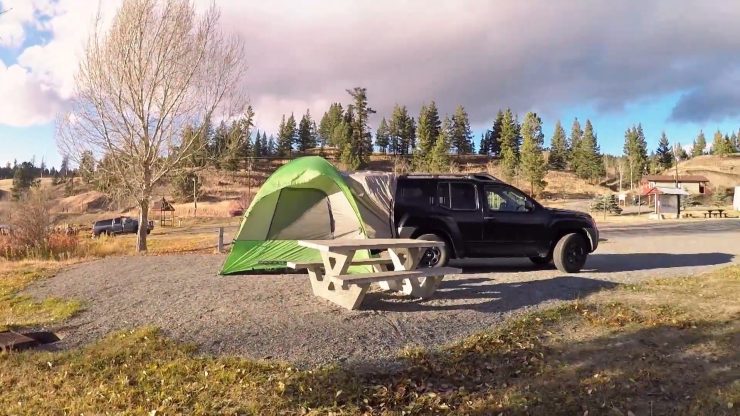 1. Hand in glove
The foremost thing to do is, depending on the type of vehicle you've got that is SUVs, CUVs, or LUVs you will have to find out the SUV tents that are attachable to the back of your vehicle. So it's important to figure out the compatibility of tents based on your vehicle.
Tent brands usually have sizing charts so it's easier for customers to buy their tents based on the type and size of their vehicle. In order to reach a larger audience, despite the sizing chart, most brands make their tents universal meaning highly adaptable and adjustable trying to achieve better goodwill by being versatile.
If you also want to seal your tents a lot better on your SUV, it's better to use heavy-duty magnets, effectively sealing them a lot better than usual.
2. Size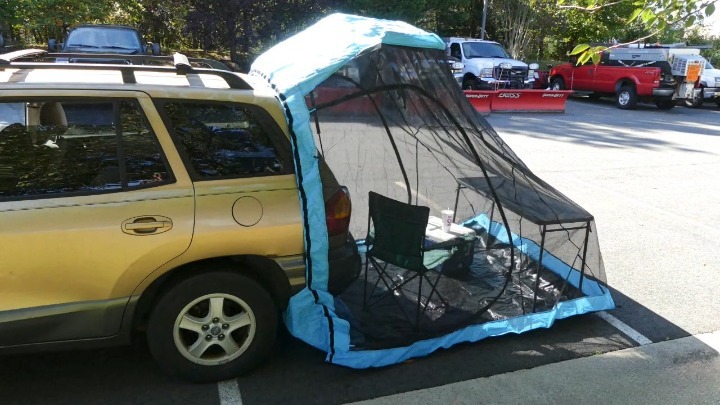 Space is probably what everyone wants the most. Everyone wishes they could walk into a magical tent-like Harry Potter that's originally meant for maybe two people but is as large as a room. As much as we wish that was true, we're limited to space simply because of designs. And physics of course.
Based on the choice of your model, the size might vary. Hence it is important to choose a model of SUV tent that suits your space needs. If you would rather just chill with a cup of hot chocolate with your partner over having to have a full course meal with tables and chairs you'd want to go for a smaller version.
3. Stability
Stability can be a huge factor in the performance of an SUV tent during unpropitious weather.
The strength of the harness, the tension of the tent canvas determine its compromising factor circumscribing how susceptible it is to wear and tear.
4. Price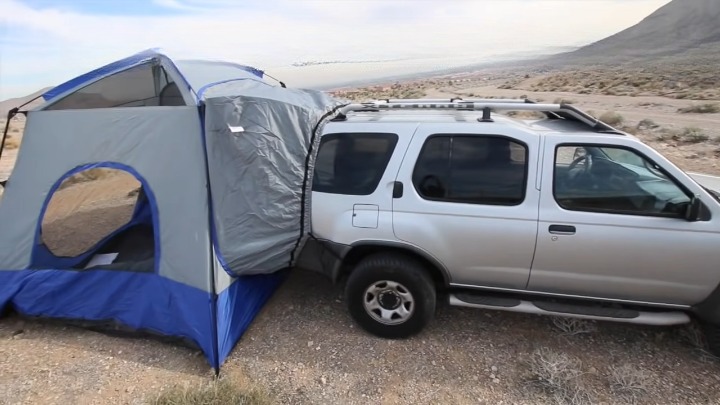 Ah yes. The decision-maker. Price is either one of the first or one of the last determinants that influence purchasing decisions.
Being said that make sure to buy an SUV tent that provides value for the money paid. A good quality tent costs around $150 – $350. Anything below this class is probably a product of mediocre quality if not outright bad.
5. Versatility
It's important to get a lot of value since you are paying a lot more for SUV tents than ordinary tents.
It is always better to have a tent that comes with accessories than a tent with none. Make sure to look into accessories like rain flys, additional tent poles, additional screen so on and so forth.
Conclusion
We reside in a world dominated by nerve-wracking mental strain, consistent stress, and gripping anxiety. Trapped in this race to the top, we must take our peace into our own hands, and ensure that we reward ourselves with a much-needed break on a timely basis.
That's why we suggest, whilst looking for a temporary escape, always make sure to take the scenic route, most definitely one with a camping break in it.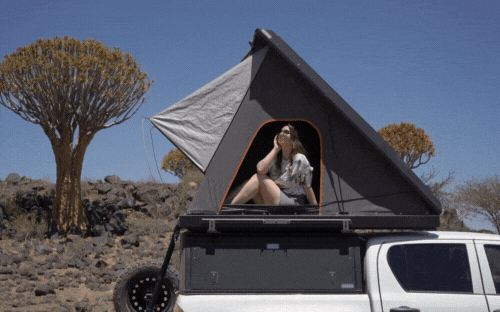 Curated for your comfort, these SUV tents capacitate you to take control of your holiday and be the boss of your experience. With minimal prior planning, you can simply set out on a journey, make a stop at a spot you find most appealing, and effortlessly set up camp, with the ease of these optimal SUV tents.
Waterproof, accommodatable, compatible, you name it, the tent is it.
These tents not only overlook the major concerns of most campers but also pay great attention to the minor details, such as the trivial but valid fear of the majority of campers; the tiny insects and bugs that often find themselves crawling into your sleeping bags!
Well, you can put this concern to sleep with these SUV tents; apart from catering to the major needs, they also have an adjusting vehicle sleeve specifically designed to create a custom fit to shape your requirement, thereby keeping the bugs out, and comfortable secured in.
Pack your bags, and set out on your mini-adventure with your own SUV tent today.
FAQs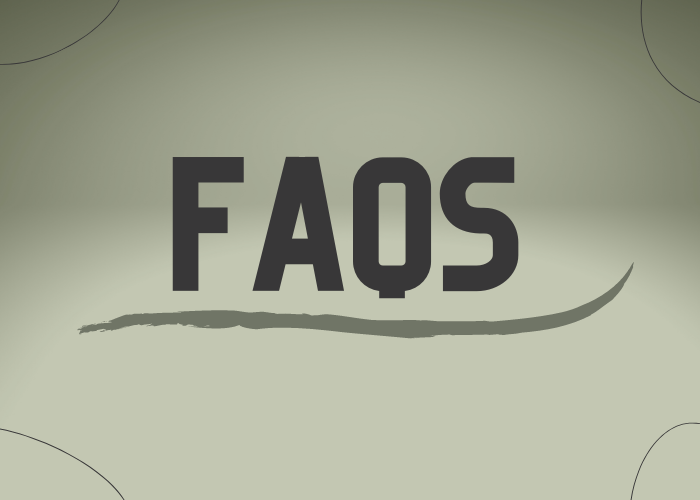 Q1. What's the point of an SUV tent?
A – SUV tents equip drivers with the facility of comfort and the power of taking camping in their own hands, with great ease. In the summers when cars are hot, drivers and passengers have the flexibility to simply stretch out a tent and sleep on the ground.
SUV tents have mesh doors, windows to facilitate ventilation, and a comfortable amount of space to accommodate families.
SUV tents also prove to be larger than normal tents, thereby allowing drivers to keep their gear close to them at all times, and providing much more space for a better and improved camping experience.
Q2. How do I camp in an SUV tent?
First off, ensure you fulfill the prerequisite of all the permits needed for parking spaces and all other legal requirements in order to prevent any kind of hassle during your camping experience.
The next step is to set up your campsite, set up your SUV tent, unpack all your essentials, and set up your camping spot.
Now, figure out your sleeping arrangements; pop
out your sleeping bag, and ensure to adjust your tent in order to prevent bugs and insects from entering.
Keep your electronics charged, bring out your headlamps and hanging lanterns, and enjoy a night of outdoor nature connections.
Q3. How does the SUV tent attach to the car?
The attachment part is a large sleeve of tent material that perfectly fits over the hatchback, allowing the camper to open the hatch whilst being inside the tent. The opening of the sleeve is large enough to cover the entire back of the vehicle with the hatch open.
Q4. Is it safe to run the AC while having an SUV tent attached to the car?
It is not recommended to run the AC whilst having the tent attached as the exhaust is likely to detriment the tent.
Q5. How easy are the SUV tents to set up?
The SUV tents are fairly easy to set up, all that is required is the connection of the tent to the cargo area of the vehicle. The waterproof vehicle sleeves are designed to accommodate all hatchback cars and CUV's.
Q6. How does an SUV tent work?
There are numerous variants of SUV tents available for purchase. Given that, certain models and brands work differently than others. Hatchback tents attach to the rear of your vehicle that is a jeep, SUV, CUV, or LUV.
References: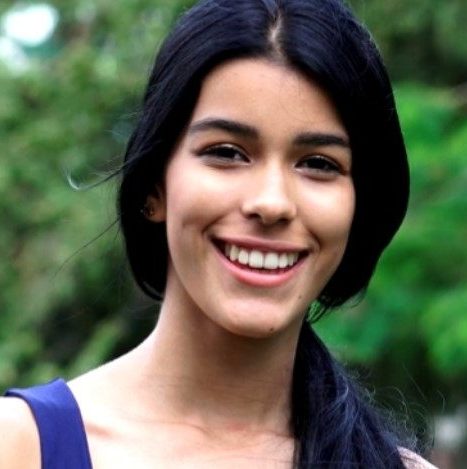 Christina Joyner is a seasoned expert for camping gear and everything related to outdoor adventures. With ten years of experience in this branch, she is an integral part of our team and author of comprehensive guides about equipment, best camping locations, and valuable tricks you should know when spending time in the wilderness.