The Leatherman is a company with a tradition that lasts for over forty years and specializes in developing and selling top-notch multi-tool devices all over the world. Just several months ago, they released an updated version of their classic product, Leatherman Wave multi-tool, named Leatherman Wave plus. Today we will take a look at Leatherman Wave vs. Wave Plus and check some key differences between them.
Overall, these two products are pretty similar and have similar specs, plus a couple of exciting upgrades we will discuss. In this article, we will break down and do a thorough comparison of both products as well as point out some key advantages and disadvantages of both. There are a lot of topics and features to cover, so without further redo, let us get right into it.
Key Features of Leatherman Wave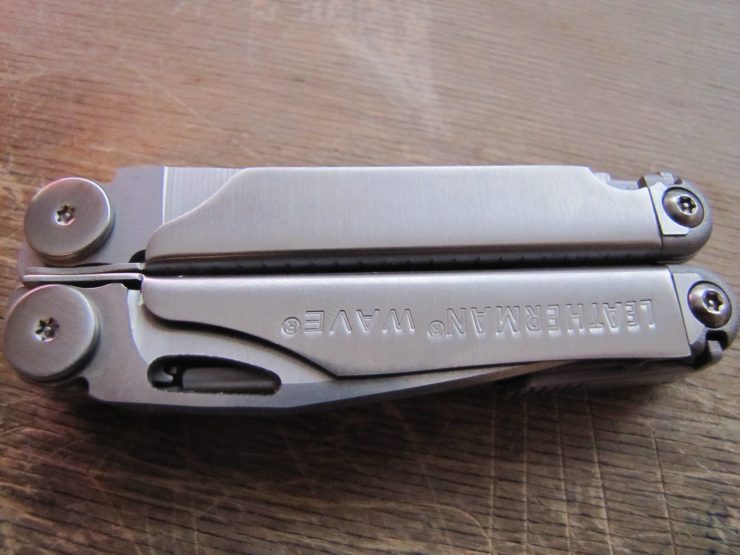 This classic multi-tool has been the company's best-selling product for so many years, and it is one of the most praised multi-tools in today's market. It comes with a whopping 17 tools, including scissors, pliers, container openers, locking knives, files, screwdrivers, wire cutters, a ruler, and a saw. It is a go-to product for every camper since it can do pretty much everything you can think of.
It is a beautifully designed product that can be used with one hand, and since the entire concept of a multi-tool is that it can be used in the harshest conditions conveniently, this particular product checks all the important boxes. Outdoor conditions may force you to hold something in one hand and operate the multi-tool in another, so Leatherman Wave is a very practical pick above all else.
Since it is designed lightweight and small, you can always carry it with you and remain prepared for whatever unplanned job the camping trip can throw at you. Like all Leatherman tools, the Wave comes with a 25-year warranty, and in the unlikely event yours ever breaks, you can send it back and get a brand new one, or the company can simply fix yours.
The one drawback of this product that is worth mentioning is that some models made with black oxide tend to rub off on your hands during use. Although this finish looks really cool, the marks it can leave may be annoying for some users, so keep that in mind before spending any cash.
Tools Included in Leatherman Wave
Needle nose pliers
Regular pliers
Spring-action scissors
Bottle opener
Can opener
Lock blade knife
Saw
Wood and metal file
Diamond-coated file
Small bit driver
Large bit driver
Medium flat screwdriver
Hard-wire cutters
Wire cutters
Wire strippers
8-inch ruler
Key Features of Leatherman Wave Plus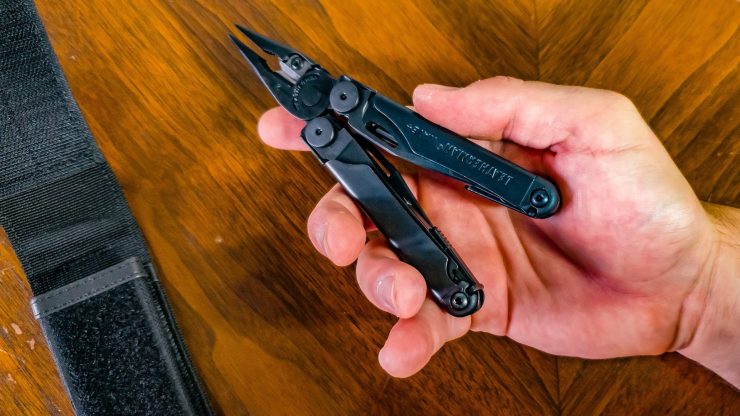 We will now take a closer look at the upgraded version, the Leatherman Wave Plus. This multi-tool also features all 17 tools its predecessor had but came with the additional electrical crimper. The company heard what customers had to say about Leatherman Wave's black oxide coating, and the new version is much improved in the areas that are susceptible to wear.
If you decide to opt for this type of finish, you will get a cool-looking and rust-resistant multi-tool that will serve your purposes for a very long time. Generally, customers claim that the best and most reliable version is the stainless steel one, so consider it when deciding which finish you want to go for.
Another cool and new addition to the Wave Plus is the replaceable wire cutter blades. Since wire cutters can easily dull, this new version of the multi-tool enables you to replace the blade completely hassle-free. The Wave Plus also offers significant improvements that will extend the lifespan of the product.
Considering the fact that Leatherman already offers a 25-year warranty, it is more than obvious that they are confident their products are top-notch and that they will withstand the test of time easily. Since they added the ability to replace parts on this particular unit, the lifespan of each one is significantly extended.
The new feature that we already mentioned is an electric crimper. It is a tool you can use to smash electrical wires and connectors together to create a tight bond. You can also use it to terminate wires that present a threat to your safety. Since the Wave already had wire cutters and strippers, the addition of the crimper seemed like a logical move.
Tools Included in Leatherman Wave Plus
Needle nose pliers
Regular pliers
Spring-action scissors
Bottle opener
Can opener
Lock blade knife
Serrated blade knife
Saw
Wood and metal file
Diamond-coated file
Small bit driver
Large bit driver
Medium screwdriver
Hard-wire cutters
Wire cutters
Wire strippers
Electrical crimper
8-inch ruler
Leatherman Wave vs. Wave Plus – Size and Weight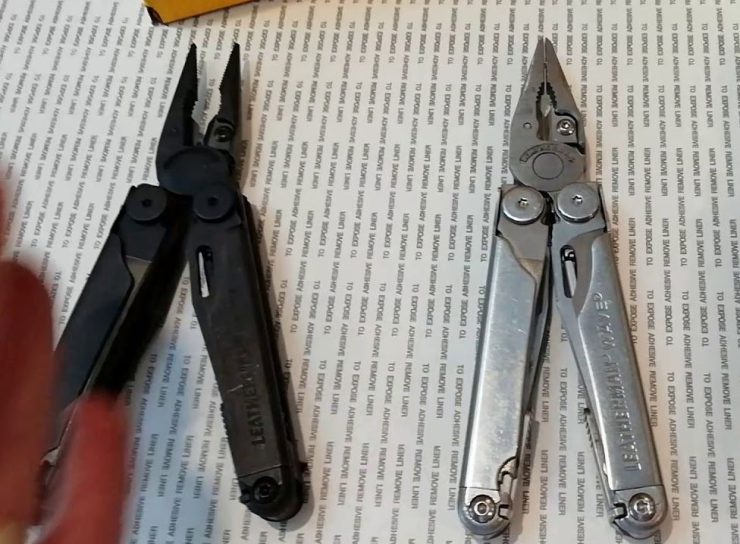 When it comes to the size and weight of these two units, they are quite similar, but the Wave Plus is slightly larger and heavier (2.7 ounces). It is a minor weight increase, and the company felt confident that it would not make much of a difference.
The extra weight might not seem like such a big deal, but for a worker, mountaineer, or extreme outdoor adventurer, every single ounce is rather important. The Wave Plus is also around 0.1 inches longer and wider than its predecessor. These are rather irrelevant changes, and they are certainly worth the improved functionality.
Leatherman Wave vs. Wave Plus – Tools and Function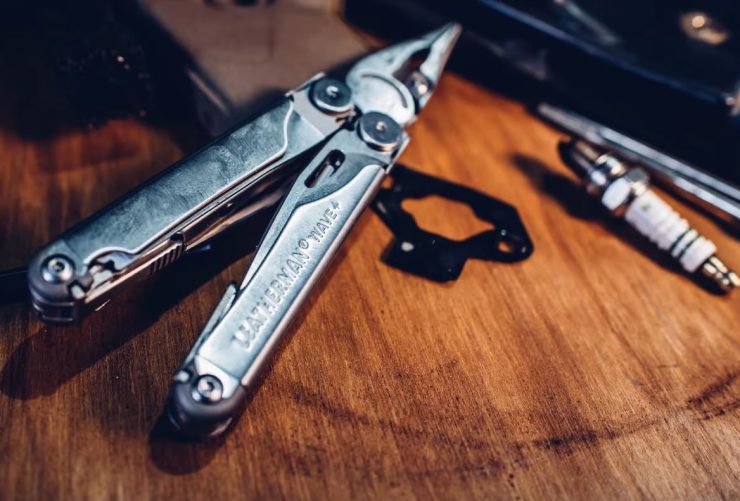 The Wave Plus offers all the important tools and functions that came with its predecessor, except the newly implemented electrical crimper and interchangeable wire cutter blades. Essentially, this unit offers some added function without sacrificing anything but slightly increased weight.
Another cool improvement is the feature that allows you to open the knife blade without opening the pliers. The classic Wave users had to open the pliers before extending the blade. This is a cool feature, especially if you have to use the knife urgently, and the extra step you have to make with the classic unit could waste time.
There are several other tools that you can use independently as well since they are positioned on the outside of the handles, offering you easy access. Other than this, these two multi-tools are almost identical in the functionality and tools that they offer.
Design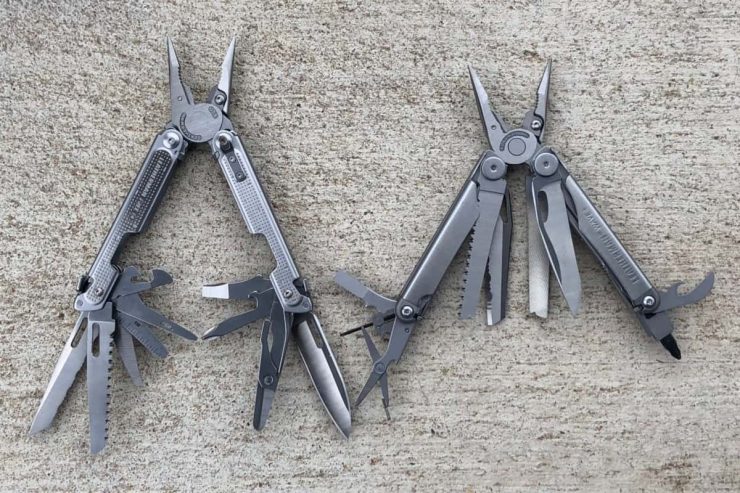 Both Wave and Wave Plus are rather similar in design and are made using the same materials. You can find them in stainless steel and with a black oxide coating. The difference is that the Wave Plus version with a black oxide coating has been improved, and the color does not rub on the hands after prolonged use.
The knife blades on both products are made using 420HC stainless steel, which grants superb rust resistance, durability, and the ability to withstand repeated sharpening. Both units are designed with longevity and customer satisfaction in mind.
Warranty
When it comes to the warranty, you can clearly see just how confident the Leatherman company is in the quality and longevity of its products. Both the Wave and the Wave Plus come with a 25-year warranty, and no company would ever provide it for such a long period if it were not sure its products would be able to withstand the test of time.
That being said, it is also worth mentioning that Leatherman always seeks to improve and upgrade their products, and with constant innovations, the customers are always looking to get an upgrade, even before their warranty expires.
Final Words
As you can see, both of these products are rather similar, except for some quality of life improvements that came with the new and improved Wave Plus. Both products are highly versatile, and as it is intended in the first place, they can serve multiple purposes.
These are top-of-the-shelf multi-tools, and whichever you end up purchasing, we are certain that you will make a quality buy. The differences are minor, but a few things are constant with both products – quality, durability, reliability, and top-notch warranty.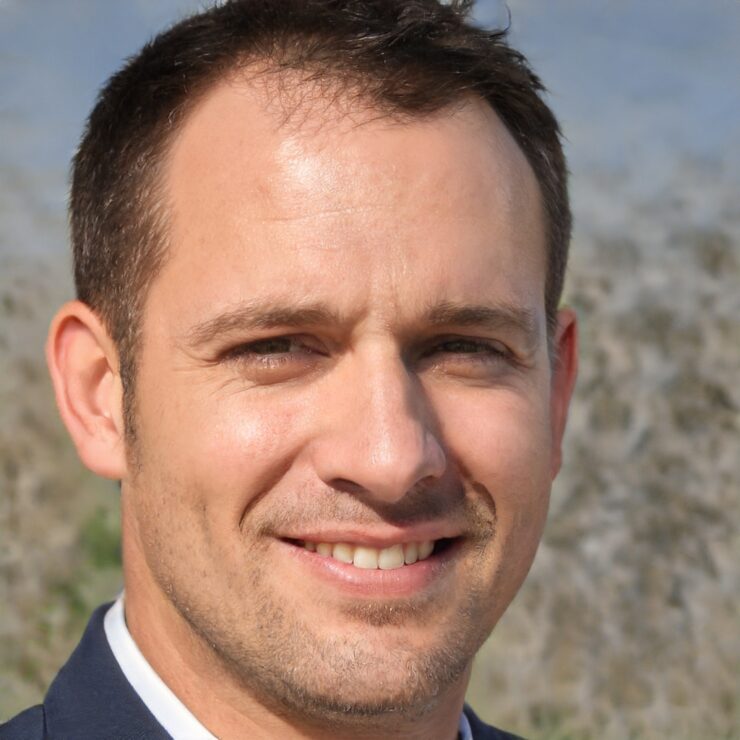 The outdoors is my playground 24/7, 365. Camping, hiking, mountain biking, grilling and all things related to the planet are my jam.