Preparing for your summer vacation doesn't just include choosing that perfect bikini or a perfect hotel and gorgeous beaches. It involves caring about your health as well, and to do that, you should invest in a good beach umbrella that will protect your skin against UV sun rays and prevent sunburns.
Skin protection is essential with every trip to the beach since you surely won't enjoy your vacation if you get sunburned on the first day. To help you choose a perfect beach umbrella, we have set up a list of our top picks, as well as the buyer's guide so you know what you should pay attention to when purchasing one.
Our Top Picks
1. Frankford Beach Umbrella
Frankford Umbrellas brand offers a less budget-friendly model, but for good reasons. This beach umbrella provides UPF 50+ sun protection with a 7.5 ft wide top that offers a large amount of shade making beach trips pleasant and enjoyable for more than just one person. Besides UV protection, this fabric also ensures durability and is wind resistant. It is an acrylic material that won't fade when exposed to sunlight and it will not mold.
Besides the elegant look, the wooden pole is strong and combined with stainless steel springs and zinc ribs so the construction guarantees a long life span. A bit heavier than some umbrellas, this one offers you more stability and is less likely to be moved by the wind. It features steel joints that add up to the strength. Check out this quick overview:
Setting up this beach umbrella may require some skill because it is a bit on the heavier side with a weight of 14 lbs, but it will be worth your while with all the shade it offers. The height of this item is 94″. If you decide to purchase a sand anchor that is sold separately, you will get maximum stability and it will be much easier to insert this umbrella into the sand.
This one comes with many different pattern options and a 10-year warranty.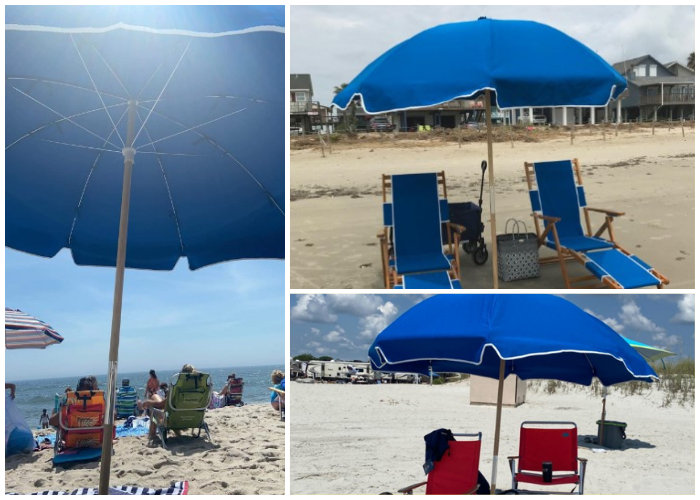 Read Also: Best Shoes For Walking In Sand And Beach
2. AMMSUN 6ft Portable Beach Umbrella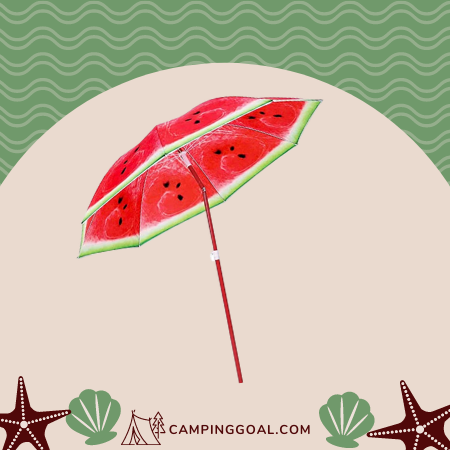 Here we have a very interesting umbrella with a colorful fruit design that really stands out in the sea of beach umbrellas. With its fruit pattern, you'll have no trouble finding it at the beach, but it is not just a pretty beach item – it is also very useful when it comes to skin protection. AMMSUN offers us a 6 ft canopy that has UPF 50+ protection providing you with a comfortable shade while also blocking the unwanted sun radiation. You can adjust the angle of this model by simply tilting it at the angle you find most comfortable.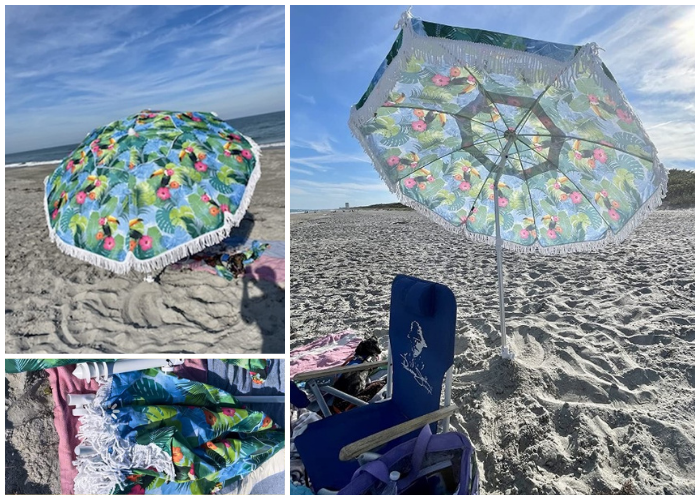 The construction of this umbrella is a combination of fiberglass ribs and a powder-coated metal pole which means it is extremely strong and stable. The pole is rust-resistant and height-adjustable because it contains two parts that can be adjusted by a wrench pressing the upper pole on the down pole.
A carry bag that matches the color of the umbrella is included, so you can just simply carry it on your shoulder.
3. Wondershade Ultimate Beach Umbrella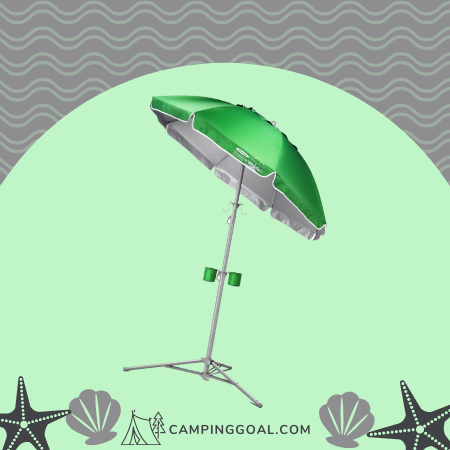 Wondershade Ultimate Beach Umbrella is a very practical and multifunctional model that can be set up pretty much anywhere thanks to the tripod base that makes it very stable. The base is made from stainless steel strong enough to ensure that the umbrella top is secure, but due to the aluminum ribs and post, this umbrella is not heavy and is portable enough for you to carry it anytime you wish to visit the beach.
Setting up this model is simple because the base post features a removable screw so you can easily dig up a hole in the sand. It is also suitable for your patio or as a picnic umbrella since the tripod can be placed on the grass or concrete.
As for sun protection, if you choose this umbrella you'll make no mistake. It comes with a taffeta nylon fabric that blocks 98 percent of harmful sun rays and a UPF of 50+ so you can be sure you are safe and protected against UV rays.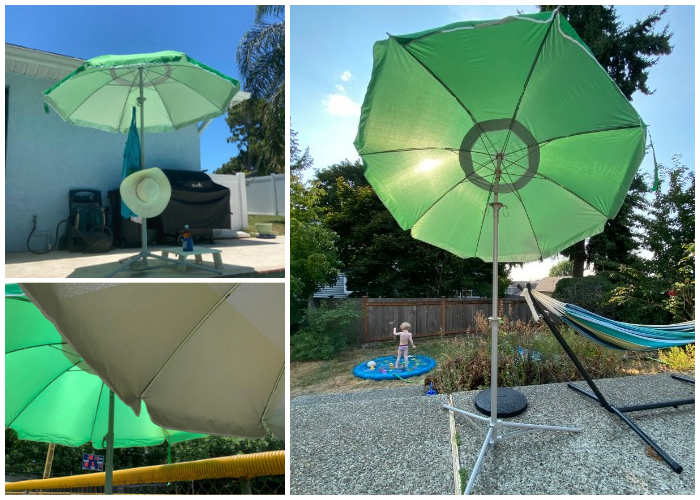 This model's telescope pole can be adjusted in height anywhere from 3′ to 8′. The top is 60 inches in diameter and can be tilted anywhere you desire, making this umbrella very adjustable and convenient.
Additional features include a carry bag for more portability, two cup holders for your refreshing beverages, and hooks that allow you to keep your stuff off the ground and within the reach of your hand.
4. Family Beach Sunshade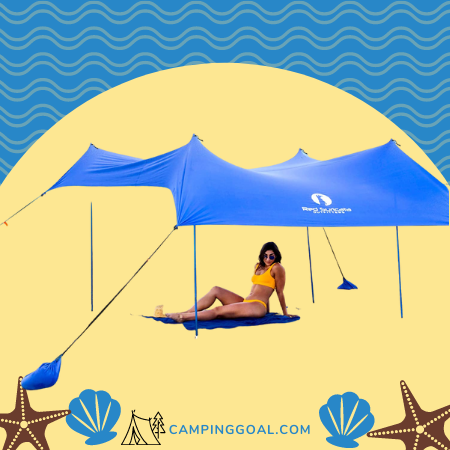 If you enjoy going to the beach with your family, or just a lot of friends, Red Suricata Family Beach Sunshade is the one for you. It is not a classic umbrella – it is a tent but with all the same qualities a beach umbrella has to offer, plus the extra space. This model comes with four tall aluminum poles and can fit 6 to 7 people. It is very lightweight and easy to set up – just stick the poles into the sand.
They come with sharp stakes at the bottom making it very easy to install this tent. On the other end of each pole is a plastic ball that allows you to set up the fabric without tearing it. The construction is rust-proof and also wind-resistant thanks to the pole anchor screws that provide more stability and make it simple to install the canopy. Here is a quick guide on how to set it up:
Okay, the tent is very strong and durable, and easy to install, but what about skin protection? Well, the canopy is made from premium Lycra and has an SPF 50 rating, meaning it blocks out 98% of harmful UV radiation so you can safely spend time at your favorite beach and be sure your skin is protected.
As for the package, this tent comes with a waterproof carry bag and it weighs only 7.5 lbs so making it a part of your beach routine is fairly easy. The tent is available in 8 different colors so you can choose your favorite one.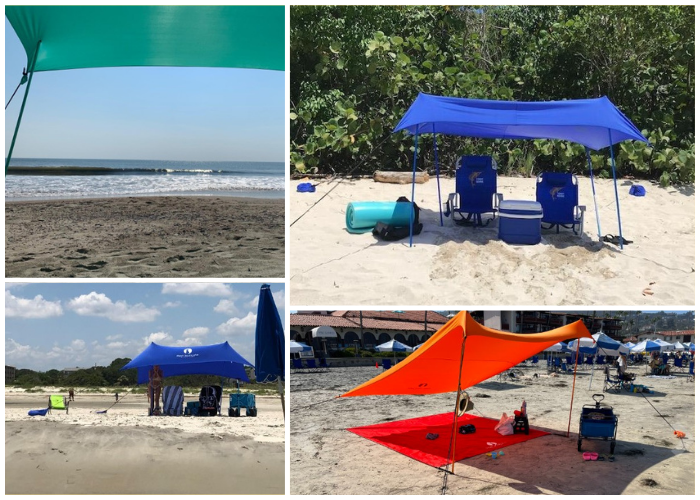 5. Beach Brella Umbrella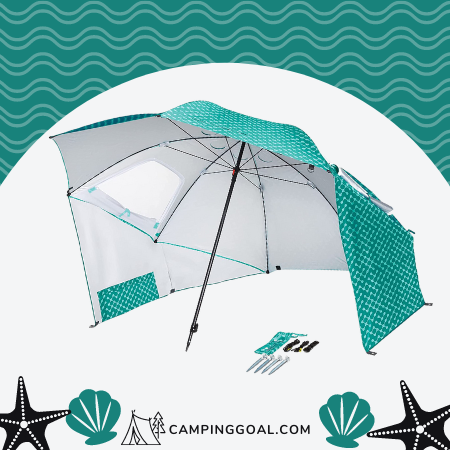 This 5-foot spread beach umbrella is perfect for any given day at the beach since it offers 100% UV protection ensuring you a safe and enjoyable beach time. It comes with a whole range of different patterns so you can choose the one that you find most attractive and be the ultimate beach king or queen.
The fabric is not only pleasant to look at with a colorful design, but also extremely durable. It has water-resistant features and will not fade easily so you can rest assured this umbrella will be with you for a long time.
Installing this Beach Brella is a piece of cake thanks to the built-in point anchor – just stick it to the ground. The package includes sandbags and Velcro straps that keep the umbrella in one place and allows it to resist wind, so you don't have to worry about stability.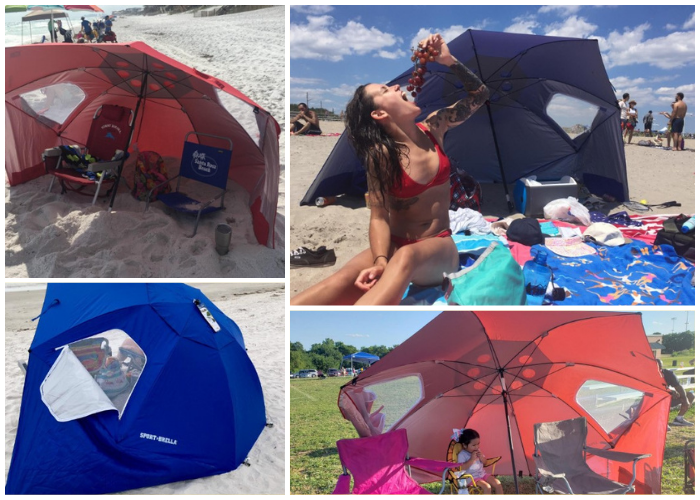 The umbrella weighs less than 5 pounds so it is safe to assume it is very easy to carry around. To make sure of that, the manufacturer included a convenient denim carry bag that comes with a canvas shoulder strap allowing you to transport the umbrella with ease. The bag has a handy pocket you can use to store your phone, keys, or other accessories.
6. AMMSUN Beach Chair Umbrella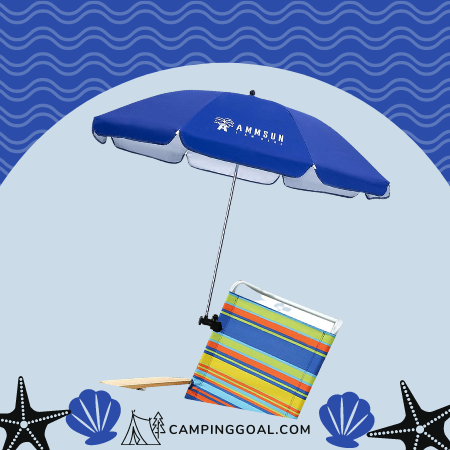 If you prefer to pack light and go get that sand in your hair by yourself, AMMSUN offers you a solution. With a weight of only 1.87 lbs, this portable beach chair umbrella comes with a bag so it is easy to transport.
It is a very versatile model that features a clamp suited for any chair you might think of. You don't need to worry about the installation of this umbrella, simply clamp it on your chair and enjoy the shade, not just on the beach but on basically every occasion since it can be mounted on patio chairs, golf carts, and even strollers to protect your baby against the sun.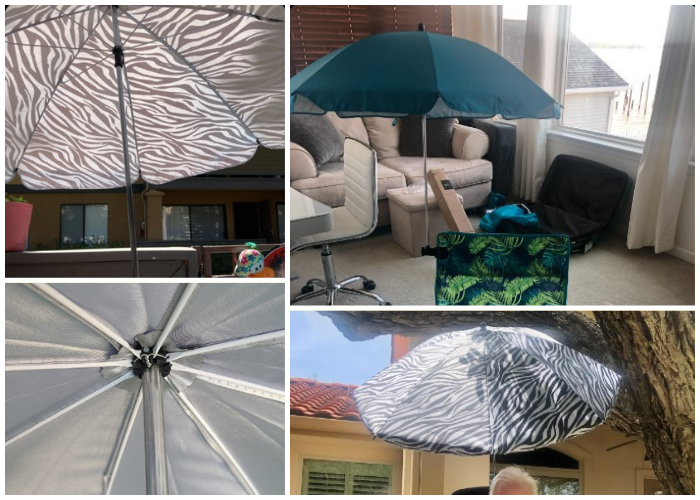 With the UPF 50+ this oxford silver cloth fabric blocks out 99.5% of damaging UVA/UVB rays making sure your skin is very well protected. It features a 9.6 ft span when you open it and it can be adjusted by 180 degrees so it doesn't matter what time of day is it and from which direction the sun is coming – you are safe.
It is a wind-resistant and strong construction made from steel ensuring longevity and endurance while also providing you with enough stability for most weather conditions.
Check out our article about what should you wear when camping in the summer.
Buying Guide – What to Pay Attention To
UPF Rating and Protection
The main focus when choosing a beach umbrella should be on good sun protection. The UPF (Ultraviolet Protection Factor) is an extremely important feature to pay attention to when buying a beach umbrella since its sole purpose is to protect your skin against those harmful sun rays.
Choosing an umbrella with UPF 50+ is good enough for any given time of the day, and will protect your skin from 98% of sun rays and prevent sunburns.
Weatherproof Design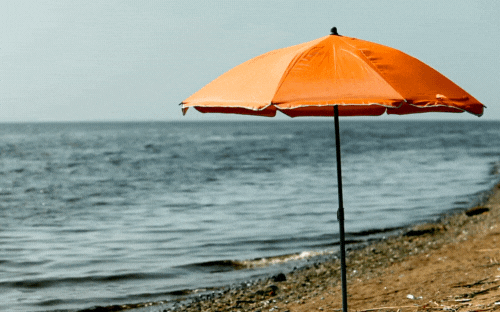 Since you'll be using your beach umbrella on the beach (logically), you need to make sure it is good enough to endure all weather conditions common for most beaches. Being resistant to the wind, sun and saltwater is a MUST for an item like a beach umbrella.
Since the wind can easily knock down your umbrella or even worse, break it, make sure that the model you get has a good windproof rating and can endure at least average winds.
The sun is bound to wear down any material when it's exposed to sun rays for a long time. Fortunately, beach umbrellas come with materials that are more resilient to sun exposure than others. Most of them are made from canopy materials that have a protective coating and are UV resistant so they last longer and protect your skin.
The saltwater can cause your umbrella pool to rust, so besides the regular cleaning, you also need to make sure you get one that is rust-resistant so you can use it for a long time. Powder-coated steel poles are most recommended since they are less prone to rusting and also sturdy enough to endure falls and bumping without getting damaged.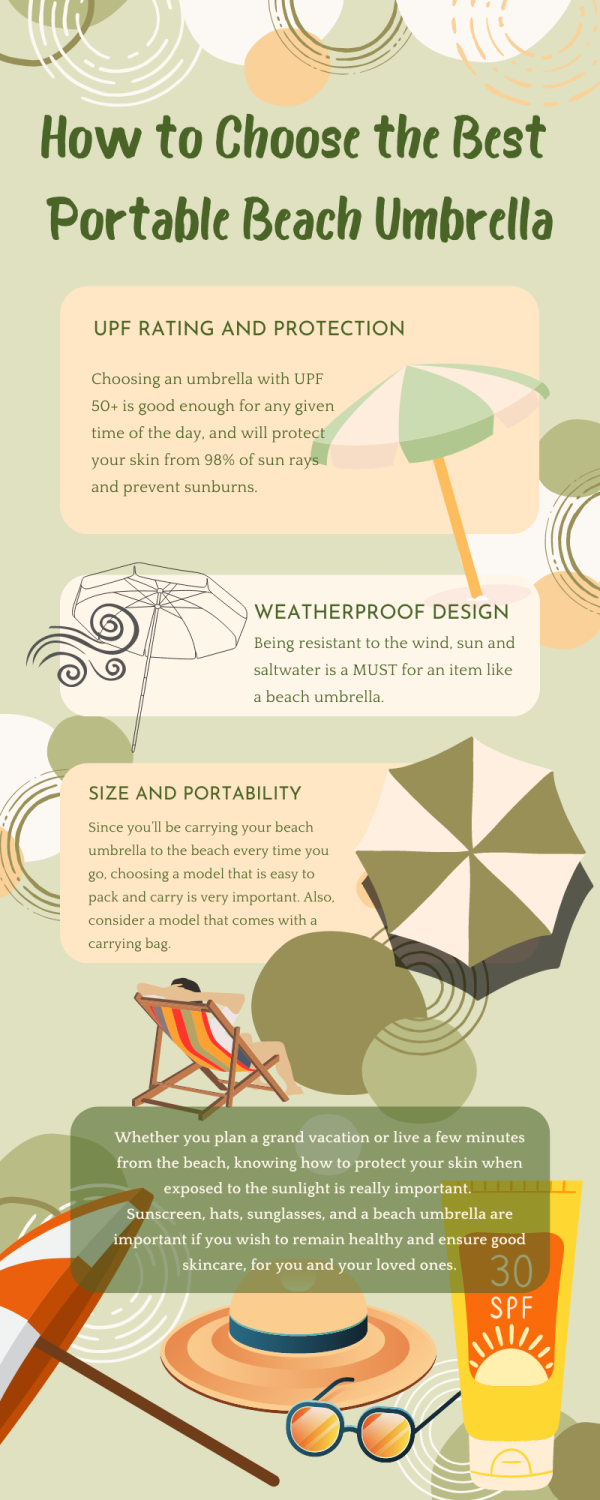 Size and Portability
Since you'll be carrying your beach umbrella to the beach every time you go, choosing a model that is easy to pack and carry is very important. Nobody wants one that is too heavy and causes problems. If you want a bigger and stronger umbrella, you may have to compromise when it comes to the weight, since wooden and steel umbrellas tend to be heavy, but are more durable.
You should also consider a model that comes with a carrying bag since it is so much more convenient to transport than the ones that do not have a bag. Also, umbrellas that come in several pieces are more suitable for transport, but you will need to assemble them once you get to the beach.
Another thing to keep in mind is the height of your umbrella. You don't want one that is too close to your head and makes you keep bumping it every time you get up, but you certainly don't want one that is too high so it doesn't provide a perfect shade.
FAQ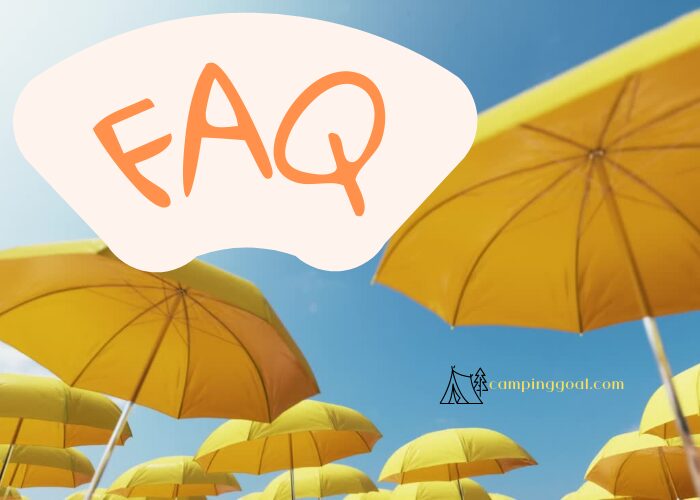 1. Do Beach Umbrellas Block UV Rays?
Most umbrella models come with some level of Sun protection since their sole purpose is to keep you away from the sun. SPF (Sun Protection Factor) can vary depending on the model, but even the cheapest umbrellas should have some sort of UV protection.
2. How to Set Up a Beach Umbrella?
Beach umbrellas usually come with sand anchors (or you can buy one separately) that you need to fill with sand and secure your umbrella from being blown away by the wind or accidentally falling.
Some models come with a little shovel at the bottom to help you dig a hole, and others have screw poles that go a few inches into the sand.
3. How Do I Clean A Beach Umbrella?
To protect your umbrella from sand or saltwater, cleaning it after each use goes a long way. Simply shake the extra sand or use a brush to get it off. If that doesn't do the trick, try using a cloth with clean water or a mixture of water and laundry detergent.
After that, leave it in the air to dry and then store it in the case. You do not want to store it while it's still wet, since you risk getting mold on your fabric.
4. Can I use a beach umbrella as a patio umbrella too?
While you can use your beach umbrella any way you want, be aware that these models have thick poles that are suitable for the sand but not as much for the standard umbrella base found in most patios.
If you do find the solution for installing your beach umbrella on your patio and don't mind the colorful fabric (that is if your model is colorful), feel free to enjoy it.
5. What Color Umbrella is Best for Sun Protection?
It is a well-known fact that black color attracts the sun rays, but when it comes to umbrellas, it can actually have the opposite effect. Black umbrellas absorb more UV light so less heat comes through the fabric and therefore, onto your skin.
Final Words
Whether you plan a grand vacation or live a few minutes from the beach, knowing how to protect your skin when exposed to the sunlight is really important. Sunscreen, hats, sunglasses, and a beach umbrella are important if you wish to remain healthy and ensure good skincare, for you and your loved ones.
Hope we helped, at least to get you informed when it comes to beach umbrellas and their features.
Related Reviews:
Top Hammocks with Mosquito Net
Best Battery Operated Fans – Reviews
References:
https://www.bustle.com/articles/65493-15-beach-hacks-tips-and-tricks-to-make-your-tropical-spring-break-vacation-the-best-one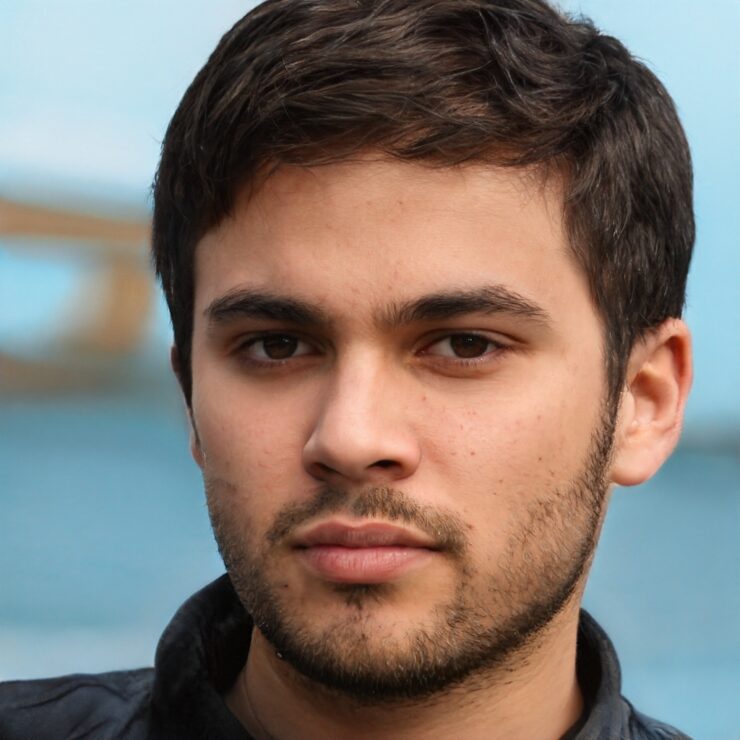 I love to explore the outdoors, cook over a campfire and pitch a tent. I want to share my adventures with you by writing articles, taking pictures, and sharing videos.