When you are planning a camping or beach trip, it is of utmost importance to consider your comfort, especially in terms of footwear. It is essential to select the appropriate gear and to choose it according to your activities to get the best experience possible.
One of the most relaxing activities near beautiful beaches and lakes is walking in the sand. However, this activity can turn into a disaster if you do not bring quality shoes and other footwear along. This is due to the fact that walking on soft sand can cause muscle pain in your feet, especially if your skin is sensitive.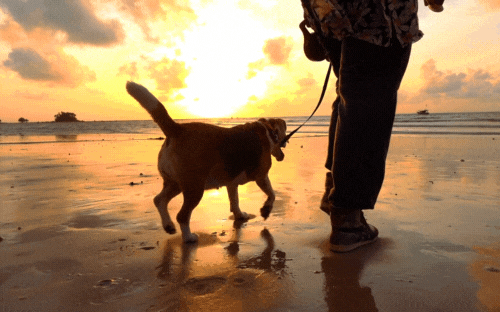 It might come as a surprise for some of our readers, but when we walk, run, or exercise, our foot volume gets increased by two to four percent, and blood gets pumping much more than it normally does. This is why it is highly important to consider various factors before purchasing quality shoes for walking on sand.
Of course, it is far more relaxing to walk on the beach barefoot, but sometimes sand conceals pieces of broken glass and sharp rock pieces that can harm your feet; therefore, it is wiser to find quality shoes to avoid any unnecessary injuries.
Hot sand can burn your feet
Insects like Flea, Anition, Tiger beetle, and a spider can bite you.
Sharp rocks and glass pieces can cause foot injury and skin cuts.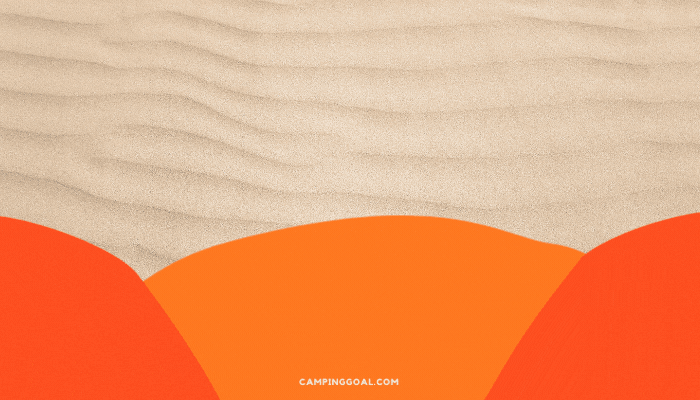 All of these examples make it clear that you should purchase a pair of good shoes to get protected from various dangers. To select the right pair, you should know what features and qualities it needs to possess, and in order to assist you with this choice, we have listed some of the most important attributes in the section below.
Top Picks for 2023 – Comparison Table
What we like in shoes for walking in sand
Comfortable & durable shoe material
Flexible, lightweight, and supportive sole with essential traction.
Breathable material to keep feet dry.
Strong elastic material to protect against sharp edges
Lightweight & waterproof
Shoe shape does not allow sand to stuck between foot and shoes
Have a strong grip
Flexible for all movement
Easy to wash
Easy to take off and put on
Now you need to consider available shoes in the market then choose the best according to your requirements.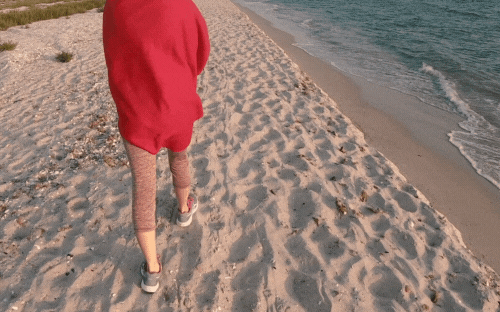 Flip flop (Not recommended)
Flip-flops are the most commonly used piece of footwear used for walking on the beach. However, they are only comfortable to wear for short distances, and if you plan a longer walk, it is likely that your feet will get tired very fast and that you will start feeling discomfort between your toes.
Moreover, flip-flops have a rather loose grip, which makes covering longer distances in them even more difficult.
In addition, the sand quickly gets between your toes and starts creating an annoying feeling and gets you distracted. Flip-flops have great flexibility, are lightweight, and have a great supportive sole, but they will serve you best on even surfaces and are not a particularly good choice for sand.
They will protect you from hot sand but will not protect you from insect bites. To summarize, they are pretty good for summer walks on even surfaces but not an ideal choice for walking on sand.
Water sandals (can be a substitute)
Water sandal is a good choice when you want your feet to feel comfortable on a hot weather vacation. It's lightweight and flexible for all movements. The sandal has a secure grip on your foot and is safer than a flip flop.
Its flexible, lightweight, and supportive sole have essential traction with sand. But it allows pebbles and sand to stuck between the foot and shoes. It does not fully cover your feet so the risk of insect bite cannot be eliminated.
Water shoes (recommended)
Water Shoes Walking on sand is not an easy endeavor, but water shoes can make it much more comfortable and enjoyable. They boast super flexible, lightweight, and supportive soles that offer exceptional traction on the sand.
In addition, they can cover your feet completely, so you do not have to worry about mosquito bites or any similar hazards. The porous materials on water shoes also allow water to evaporate easily, so your feet can dry quickly in case you are often sweating.
What is even better is that you can walk in the water in them so you can get even closer to the sea during your walks. Another great feature of water shoes is that they are very easy to take on and off, so if you want to take a pause and walk barefoot for a while, you can do so completely hassle-free. Overall, this piece of footwear is by far the best solution for walking in the sand.
1. Dreamcity Men Water Shoes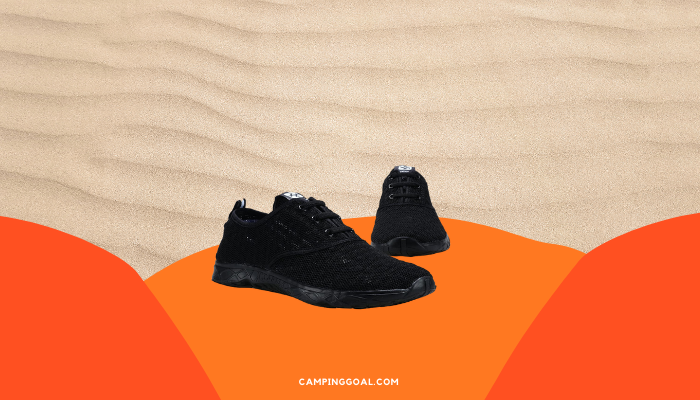 Specification
Available size:  7,  8,  8.5, 9.5, 10, 10.5, 11, 12, 13, 14
Available color: Grey, black, blue, dark grey, black-white, light grey
Features
Dreamcity men's water shoes have all the functionality that a person needed in sandshoes for beach activities like playing Frisbee, fishing, bonfire party, yoga, and build a sandcastle, etc.
Its durable rubber sole is flexible, lightweight, supportive, and has exceptional traction with sand. It also provides exceptional traction with wet and slippery muddy ground.
It's made of 90% fabric which is strong enough to protect you against sharp edges and insect bite.
The upper part which covers our feet is made of mesh-like material which makes these shoes breathable and keeps your feet dry and healthy. Mesh does not become heavy either in or out of water. Its out-sole design does not remain sand to stuck between your foot and insole. We can select Dreamcity as the best shoes for walking in sand.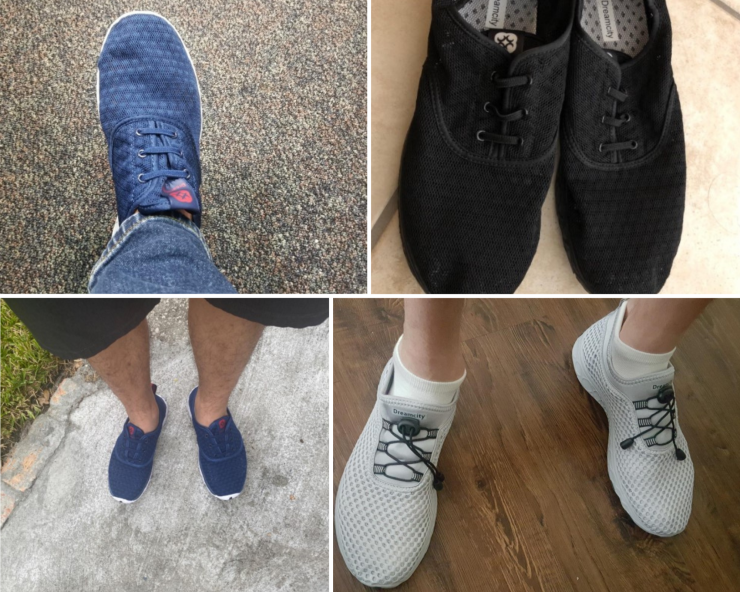 2. Aleader men's mesh slip-on water shoes

Specification
Available size: 7, 7.5, 8, 8.5, 9, 9.5, 10, 10.5, 11, 11.5, 12, 13, 14
Available color: Army Green, Grey, Blue, Overcast grey, Navy-grey, Dark grey, Black, Black-white
Features
Best sand shoes will help to support your feet, no matter which kind of activity you are doing in your adventure. Aleader water shoes have all features to give a healthy shoe environment either you are on the beach or in a desert.
Its lightweight rubber sole provides excellent bounce back as well as exceptional traction with the slippery muddy surface. The out-sole design does not allow sand to stuck in your feet. Moreover, it can also allow water to drain easily but it is not suitable on the rocky beach because pebbles kick up into sole.
Upper mesh made of the fabric material allows your foot to breathe which creates a more refreshing, and healthy shoe environment. Upper mesh and water drain-able out-sole provide super breath-ability to your feet. These features make it very special to use in hot weather conditions. Moreover, it allows sweat to evaporate quickly and keep your feet sand-free. I believe you will enjoy the benefit of it after purchasing.
3. SIMARI women men's water shoes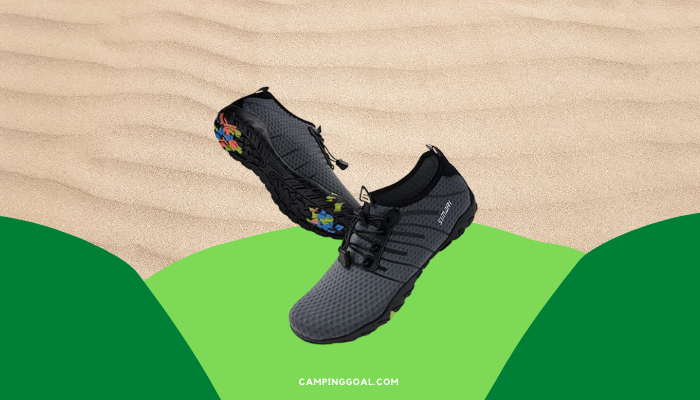 Specification
Available size:  4-5 women∕3-4 men, 5.5-6 women∕4.5-5 men, 7-8 women∕6-7 men, 8.5-9 women∕7.5-8 men, 9.5-10 women∕ 8.5-9 men, 11-12 women∕10-11 men, 12.5-13.5 women∕11.5-12.5 men,
Available color:  Almost every color available
Features
If we want a cheap and most comfortable alternative to other water shoes, then SIMARI is the best option. It's too light and comfortable. Sometimes you forget you are wearing shoes. It's not for hiking. But for the beach activities, it is perfect.
Its sole is made of TPR material. TPR is a plastic material that has good abrasion. It can protect us from sharp edges like glass objects in the sand and keep our feet safe from hot, cold and rocky surfaces. Out-sole can also provide exceptional traction on a wet surface.
Its upper material has excellent breath-ability to keep feet dry.  The smooth stretch upper fabric is flexible and comfortable like socks. It allows free movement of feet comfortably. Easy to take off and put on. There is a variety of beautiful colors and styles available. SIMARI offers a 30-day money-back guarantee also. It's one of the best shoes for walking in sand.
It's perfect for beach activities like swimming surfing, beach volleyball, walking, fishing, car-washing.
4. JIASUQI Summer Beach Swim Water Shoes Socks for everyone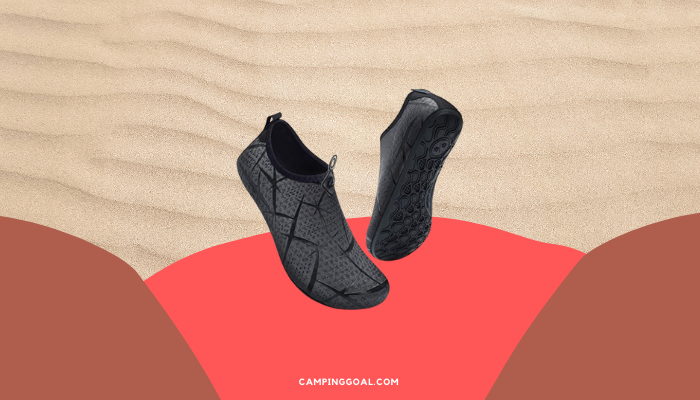 Specification
Available size: 4, 4.5 ,5 ,5.5 ,6 ,6.5 ,7 ,7.5 ,8 ,8.5 ,9 ,9.5 ,10 ,10.5 ,11 ,12 ,13 ,14
Available color: almost available in every color.
Features
Some people are irritated when sand is stuck between their feet and shoes. But they want to enjoy beach activities like fishing, boating, yoga, playing frisbee or volleyball.  If you are one of them then choose this shoe pair.
It is made of ultra-lightweight stretchy material, which fits properly around your feet and never allows the stand to enter between your feet and in-shoes. Moreover, flexible material is very comfortable and allows users to take off and put on easily. Its rubber sole comes with a unique texture that provides essential traction on the wet muddy surface.
Breathable upper material with a smooth neck design helps your feet to dry quickly. Moreover, they are so comfortable and lightweight, it feels like you are barefoot. Last but not least, these shoe pairs are available in every size and color.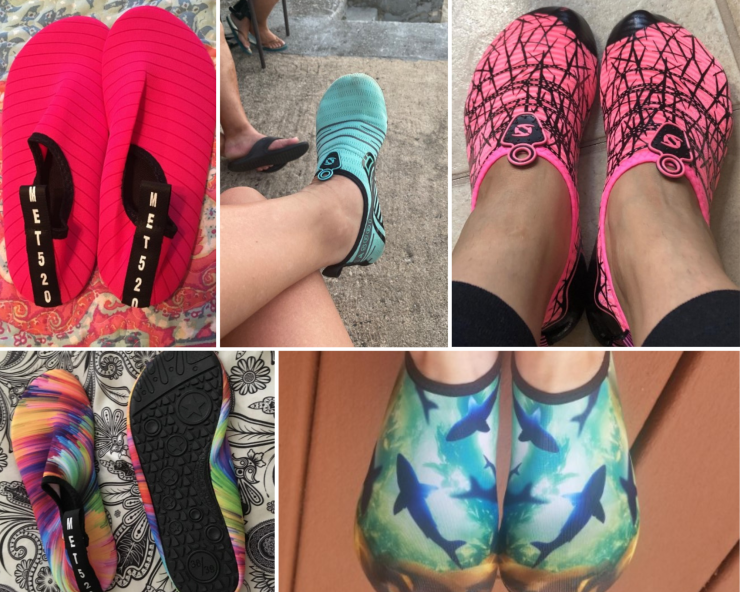 5. Voovix water shoes for men and women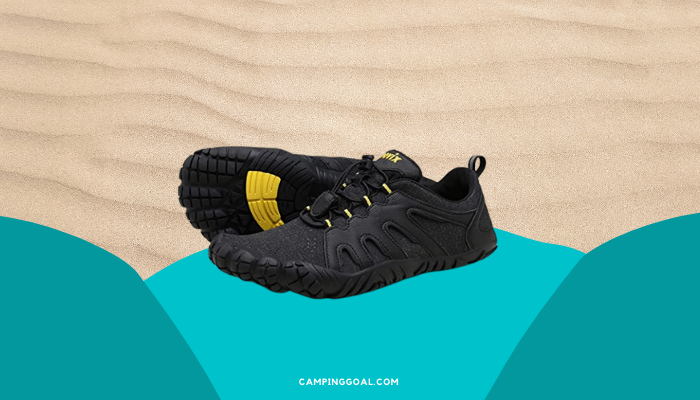 Specifications
Available size:  5, 5.5, 6, 6.5, 7, 8, 9, 9.5, 10, 10,5, 11, 12
Available colors:  Green, Blue, Purple, Black, Rose
Features
Voovix Water shoes are equally suited for males & females. It's one of the most suitable shoe pairs for outdoor activities like swimming, cycling, jogging, weight training, fishing, walking, and beach volleyball, etc.
It's designed to resolve the water drainage issue to keep feet dry. Seven holes in the shoe sole make sure water and sweat flow out properly to keep a healthy shoe environment. The soft rubber sole is a breathable and a slight shock absorber. Proper ventilation sole also provides essential traction on the wet, muddy, slippery surface.
In case you might be interested in: best camp shoes for backpacking
Soft, flexible, durable, and lightweight fabric with reliable quality, protect your feet against sharp edges and ensure free movement. its fabric material does not allow sand to get in between your foot and in-shoes.
Voovix Water shoes are also easily washable. Easy to take off and put on. The lightweight and flexible sole makes it easy to pack and carry. So Voovix can be the best shoes for walking in the sand.
6. Crocs men Swiftwater mesh sandals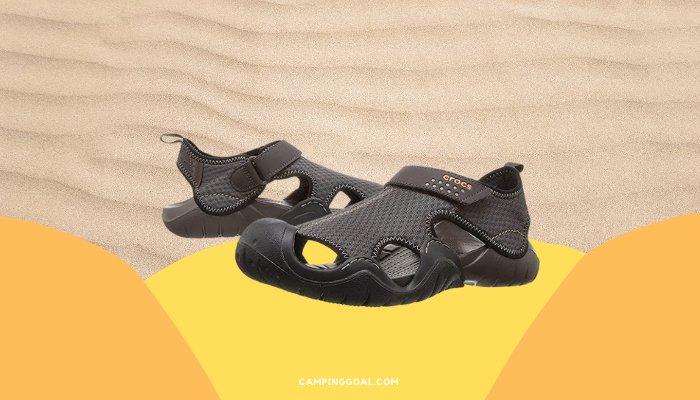 Specification
Available size:  4, 5, 6, 7, 8, 9, 10, 11, 12, 13, 14, 15, 16, 17
Available color: Black, Blue jeans∕ slate grey
Feature
Crocs men Swiftwater mesh sandals are a good choice when you want your feet to feel comfortable in hot weather. Crocs sandal is comfortable, breathable and has exceptional traction with sand. Its design allows us free movement. It's great for rocky beaches.
Its lightweight synthetic sole has massaging balls located all across the footbed. These massaging balls comfort your feet by reducing stress off underfoot.  It's supportive roomy sole also has good traction with sand.
Soft, lightweight and 100% textile mesh is water-friendly and design to channel out water away to keep a healthy shoe environment. Mesh does not add weight to your feet by absorbing water. Mesh upper offers an adjustable magic strip for best fitting. But it allows sand to get in between your foot and in-shoes.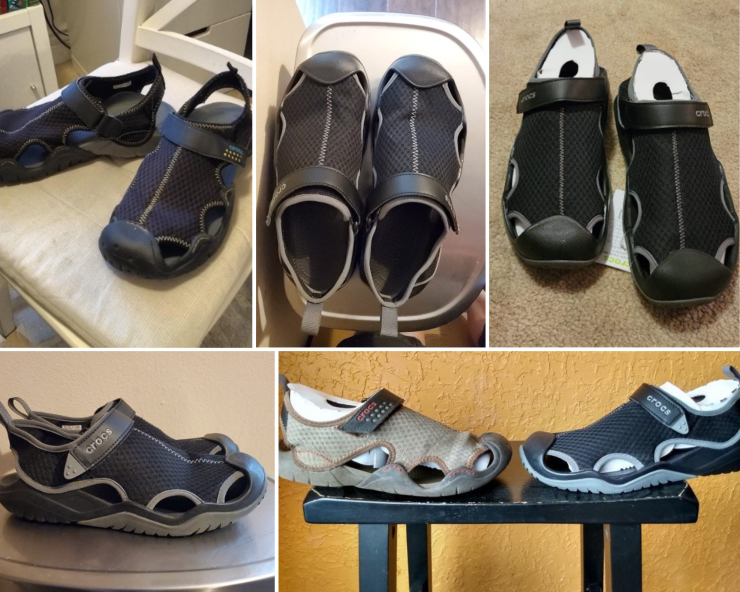 7. Speedo men's surf walker 3.0 water shoes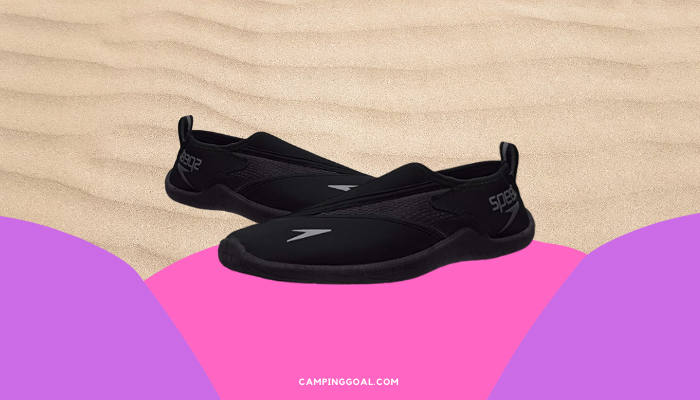 Specification
Available size:  7, 8, 9, 10, 11, 12, 13, 14
Available color: black, blue-black, grey-yellow, navy, grey-blue, navy-blue
Feature
The Speedo surf walker is mostly used by professional swimmers because it's one of the best water-friendly shoes. It has good underfoot protection with a flexible and light sole. These features make the speedo surf walkers the best shoes for rocky beaches. We can also use it on a boat and pool.
The synthetic outsole of speedo has drainage ports underneath the foot. They are small, so they only allow water to escape and not let pebbles kick up into the shoes. S-tac outsole provides a slip-free grip. The breathability of the sole helps your feet to dry quickly.
Upper stretch mesh gives a comfortable fit. The flexible mesh allows free movement inside, as well as outside of water. It does not allow sand to get in between feet and shoes. It also protects us against sharp edges. But speedo is difficult to put on due to the small opening.
After a long walk, you will need a good place to sit down and relax. Check out which are the best portable umbrellas for the beach that will protect you from the harsh sun.
Things to Consider Before Buying Shoes for Walking in Sand and Beach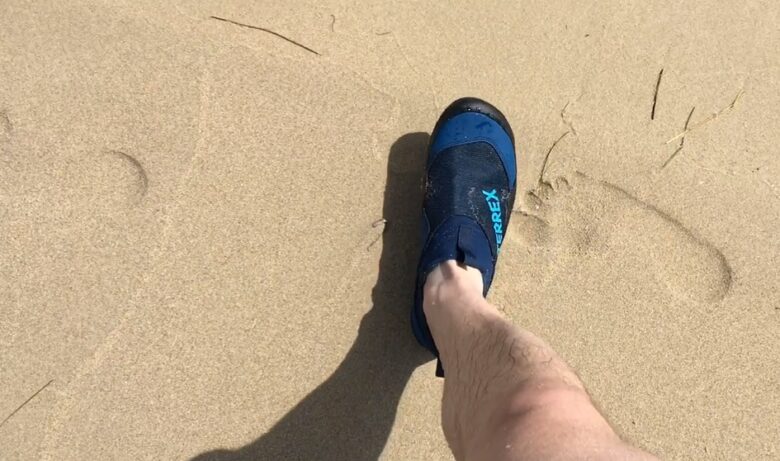 The most important thing is that your feet stay dry and comfortable when wearing your shoes. That's why it's important to find something that has good arch support and doesn't let water in through the top of the shoe when submerged in water.
Sand is a very difficult terrain to walk in. It can be very uncomfortable and it can lead to blisters if you're not wearing the right shoes. Sand is also very different from other terrains because of how it moves, which means that you need to adjust your walk accordingly. That's why we've put together this guide on how to choose the best shoes for walking in the sand so that you don't have to worry about it anymore!
1. Breathability
Breathability is one of the most important things to have in mind when purchasing shoes for walking on sand. Your shoe needs to have excellent air circulation and breathability; otherwise, your feet will get sweaty, and you will feel uncomfortable.
2. Water Resistance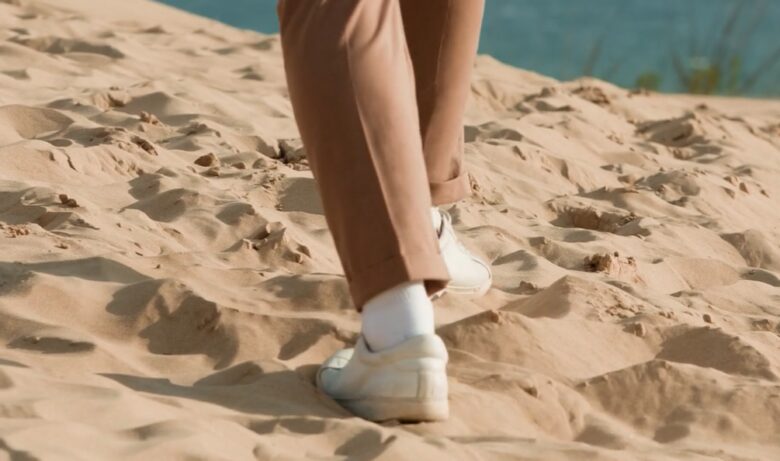 The shoes you decide to purchase should definitely be waterproof. This is very important since you will be going back and forth between sand and sea, so picking shoewear with water resistance is crucial.
3. Fit
Regardless of its purpose, every piece of shoewear should offer you a glove-like fit. If your shoes do not fit you properly, you will feel lots of discomfort and turn something that should otherwise be a relaxing and pleasant activity into a nightmare.
4. Material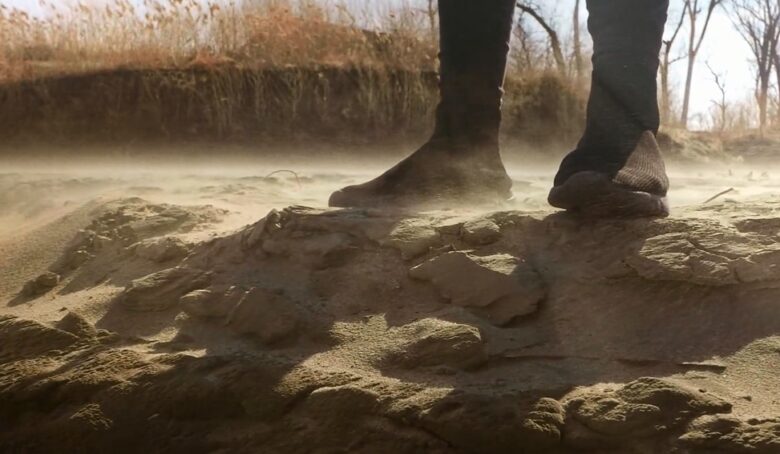 Material is crucial in this purchase, and it will ultimately determine how comfortable you feel wearing the shoe. Make sure to purchase shoes that are made of high-quality materials that will not easily tear and that will feel comfortable when you wear them.
5. Lightweight
Since walks on a beach should be an easygoing and carefree activity, it is essential that your feet feel like you are wearing almost nothing at all. Moreover, heavy shoes will add more resistance and tire you fast when walking on sand. This is why you should opt for the lightest shoewear you can find.
6. Good Cushioning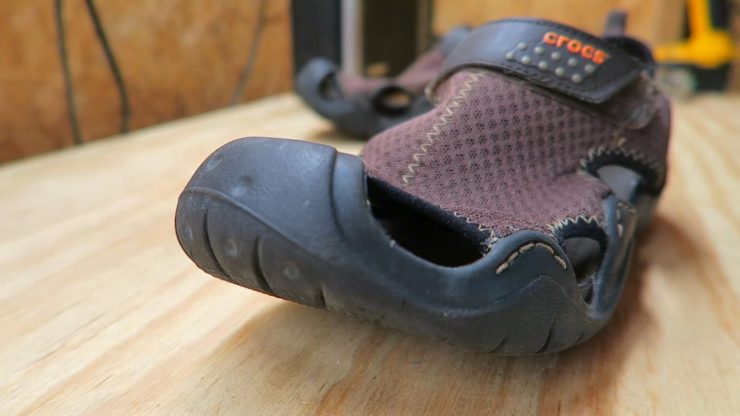 Heavily cushioned shoes bear high importance, as sand absorbs lots of shocks. A quality cushioned and formed midsole will ensure that your feet are stable and that you feel comfortable while walking on sand.
7. Flexibility
The flexibility of the shoe is essential for stress-free movement and is another crucial aspect to consider when buying beach shoes. When shoes you wear on the sand are flexible, you completely forget about them and can move naturally and carefree.
Frequently Asked Questions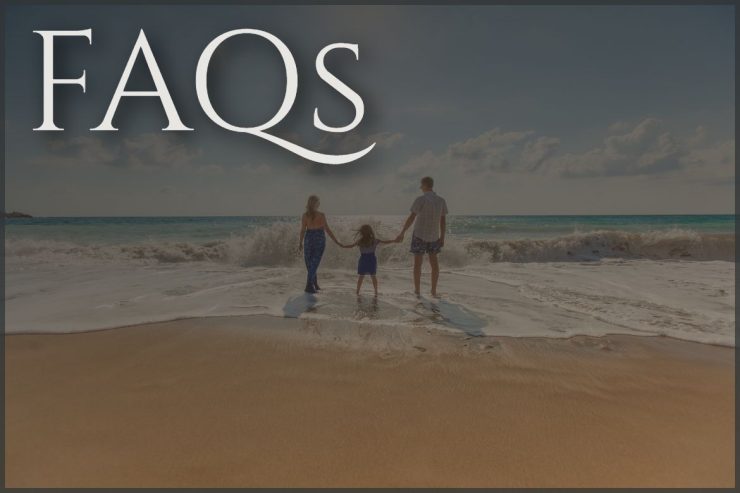 1. What are water shoes?
Water shoes are waterproof and slip-resistant, making them a must-have for anyone who wants to keep their feet dry. They are also very lightweight and come in various styles like sandals, moccasins, and bluchers. With them, you can forget about getting wet feet or worrying about slipping on a wet surface.
2. Can I wash my beach shoes in a washing machine?
It entirely depends on the model of the shoe. The most important thing to do before washing your shoes is to check the manufacturer's instructions and make sure that their product is machine washable. Failing to do so might result in permanent damage to your shoewear.
3. What types of shoes are best for walking on sand and the beach?
The best options to go for are flip flops, toe-post sandals, slides, strappy sandals, sneakers, and wedge heels. Which ones you will go entirely depends on your style, level of comfort, and features that come alongside shoewear.
4. Is walking barefoot on the beach damaging to your feet?
Not necessarily, since walking barefoot offers numerous health benefits, including cardiovascular health and decreased stress levels. However, walking barefoot for long distances and for extended periods can cause damage to your feet and injure them.
5. What features should I avoid when purchasing shoes for sand and beach?
There are many things you should be avoided when making this purchase; however, the crucial features to bypass are high heels and heavyweight. High heels will create a huge amount of pressure on the wearer, and heavyweight shoewear will make the wearer move feet harder.
6. Do beach shoes keep the sand out?
Absolutely. A quality pair of beach shoes should be able to keep the sand out of your shoes without compromising breathability or any other important feature.
7. Can I wear beach shoes to the pool?
This entirely depends on the materials your beach shoes are made of. It is largely due to chlorine since it is very harsh on most materials and will wear and destroy them quicker than salty water from beaches.
Conclusion  
After research, experience, and taking reviews from the public, I am able to shortlist the seven best shoes for walking in sand. All these products are with critical features that the best shoe for sand should have.
But our demands from the shoe depend upon the activities that we plan for sand beach or desert. So, after going through it you are able to choose the best pair according to your requirements.
References: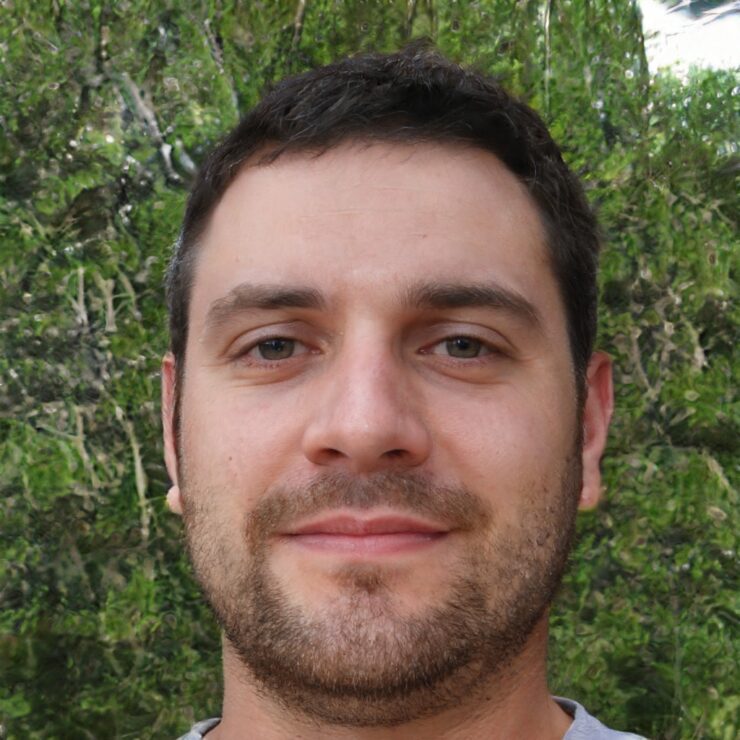 I love camping! There's nothing like being in nature, getting away from the hustle and bustle of everyday life.