Visiting a beach is the most exciting and rarest occurrence in my life. As someone who lives in a city with no beaches, there is a lot to inquire about before setting out on an adventure to a beautiful seaside. Yes, you are right. I am also one of those that can't choose between the perfect pair of shoes that must be worn for a walk on the beach.
But not anymore; after thorough research and collection of the required information, I have developed a detailed guide on what shoes to wear for a walk on the beach for other fellas like me who are stuck in a similar situation. So, keep reading the article for more information on the popular footwear choices for your day on the beach.
Best Shoes for Beach Walking
1. Flip Flops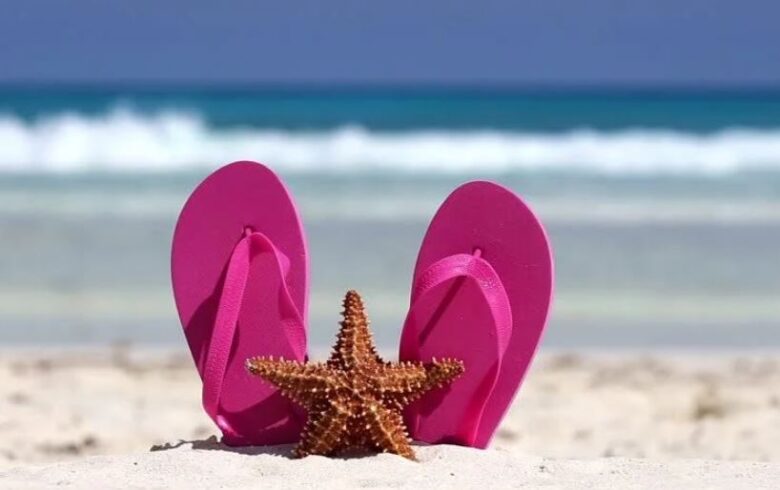 Flip flops are the most worn shoes on beaches and are extremely lightweight. They are specifically designed to provide enough support while standing on the edges and prevent you from losing your balance in the direst conditions. In addition to this, they are easy to take off and do not require a lot of effort to maintain.
One of my most favorite attributes of flip flops is their hassle-free cleaning which makes them a go-to choice for beach trips. You can easily brush off the sand from these shoes and carry them around with you without any inconvenience. Apart from walking, they can also be used for swimming purposes and do not obstruct your movement a lot.
However, if you are looking for a suitable pair of shoes for other activities like running and playing volleyball, we suggest going for something else as flip-flops might come off relatively easy. Hence, resulting in injuries and other unwanted accidents. All in all, we suggest going for products that fit your size perfectly and are relatively less expensive.
2. Beach Wedge Sandals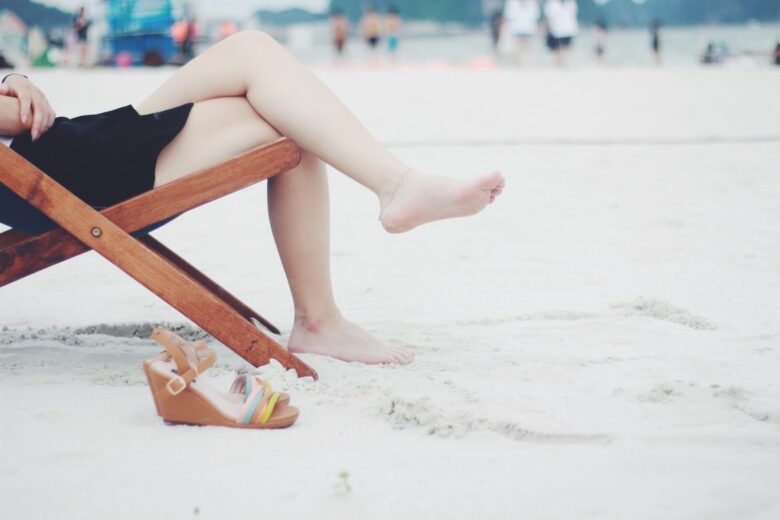 Beach wedge sandals are yet another remarkable product that can be worn on a beach without any inconvenience. They are definitely different from traditional high heels and are characterized by a flat bottom that prevents them from burying into the sand. Thus, making it easier to walk on the beach.
However, you must keep in mind that the height of your wedge should fall within three inches, above which it might pose walking difficulties. As compared to their previously mentioned counterpart, they are more suitable for sunbathing and short walks.
If you are planning to walk for a long time, we suggest going with flip-flops since wedges might sink in the sand due to heavy pressure and might slow your walking speed.
Available in a variety of styles, these shoes make you look stylish and can be worn for a more formal look as opposed to other related products that are characterized by casual appearance. We highly recommend these for espadrille beach wedges that are a perfect match for a summer dress and can elevate your overall appearance to a great extent.
3. Sneakers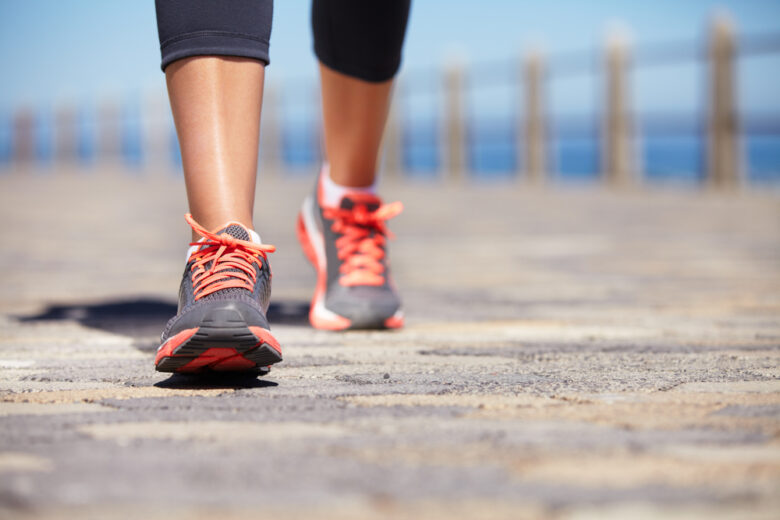 Sneakers also referred to as water shoes, are a perfect option for a beach trip. You might be surprised at their inclusion in the list as they are heavier than their other counterparts and might also feel hot. However, I can not stress their importance enough. Be it swimming, walking, running, or other fun activities, a great pair of sneakers can let you enjoy to the fullest without worrying about losing your balance, harming yourself, or falling off while running.
The majority of these products available in the market are specially designed to be used in water and thus, are a perfect accessory to your swimming costume. We assure you will not feel any inconvenience or injury while wearing these shoes.
Furthermore, sneakers are also available in a variety of color and size options and can be chosen depending on the requirement. Another significant advantage of these shoes is the remarkable grip which makes them stand out among the previously mentioned options.
4. Flat Sandals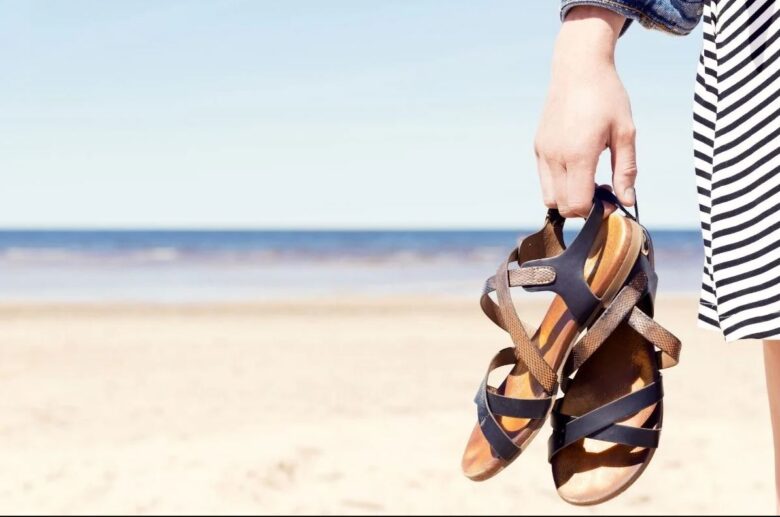 Last but not least, flat sandals are perfect for a summer outing adventure. Not only are they lightweight and portable, but they also contain straps that can be tied around the ankle to keep them in place. Thus, it makes it relatively easier to run and walk in these types of beach shoes and offers them a major advantage over their flip lop counterparts.
However, the major issue associated with these shoes is the inability to brush off sand unless you take them off completely. Since they are tied around your ankle, you might find it difficult to take them off every now and then.
But, if you are not bothered by the sand in your shoes, then you are good to go. We highly suggest keeping a pair of flat sandals with you if you are planning to visit a bar or cafe after your visit to the beach for a semi-formal look.
Frequently Asked Questions
1. Can I swim while wearing sneakers?
Yes, there is no problem swimming with your sneakers on. There are specialized beach sneakers available in the market that are waterproof and do not get damaged when they come in contact with excessive amounts of water, So, you can wear them while swimming for enhanced convenience and protecting yourself from injuries as well.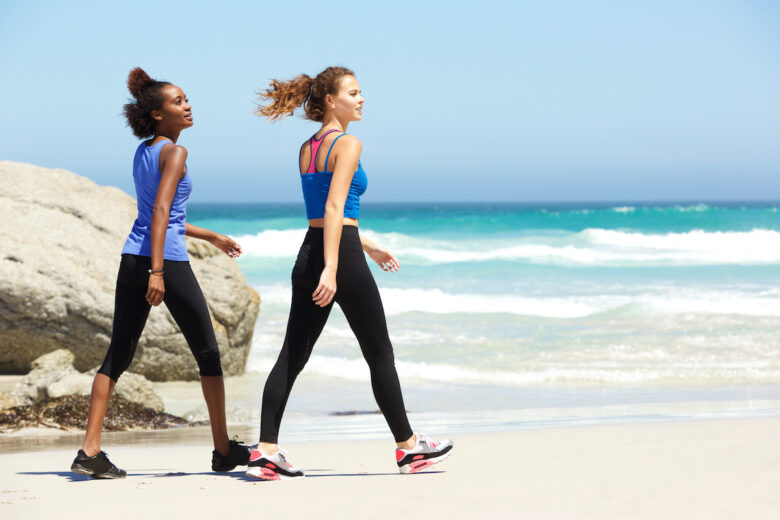 2. Are flip flops better than beach wedge sandals?
Yes, flip flops are mostly preferred over beach wedges. The reason for this is the lightweight and enhanced stability of flip flops, which make them perfect for long walks and swimming purposes. Beach wedge sandals, on the other hand, are ideal for short walks and might sink into the sand if used for a long time.
3. What factors should be considered while purchasing shoes for a beach walk?
There are a variety of factors that should be carefully considered before purchasing shoes for a beach walk, most notable among which include weight, portability, fit, durability, ease of cleaning, and maintenance. Based on these factors, you can choose a perfect pair of shoes for yourself at a minimum price.
Wrapping Up
A trip to a beach might be exciting; however, it is filled with uncertainties and obvious discomfort while walking. Thus, we have listed a few go-to beach shoes for you that can be used for improved performance and remarkable grip.
I absolutely recommend going for sneakers or flip-flops for a more casual yet comfortable and stable look as compared to other related products.
References: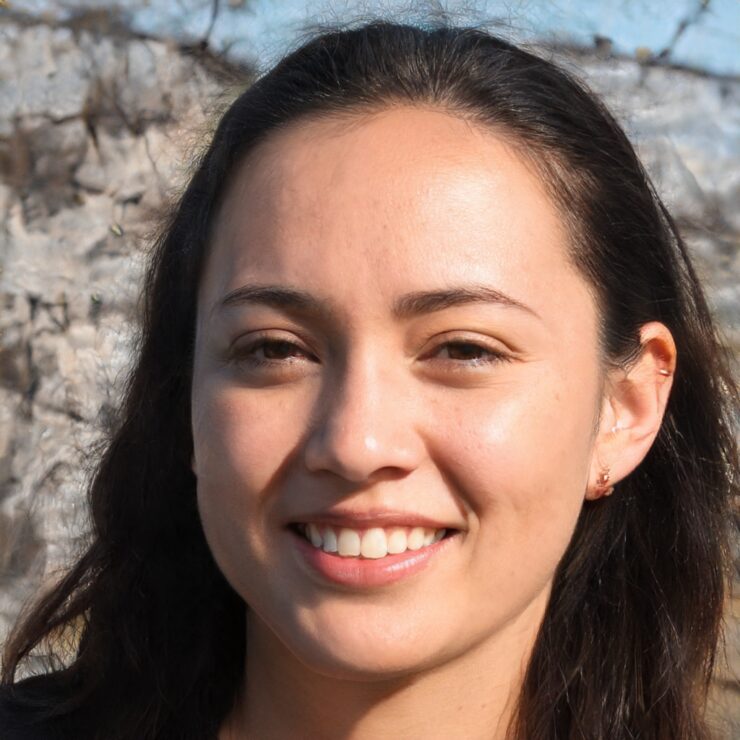 I am a passionate camping enthusiast and nature lover. I love the wilderness, solitude, and all the creatures who share my adventures!