Whether you like camping or you just find yourself in a place with no electricity, a battery-operated fan is a convenient gadget to have around, especially on hot summer days. Sure, you can just walk into any store and buy the first fan you see, but a little research never hurts anybody.
Save yourself both time and money by reading this article. You will find out what's important when buying a fan and perhaps the right model for you is one from the list below.
Top Picks for 2023
1. Stroller Fans Mini USB Desk Clip Fan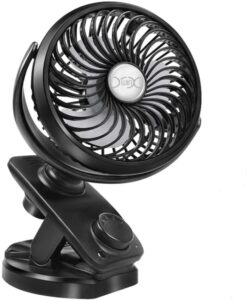 This model is a great choice for road trips, camping, or simply for your backyard. It conveniently offers two ways of power. You can use a 5000mAH battery that will work for 40 hours on the minimum wind with 1500rpm, or about 4.5 hours if you put it on max speed at 3900rpm. When the battery runs out, simply connect it to any device that has a USB port, and keep using it while it's charging.
You can choose from four different fan speeds depending on your needs. The best thing is that you won't even hear it since it comes with a noise-proof motor designed to be quiet and won't go higher than 20dB at minimum speed and 40dB at maximum speed. Another cool thing is you can use it as a power bank to charge gadgets like a phone or mp3 player.
If you need to change the angle of the airflow, you can easily do so since this fan has a 360-degree rotation meaning it can be adjusted to any direction. It also has a clip that can be used to attach the fan to a desk or any other surface like a car backseat, a baby stroller, or even a bicycle (useful if you can't just put it on the top of a surface).
The sponge tank on the back of the fan allows you to put any kind of scented sponge and enjoy your favorite essential oil aroma while it spreads through the air. You can even use it to put a repellant liquid so you don't have to worry about mosquitoes or bugs in your tent on camping trips.
2. O2COOL 10-Inch Portable Fan – Battery Operated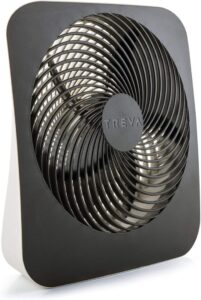 This Treva 10-inch portable fan runs on 6 D-cell batteries, but also comes with another power source: an AC adapter is included in the package so you can use it as a wired fan that may come in handy, depending on your location. If you find yourself somewhere near an electric socket, plug it in and save your battery for later.
It is a very versatile model, with its matte black design making it pleasing to the eyes, but also very compact. It will fit into your backpack so you can carry it anywhere. This model is made of sturdy plastic and is very durable so you don't have to worry about replacing it soon after you buy it.
The airflow is maximized with a 10-inch blade span that can run at two speeds. The low-speed mode will give you a nice breezy feel, but if you want more cooling power on that hot summer days, just switch it to high speed and enjoy it, without being bothered by a loud noise, since this fan is built to be very quiet.
3. New OPOLAR Battery Operated Desk Fan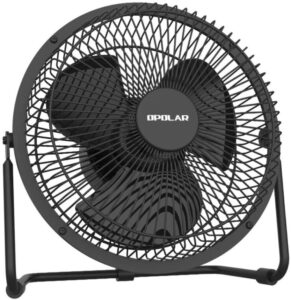 This fan is an upgrade to the previous OPolar model. For a fairly reasonable price, you get a good fan that works on batteries for about 6 to 15 hours at a time. It comes with a 5200mAH rechargeable battery, but like with most of the battery-operated fans out there, you will get an AC adapter that can also be used as a power bank since it has a USB cable.
This newer model comes with a fast-charging feature and two charging ports, giving you the option to use either a Micro USB or a Type C port, making it more versatile than the previous model.
Another upgrade on this fan is that it has 4 speeds. Batteries will last you longer on a low setting, but you can choose a higher airflow for more cooling power. It has a Natural Wind mode that you can use if you prefer more natural-feeling airflow.
This model also comes with a timer, so you can set it to work for 2, 4, or 6 hours and then automatically shuts off. Like with any average fan, you will have to put up with about 40dB of noise, which is not that bad in general.
This fan doesn't have a very slick and stylish design. However, if you don't mind a rugged metal frame, you will get a durable product that won't break easily, and you can adjust the wind direction as you like since the frame can be rotated 360 degrees for your convenience.
Watch the following video for a quick overview:
4. SkyGenius Battery Operated Mini Desk Fan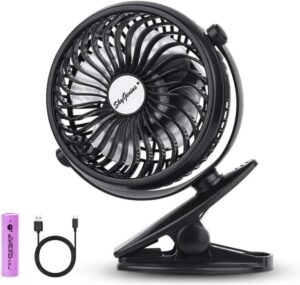 The design of this fan is very eye-pleasing, with its compact size and 360 degrees vertical and horizontal. Still, do not underestimate this model simply because of its size- it can work for 6 hours on low-speed settings. However, if you put it on high-speed, it has a much shorter battery life of only 2.5 hours but it should be no problem if you have a laptop nearby or a car charger since it CAN work while charging.
It is a very portable model that comes with a clip making it secure to place anywhere you like and not worry about it not being stable.
5. Efluky Rechargeable Battery Operated Fan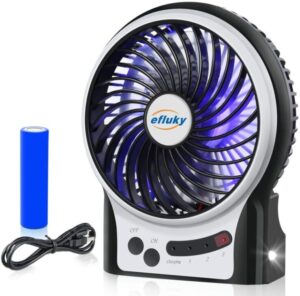 Although some people may find this fan a bit large, it certainly compensates the size with other features. For starters, it has a built-in blue light making it very attractive and versatile. It can easily fit in your indoor space with its decorative design, or you can just bring it with you wherever you want.
The light can be turned on and off by simply pressing the button. Furthermore, it is a very stable model, thanks to the double rubber-edged base so you don't have to worry about the fan falling or moving even at high-speed.
Now that we've covered the aesthetics, let's talk about other features. This Efluky model has a 3-speed setting: soft wind, natural wind, and strong wind. The most important thing you'll want to consider when buying a battery-operated fan is, of course, the battery.
This one comes with a 2200mAH battery that can last up to 9 hours, and it is easily charged with a USB. Fast charging only takes about 3 hours and it can be charged by a computer, a car charger, a power bank, or any other device with a USB port.
Efluky offers 24-hour customer support, so you can call their helpline any time if you encounter some problems (which is pretty cool, right?).
6. Odoland Portable LED Lantern Ceiling Fan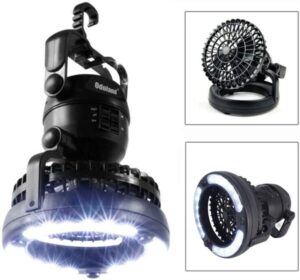 This particular fan is more than just that. It will not only cool you but help you see in those dark nights in the wood since it has a ring of LED lights. Just hand it up on your tent ceiling and you get both a fan and a lantern. It IS a lot smaller than your usual fans, with 4-inch blades, so don't expect a lot of cooling power, but it will be helpful for a one-person tent or you can just carry it around and use it as a battery lamp since it doesn't weigh much.
During the day, or if you don't need the light, the LED ring can be used as a stand and you can adjust the angle of the fan to direct the airflow.
This fan runs on only two D batteries, so if you run it on high-speed mode it will work for about 5 hours and about 15 hours on low-speed mode. The light itself can shine for about 20 hours at a time.
Not your usual battery-operated fan, but still worth considering since it is both a fan and a LED light – a feature that may come in handy.
Here is the review of this product that you should watch:
7. Coleman OneSource Rechargeable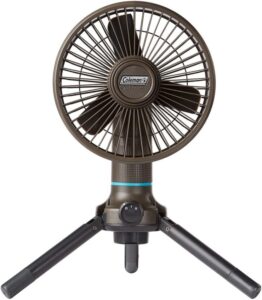 A bit on the pricier side, Coleman OneSource Rechargeable fan offers you a run for your money. It is durable and sturdy making it perfect for outdoor conditions. This model comes with a foldable tripod that gives you stability and portability since it can be easily folded and packed anywhere without taking up too much space.
What separates the Coleman OneSource fan from the others is the IPX 4 water-resistance feature, making it great for any unexpected weather conditions. You don't have to worry about leaving it out in the rain; it will still work after getting wet.
Read Also: Best Waterproof Tents Review
A large battery capacity is definitely a plus. With its 4800mAH battery (that can be charged in just 2 hours using a quick-charge station), this fan can work for 6 to 15 hours, depending on the speed. Speaking of speed, you have two options along with the rotating fan head so you can adjust the intensity and the direction of the airflow to accommodate your needs.
Buyers Guide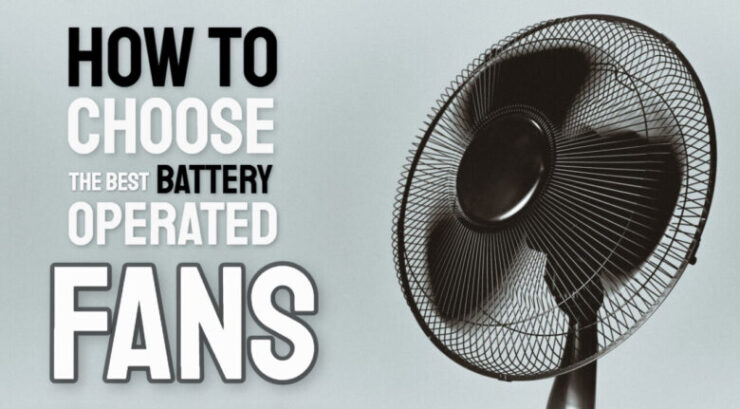 Speed, Power source and Battery Life
Most of the models come with adjustable speed modes. When you choose the speed it directly affects the cooling intensity – the faster the speed is the more cooling you get. However this WILL make the battery life shorter, so be aware of that fact when choosing a fan that is right for you. Anywhere from four to six hours of battery life at high speed will probably satisfy your needs.
Speaking of batteries you have two choices. You can get traditional batteries that can be used only once and are easy to replace, but in a long run, they will cost you a lot of money since many of the fans (especially bigger ones that require more power) need more than a few batteries at the same time. Maybe a better choice would be to use rechargeable batteries and avoid worrying about replacing them for a long time.
They do need to be charged and let's admit it – that is not very convenient when you are out in the wild with no power socket. A quick solution could be to get another set and switch between them, as you will come home at some point and be able to recharge them. Some fans come with an AC adapter that can be useful if you find yourself near a power outlet.
Size
It is safe to presume that someone who wants to buy a fan that works on battery power is more likely to carry it on trips. Perhaps the most important thing to consider here is the size of a fan. A smaller one will save you space and it will be easier to pack, but keep in mind that it also affects the airflow.
Bigger fans usually have increased airflow compared to the smaller ones –which means more cooling power but they also require a larger battery to get the motor running. With that being said, it's noticeable that most battery-operated fans are smaller in diameter (and thus the smaller size) since they are mostly made to be portable. You can even go as far as buying one that is the size of your hand (that, of course, will not cool you so much).
Durability/Quality
It is only natural that you want something to last once you give money for it. You don't want your fan to break in a few months. To make sure you are getting a good product, look closely for certain things like the build quality and material. Since most of the fans are made of plastics, it's recommended to see how the fan looks. Check the fan wings and the casing but also watch out for bad electronics as well.
Price
The general rule is: better quality means more money. Although fans that run on batteries are not usually expensive, different price ranges are depending on the brand and quality. Think about all the factors listed above, like the size or power, and then choose the one that is right for you. Better fans are more powerful and have better features, but they usually cost more money and might be worth it, since you won't have to buy a new one in a few months.
FAQ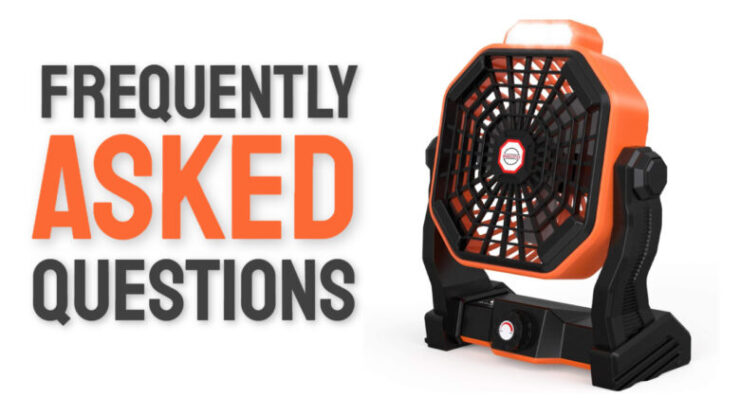 Do they make battery-operated ceiling fans?
Yes. There is a variety of choices you can find online, or if you like, just go to the appliances store and look for one.
How long will a battery-operated fan last?
That depends on the batteries. Some fans can work only a few hours at a time (like 2 or 3 hours) while others have longer battery life and can go on even for 10 or more hours.
Is there a fan that blows cold air?
While most fans just use the air that is already in the room and circulate it, there ARE indeed fans that cool the air as they swirl it around.
Does putting ice behind a fan work?
Try placing your fan on the ground and then putting a bowl of ice right in front of it. As the fan blows the air over the ice, it will get cooler. The downside is that the ice melts, so you will have to replenish the bowl, but generally, it's not a bad idea if you don't mind the mess.
Final thoughts
Whether you need a fan for your home, office or to bring along on your camping trips and outdoor activities, a battery-operated model is sure convenient for anyone. Of course, there are a lot more models than we listed, but we hope this article gives you a better idea of where to begin your research and what to look for.
Check out some other interesting choices available on Amazon: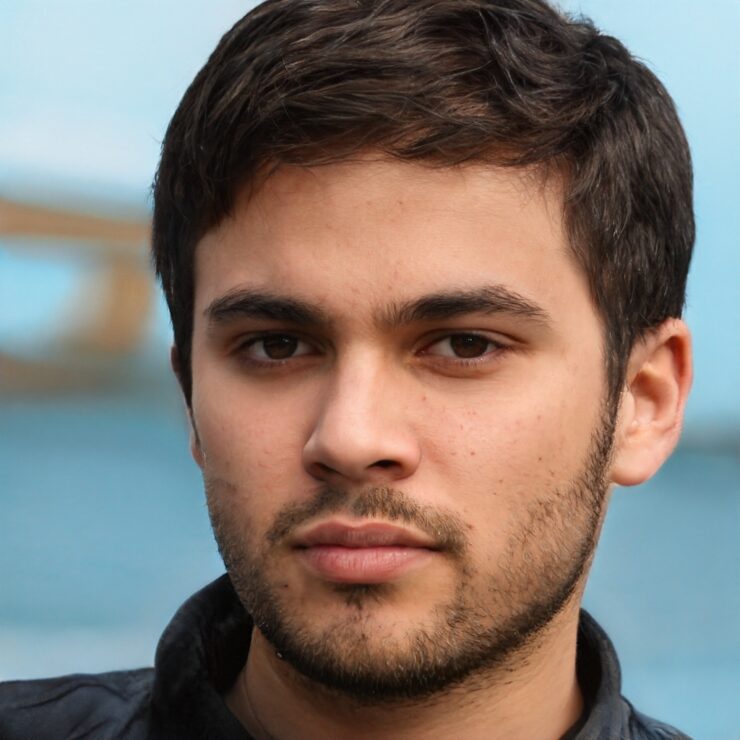 I love to explore the outdoors, cook over a campfire and pitch a tent. I want to share my adventures with you by writing articles, taking pictures, and sharing videos.