Are you excited about the camping trip with your friends or want to go to the woods with family, but you cannot compromise on the comfort? You need the best tent cot for camping. These are perfectly designed to provide a comfortable sleep and shelter and that too off the ground. They can easily be assembled as one unit and are used at the places where you can't have your bed.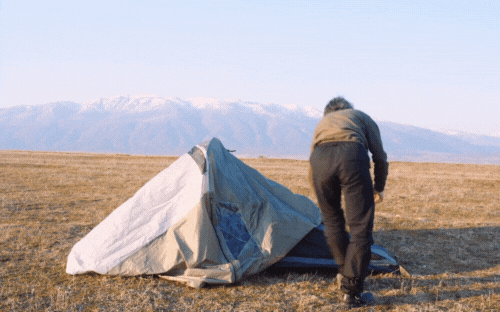 The ruggedness of the camping makes it so adventurous but buying a tent cot won't hurt or make your trip less exciting. These are incredibly durable, made with solid materials, and are compact when detached from the cot base. These prevent the water from entering in, which is very common while using the traditional tents. They provide better air circulation, making your alfresco activities more exciting.
Comparison Table:
You are taking care of your back and preventing it from the stones that dig in. We jotted down the best tent cot for camping with all the necessary details. These have been tried and tested by different people and are absolutely the best. You can go through all these in the article below and choose for yourself.
Top Tent Cot For Camping Reviews
1. Kamp-Rite Oversize Tent Cot – Best Tent Cots For Camping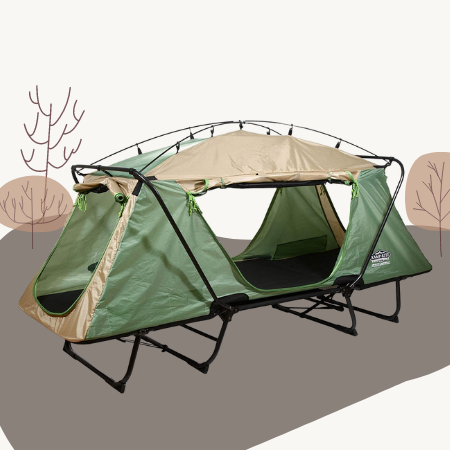 The Kamp-Rite Tents live up to their name and save your precious space while packing for a trip. These tents are at the top of the list because of their versatile functions. These keep you cool during the sweltering hot weather with doors and windows. These can be used for multiple purposes and can be converted into lounge chairs as well.
The breathable Kamp-Rite Oversize Tent Cot is considered the king of tent cots because they can bear weight up to 350 pounds at a 7 ½ feet length. These are placed 11 inches off the ground because the cot base helps protect you from the creepy animals at night. Moreover, they keep you warm as they come with a custom-fit dome-shaped tent.
This is a spacious tent that provides enough room to sleep. Heavy-duty material is used in construction which keeps the tent stable during rugged conditions. It comes with a 210 D seal that further protects from the rain and keeps you secure. Easy to assemble and comfortable that you feel no rocks jabbing into your back.
Pros
Spacious enough
Multi-purpose tent
210 D seal protection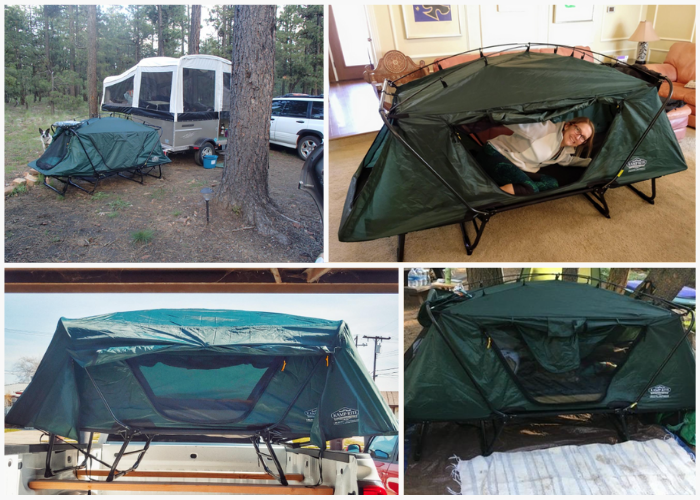 If you are a camper, you might know how these Kamp-Rite camps make your trip more adventurous. These provide enough space so you can sleep comfortably.
These can be used as a traditional tent or lounge chair as well. The 210 D seal protects the tent from getting wet during the rain. But they might not be suitable for cold weather.
2. Tangkula 1-Person Tent Cot – One-person Cot Tent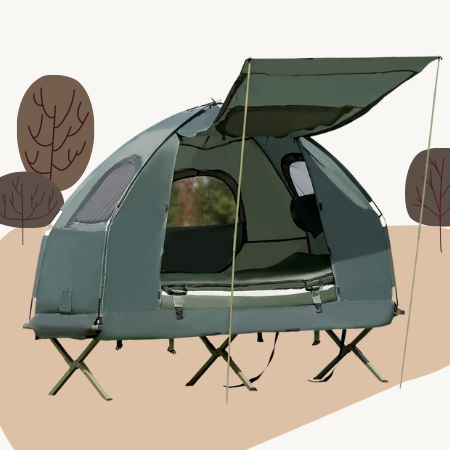 Comfort and stability are the essential things a tent cot should possess. The Tangkula, a one-person tent cot, will meet your expectations. These have an inflatable pillow and mattress that keeps you cozy and gives a home-like feeling right under nature. Both of these are incredibly soft and easy to blow with a pump.
This one-person tent is a perfect sleeping spot and is made of good quality polyester that satisfies all the manufacturing concerns. It keeps the tent stable with a metal frame that uplifts the tent from the ground. The frame is not flimsy and keeps you safe and stable when sleeping at night.
The Tangkula 1-person tents are well stitched and waterproof. This makes them withstand harsh weather conditions during summer or winters. It assures a few minutes of work, and then you can hop into the sleeping bag. These are ideal for a 300-pound person and come with all the necessary tools you might need while assembling near the riverside.
Pros
Metal framework
High-quality polyester
Inflatable pillow and mattress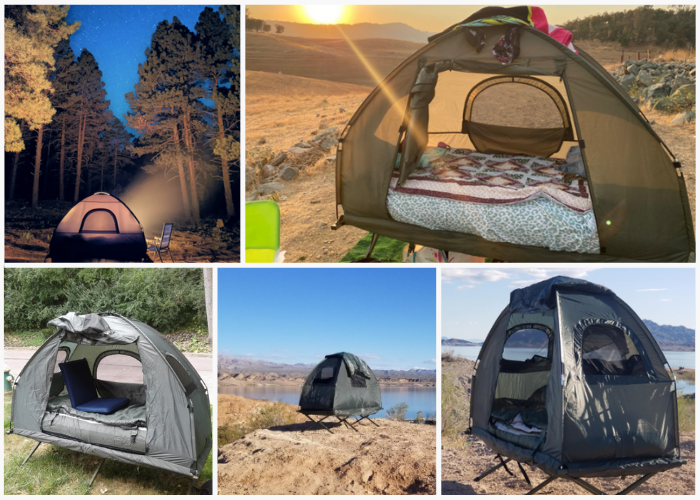 The Tangkula one-person tent cot has a sturdy metal frame that keeps it firmly in the ground, preventing the cot base from becoming wobbly. Made with high-quality polyester, it is ideal for all weather conditions. Inflatable pillow and air mattress make the sleeping bag the coziest. The polyester material does not enable air circulation when the windows are kept close.
3. Kamp-Rite Compact Extra-Large Tent Cot – Ultralight Cot Tent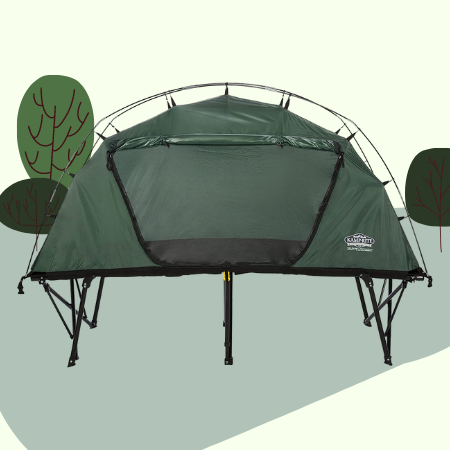 No compromise on quality and size! The sleeping area is 82 by 32 inches, which means a lot of room for a single person to live in. Kamp-Rite never fails to amaze people, and now making a compact tent cot that too in extra-large size is incredible. Keeping the campers comfortable is their utmost priority.
The Kamp-Rite Compact Extra-Large Tent Cot is made with nylon material. This makes them durable as nylon has greater strength when used. It does not tear off easily, is waterproof to some extent, and protects the campers from UV damage, especially at higher altitudes.
These are compact in size which makes them easy to carry, but they do not have an air mattress and you might need to arrange it separately. Highly breathable with mesh windows and doors. This improves air circulation and can also work as a shield against insects as well. These can be folded and packed back effortlessly.
Pros
Highly durable
Mesh doors
Spacious enough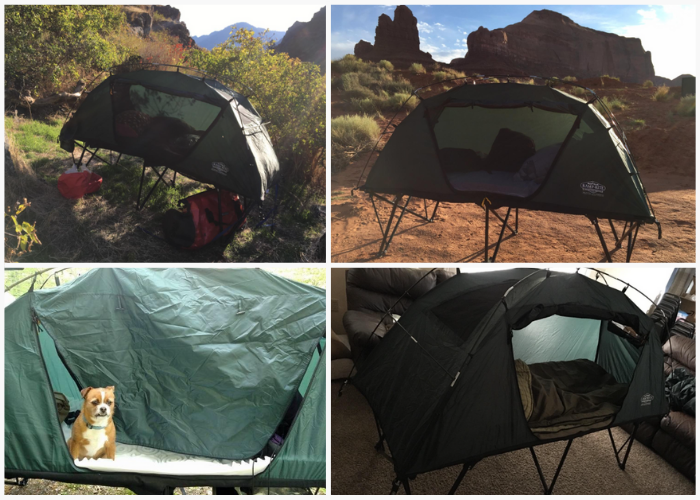 Ideal for considerable people, this tent is exceptionally long-lasting because of the nylon material used. It has more strength and grip, so it is the most preferred material for tent cots. This spacious tent has mesh doors and windows that can perfectly keep the environment in the tent cool. Though, the nylon material is not fully waterproof and might cause trouble during the rain.
4. Outsunny All-in-One Portable Camping Cot Tent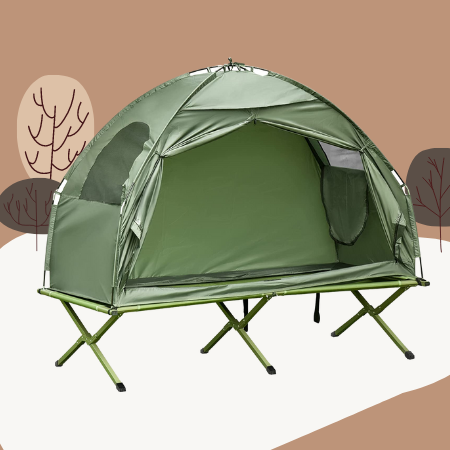 The next top-rated tent cot for camping for 2023 is the Outsunny All in One Portable Camping Cot Tent. A perfect tent that feels like a home in the middle of the woods. It comes with all the vital things such as an air mattress, pump, and a bedspread as well. Space-saving design can be folded easily before heading out for a camping night.
Heavy-duty materials and PVC coating make them waterproof and keep you safe if stuck in the rain. The inflatable mattress and the bedspread can help to keep you toasty. The presence of so many features in one tent makes it convenient. These can be dragged easily when packed because of two wheels. The zipper keeps you safe from bugs and mosquitos.
With an aluminum framework and footpads, the cot base becomes lightweight and flexible. This makes the assembling process easy and prevents corrosion when placed on moist ground. The all-in-one portable tent cot can be used by two people, saving time for the installation separately for every person.
Pros
Easy to carry
Lightweight and flexible
Waterproof
Ideal for two people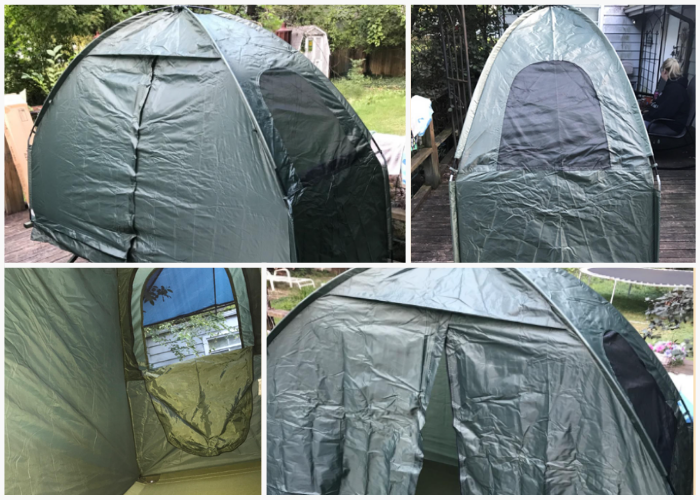 When packed, these can be carried easily because two wheels are present. This enables easy dragging and saves your hands from picking up a tent with extra luggage. The aluminum framework is lightweight and long-lasting. The PVC coating makes the tent waterproof, but the bottom area is left with tiny open spaces after the mattress is placed.
5. Yescom Folding Tent Cot
Set aside your worries if you bought a Yescom Folding Tent Cot before heading out for camping. It has an incredible strength because a mix of 210D oxford flysheet and 300D oxford floor is used in the making. Keeping the tent intact by a silver coating layer makes the maintenance process easy as well. If stuck in a hailstorm, these can protect you.
The cot base uplifts the tent by 14 inches from the moist ground. An ideal tent cot if you are scared of crawling creatures but do not want to give up on outdoor activities. The front has a small ventilating opening that helps the fresh air come in so you do not feel suffocated in the zipped tent. Moreover, it comprises pocket holes that are perfect for storage purposes.
A multi-purpose tent that can be used as a bench by simply detaching the upper frame from the base. It can hold weight up to 330 pounds and is made for use by a single person. The tent cot can be packed in a 600D oxford bag and get through the harsh traveling conditions when going to the camping spot.
Pros
Incredible strength
Ventilating outlets
Spacious and convenient
The Yescom Folding tent cot, manufactured with a mix of high-quality materials, has an incredible strength that keeps the entire structure intact. You are safe inside with a small ventilating outlet that helps the air reach your lungs. The overall construction of the tent is terrific, with spacious pockets and handles that are best for keeping the extra stuff. But the zippers, when stretched beyond the limit, can break, leaving the tent open.
6. Outsunny Extra Large Portable Folding Camping Cot Tent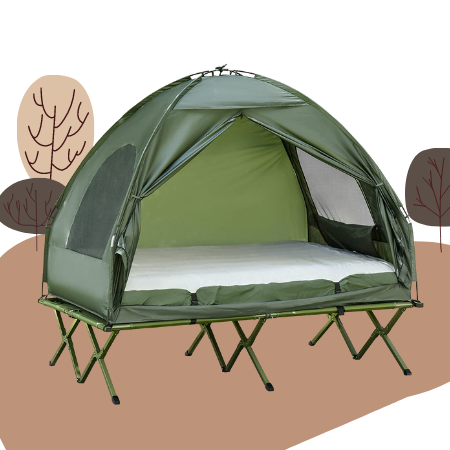 The Outsunny Extra Large Portable Folding Camping Cot Tent is our next pick when we were scrolling down the internet for the best tent cot for camping in 2023. It is an excellent option for campers who like to take frequent trips down into the woods and is suitable for adults weighing 350 pounds.
Explicitly designed for durability and comfort, this includes everything you will ever need before going to sleep. The air mattress with the cozy bedspread can give the same feeling like your bed while lying under the sky. A soft mattress makes sure you did not end up with a cricked neck the other day.
The tent and cot base can be used separately, which lets us use these in multiple ways. The rugged aluminum frame ensures stability and retains the original shape, while polyester material and fiberglass pole give it an exquisite round shape. The admirable folding function makes it convenient to carry.
Pros
Foldable bed
Multipurpose tent
Soft air mattress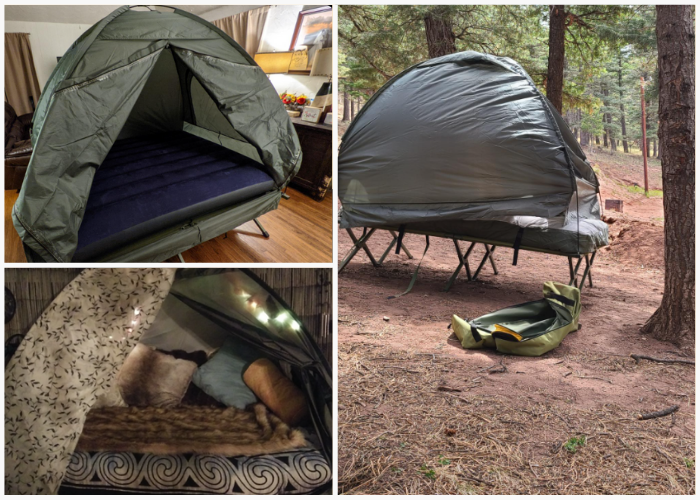 The Outsunny Extra Large Portable Folding Camping Cot Tent can be used as a multi-purpose tent, using its different parts separately. A convenient bed that can be folded and a soft air mattress makes these tents ideal for campers. But the assembling process might be difficult and time-consuming due to the XL size.
7. Kamp-Rite CTC Standard Compact Tent Cot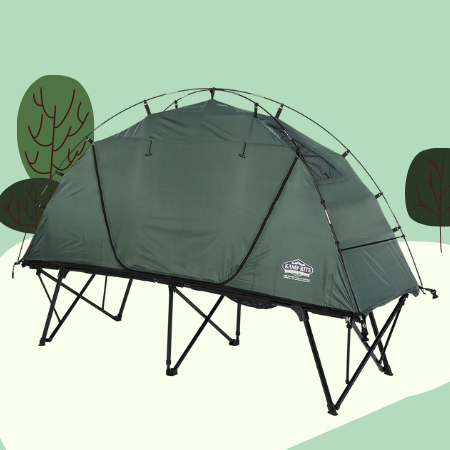 We love this Kamp-Rite CTC Standard Compact Tent Cot. Made with heavy-duty materials, it is an attractive choice for camping activities. The 210 D oxford material increases its durability and makes it serve for long periods.
A wear-resistance tent that does not budge and fully protects during heavy rainfall has mesh windows that can aid air and carbon dioxide exchange. These do not allow insects and prevent you from mosquito bites. The tent cot bag has two small wheels, which make this 20 kg bag hike along with you all the way into the forests.
Suitable for two people and spacious enough so they can live together. A divider is present in between, which can help you mark your boundaries. The zippers are made with corrosion-resistant material to keep on functioning after being exposed to harsh climatic conditions until the tent is intact and does not break or tear off.
Pros
190 T fabric
Corrosion-free zippers
Ideal for two people
Cons
Irritating middle divider
The Kamp-Rite CTC Tent Cot used elastic material with protective coverings to help keep the inside of the tent dry and warm. The zippers are sturdy and do not corrode while facing extreme weather temperatures. A double tent can cater to two people, but the center divider in the cot base can be annoying and cause back pain.
8. Therm-a-Rest Tent Cot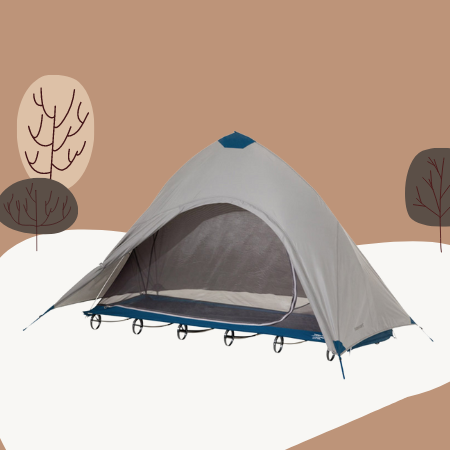 An innovative option that possesses exquisite features. Therm-a-Rest Tent Cot has a comfortable interior and is ideal if you love camping in the mountains. It is ultra-lightweight and completely portable, unlike the heavy tent cots which need to be dragged to the location. These can easily be lifted in the mountains during some exciting activities.
Like other tent cots, these can be used separately, but they consist of a complete 3-in-1 system. You can simply carry the part you need while saving some weight by leaving the extra things behind. Stretch-free polyester with anodized aluminum makes it durable, while the two-wall system ensures complete protection during extreme climatic conditions.
The high domed tent cot, made with top material and mesh floor, provides the comfortable shelter one could ever wish for. A BowFrame design is used in the cot base, which is convenient to carry in a bag as well. The much-loved tent cot comes with a mesh canopy that ensures a bug-free tent just allowing some air in.
Pros
Two wall system
Extremely lightweight
BowFrame design
Therm-a-Rest Tent Cot is very lightweight due to the BowFrame design, which makes carrying it effortlessly. A protective layer on the inside of the tent cot prevents any kind of extreme climatic conditions, whether in summers or winter. However, this design does not have a proper cot base, while the hub poles ensure easy installation.
9. Yescom Double Tent Cot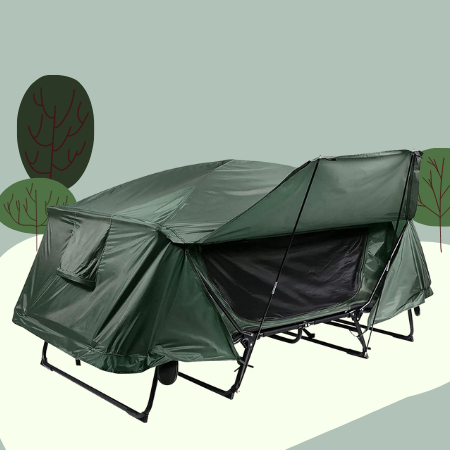 The integrated double tent is a popular design when time and space-saving are the topmost priority. As by the name, it can be concluded that Yescome Double Tent Cot is meant for two people. It has a fantastic nifty design that packs up the tent even smaller than the ones used for a single person.
The doomed top ensures ample space when inside the tent for both people. The metal legs provide stability and a comfortable sleeping arrangement 12 inches above the ground. Easy to carry tent weighs almost 39 pounds. Inner mesh pockets and two side doors help in organizing and keeping the air sliding in.
The overall covering with 190T polyester and rainfly with an additional coating of 200mm polyurethane makes sure this provides long years of service when set up in nature. It can increase the overall camping experience with all the necessary equipment required.
Pros
Quick set up
Compact in size
200 mm PU coating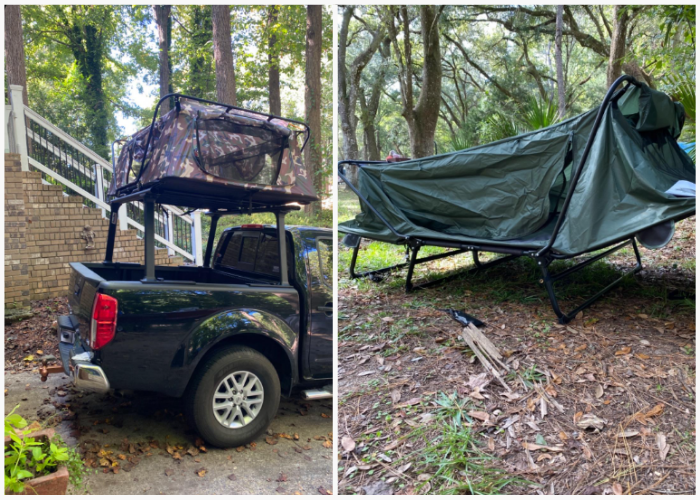 The Yescome Double Tent Cot can be set up in a snap. It does have a complicated installation process and is petite in size when packed. This size makes them ideal for a large group of campers who can share these double tents and will not have to carry one each for themselves.
The coating on top of the 190T fabric makes them durable and wear-resistant. Though, the center has a lower height which reduces the headroom while sitting inside.
10. Kamp-Rite Compact Double Tent Cot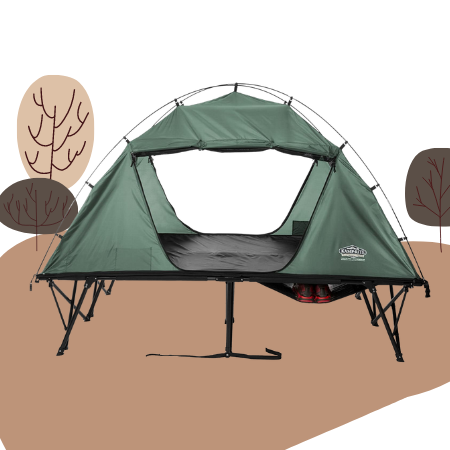 A solid option for frequent roadside adventures makes you feel less cramped, unlike the other tents. The Kamp-Rite Compact Double Tent Cot has a massive headroom supported by flexible aluminum legs that contain the tent's structure. A comfortable shelter ideal for a single person.
Like the traditional tent cots, these can be made full use of by using in parts as well. A simple unzipping action would help you separate the tent from the cot base. The manufacturers are well aware that these will be used outdoors under harsh weather, so a heavy-duty 190T fabric is used.
The elevated tent cot can be folded effortlessly and is easy to transport. A user-friendly product that allows pulling it through uneven ground as equipped with wheels. This double-shaded tent cot is extraordinarily lightweight and budget-friendly without compromising on the quality and features.
Pros
Flexible aluminum legs
Two wheels
High center point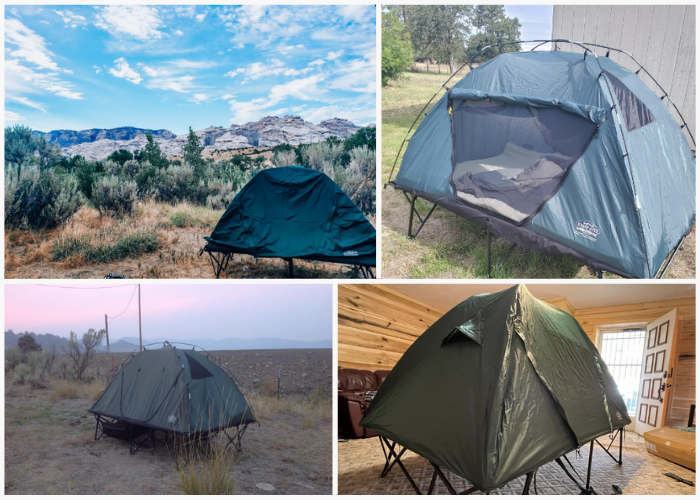 The Kamp-Rite Double Tent Cot has aluminum legs that maintain the overall structure and keep the tent intact during your camping trip. The two wheels accommodate the user while traveling up to their camping site. The center is high, which makes the tent spacious and comfortable. But a few more ventilation holes shall be added for better air circulation there.
Guide for Buying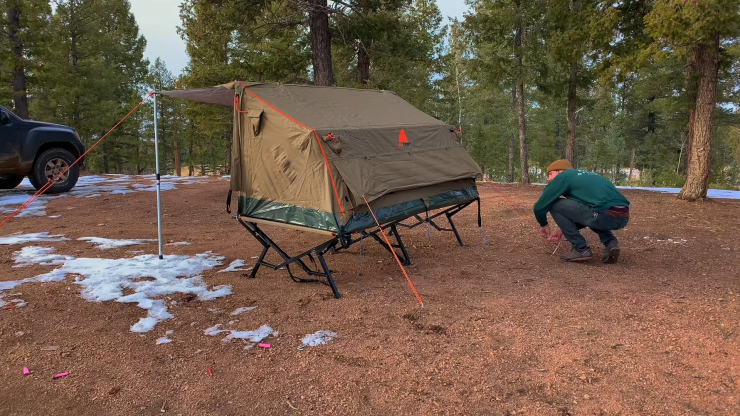 Choosing a tent isn't easy as they are jam-packed with multiple features. But you need not to worry because we located the best possible option to help you get hold of the best tent cot for your camping trip.
1. Weight and Size
If you are heading out in your car to the desired camping location, it is unnecessary to consider the weight and size. But if you have to hike all the way, both the size and weight of the collapsed tent shall be considered. Some of them are very heavy that cannot be lifted and make your camping trip difficult.
Lightweight tents which can be packed easily can be your best companion. These shall be easy to install and water-resistant. All the necessary equipment should be included in the kit for installation. You need not compromise on comfort when away from your home for the weekend.
2. Quality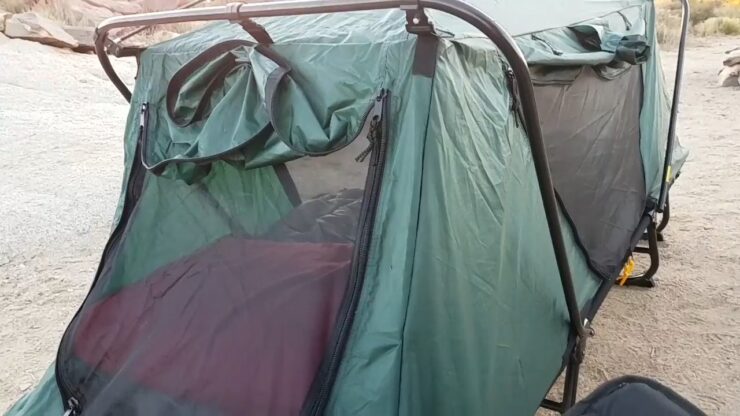 When camping, the quality of the tent cot must be the first thing you take into consideration. Tent cots usually possess a cot base and a tent. The base should have a sturdy framework to provide stability throughout and not become flimsy. These also protect by uplifting the tent at a certain height from the ground.
The materials used in the manufacturing of the tent also play an essential role. The tent should be waterproof to protect the water from coming inside. These should be wear-resistant with a solid zipper that keeps you safe from all the crawling animals.
3. Ventilation
Heavy-duty materials are used in the tent cots. These sometimes can be a little suffocating when the tent is closed. Small ventilation holes/windows are essential to be installed for the exchange of air. It helps you get the fresh air without stepping out during the nighttime.
Leaving the windows won't be of any benefit because the insects might irritate you. So it is recommended to get mesh-covered windows that do not allow the tiny bees in the tent. This makes sleeping time more comfortable.
4. Installation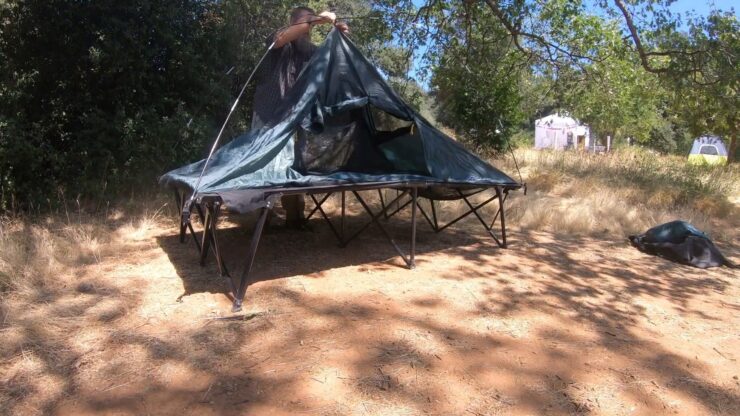 While going camping, you will not have a professional that helps you to set up your tent. You will be a one-person army there doing all the chores yourself. So it is recommended to buy a tent cot that can be installed easily into the ground without causing any hassle. The packing and unpacking should not be complicated and time-consuming. These should be compact when folded back.
FAQs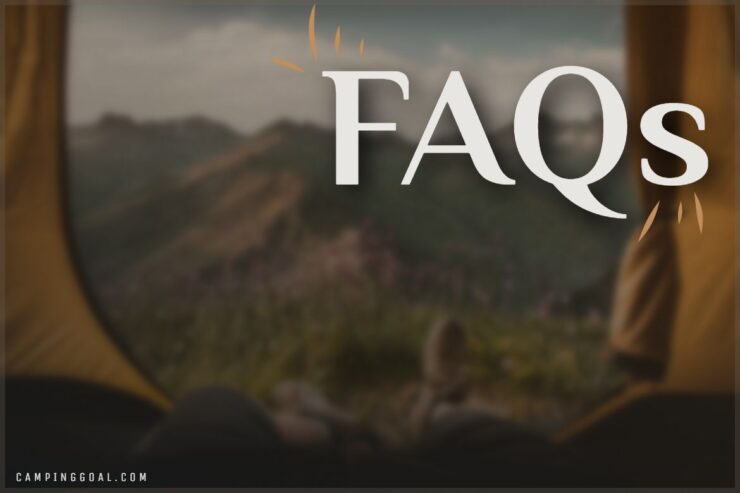 1. What is the best cot tent?
The Kamp-Rite Oversize Tent Cot is the best available in the market. It possesses all the necessary features that you look for in a tent cot. These are spacious enough so you can have a good night's sleep away from your bed.
2. Are tent cots worth it?
Yes, tents cots are worth it. These can also be used for multiple purposes and separately as well. The cost base and the tent can be used as different parts in the day while they can be put together for sleeping at night.
3. How do you sleep comfortably in a tent cot?
Tent cots include everything you will ever need to enjoy a comfortable sleep. Some of these have inflatable pillows, mattresses, and even a bedspread that keeps you cozy under the sky.
Conclusion
If you are going camping for the first time in life and on a hunt for the best tent cots for camping, then you are at the right place to know about the best tents for your 2023 trip. Since we have written a detailed review on these, the top three, according to us, are:
Kamp-Rite Oversize Tent Cot is spacious enough, has a 210D protection seal, and uplifts from the ground.
Yescom Folding Tent Cot has a sound ventilation system and incredible strength to keep the tent cot intact.
Therm-a-Rest Tent Cot has a two-wall system that ensures complete protection against rain. The BowFrame design makes it ultra-lightweight.
This was a comprehensive review of the top-rated and best tent cot for camping. A buying guide is also provided that can help you make a clear decision for yourself, so you can make the right choice without compromising on your comfort level.
References: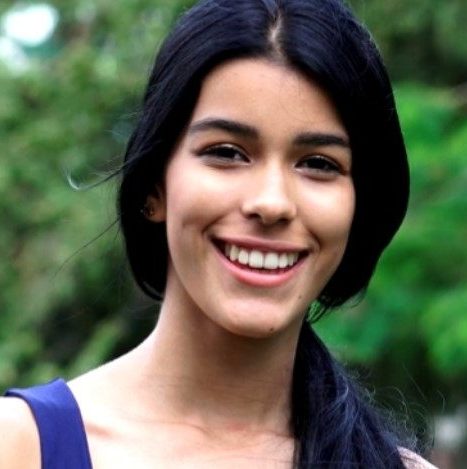 Christina Joyner is a seasoned expert for camping gear and everything related to outdoor adventures. With ten years of experience in this branch, she is an integral part of our team and author of comprehensive guides about equipment, best camping locations, and valuable tricks you should know when spending time in the wilderness.