Camping is a leisure activity many of us love, but not everyone has a memorable experience. Not being able to get the tent up. Staking down the tent takes too much time. The stake is not holding the tent. The tent is too large, or the stake is too small.
These are a few reasons why it's better to be prepared beforehand than to regret it. Especially for the tent as most of your leisure and resting time goes there. Below is a list of the best tent stakes for sand camping in 2023.
Top 7 Tent Stakes For Sand
1. Yellow Plastic Stakes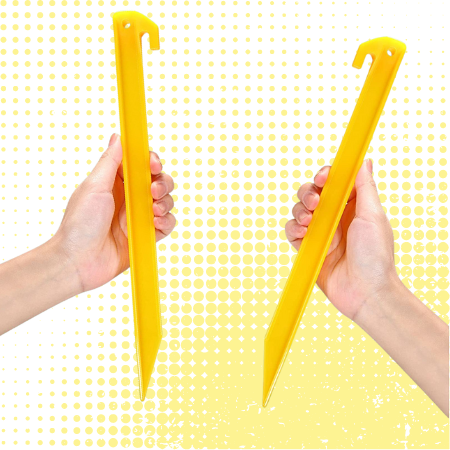 These yellow plastic stakes are multifunctional. They not only help in fixing your tent but also help in fixing covers as well as gardening and landscaping. They can be used however you want with your imagination. Their length makes them super convenient to use, and they could also be used to fix the tents in the sand for long periods.
These yellow stakes come in a pack of 24, which is a value saver pack. Not to mention how cheap it is even though it's come in such a big set.
Features
Made of plastic material
Has a length of approximately 12 inches
Comes in a value-saving pack of 24
Has great holding power
Has no-slip hook for ease in removal
Light in weight hence comfortable for trips or traveling.
2. Orange Screw Stakes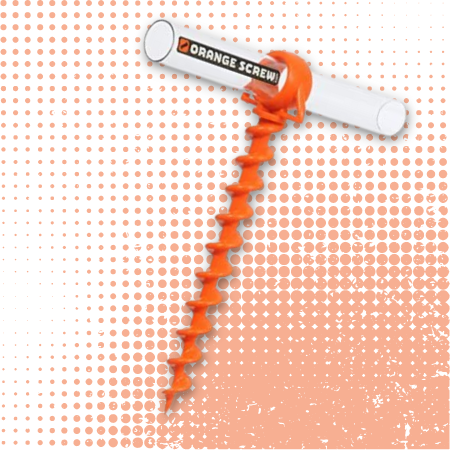 The special quality of these stakes, unique in their orange color, is their screw-like structure. Their special structure, instead of making a hole into the ground, fixes into the ground. So that even if the ground is Snow or sand, it will not loosen up. They are easy to screw into the ground and just as easier to remove as well. They can also be a multipurpose screw to hold stuff down.
Their special material makes them almost indestructible and lightweight. And not just that, their material is recyclable as well. They come in various lengths and accordingly sized acres, increasing their strength and ease of use.
Features
Made of recycled polycarbonate.
It comes in a pack of 4. There is also an option not only in quantity but also in the size of the stakes.
It has a lifetime breakage warranty.
Has a length of 9 ½ inches and a diameter of 7/8 inches.
It comes within a package with the screw and a clear grip tool.
3. Small Screw Stakes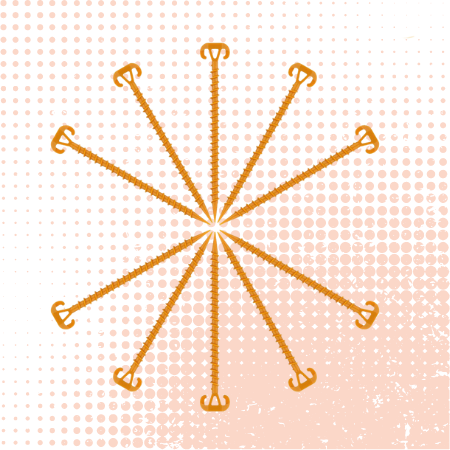 Whether it be a picnic, camping, beach, or your tarpaulin, these stakes get the job done properly with their bright yellow color. They are made of a special type of plastic and are rustproof, waterproof, environment friendly, and made for heavy-duty work. With its special material and hard end, this stake digs into any hard or soft earthling surface and, when screwed, makes sure that it holds everything in place. Since it's small, they should be used to keep tents, picnic spots, or even chicken coops fixed.
Even though it's longer than what most companies offer for small stakes, they do not lag in quality and materials. It stays in the ground for longer durations than most others. It also has storage options to make traveling with them convenient and comfortable.
Features
They come in a pack of 10  at a good price.
It's rust and waterproof, made with recyclable materials.
Special screw design with which it gets embedded easily.
It has a length of 11 inches and a large handle for easier screwing.
It comes with a carrying pouch and a cleaning brush for the stakes.
If the stakes are not satisfactory, or there are some issues, they can be replaced for free or can be given a refund as per the need.
4. Sand and Snow Stakes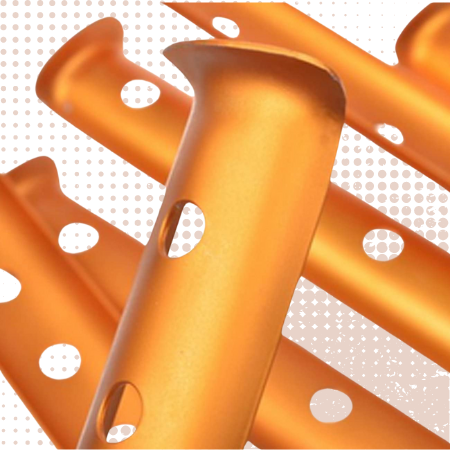 It's a special shape with holes in between and a sharp semi-circular end that can directly dive into the sand. Its shape makes it a perfect fit for sand and snowy area, as, in these areas, regular stakes do not work properly. They are made of aluminum with a bright orange color so they can be spotted easily. They can be used on beaches or in hilly areas for hiking, camping, shelter, picnic, or any other outdoor activity.
Due to their special design, they can be used as fit by the user. You can either Tue and stake it down to the earth, or you can first stake it and then loop the rope around it. Keeping its protruded side outward would be even better as it would provide extra protection from winds, Sand and Snow.
Features
Wider U-shaped orange stakes come in a pack of 6.
They are 12 inches in length and have a width of 1.38 inches.
They are very lightweight, weighing barely 300 g.
There are various rigging options with the help of 6 holes.
5. Aluminum Ground Stakes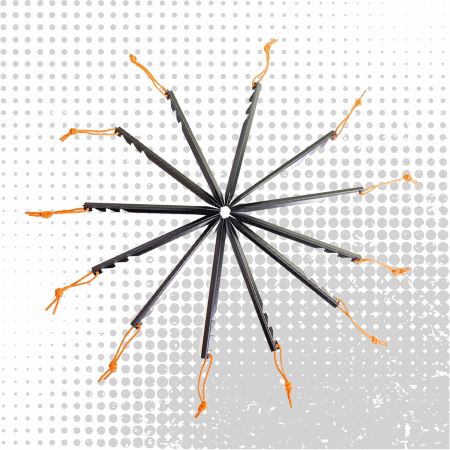 Extraordinarily designed elegant, looking tent stakes are made of metal material. Its special design has a three-sided extruded portion on the stakes for better anchoring and hold. With that, it also has three welded hooks for better roping against the tension. It also has an eyelet on the peg at the top end of the tent to tighten and loosen the tent pegs as needed. And all of this is coated with paint for protection.
Its material makes this stake very lightweight and a travel-friendly option.
It also comes with a pouch for carrying the stakes and pull cords topped with reflective material. As these stakes are featured for their high strength, they can be used for various other purposes than just camping. Its only downfall could be that it's made of metal which makes it prone to rusting, and it's not waterproof.
Features
It's made of aluminum material making it versatile.
It's ideal for heavy-duty holding, whether for a tarp or a small dog.
It's 12.32 inches in length. It's very lightweight and comes in a travel-friendly pouch.
If kept clean, it can last a long time as it also has a layer of paint to protect against natural causes.
6. Outdoor Sand Stakes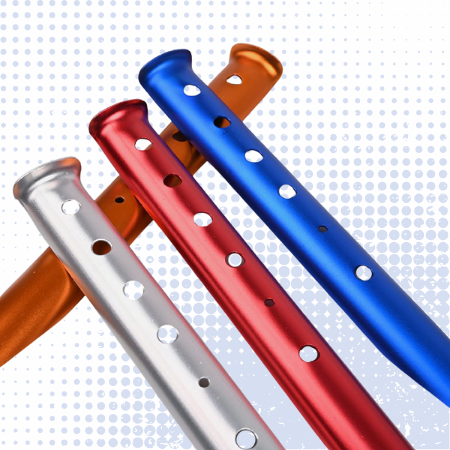 When you are relaxing in your camp, and if your tent were to get loose or get sand in it due to the wind or other reasons, it would be very inconvenient. These stakes with wide U design and holes of different sizes are designed to make the holding of stake better and for easier handling as well. Their design also does make it easier to fix the stake easily and conveniently. With the help of this design, they can be pegged into the ground after tying it with the tent rope or pegged into the ground first, and then the tent rope can be tied according to convenience.
Even though it's made of metal alloy to provide high strength, durability, and bending resistance, it has special layering for protection. This protection makes the stakes retain their vivid color and protect them from water and dust to an extent.
Features
It's made from aluminum alloy to provide heavy strength, and it comes in a pack of six.
With the help of the holes and their proper utilization, their holding power can be increased.
It's made especially for Snow or sand as they are softer land.
They are 12.2 inches in size and very lightweight.
It cannot be used on hard land and with tents having needle loops.
7. Ground Staking Kit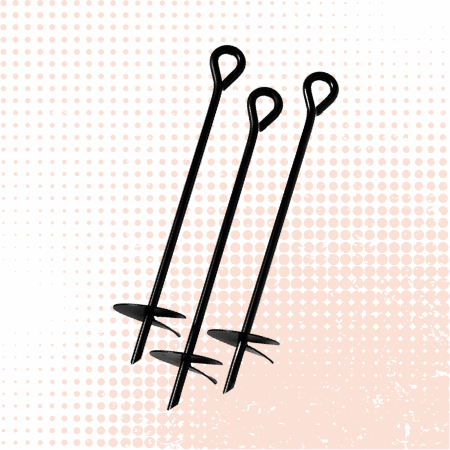 This staking kit is perfect for anything which can be flown away due to the wind or something which needs to be tied down. It's made of very strong metal which can even hold down frames structures to trampolines to stands to fences and not to forget camping tents. Its premium-grade material gives it not only strength to hold on but also helps in easier use for fixing and removing the stakes from the ground. It's lengthy as well, which increases its holding power.
The stake is good to be used in all types of soil. It doesn't loosen up due to the spiral helix attached to the stake, which keeps the stake tight and does not move, providing stability for a longer time duration. It comes with other equipment as well so that you don't have to use any other tools. It also comes with a carrying bag which provides easier traveling.
Features
It's made of steel metal, due to which it's very strong.
It's 15 inches long and has a helix of 3 inches.
They are rust and weather resistant.
To tie down the stake, a torque bar is provided in the kit for convenience.
The kit consists of a total of 8 stakes as well as rubber edge guards, a single torque bar made of steel, a nylon rope for heavy-duty work, and a storage bag.
Buyer's Guide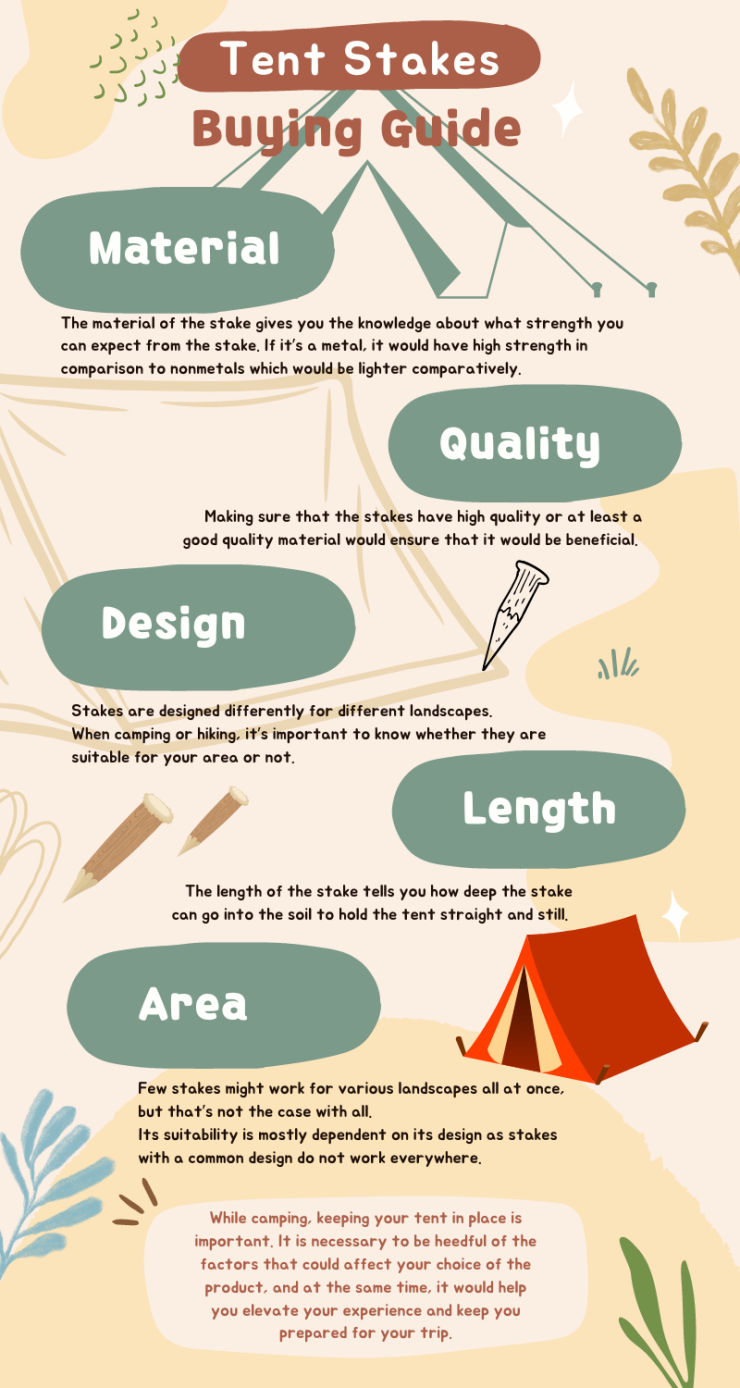 For holding down your tent while you rest, a good stake should be a priority. If your tent isn't properly fixed, it will loosen up and fall. Stakes can also be used for other purposes than just for camping. If you need to tie something to the ground, you can use stakes. When looking for stakes, their material, quality, design, length, and area (where they can be used) are very important. Let's know how these factors can affect your choices?
Material
The material of the stake gives you the knowledge about what strength you can expect from the stake. If it's a metal, it would have high strength in comparison to nonmetals which would be lighter comparatively. Also, metals are prone to rust and are easily affected by the weather as well. If a metal stake has a covering layer to protect it, those stakes would be more ideal.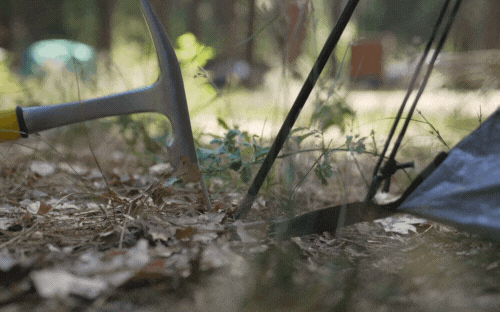 Quality
At times, there is a variety of materials in the market where some might be ranked high but would not be durable. Making sure that the stakes have high quality or at least a good quality material would ensure that, in the long run, it would be beneficial. The quality of the stakes determines how long they will last in bad circumstances (such as harsh weather).
Design
Stakes are designed differently for different landscapes. Few stake types could work exceptionally well in rocky and hard landscapes, but at the same time, they would be useless in a slightly wet, muddy, or dry area. Especially when camping or hiking, it's important to know whether they are suitable for your area or not.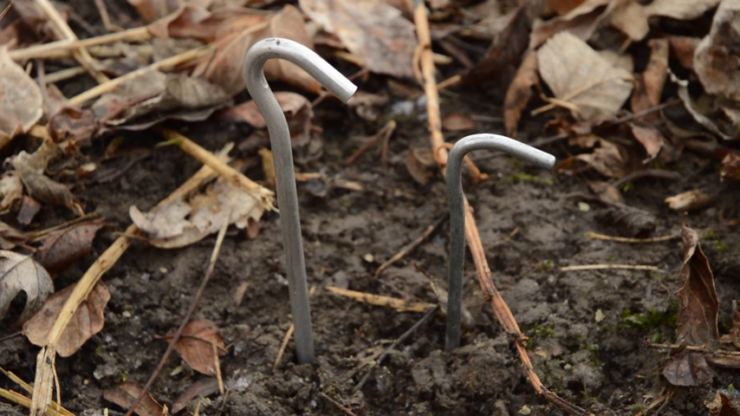 Length
The length of the stake tells you how deep the stake can go into the soil to hold the tent straight and still. If the stake is too small for your tent height and area, then it would be useless to buy or bring such a stake along with you. It could be hazardous if it's not checked beforehand.
Area
Few stakes might work for various landscapes all at once, but that's not the case with all. Even if they do hold on in various landscapes, their strength for fixing might be wary. If on a trip, be it for camping or picnic or any other purpose and you need to tie it down to the ground, then knowing whether they are suitable for that soil or not is very important. Its suitability is mostly dependent on its design as stakes with a common design do not work everywhere.
Conclusion
While camping, keeping your tent in place is important. It is necessary to be heedful of the factors that could affect your choice of the product, and at the same time, it would help you elevate your experience and keep you prepared for your trip.
Frequently Asked Questions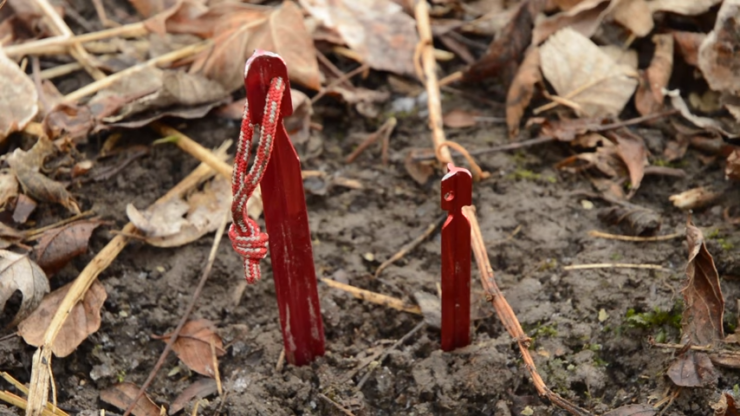 What material if the stake is better?
Depending on your need, you should look out for the material. Mostly reusable material should be preferred as it's kinder to the environment as well.
Can you buy a single stake?
Yes, you can buy a single stake. There are many options online, be it for buying 1 or 6 or a whole kit.
Take a look at these picks from Amazon also: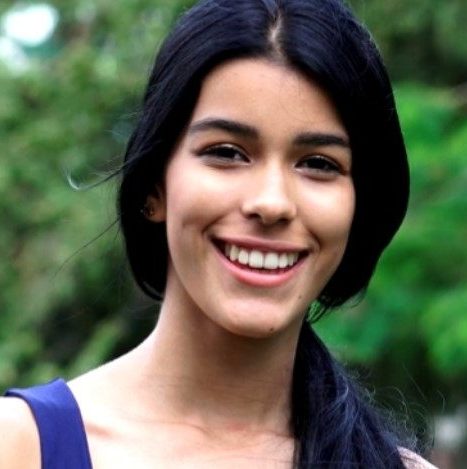 Christina Joyner is a seasoned expert for camping gear and everything related to outdoor adventures. With ten years of experience in this branch, she is an integral part of our team and author of comprehensive guides about equipment, best camping locations, and valuable tricks you should know when spending time in the wilderness.