Choosing a camping hammock with mosquito nets can completely change a person's approach to camping, backpacking and enjoying outdoor activities. Unlike sleeping bags, hammocks provide great comfort without the hard ground surface and the risks of water intrusion, burrowing insects and the limitations imposed by ground conditions.
Hammocks can serve as a bed for sleeping, a chair for reading and a lounger for taking an afternoon nap.
Hammocks are versatile because they can be strung between trees or manufactured structures – like cars – or used on the ground. Campers can string their hammocks over a gurgling stream for added security and a pleasant environment.
Hammocks are easy to set up and fully modular: Campers can take what they need and travel lightly. If the area is warm, extra blankets aren't needed – just a lightweight hammock and maybe a tarp in case of rain. Here is a review of twelve highly rated camping hammocks with mosquito netting:
Everest Double Camping Hammock with Mosquito Net – Best Camping Hammocks with Heavy-Duty Mosquito Mesh Net
Ryno Tuff Camping Hammock with Mosquito Net – Best Double Camping Hammocks with Very Affordable Price
HCcolo Double Camping Hammock with Mosquito Net – Best Camping Hammocks for Two People
1. Everest Double Camping Hammock with Mosquito Net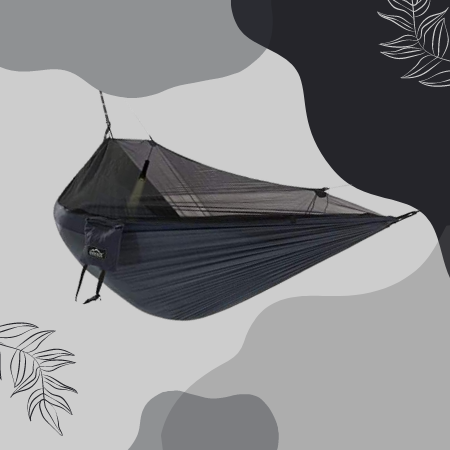 The Everest Double Camping Hammock not only delivers the full benefits of an integrated, reversible, ultralight and mobile sleeping setup but also integrates with all the great accessories made by Everest Active Gear. The covered hammock can provide comfort that's similar to indoor environments in far-flung settings, but campers can also enjoy nature by camping without a safety net.
The Ripstop diamond weave nylon fabric blends seamlessly into the background for military-grade camouflage protection. The fabric breathes, keeping it fresh longer, and resists tears, stains and punctures. The heavy-duty mosquito mesh net attaches to trees, poles or other structures to create a fully enclosed shelter free from flying and crawling bugs.
The full package, which contains everything needed for setup, comes with a 30-day return policy, and no questions are asked.
Benefits and Disadvantages of Everest Hammocks
Everest hammocks offer simple setups, lightweight backpacking, dual protection against bugs and triple-stitched seams for greater durability. The pros of choosing Everest hammocks include:
High-tensile strength for sleep security with 100 percent 210T Taffeta parachute fabric
10 feet long and 6 feet wide for reliable support
Premium quality mesh for the bug net that resists tearing, punctures and wear
Net cord that's included
Reversible hammock flips over for use with or without a net
2 premium quality carabiners of lightweight aluminum
Internal storage pocket and internal gear hang loops
Simplified instructions suitable for beginners or seasoned camping pros
Nets that don't pull and hang tags that don't tear out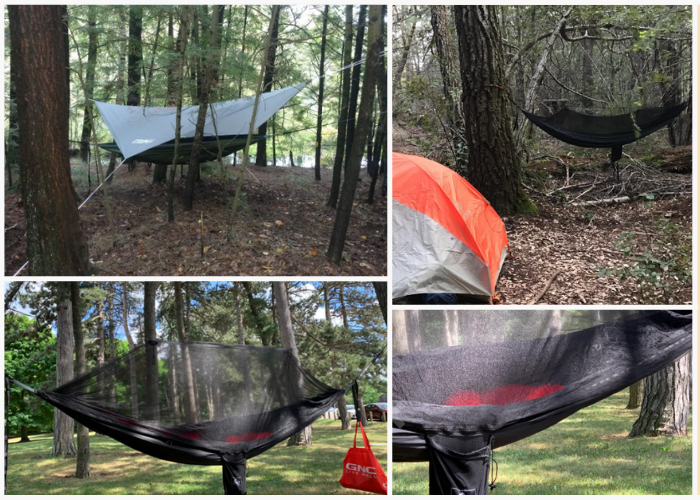 The biggest disappointment is that there is no specially designed insulation for the bottom of the hammock. Hammocks can get quite cold on the bottom unless there is adequate insulation or extra blankets because the area is exposed to the wind. However, campers can make their own customizations – such as using under quilts or adding foam pads as insulation.
Final Thoughts
The Everest hammocks compress into a pack that's 5 inches x 6.3 inches x 9.5 inches. The materials are designed for versatility, portability and durability. The hammocks are compatible with most Rain Fly setups, and they deliver all the essentials for bug-free, comfortable camping.
2. Newdora Hammock with Mosquito Net for 2 Person Camping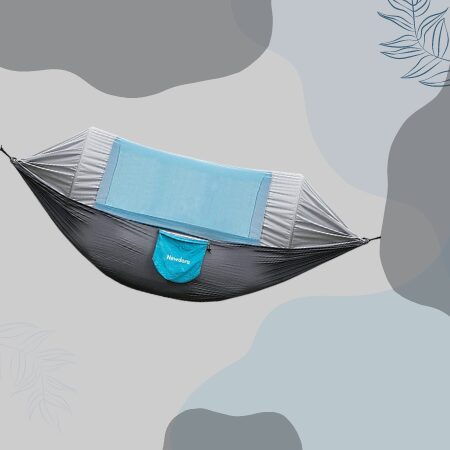 The Newdora hammocks tackle one of the biggest problems that new hammock users routinely experience the hammock's tubular shape compresses sleepers into a shape that intersects with the mosquito netting. The solution involves learning to sleep in a diagonal shape, but that can complicate the issue of keeping the mosquito net comfortably away from the body.
Newdora uses a popup mosquito net with two bars to avoid disturbances and discomfort. The net can be rotated away entirely if desired, and the loops around the circle of the net allow campers to extend the ropes and the net away from the body.
The Newdora Hammock sleeps two people, and its dimensions are 275 centimeters long and 145 centimeters wide. The materials of the hammock and mosquito nets are incredibly strong and can support up to 600 pounds. As far as basic portability goes, the hammock only weighs 38 ounces. The company offers a 100 percent refund for those who are unsatisfied with the product.
The Newdora hammocks are perfect for intimate getaways for two people, and they provide ultralight protection against mosquitoes, rain, wet ground and rocky ground surfaces.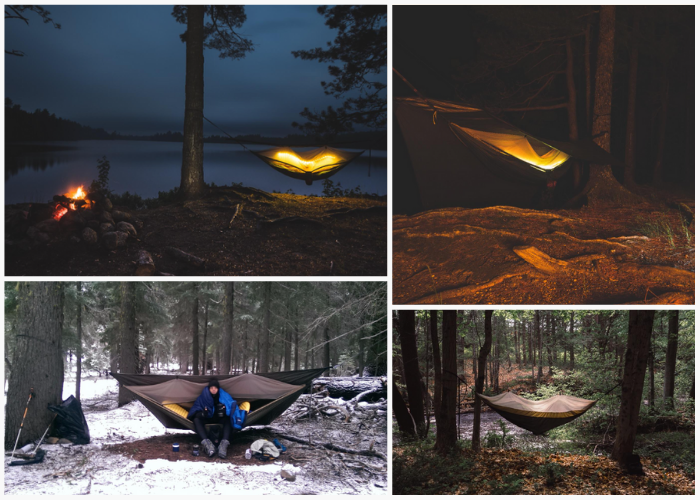 Benefits and Disadvantages of Newdora Hammocks
Hammocks can be used for multiple purposes including swinging, sleeping, reading, picnicking, working on a computer, suggling or accessing the internet on a phone. The features and benefits of Newdora hammocks include:
Great tensile strength with superior flourishes such as delicate sewing
210T Nylon Taffeta parachute fabric
2-meter climbing rope
2 stainless steel carabiners
Superior air permeability
Takes 10 minutes or less for setup
Popup insect net design that saves time
Ideal choice for children
Fits perfectly in backpacks and rucksacks
Perfect for people under 6-feet tall
The negative aspects of Newdora hammocks include being a tight squeeze for tall people. The accessories, which are plentiful, can damage trees. If both adults are large, Newdora hammocks might not be roomy enough for two people.
Final Thoughts
Going for the best price isn't always the best decision when outfitting a camping experience. Simply put, the quality of life of a camping trip depends on comfort, convenience and backpack portability. Newdora offers one of the best combinations of good price, high quality and lightweight portability.
3. Grand Trunk Skeeter Beeter Pro Mosquito Hammock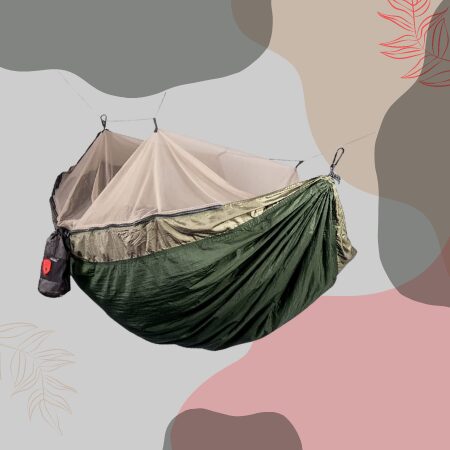 The mosquito-proof Grand Trunk Skeeter Beeter Hammock is the perfect sleeping accommodation for those who takes insect incursions seriously. Some people are just bothered more by insects than others, and Grand Trunk's clear mosquito netting works constantly in the background to eliminate the threat of unwanted pests.
This one-person hammock is perfect for beginners and experienced campers because convenience is always a top concern. The triple-lock stitched seams add great durability, and the double-sided zipper makes it easy to get in and out of the hammock. The hammock comes with two nautical-grade carabiners, suspension cord, stuff sack and starter rope kit. The hammock is ready to hang and use right out of the box.
Benefits and Disadvantages of Grand Trunk Skeeter Beeter
This hammock tends to fall into the middle of the list when considering the pros and cons of camping hammocks. The benefits of the brand include:
Comfortable and roomy
Affordable
The bug net's integrated utility that keeps bugs off the face
Made of 210T 70D parachute nylon
Comes with two 10-foot pieces of pre-knotted cord
Designed for one person weighing up to 400 pounds
Weight of 35 ounces, making it highly portable and lightweight
The negatives about Grand Trunk Skeeter Beeter Pro Mosquito Hammock might include the name – a mouthful – and these limitations:
Nautical-grade carabiners can be heavy to carry.
Rope system can damage trees if the camper is inexperienced.
The bug netting works great, but it can't be rolled back or removed.
Trunk straps cost extra.
Final Thoughts
The benefits of the effective anti-mosquito netting and roominess make this hammock one of the best for individual use, but nature lovers who like their nature raw won't like the mandatory bug-screening. However, campers should weigh that against the extraordinary comfort of this hammock in multiple positions. Campers can get out of their hammocks to enjoy nature for as long as they like, but they can't make an uncomfortable hammock comfortable for the same length of time.
4. ETROL Hammock, Upgrade Camping Hammock with Mosquito Net and Tree Straps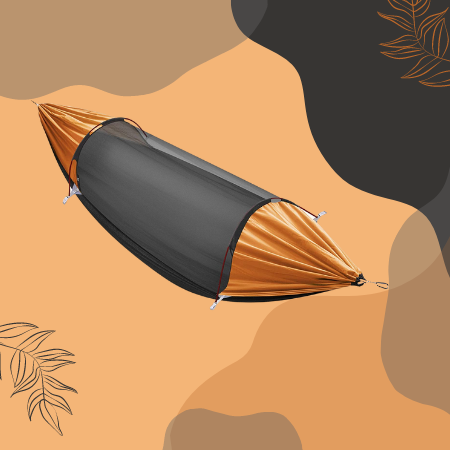 This superior hammock provides tubular protection for every family member – protection from mosquitoes, ground-boring insects, curious rodents, wet or rocky ground and uncomfortable slopes. The ETROL Hammock includes a mosquito net to keep out all types of insects for a safe and pleasant camping trip.
The mosquito-net side has blackout sections at both ends to prevent eye discomfort caused by sunlight. Campers can simply turn the hammock over to enjoy full access to the scenery if the netting isn't needed.
The third way to use the hammock is as a ground hammock. Simply insert both ends of the mountaineering buckle into a ground nail at eithet end to string the hammock off the ground and enjoy the benefits of hammocks without the risks of falling. This is an excellent way to develop the skills to enjoy sleeping and relaxing in a hammock.
The ETROL comes with everything needed – two foldable metal poles for the net, two carabiners, hammock straps and loops for adjusting sag. There is a black hook inside the mosquito net for hanging a light, and the package comes with a 1-year warranty that guarantees 100 percent satisfaction.
Benefits and Disadvantages of the ETROL Hammock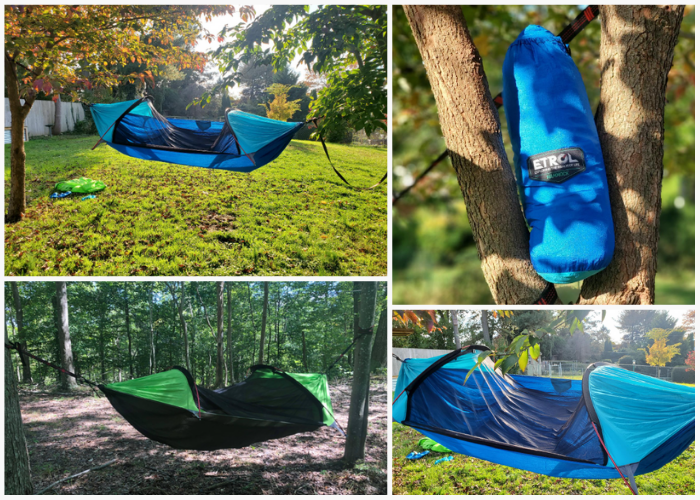 The ETROL Hammock functions as a sleeping bed or double-lying hammock, and the built-in tree straps make installation fast and easy. The benefits of the brand include:
This 3-in-1 hammock is more convenient, comfortable and versatile.
The effective net keeps mosquitos and insects out completely.
The hammock is genuine camping gear designed for heavy use and made from 70D/210T Parachute Nylon with Triple Interlocking Stitching
The pop-up insect net is easy to use.
All installation tools are included.
The disadvantages of ETROL camping hammocks include feeling slightly squeezed when sleeping with another person. This disadvantage can be somewhat finessed by working with a sleep partner to find the sweet spots for comfortably sleeping together.
Final Thoughts
The ETROL double camping hammock makes an ideal choice for campers and backpackers who enjoy being together intimately. The hammock can be used multiple ways – even for relaxing convenience in the home and backyard. The tensile strength and triple-reinforced seams ensure that the hammock can handle any amount of human weight that fits inside.
5. Ryno Tuff Camping Hammock with Mosquito Net
Ryno Tuff camping hammock is also a double hammock with a bug net at a very affordable price. The material is lightweight and reinforced to prevent tearing. The hammock is 78 inches tall and 118 inches wide. The 210T parachute nylon, which is 75D thick, gives the hammock enough strength to support 600 pounds, which is 30 percent stronger than most competitor hammock brands.
Ryno Tuff comes with an extra pocket, 10-foot tree straps with 16 loops and heavy-duty carabiners that fit into a carry case about the size of a two-liter bottle, which doubles as an extra pocket when the hammock is being used. One side of the hammock has a mosquito net, but campers can use the other side if they don't want anything between them and nature.
Benefits and Disadvantages of Ryno Tuff Hammock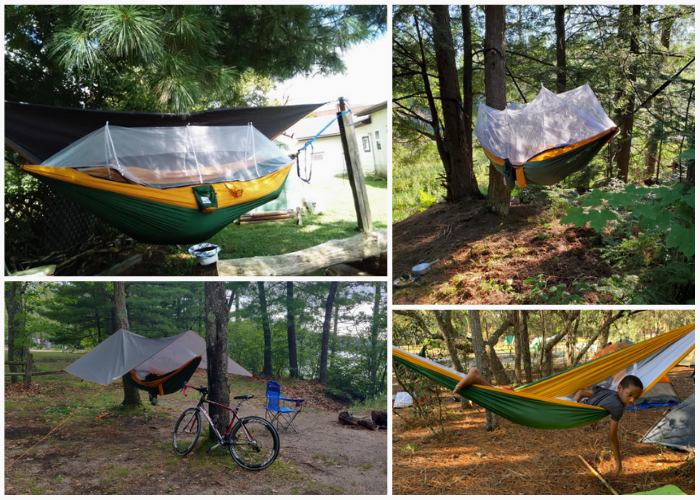 The benefits of Ryno Tuff hammocks include fast and easy installation and protection from wet ground, insects and irregular ground surfaces. Other signature benefits of this brand of hammock include:
The bug net is designed with a small mesh to prevent even the smallest insects from getting inside.
All necessary equipment for installation is included.
The hammock tests at a greater durability rate than other brands.
Guy lines support the netting.
The disadvantages of Ryno Tuff camping hammocks include difficulties adjusting the temperature to suit two people. Hammocks don't have the advantage of using stored heat from the ground unless they're used on the ground. Blankets can provide warmth above, but campers lose heat below unless they insulate with additional blankets. This is especially tricky to adjust for people with different tolerances for cold and heat.
Final Thoughts
As campers, explorers and adventurers, choice of equipment is critical. Ryno Tuff provides solid benefits for bug-free camping and comfortable sleeping in a convenient pocket that weighs less than 3 pounds. The hammock is tough, reliable and easily managed so that there's little to worry about when the time to bed down for night arrives.
6. HCcolo Double Camping Hammock with Mosquito Net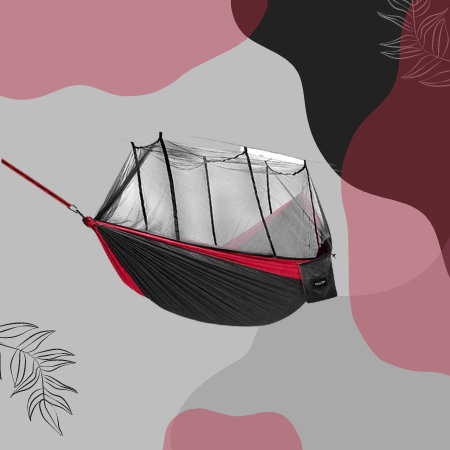 HCcolo hammocks are tough, reliable, easy to hang and perfect for one or two people when hiking, backpacking, visiting the beach, camping or traveling light. The anti-mosquito net and heavy-duty support makes this one of the most popular hammock options. The HCcolo hammock holds up to 440 pounds, and the kit comes with carabiners, a lightweight nylon parachute hammock and two 10-foot hammock tree straps.
The price of HCcolo hammocks ranks as one of the most affordable of the top hammock brands. The hammock is protected by a 100-percent satisfaction guarantee with a three-month replacement and a 1-year overall warranty.
The large and roomy hammock for two people breaks down into an incredibly small package that's easy to carry. The hammock can be hung between anything sturdy – such as trees, utility poles, cars and outdoor structures. The hammock straps have 18 loops to adjust height and sag to the perfect comfort level.
Benefits and Disadvantages of HCcolo Double Camping Hammock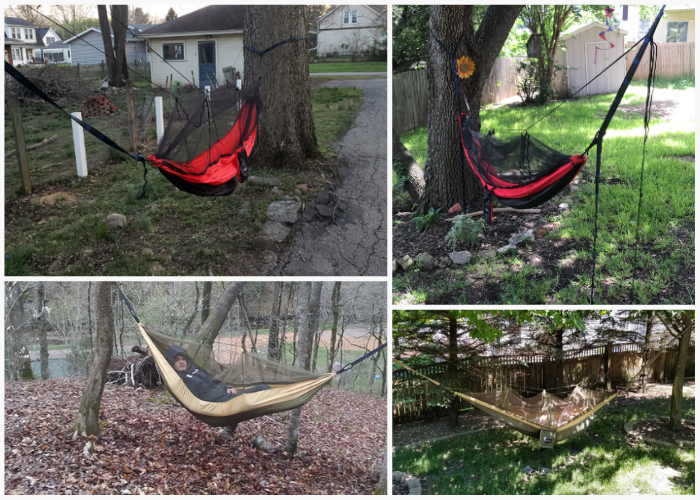 The benefits of the HCcolo Double Camping Hammock include being off the ground, in the mix and completely comfortable. Comfort, of course, is subjective, but campers have found that hammocks relieve common discomforts of back pain. Campers can cut up to 5 pounds of excess weight by switching to the hammock. Other pros of using the hammock include:
Do-it-yourself effectiveness: Campers can use HCcolo to customize the suspension, sag, overquilts and under quilts to create a truly customized sleeping space.
Off-the-ground benefits: Hammocks get campers off the ground, which generates many benefits. These include cooling breezes, dry bedding, a consistent sleeping environment and no worries about small animals and ground insects roaming around the camp. Hammocks protect campers from the worst of rainstorms, muddy ground and all types of insects.
Rise-above-it benefits: Campers can rise above concerns about rocky ground cover, uncomfortable slopes, wet ground and unwanted animal and insect pests. The view from a hammock is almost always more interesting than the view at ground level.
Final Thoughts
The HCcolo hammocks, accessories and camping gear make it possible to outfit a weekend camping trip or a serious hike on the Appalachian Trail. HCcolo hammocks are generally lighter than a tent set up, and they provide greater comfort and sleeping versatility. Some campers report saving up to five pounds by using a lightweight hammock.
The Hammock Nuclear Option
Once someone adjusts to sleeping in a hammock, it's possible that no mattress or sleeping bag will ever measure up to the same level of comfort or convenience. Regular beds are expensive, but hammocks save hundreds of dollars, eliminate dust mites, control mosquitoes inside and outside and eliminate entirely the boring process of making the bed each day. Pop up the sides and top cover, and the bed is made. It can even be stored in a handy drawer to remove it completely from sight.
That's why more and more campers choose to use their hammocks at home instead of expensive beds that generate all kinds of extra work. It's the ideal nuclear option for simplifying life or downsizing, and once someone adjusts to the comfort of hammocks, the sleeping space never needs to change unless the sleeper chooses to change brands or sleeping conditions.
Any of the six hammocks reviewed would make an excellent choice for camping, backpacking, picnicking, hiking, beach parties or home use.
If these weren't enough, check out some other picks from Amazon also:
References:
https://koa.com/blog/how-to-keep-bugs-away-while-camping-keep-insects-out-of-your-tent/