Anyone who enjoys spending time in nature and camping also likes sleeping outside. While a tent is a great solution, a hammock might even be a better one. It is easier to carry, takes up less space in your backpack, and much easier to install.
Of course, if you plan to sleep out in the woods, you'll want to avoid insect bites, so you will need a hammock that comes with a mosquito net. Stick with us to see what kind of hammocks are out there and pick the one that is perfect for you.
Top Picks for 2023
1. Hammock Bliss No-See-Um No More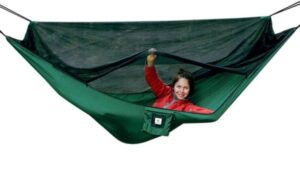 This extremely popular hammock is very easy to set-up and pack away when you don't need it anymore. With the weight of just 28 oz, you can just put it in your backpack and don't even feel it. The suspension system on this hammock is made from strong climbing rope ensuring the minimal risk of breaking.
The material of this hammock is nylon parachute – a very durable and high-quality material that is both comfortable and breathable. You can wash this hammock in a washer and not worry about damaging it. The material is also quick to dry, so it will be ready for use soon, and that feature can also come in handy if you get caught by rain on your camping trip.
This is a very comfortable hammock with lots of space for sleeping, tested at 350. It comes with no-see-um netting with 2100 holes per square inch ensuring that no insect can come through and bother you, whether we are talking about flies, mosquitoes, fleas, or even gnats. If there are no bugs around, you can just flip it upside down and use it as a regular one.
Additional features worth mentioning on this hammock are the YKK zippers that are well–known for their supreme quality. This model also comes with 4 internal pockets that can be useful for storing your valuable items and 4 utility loops inside the netting that allow you to hang your gear.
While this is a hammock with lots of useful features, you should know that it doesn't come with tree straps, so you'll have the get them separately.
2. Adventure Gear Outfitter Camping Hammock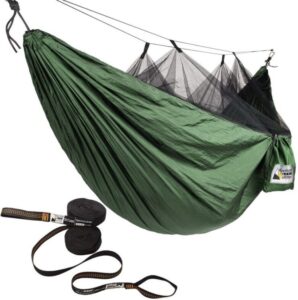 What defines this hammock is how easy and simple it is to set it up. Without needing any special knots, just loop the strap around the tree and through the loop on the end of the strap, and then adjust the height using the carabiners. All that is left is to adjust the net and that's it. The whole process will take you only a few minutes.
The mosquito net is great at doing its job and preventing any bugs from entering your sleeping area. But if you decide you don't need the netting, flipping turns this hammock into a regular one.
This hammock is very strong and features an extremely light 210T parachute nylon material ensuring durability and capacity of 400 pounds without the concern of ripping and tearing. The hammock itself weighs only 150oz making it very easy to carry in your backpack. Additional gear that includes straps and carabiners do add to the weight of the packing sack, but it still doesn't exceed 2 pounds.
If you decide to purchase this hammock and you don't like it, the company offers a 100% 6-month money-back guarantee, so you have plenty of time to test it and see if it suits you.
3. Lost Valley Camping Hammock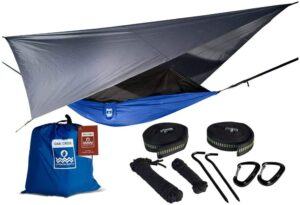 Here we have an extremely strong camping hammock, made from tear-resistant parachute nylon material with reinforces stitching, that is very light and easy to pack and carry around as needed. It weighs only 4 pounds so it is very portable. The material is breathable making the hammock comfortable even on those hot summer nights. It comes with a waterproof cover so you don't have to worry about getting wet.
This hammock is very simple to set up (customers say it only takes about 3 minutes) and it comes with a great set of additional gear including a rain fly and mosquito net that protect you from those tedious little insects and allow you a good night sleep. The package also includes tree straps, aluminum carabiners, and 2 stakes and guy lines so any additional equipment is not needed since this bundle pretty much fulfills all camping requirements. Check out the following video for a customer's review:
Although this hammock has enough space for one person, it doesn't come with side ties so it might feel a bit snug. You should consider bringing a sleeping mat or some blankets to make sure you are not cold.
All things considered, the Lost Valley camping hammock is a good choice for that amount of money.
4. ENO Onelink System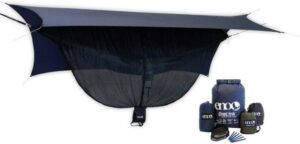 ENO Onelink is an all-in-one hammock system that supports a maximum weight of 400 pounds. The material used for this model is a quick-dry 70D high tenacity nylon taffeta ensuring you get a premium quality hammock you can put your faith in and it won't let you down during your camping or hiking adventures. It features 2 compact atlas straps with 15 adjustment points for better support.
This versatile hammock is very spacious so you can enjoy comfortable sleeping positions. The mosquito net that comes with it is made with SkyWeave Mesh netting and includes a 3mm ridgeline so you can rest assure that no bug will interrupt your rest.
The rain trap included in the packing is 100% waterproof allowing you to stay dry even if you get caught in the rain. To make sure it stays that way, the rain trap has 6 connection points and DAC trap stakes so it can be firmly connected.
If you decide to purchase this hammock system, you can rest assured you'll get an ALL-IN-ONE package easing you into the camping world and outdoor sleeping.
5. Everest Double Camping Hammock with Mosquito Net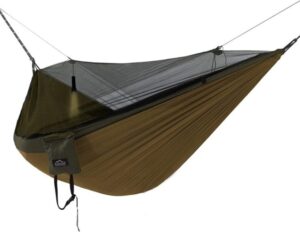 If you don't mind the mosquito net being close to you while sleeping, Everest Double Camping Hammock might just be the one for you. It comes with a high-quality 2100 holes per square inch No-See-Um netting providing you with a bug-free shelter so you can sleep tight. Just zip it up with YKK double-tap zippers and have a great night's rest. During the day, you can just flip the hammock and use it without the net.
Everest offers us a roomy, comfortable hammock with a weight capacity of 400lbs, making it perfect for most nature lovers out there. To make sure its stability, the hammock comes with reliable straps and carabiners that guarantee your safety, and after all, that is a quality everyone looks for when you're about to sleep hanging from a tree. It is also very easy to set up, and if you don't know how to do it, the simple instruction manual will help you.
The material used for this hammock contributes the safety, as well. It is made from 210T parachute material that has a quick-dry quality making the hammock ultra-light and easy to carry, but also very long-lasting.
Another thing making this hammock unique is that it comes in several different colors allowing you to choose the one you prefer.
6. Grand Trunk Skeeter Beeter Pro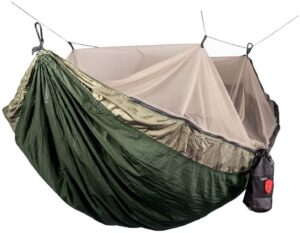 The Skeeter Beeter not only has a fun name but is also very fun and easy to use. Thanks to the double-sided zipper, getting in and out of this hammock should be a piece of cake, and it offers enough room for two people with its spacious interior and 400-pound weight capacity.
Your safety is no issue since the material this hammock is made from is 100% 70D parachute nylon that is reliable and won't tear. It allows you to breathe easily in hot weather conditions. You can also be sure that you are safe from insect attacks with the No-See-Um netting in gray colors, that doesn't hand near your head so you have plenty of space. Triple-stitched reinforcements on the net and the fabric ensure additional safety. This hammock can be used without the netting, simply by flipping it over. Watch the following video for a quick overview:
It features two interior pockets for your valuable items, and it comes with 2 nautical grade carabiners, a suspension cord, rope kit, all packed in a convenient sack making this hammock suitable for any kind of adventure you embark upon.
7. Bri Sunshine Hammock with Bug Net and Rainfly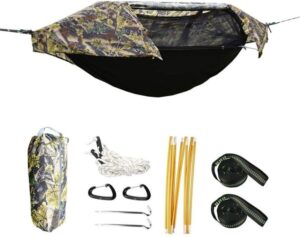 Bri Sunshine hammock comes in green and yellow color or you can get one in camouflage to blend in with nature. The versatility of this model can also be seen in multiple uses – it can be used as a regular hammock or as a hammock tent. The usual tree straps and carabiners allow you an easy setup, with additional aluminum poles to ensure fixation on both ends and keep the net further away from you so you experience a comfortable night's sleep. The poles also hold the rainfly firmly and keep you dry during bad weather conditions. The material blocks any unwanted sun rays from your eyes, so you can enjoy it during the day as well.
This hammock accommodates a large sleeping area with breathable material allowing the air to freely circulate and make you comfortable. Speaking of material, this model is made from 70D nylon taffeta parachute cloth that is both strong and reliable as it is lightweight. With the roomy interior and strong material, this hammock supports up to 440 pounds of weight capacity.
All in all, this is a very practical and versatile hammock suited for many outdoor activities like camping or hiking but also fishing, hunting, etc…
Read Also: Most Essential Things to Bring for Camping Trip
Buying Guide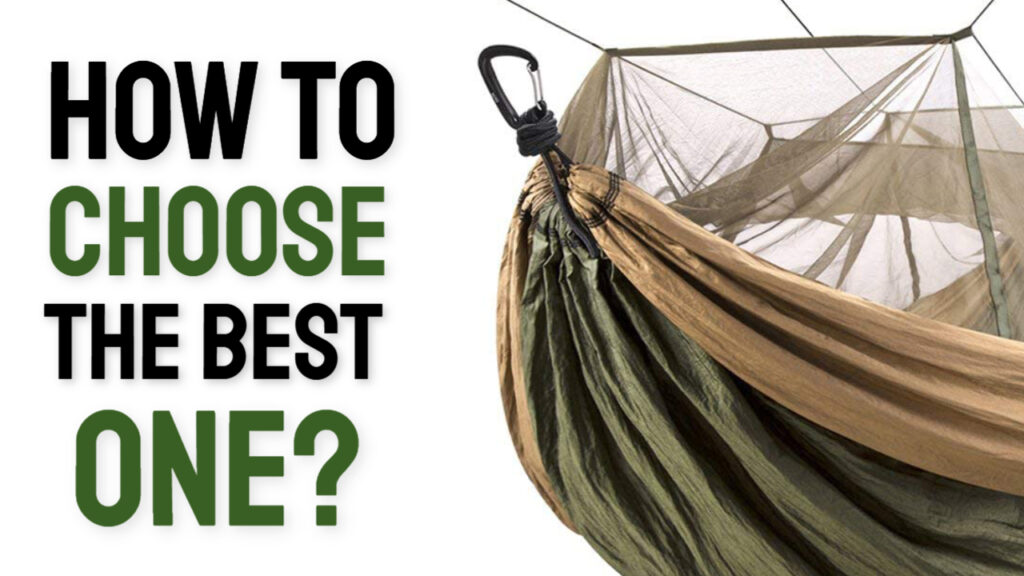 Weight Capacity and Suspension System
Wight capacity is the first thing you should check when buying a hammock. Let's face it – you do not want to rip your hammock, and you definitely don't want to fall on the ground. Make sure your hammock can support your weight. In fact, a good idea would be to get one that supports more than just your weight, to be on the safe side.
Another thing that affects your safety while sleeping in a hammock is the suspension system. A good suspension system ensures that you hang safely above the ground and make it easier for you to assemble your hammock without the use of ropes or some kind of slings. It can be sold along with the hammock or separately in which case you should not forget to get one. Consider getting a system with longer and wider straps for more flexibility.
There are hammocks predicted for more than just one person, so if you are looking for something like that, make sure to incorporate the weight of you and the other person in the math, so you are both safe and have enough space.
Speaking Of Space
Ensuring your hammock is big enough for you is essential. You don't want one that makes you uncomfortable and forces you to clench. It's certainly not the best way to sleep. Make sure the size of your hammock matches your size so you can sleep comfortably and avoid the risk of falling out.
Don't miss our review of the best hammock chairs on the market.
Material and Durability
When choosing a hammock, you will probably get two choices when it comes to the material: cotton and nylon. While cotton hammocks may look cooler, they tend to be heavier and not waterproof. Nylon hammocks are more compact, durable, and resist water. The best material for hammocks is polyester.
The better material is used for your hammock, the more durable it will be hence the safer you are and it will last longer, but you want to make sure straps, zippers, and net are equally well-made.
Portability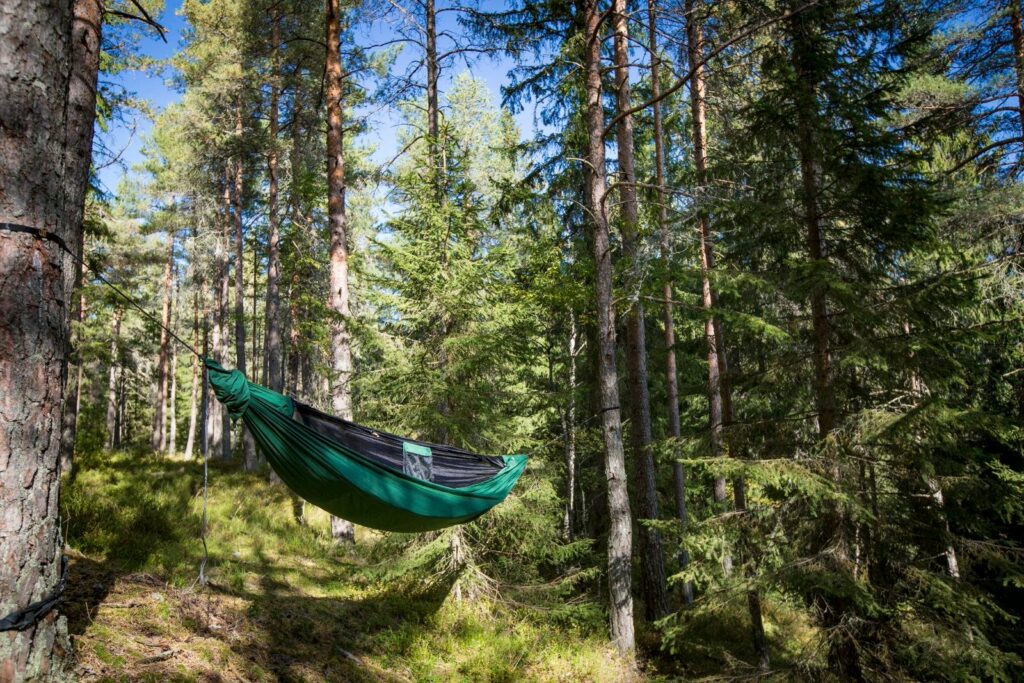 Getting an ultra-light hammock can come in handy when packing but keep in mind lighter hammocks tend to have limitations when it comes to weight capacity. On the other hand, heavier hammocks are harder to pack and carry, so it might be a good idea to compromise between these options and find one that both supports your weight and can easily fit in your backpack.
Insulation
While hammocks are made of materials that keep you cool during summer, you will need some kind of insulation during colder nights. Think about getting one with some kind of quill or a sleeping pad to make chilly nights comfortable and you don't freeze.
Mosquito Net
First of all, think in terms of space. If you don't like spaces that make you claustrophobic then choose a hammock with a mosquito net that can be installed further away from you.
Second of all, look closely at the holes in the net – they come in different sizes. The smaller the hole – the less likely bugs and mosquitoes will get through. While most mosquito nets have pretty small holes that prevent them from bothering you, some hammock feature nets that repel even gnats, making them ideal for any conditions. To know how large the holes on the net actually are, check the "holes per square inch" number available in specifications.
Frequently Asked Questions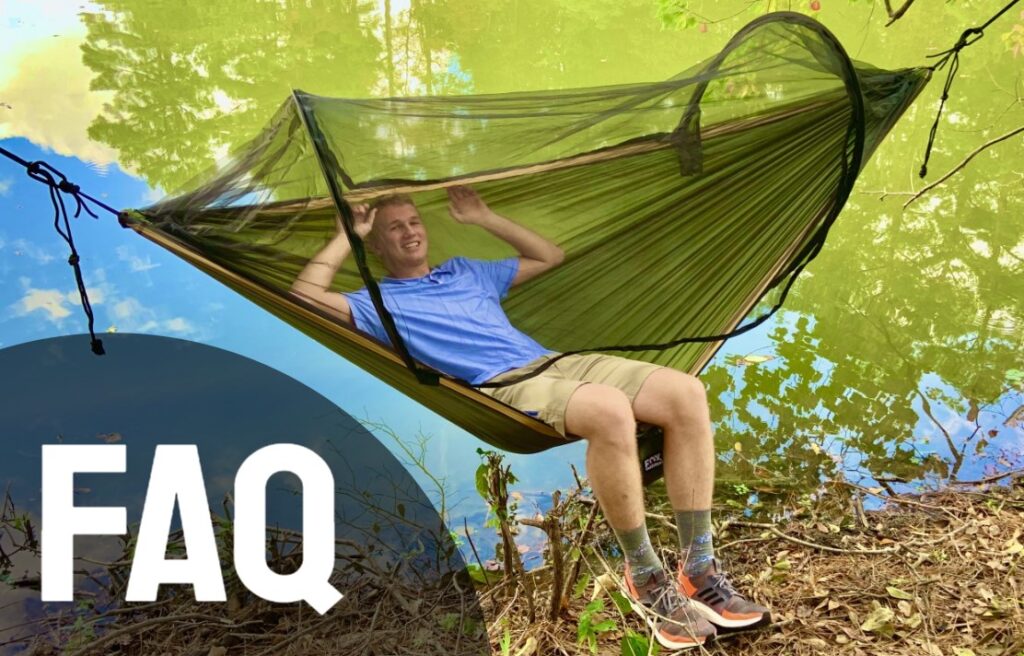 Do I need a bug net for my hammock?
If you plan to sleep outside, a bug net is definitely a must-have feature, unless you want to wake up covered in bug bites or spend the night scratching your skin.
Can mosquitoes bite through hammocks?
Most hammocks are made of materials that are safe and don't allow mosquitoes to bite through. If you have a trap and a mosquito net, you should be safe against insect bites.
Which material is best for mosquito net?
The material that will best protect you against insects is polyester (PES). It is widely available, cheap, strong, and easy to impregnate.
Conclusion
Mosquito or other insect bites are not only itchy but can be dangerous as well. It is only natural you want to protect yourself against them anytime you spend time outdoors, especially if you plan on sleeping outside. There are a lot of options when it comes to choosing the best hammock for you and we hope this article has brought you closer to your ideal choice. After all, a little research can go a long way.
There are other interesting choices for you. Check them out: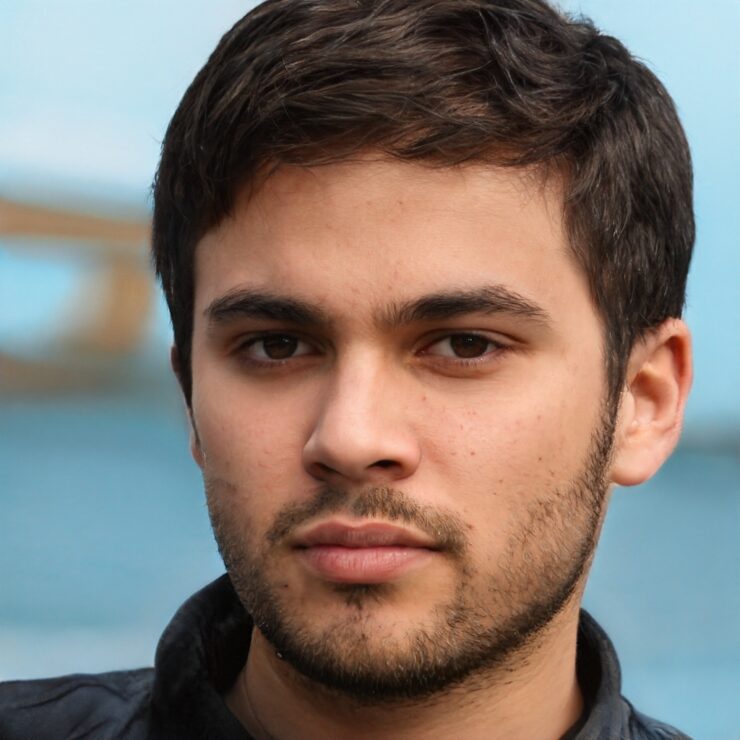 I love to explore the outdoors, cook over a campfire and pitch a tent. I want to share my adventures with you by writing articles, taking pictures, and sharing videos.