As the spring approaches, spending time outside becomes more popular, since everyone wants to breathe in that warm air and feel the sun on their skin. A good way to do that is to get a hammock chair that will provide you with relaxation but also look great in your backyard and you can easily carry it with you when spending time in nature.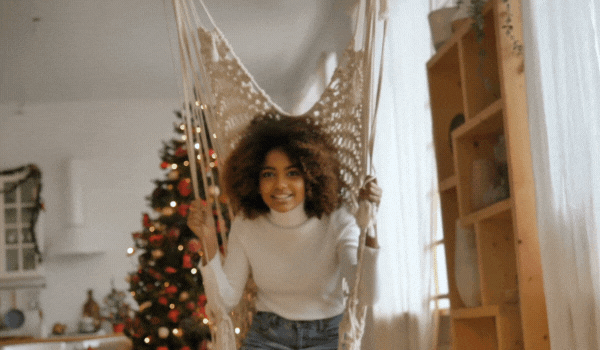 They take up less space than regular hammocks but still provide you the same feeling a swing would.
Our Top Picks
If you don't like researching by yourself, here's a list of some great hammock chairs.
1. Hammock Swing Chair by Unipride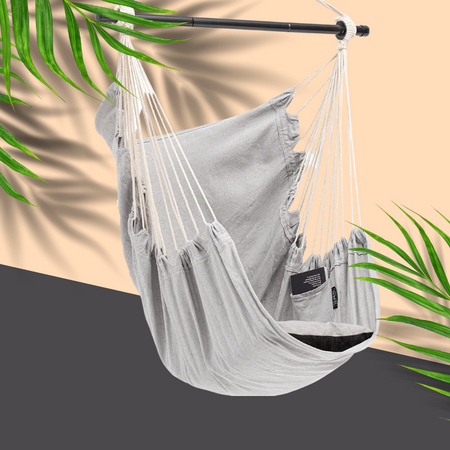 Hammock swing chairs are a must-to-have in patios and backyards. You can sit on it and enjoy the beautiful nature while eating fruits or drinking your tea or coffee. A perfect combination to get a peaceful sitting environment.
This hanging chair has a heavy-duty build. The material consists of 40 percent cotton and 60 percent polyester. It is tough enough to bear a weight of around 500 pounds, which is 226 kg. So even if someone sits in your lap, you won't need to worry about it. This hammock can bear this much weight.
And what if it rains? Although it is a hammock chair, but there is no compulsion like you can only use it outdoors. If it is your favorite sitting place, you can set it up indoors and enjoy your drinks and meals. Or you can spend your reading time there.
In addition to this, the sitting cloth is tied through ropes that are set on the metal rod. This might seem a bit dangerous because what if it slips? Do not worry. The metal rod has an anti-slip property. Therefore, it won't let the chair slip through it. Furthermore, it is adjusted properly with the rod providing you with a firm grip.
The most troublesome thing that you find with hammocks is their setup. Oftentimes, you do not get the complete hardware materials. Therefore, you have to go to the market to get the necessary items. However, not with this one. It comes with all the necessary items. All you have to do is to set it up properly.
The only thing that you should consider is the size of the room if you are installing it indoors. The distance between the ceiling and floor should be more than 7 feet.
2. Hammock Sky Large Brazilian Hammock Chair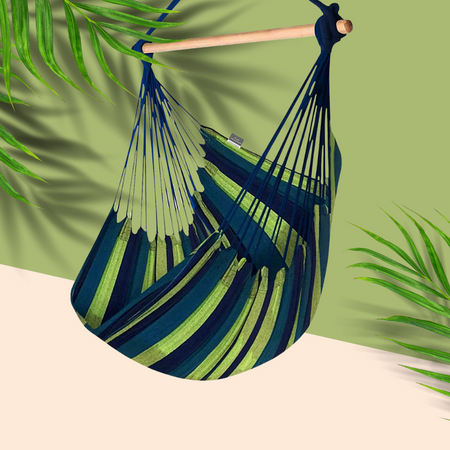 Hammock Sky Large Brazilian chair is certainly going to catch your eye because of its vibrant colors and it will enrich every space you choose to hang it in. If you find the Hot Colors model too much, you can choose the same hammock with blue and green stripes.
This hammock is made from long-lasting cotton and polyester blend, making it extremely durable but also soft and comfortable at the same time. Since cotton is prone to fading away, it might be a good idea to bring the hammock inside in bad weather just to be on the safe side.
It can be hanged indoors and outdoors and thanks to the extra-long ropes it is suitable even for taller people. The dimensions of this chair are 51x40x66 giving you enough space to relax in many different positions.
Watch the following video for a quick overview:
This chair has a weight capacity of 300 pounds making it safe for most users without the worry of tearing and breaking. It is really easy to set-up due to the strong wooden spreader bar, so you can hang it anywhere you want in no time.
Hammock Sky Large Brazilian chair comes with a lifetime warranty ensuring you of good quality, and if for any reason you find it not satisfying, you can just return it and get your money back.
3. Sorbus Hanging Rope Chair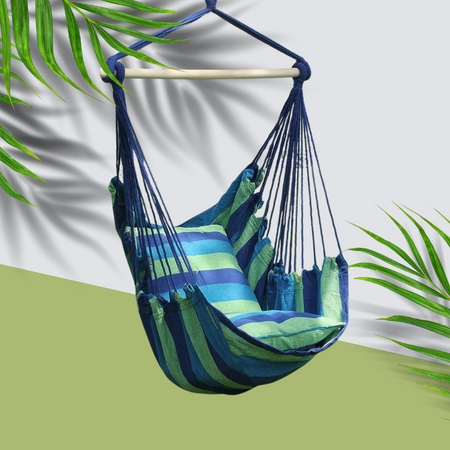 Undoubtedly one of the most popular hammock chairs is the Sorbus Hanging Rope Hammock Chair. It is probably because this chair offers much-needed comfort since it comes with two 17×17 inches cushions allowing you to sit back and relax.
This chair is preferable for one person, especially for kids since it can only bear 265 pounds. It is lightweight and stylish but it is very well made with strong ropes and a mixture of cotton and polyester materials.
The material blend is very comfortable for the skin and it can withstand outdoor weather conditions, but you won't be wrong to bring it inside during the winter periods and rainy days to make sure it will last longer. It is machine washable so don't worry if it gets dirty.
This swing is a great price/quality compromise and the bright blue and green colors certainly make a great addition to your balcony, deck, or backyard, as well as your living room.
4. Y- STOP Hammock Chair Hanging Rope Swing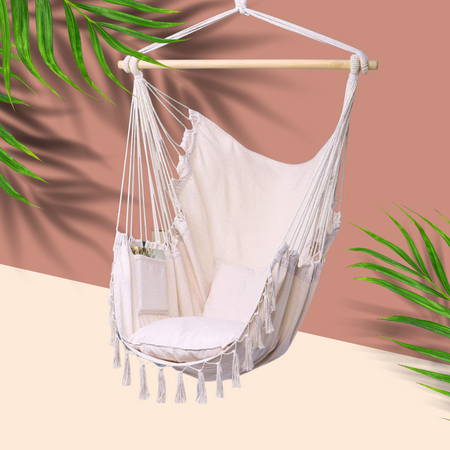 Y-STOP combined elegance and quality when it comes to this chair. This stylish hammock comes in pure white, soft gray, and elegant deep gray color, so you can choose the one that fits in your exterior or interior best.
It is easily moved so you can enjoy reading your book or just sipping coffee and swinging anywhere you'd like. The addition of a carry bag makes it, even more, travel friendly and a 40″ wooden bar allows you to hang this hammock with ease.
The two cushions that come with this hammock ensure that your neck and back are comfortable while sitting in any wanted position since this model offers you enough space to move around as much as you like. It comes with a side pocket so can safely store your phone or any other valuables while swinging and relaxing.
Tearing and damaging this hammock should not be your concern because the material used to make this model is a blend of cotton and polyester making it very strong and tough but at the same time soft and pleasant to the skin. It can support up to 330 pounds – suitable for most adults.
5. Sonyabecca LED Hanging Chair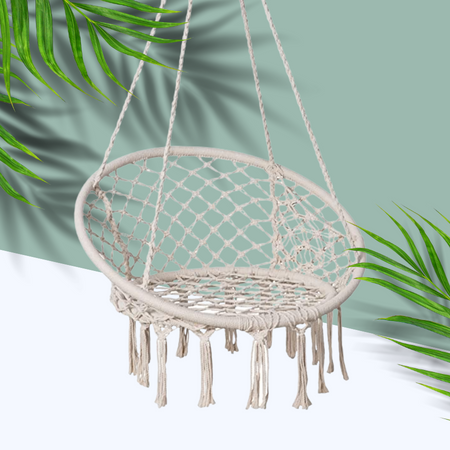 Made from 100% cotton material, this macramé –style hammock will really ennoble your space with its white thread tassels and elegant round frame. Whether you decide to hang it in your bedroom or on your porch, using this chair will give you enjoyment and relaxation.
Still, the main reason we choose this particular hammock is that it comes with 12m LED lights that run on 3 AA batteries and help create a pleasant atmosphere for you or your kids.
The chair has a weight capacity of 265 pounds and it doesn't come with a cushion but that doesn't make it any less appealing since it has such a versatile use – you can use it as a cradle, a swing, or maybe a meditation chair and it is fitting for all genders and ages.
Please note that the package does not include a stand or hanging accessories, but the hammock does come with a circle hook.
6. Chihee Hammock Chair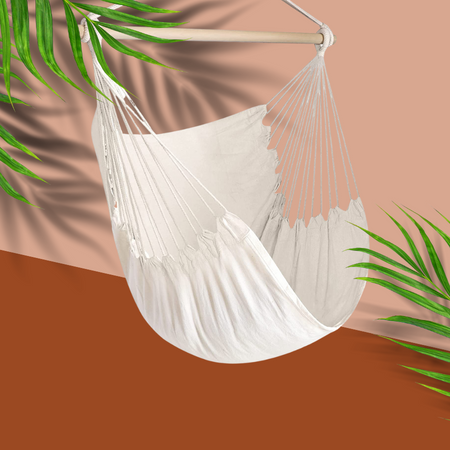 Here we have a comfortable hammock chair with a 100cm wooden bar that gives you a lot of space for your entire body so you can just lay back and enjoy drinking coffee, reading a magazine or simply absorbing the warm air on your patio (or anywhere else, since this hammock is easily installed in almost every location you can think of).
The bar is 3.5cm thick and comes with grooves on both ends so you can be sure that the rope will not slip and slide. The ropes are braided into a single loop so this hammock needs only one suspension point.
Don't forget to store this hammock inside during bad weather conditions, since the cotton fabric tends to decay over time. Still, because this fabric is a mixture of both cotton and polyester, it is very durable and tears resilient.
The manufacturer recommends hanging the chair at least 30-40 cm of the ground because the fabric will stretch slightly when you sit in it. Weight capacity is a standard 330 pounds allowing you to sit without care, and maybe have someone join you as well, assuming two persons don't exceed the weight limit.
One more thing that might get you to take a closer look at this hammock is a very affordable price.
7. XXL Hammock Swing by Hammock Sky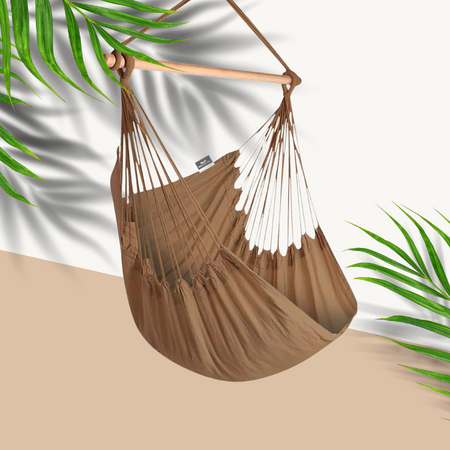 While this chair doesn't come with a carry bag, it comes with everything else you'll need to hang it so don't worry about any further expenses.
This is an extra-large hammock and probably one of the largest hammocks out there – it is 73 inches long which means it is perfect for everyone, whether you are tall or short. The weight capacity of 330 pounds makes it even more suitable for any customer.
The hammock itself weighs only 5.06 – a very surprising weight for the hammock chair that size and capacity. A thick wooden bar simplifies the process of setting up this chair almost anywhere.
This model is a combination of a Brazilian-style hammock chair and a regular chair making it super-comfortable – a feature even more enhanced thanks to the material that is 35% polyester and 65% soft cotton. It will also be of use to you for a long time since it is very resilient to tears.
The simple design is complemented with several different color options (iced coffee, limpet shell, and peach echo) allowing it to match your style.
8. Highwild Hanging Rope Hammock Chair Swing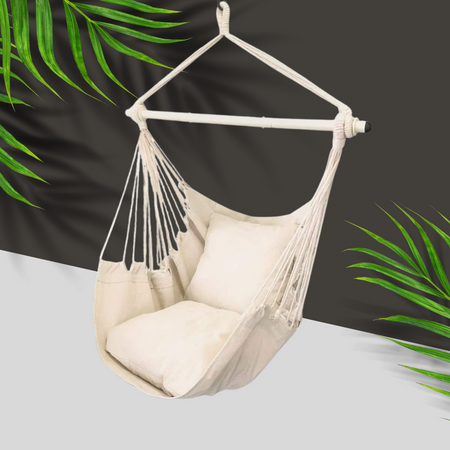 Speaking of large chairs that have big weight capacity, this one definitely deserves a mention. Highwild Hanging Hammock can bear up to 500 lbs, making it a chair with the most capacity on this list. Extra safety is guaranteed thanks to the carbon steel crossbar and embedded metal grooves that provide additional stability and prevent sliding.
This chair also features a very strong cotton-polyester canvas that is not only tear-resistant but also pleasurable for the skin. To provide even more comfort, this hammock comes with two seat cushions allowing you to sit back and relax. If you don't need them, simply remove them and enjoy this chair as you wish.
The hammock does not come with hanging hardware, but a carabiner is included in the package.
9. Flexzion Hammock Swing Chair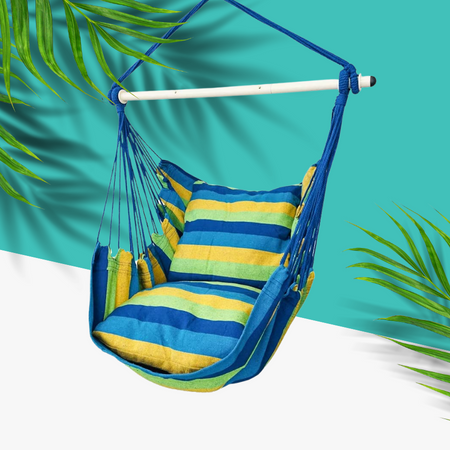 Coming at a very reasonable price, the Flexzion Hammock chair provides you with anything you need in a swing chair. The only limitation we found in this hammock is the weight capacity – it can carry only 265 pounds.
All the same, it will not let you down in terms of quality and sturdiness.  Cotton and polyester material combined with strong rope ensure you will be safe while sitting in it and it won't rip and tear.
Choosing between two color sets – jungle blue and red, you also choose the way you beautify your indoor or outdoor space which this hammock most certainly will. It is easily transported and you should have no trouble hanging it so you can enjoy this chair almost anywhere.
As for the comfort, the Flexzion hammock chair should live up to anyone's expectations, featuring 2 seat cushions offering you relaxed sitting and swinging positions.
Buyers Guide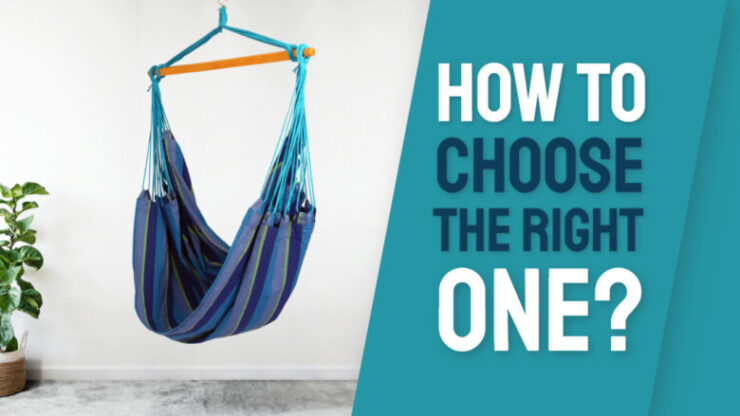 Size, Strength, and Durability
Whenever you are buying something, of course, you want to make sure you'll get your money's worth. The hammock must be durable and made from quality materials, so it won't break and will last a long time. Better models come with strong wooden bars and durable ropes ensuring your safety and stability.
Most hammocks are universal and come in similar sizes because they are made to adjust to your body. However, keep in mind the capacity they can hold. Smaller chairs can support about 250 pounds, but some models have a weight capacity of up to 500 pounds.
Keep in mind that you probably won't be the only one using it and consider getting one with a bigger capacity since your family and friends are certainly going to want to try it.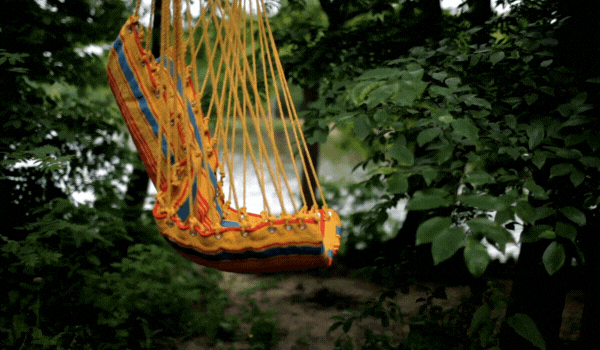 Material
Hammocks are usually made from cotton or polyester. Cotton chairs are softer, more natural, and comfortable, but they tend to fade faster, absorb water, and are not so resistant to weather conditions.
On the other hand, polyester hammocks are better in enduring harsh weather conditions and they can be as comfortable and cozy as the cotton ones but are certainly more durable.
A compromise would be to get a chair made from the blend of these materials to make sure it is both cozy and durable.
Weight
While some people prefer spending time in their backyard and never intend on moving a hammock chair, others are prone to camping and spending more time in nature.
If you belong to the other group, consider getting a hammock chair that is light and easily movable, as well as simple to set-up so you won't have trouble bringing it with you anywhere you go.
If you are out camping and don't know how to hang your hammock chair on a tree, the following video might be helpful:
Price
The market is over-flooded with all kinds of hammock models, starting from the really cheap ones to the really expensive ones. Consider the entire list above and keep in mind that a good product will cost a certain amount of money, and if you decide to get a cheaper item, you may be forced to replace it soon.
If you plan on using your hammock chair often, you definitely want to get one that has a longer life span, so be prepared to pay for it. With all that being said, a good hammock chair will cost you somewhere between 50 and 70 dollars, and if you are willing to pay even more and want a more luxury chair, a budget of around $150 should be more than enough.
Frequently Asked Questions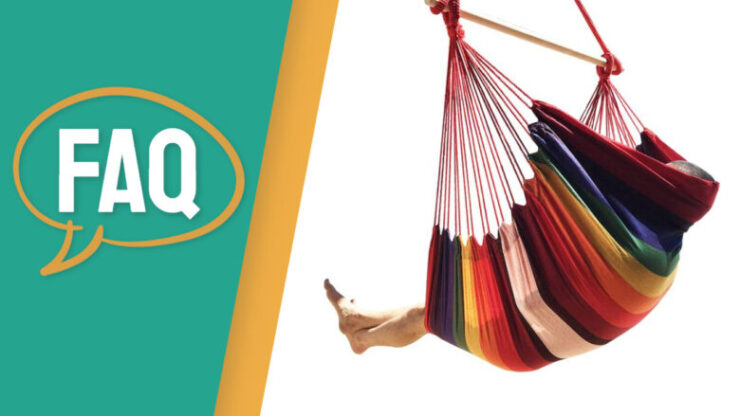 Are hammock chairs good for your back?
Using a comfortable hammock chair can relieve pressure on your spine and joints, so they are definitely beneficial for the spine. The gentle swinging movements can ease back and neck pain.
Can hammock chairs be used indoors?
While most people prefer using hammock chairs outside, there is no law against hanging them inside. They are just as comfortable indoors as they would be outdoors.
Is it bad to sleep in a hammock chair?
Hammock chairs are perfectly safe for sleeping, assuming you've set it properly. They won't hurt your back and since they hold the body in a certain position, you won't turn and toss as much.
Conclusion
Of course, we couldn't name all the amazing hammock chairs out there, since the market is incredibly big. But we hope we brought you one step closer to choosing a perfect chair, whether you want to get one for yourself, or as a gift for someone else.
Check out these before you go: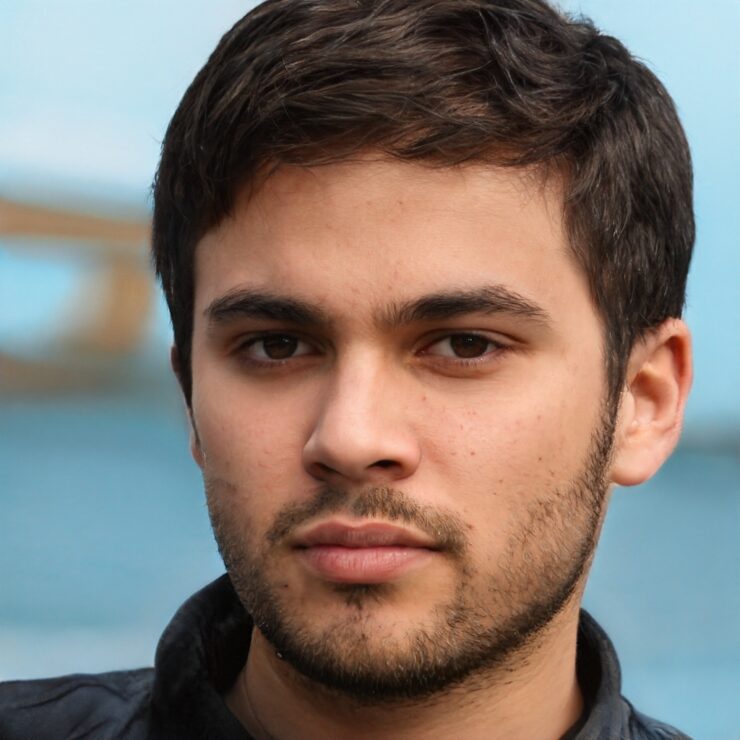 I love to explore the outdoors, cook over a campfire and pitch a tent. I want to share my adventures with you by writing articles, taking pictures, and sharing videos.