People who looking are looking for a quality hammock are often finding themselves asking; "Why are hammocks so expensive?". Well, I went ahead and looked at a number of different hammocks, at a number of different retailers and here is what I found; you might just be in for a pleasant surprise.
While it is true that there was a time when a good quality hammock would you cost an arm and a leg there are now options for hammocks that fit in almost any budget. Not only are there some great options for a reasonable price but you can get hammocks from some of the best names in the industry for less than the price of a new video game.
Although this article is not about specific hammocks and is more about price points, you can check out our product recommendations page to find out which hammocks I recommend. I have suggestions for all types of hammocks, in different price ranges.
It is Ok to Buy a Cheap Hammock
Not only is it ok to buy a cheap hammock, it might be recommended depending on your circumstance. It might be a good idea to buy a cheaper hammock if this is your first time owning one and you don't know what you like for size or how you like to lay in it. Cheaper hammocks like ENO and Grand Trunk are perfect for this type of situation.
If you know that you are going to be using your hammock more often than most people would then perhaps you should shop for something more durable. If you have a lot of requirements for your hammock like; it has to be double layered and come with a fly, then you will most likely not find anything in the cheapest range of hammock that suits your needs.
What Good Brands Can I Buy On a Budget?
As I mentioned earlier, there are hammocks that fit all budgets from some great companies. Companies that I have found to make great quality products are Kannock, Hennessy, and Dutchware. Keep an eye out for hammocks from these manufacturers; you might be able to get one for a similar price as an ENO if you can find a good deal.
I also suggest buying hammocks from a reputable seller and avoiding using shops that ship from Asia. If you are buying from a marketplace like eBay or Amazon, check and find out how your purchase might be protected from scams and what the return policy is. A good return policy is great when it comes to buying a hammock you've never tried before.
Why Buy From a Reputable Manufacturer
There are a number of reasons that I really recommended getting a hammock from a reputable manufacturer and not a cheap knockoff. Some of these reasons are;
Return Policy- Most good hammock manufactures have a warranty of some kind. A lot of the cheaper hammocks don't even have a brand name and dealing with vendors to try to get a refund can be a pain. One example of a good warranty is ENO's which at the time of writing, covers defects for two years!
Public Reputation- These larger manufacturers have a reputation to uphold. Outdoor enthusiasts tend to be picky when it comes to the quality of their equipment. This is why you see one or two brands really dominate the market in a particular outdoor niche. Hammock camping is a relatively new niche market and there are a few companies vying for the top spot which means that producing quality products are is a must.
Can Be Contacted- A few years ago I received a cheap hammock as a gift. This hammock had a brand name on it that I had never heard of so I looked into it. It turns out that this company not only didn't exist, but this hammock had been rebranded several times under a number of different names. I like brand names because I can contact customer service if I ever have an issue. This is especially helpful if you need to inquire about product information that might be hard to find. If you see a brand name, look into it to make sure it's a good company.
What Can Make Hammocks So Expensive?
So there are a few things that can make a hammock more expensive. The differences between two models could be endless but here are a few of the more common differences to look for.
Layers: Is the hammock double or single layered?
Bottom Materials: Is the hammock made out of polyester or nylon?
Accessories: Does your hammock come with a tarp and straps?
Integrated Bugnet: Does the hammock have a bug net or not?
Size: How long and wide is the hammock?
Weight: How much does the hammock weigh?
Weight Capacity: How much can the hammock hold?
What You Get With a Budget Hammock
With a budget hammock like a Grand Truck starter hammock, you are getting are usually getting what you pay for. This doesn't mean that the hammock is bad, something like a Grand Trunk certainly isn't, but it might not have every feature that you want.
For under 100 dollars your hammock might only hold 250 pounds. It most likely won't come with a tarp or a bug net and it might not even have straps. It can be hard to find a cheap hammock that's double-layered or made of the highest quality material. I also find that hammocks in this price range are often shorter than more expensive hammocks.
For the record, all of these things may not be true for all cheaper hammocks. The cheap hammock that I was given does have a bug net although the mesh big and it's easy to stretch with normal use.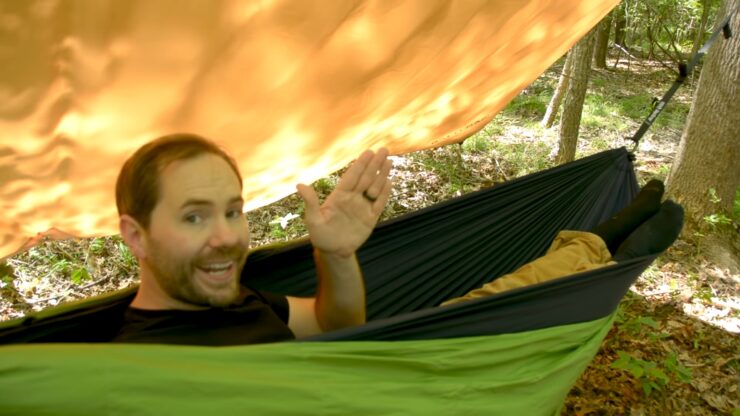 Camping Hammocks and Price
Although most of this article has been about hammocks that are appropriate for camping, I need to talk about actually using your hammock for that purpose. If you buy a hammock for the purpose of camping, you may save money and trouble by buying a mid-price hammock instead of a cheaper one.
If you buy a cheap hammock you may find that you end up having to buy so many accessories just to be comfortable such as a tarp, a bug net, and hammock straps. Buying a cheaper end hammock from a more expensive brand such as Hennessy Hammock is sure to be the better and cheaper option in the long run. Especially because the lifetime of the hammock is often longer.
The other thing is that it may be a good idea is to invest in a double layered hammock if you think you may have to set up your hammock on the ground. Many people find it more comfortable. In fact, many people recommend a double layer hammock anytime you are sleeping with a sleeping pad. I generally wouldn't recommend this if it is your first hammock as it can be quite a bit more expensive.
Lawn and Permanent Hammocks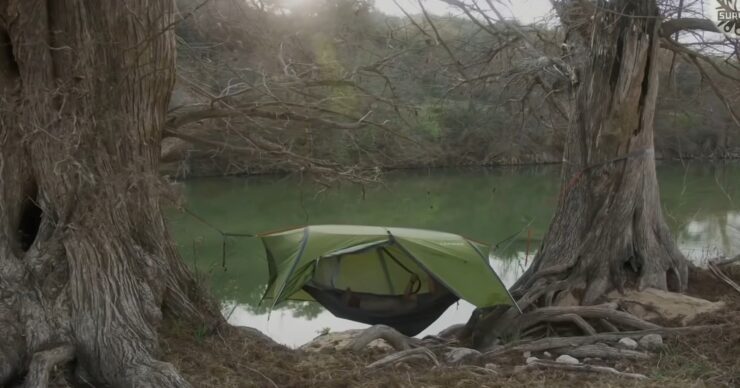 With permanent hammocks for your lawn either with a stand or on a tree, there are so many different options that it is really a whole different game. Many people shopping for a hammock for their lawn are looking more for a fixture rather than just a leisure item. Because of this, I suggest looking for a hammock at a local supplier so you can see and feel the hammock for yourself.
If you need or really want to buy your hammock online I suggest Vivere on Amazon. They have hammocks in all kinds of styles and price points and you would be hard-pressed to find many without good reviews from purchasers.
If you are looking for a hammock with a stand I suggest taking a look at my post about stand length if you get confused.
Conclusion
If you are planning on putting a lot of wear and tear into your hammock it might be a good idea for you to invest a little bit more money at the beginning rather then have to spend more on your accessories to make your camping trips more comfortable.
Do you have any questions or comments? Feel free to post below. If you are thinking about buying ahttps://thedyrt.com/magazine/gear/hammock-camping-tips/ hammock check out our recommendations for products at a few different price points!
References:
https://thedyrt.com/magazine/gear/hammock-camping-tips/
https://koa.com/blog/hammock-camping-tips-hacks-for-beginners-hammock-camping-pros-cons/