Over the past few years there has been an explosion of cheap budget camping hammocks on most marketplaces. With all of these cheap hammocks flooding the market, the one question that I find myself asking over and over is; are these cheap budget camping hammocks any good? Well, I bought two to find out.
After using them, I have come to the conclusion that cheap hammocks actually aren't too bad; however, they probably aren't the best choice for someone who uses their hammock frequently. This is especially good as some of these hammocks are so cheap that it's hard to believe they can even exist.  
Which Hammocks Did you Buy?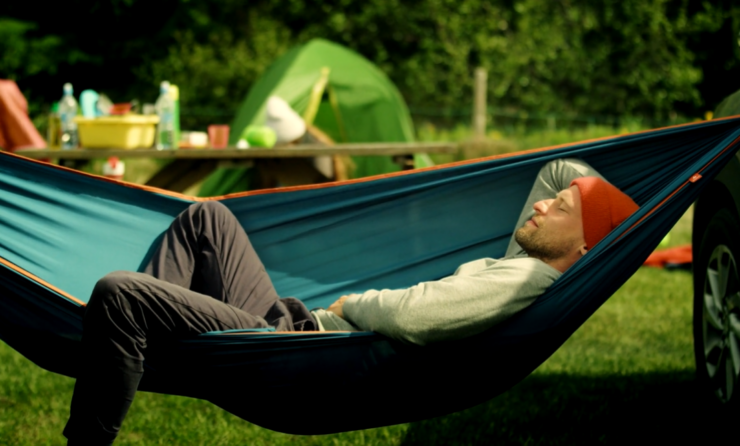 Of the two cheap hammocks that I have one, is a simple parachute hammock and the other has more of a camping intended design as it comes with an integrated bug fly.
Parachute Hammock
I purchased this hammock myself on Amazon and I paid less than $30 USD for it. This hammock is made by a company called honest Outfitters and is called the Honest Outfitters Single Camping Hammock.  I went with the red and black model.
I picked this hammock because it's a decent size, and had over 1000 reviews. It was also was averaging 5 stars on Amazon at the time of writing. Before picking a hammock I had already decided that I was going to buy something that came with straps.
Camping Hammock
The hammock that I am calling the "camping hammock" is the FOME Portable Fabric Hammock Hanging Bed. I did not actually buy this hammock myself but it was given to me as a gift by a family member. I've owned this one now for a little over a year so I have a little bit more experience with it than the parachute one. I've seen other hammocks that look extremely similar being sold under a different name with different straps.
What's Included (Other than a hammock!)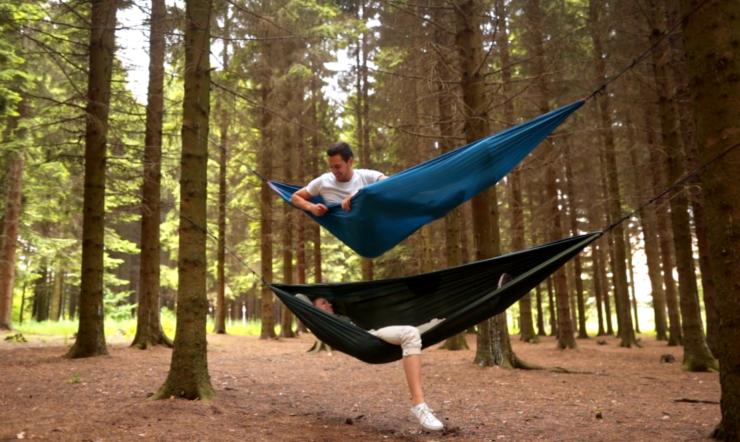 Parachute Hammock
Stuff Bag: Like most hammocks, the Honest Outfitters parachute hammock comes stuffed in a stuffed bag.  The stuff bag is pretty big; it can fit both the hammock and the straps inside of it and has a drawstring with a clasp to keep it closed.  For some reason it also comes with a loop and a buckle to go over the drawstring; to me, the buckle looks to be of a fairly low quality.
Instruction Manual: The instruction manual that this hammock comes with is written in English but in some spots, it is barely passable. It does contain all of the specifications of the hammock, which is nice and teaches you how to tie a marlin hitch and attach a carabiner to it. Washing instructions are provided and on the back, it says you have a 90 day "full refund or return guarantee".
Carabiners: The Hammock comes with two carabiners and they're pretty heavy duty.  In fact, they are the heaviest carabiners that I have seen on a parachute hammock. These carabiners cause this setup to be the heaviest one that I own and I don't have to weigh them to feel the difference. (This is with the suspension removed from all units)
Basic Suspension Straps: The hammock came with two basic two loop suspension straps. The maximum weight per strap for your setup is 200 pounds. The stitching on the loops looks to be really solid, you should notice any wear and tear on them long before they were to ever fail you. These traps are 1 inch thick and should not do damage to trees in most cases. It looks as though the double model comes with different straps.
Camping Hammock
Two Stuff Bags: Like most hammocks, this model comes with a stuff bag attached. Unlike the parachute hammock, not everything will fit into it. This hammock comes with another much larger bag for both the suspension and the hammock itself to be stored in.
Eco-Friendly Straps: When I received the hammock in the mail it came with two eco-friendly straps; each of these has two metal loops, making four in total. I feel that straps are a bit overkill as they are 2 inches wide, and are quite heavy. This is by far the heaviest suspension system that I own, and I think that there are straps that are bit thinner and lighter are just as eco-friendly as these.
Integrated Bug Net With Cords: One thing that comes with this hammock that doesn't come with the other one is the integrated bug net. This one zippers up and comes with two chords that you use to hold the net up.
Carabiners and S Hooks:  This hammock comes with two metal carabiners and two metal S hooks that are used to connect to the suspension. The carabiners seem to be decent as do the metal hooks. Both of these pieces add significant weight to the whole setup.
What Did You Find?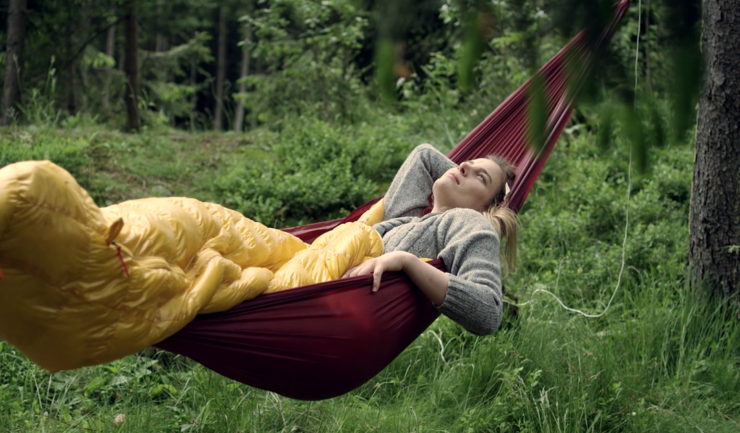 Parachute Hammock
Immediately after the hammock arrived in the mail I inspected it and took it out for a test run. here is what I thought;
The first thing I did was look at the manual. I noticed that the English was broken and in some spots it was laughable; I was able to find labels that said "Made in China" which is not inherently a bad thing. The Honest Outfitters logo is cheaply stitched on to both the straps and to the hammock itself. I can rip the labels off without really putting effort into it. This leads me to believe that this hammock is being sold under a number of different brand names.
The Hammock itself is made from 210T Nylon and is said to hold up to 400 pounds, the double hammock is advertised to hold 500 pounds.  The nylon seems to be of a reasonable quality; however, there are two seams in the hammock bed where the nylon colors meet. The single seam in the ENO DoubleNest Deluxe was my biggest complaint about that model; this hammock has two!
The stitching throughout the hammock looks pretty good other than the labels that were mentioned earlier. Because the stitching is of a pretty good quality, I was pretty confident that the hammock would hold my weight without any problem; Right now I think it will continue to do so. I would be more worried about poking or burning a hole through it, which doesn't seem like it would be that hard.
At the end of the hammock, you have some cord tied tightly around the gathered end; this is attached to a very heavy duty carabiner. Both the carabiner and the cord are fairly good quality. I untied the cord and found that it was a tubed end. The Carabiner is very heavy and seems to be overkill.
Camping Hammock
I've probably used this hammock three or four times to camp in and a dozen times all around. It doesn't seem to have taken any significant wear or tear but I can tell you there are some things that can be improved upon.
I was surprised to see a hammock this cheap that came with a bug net, but it certainly isn't perfect. The zipper on it appears to be low quality and I wouldn't be surprised if this were to be the first piece to break. The mesh itself actually looks to be fairly nice and is sure to keep the mosquitoes out unless it was to rip. The cords for the bug net are really short and most of the time I was not able to use them.
The stitching on the hammock is pretty good in the places that matter,  however, my pocket is starting to rip off. Like most hammocks, the seams that will be bearing the weight are all triple Stitched. The sales page said it is made out of parachute fabric and we believe that means ripstop nylon.  When I received this hammock there was not much information that came with it, which is a big difference between this one and the parachute hammock.
One thing I noticed about the suspension of the hammock is that it has three metal pieces that are meant to be connected to each other. I'm not a huge fan of this so I will not be using the straps although I have the in past.  It works fine but is not my favorite because it is heavy and clanky.
Like the parachute hammock when you untie the cords at the end you will find it is gathered in a tubular fashion.
I enjoyed it the few times that I spent the night in it and I slept comfortably; although, it is not as soft and as comfortable as some of the other hammocks that I own.
What Did You Like?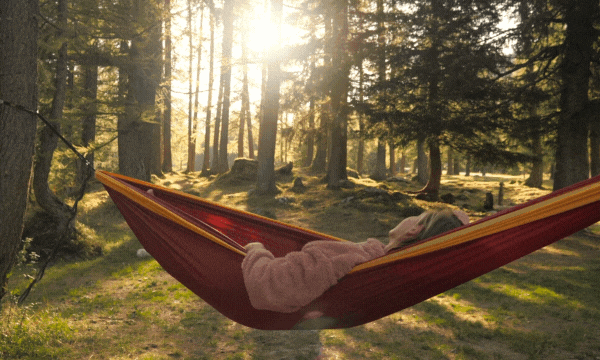 Parachute Hammock
Here are the things that I really liked about the parachute hammock;
Good Stitching- Where it matters, the stitching on this hammock is very good.  It wasn't great on the branding parts but that doesn't matter for the hammock to function properly.
It Comes with Everything You Need:  The great thing about this hammock is that I was able to go and set it up immediately. I did not have to buy anything extra in order to do so. We've bought plenty of more expensive hammocks that didn't come with straps.
Big Stuff Bag:  It's really nice that this hammock comes with a bag that can hold both the hammock and the straps. The straps are of a good enough quality to continue to use with this hammock.
Camping Hammock
There're definitely some things I like and don't like about this hammock. Here are the things I did;
Integrated Bug Net: It's nice to see that a cheap hammock comes with an integrated bug net; There are many expensive hammocks that don't even come with one. It actually turned out to be fairly decent too which surprised me.
Comes With Suspension: The best thing about this hammock is that comes with everything you need to take it out and set it up immediately. You don't need to buy anything extra in order to simply hang it.
Has Held Up Well: As I said earlier, I have used this hammock to sleep in a number of times; I've used it to just hang out in as well. Other than in the pocket, there has been very little wear or tear on it at all. It has held up surprisingly well.
What Didn't You Like?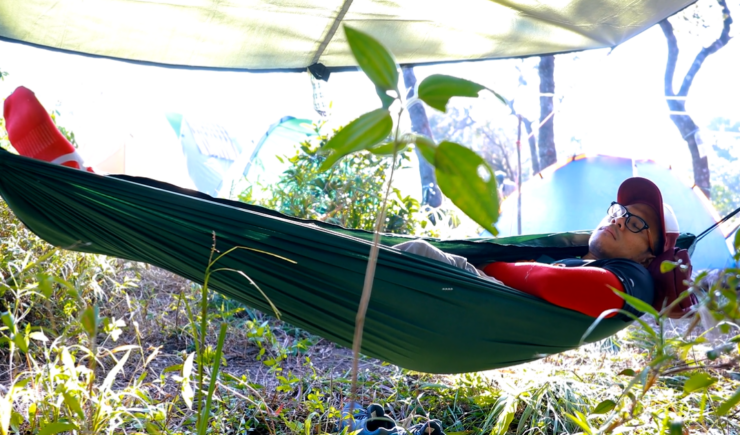 Parachute Hammock
There are some things I didn't like very much about this hammock;
Two Seams in the Bed: Most of the hammocks that I have at home don't have any seams in The bed, let alone two.  this is my biggest complaint about this hammock, and it can make it uncomfortable at times. In the picture on Amazon,  you can clearly see The stitching on one of these seams.
Heavy: When I take the suspension out of all of my parachute hammocks this one is the heaviest. This is all because of the carabiners. Don't get me wrong, the carabiners are nice and  I have no doubt that they can hold a lot of weight, however, something that heavy duty is not really required for a hammock.
It's Not the Softest:  Obviously one of the cheapest hammocks on the market is not going to have the most comfortable and soft material. The polyester of my Therm-a-Rest Slacker is super comfortable, way more so than this. I don't think the nylon will fail you but I don't think it will be hard to poke a hole through it unintentionally.
No Camping Accessories: This, along with multiple other brands of hammocks, are being called camping hammocks when they do not come with any camping accessories. That's why I refer to these here simply as parachute hammocks.
Camping Hammock
There are few things I didn't like about this hammock. Here's a quick list;
The Bug Net Cords are Too Short: The cords that are meant to hold up the bug net are very short. You're not going to be able to use these unless you're in a perfect situation. I wasn't able to use mine most of the time.
No Fly: The hammock doesn't come with a fly; not many do but some of the bigger brand names that are made for camping are sure to include one. If you want to take this camping I would suggest bringing a tarp or a fly with it.
The Suspension:  The fact that the suspension of this hammock uses metal pieces and is formed by the heaviest straps I own, rules out using them completely. I would suggest looking into buying some webbing or different straps if you're using this to camp.
Pocket/ Stuff Sack is Ripping Off: The stuff sack on my hammock is starting to rip off; that's disappointing. It's only a matter of time before it comes completely off.  Good thing this hammock comes with a second bag.
Who Would You Recommend These For?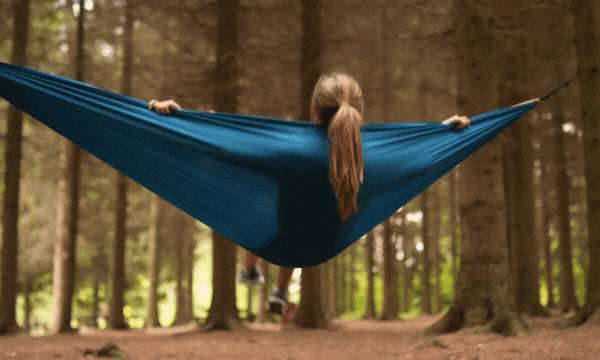 Parachute Hammock:
This Hammock is actually of pretty good quality and I would not hesitate to recommend it to somebody who is looking for a hammock to use a couple times through the year. I would not recommend this hammock for someone who's actually going camping; especially without buying a fly and bug net.
This hammock might be good at a campfire or for spending the afternoon in your local park. Just make sure that you don't puncture it or allow sparks to land on it as I feel that these are the biggest risks for damage.  
Camping Hammock:
This hammock is pretty good and can be made more useful if you are to buy a fly or use a tarp for shelter when you're camping. I would recommend this camping hammock for someone who is looking to get out once or twice a season and is not doing any sort of a rugged rough camping.
I think that if you put too much wear and tear on to this hammock you will probably rip it.  Overall, I do not find this hammock as comfortable as my more expensive Hennessy Hammock; however, every time I've slept in it I have slept soundly through the night.
Final Thoughts
Both of these cheap budget hammocks turned out to be better than I thought they would. Either of them would be able to do the trick for someone who is only using their Hammock a few times a year. Uncoincidentally, both of these hammocks seem to suffer from a couple of the same downfalls.
Both of the hammocks come with heavier accessories,  and neither hammock is as soft as some of their counterparts.  If you were looking to use your hammock fairly often we would suggest a softer more comfortable hammock. Whatever you choose to buy you will most likely find a good way to relax.
If you agree or disagree then please leave your comments below. Do you have experience with another brand of cheap budget hammock? If you please let me know your thoughts, I'd love to hear it