Allow us to present two separate scenarios. Let us consider two individuals Adam and John. Here's scenario A. It's a breezeless night, and Adam is in his tent having the time of his life with his handy camping fan. In contrast, in scenario B, John uses his magazine to create gusts of air towards him for a few moments of relief in the warm and humid environment wishing he never came.
Now, between both scenarios, who would you want to be? Adam or John? If you chose Adam, that's the correct answer because I'm sure you don't like the cool breeze if you want to be John.
Table fans can be instrumental and comforting during the hot summer months of April and May. They can also be convenient during camping and sometimes outright necessary on a camping trip during summer. Camping fans are one of the products on a camping trip that directly caters to your comfort, so it only fits that you choose an ideal fan.
Top Picks for Summer Camping
Without further ado, let us dive into our top picks of camping fans that are a must-have on your camping trip!
1. OPOLAR Clip Fan – Editor's Pick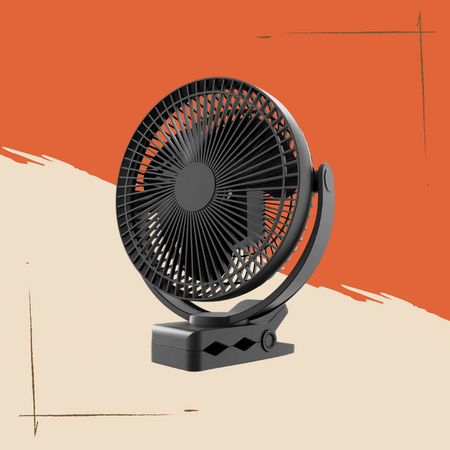 Rated 4.5 out of 5 stars, the OPOLAR clip fan can be an excellent addition to the list of your camping essentials. Its key feature is its clip-on ability. This can be a very convenient feature to have as this allows you to install this fan on almost any vertical surface without a hassle.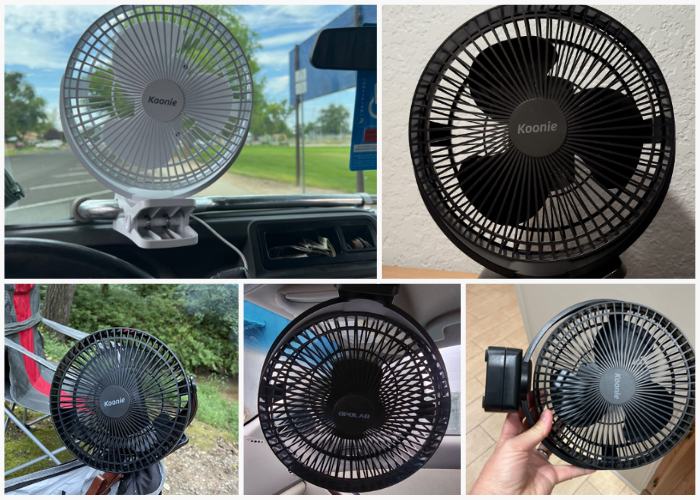 You can clip it onto a desk, treadmill, golf carts, car seats, and so on. If you're in need of fast cooling, this fan happens to be super light and super effective in doing so. Its revolutionary back housing structure and modified blades give you a powerful breeze, all while being pin-drop silent.
The current version of the OPOLAR clip fan generates more excellent airflow than its predecessor by increasing its rotations per minute from 1000 to 1760.
Minimizing abrupt stops while functioning, the OPOLAR clip fan comes with a 5000 MAH battery that provides up to 20 hours of run time, making it more than adequate for a good night's sleep. It also has a three-speed setting on its regulator, which provides for a breeze setting based on the person's comfort. The fan comes with a micro-USB port with a fast charge.
Its 10W charge brings to you an increase of 20% in charge speed over its predecessor, which means no more waiting for an impromptu outdoor activity plan.
2. Geek Aire Rechargeable Floor Fan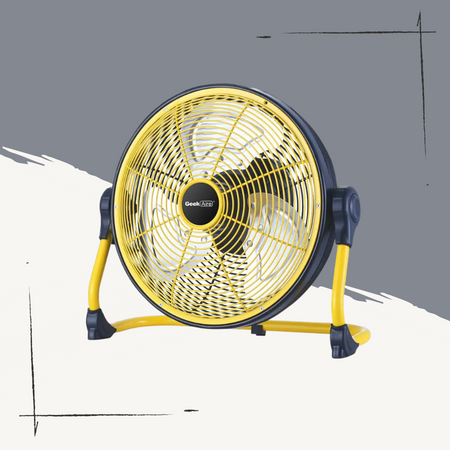 Made to be highly aerodynamic and having an advanced brushless direct current motor, the Geek Aire floor fan promises stability and quietness while operating. Changing the wind speed randomly does not affect the rate of wind speed transmission. Higher than most outdoor fans, the Geek Aire floor fan comes with a massive battery capacity of 12000 MAH.
A vital feature of this product that sets it apart from other outdoor fans is the rate at which it charges. For fans having a battery capacity of lesser than 12000 MAH that takes over 5 to 6 hours to charge, the Geek Aire fan takes only about 2 to 3 hours which is pretty impressive given its battery capacity.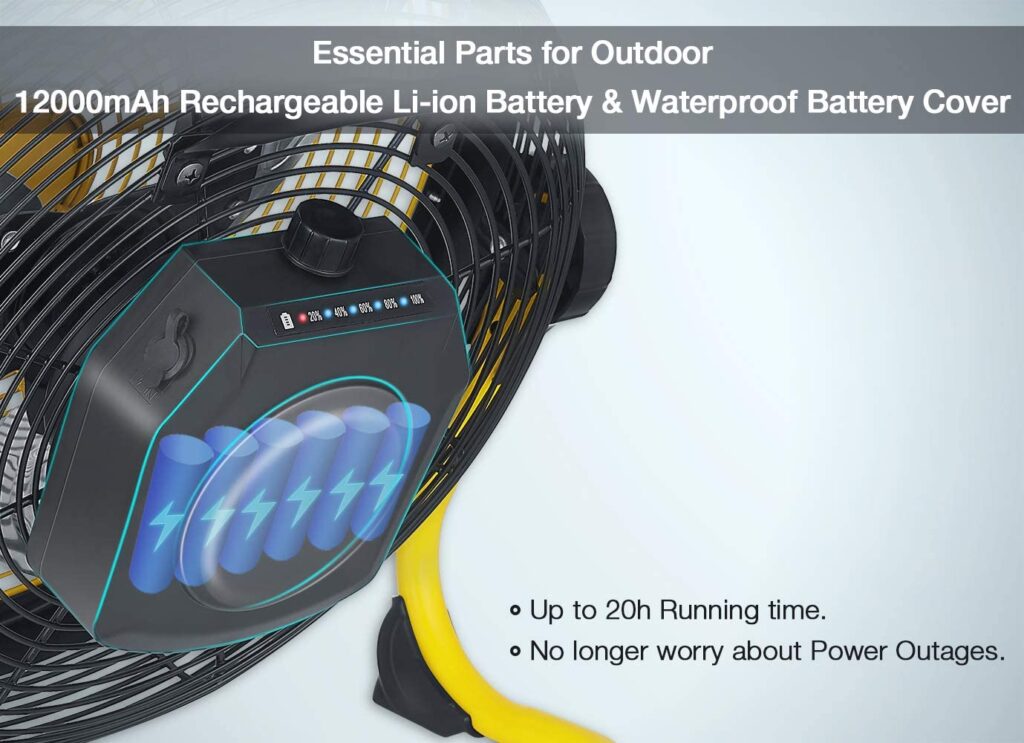 Easily portable, this floor fan can be used to provide comfort to you during numerous activities such as BBQs, fishing, camping, sports, etc. This floor fan is designed to have an upgraded pitched propeller, allowing it to create a calm and cool breeze.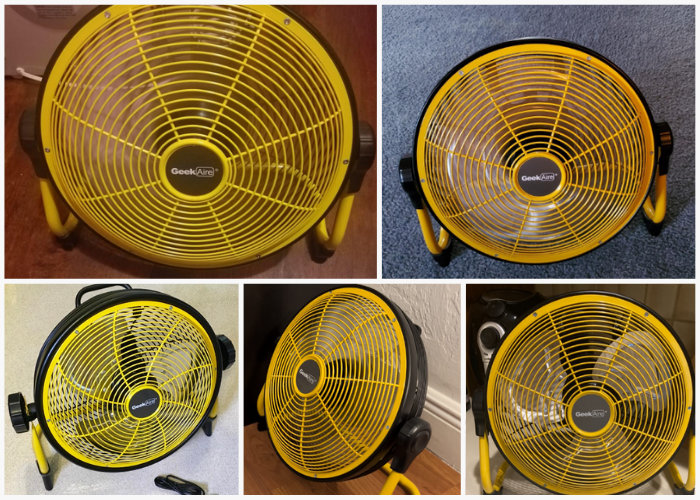 Its wire/cordless design makes it the ideal fan for both indoors and outdoors alike. It also has a stable metal frame as well as metal blades. The quality of this product speaks for itself through its anti-wear and tear durable paint surface. A rational choice on your part should you decide to buy this fan for your camping trip.
3. COMLIFE Portable LED Camping Lantern with Tent Fan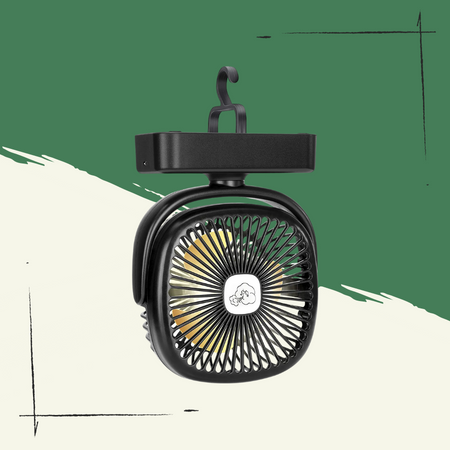 Rated 4.5 out of 5 stars on Amazon and regarded as the perfect companion for camping based on customer reviews, this LED lantern fan is the ideal mix of light and breeze creation. It provides a swift and comfortable current also while illuminating your surroundings with a dim light to help you have a serene experience in your tent, differing from the blue and white light, which can be a little hard on the eyes at times.
Saving you the space of carrying a lantern on your camping trip, this light cum lantern is the optimal two-in-one product you need. Designed with a look at the back of this lantern, you can hook it up to your tent top, place it on a table, hook it to a tree illuminating your tent from the outside in, or mount it to a wall.
This hook feature of the lantern cum fan comes in handy as it creates a lot of options in terms of placing your product to facilitate optimal functioning. The fan is also battery-operated, which makes it an ideal companion to use indoors and outdoors. It provides up to 40 hours of runtime on the lowest setting.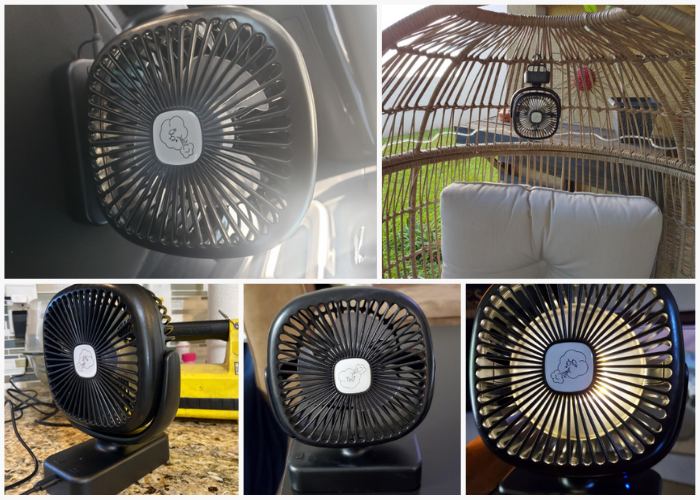 It can also be used to charge electrical appliances having a micro-USB port and can, in turn, be charged by laptops and computers, although it is more likely to bring a laptop to a camping trip over a computer. Having a high and low state of brightness, triple wind speed settings, wholly horizontal and 360-degree rotation, this fan is an excellent product that is worth your money.
4. Amacool Portable Camping Fan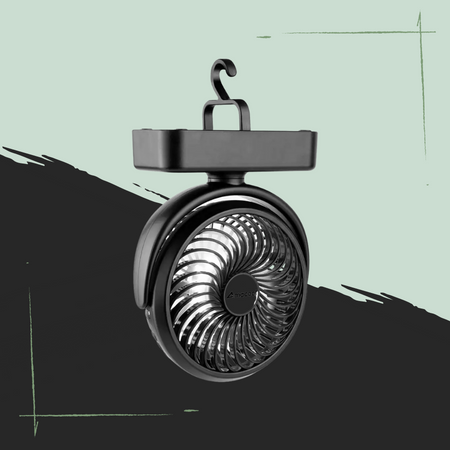 If you thought that it doesn't get better from a light cum fan, you're gravely mistaken. Yes, everyone loves the 2 in 1 combination, so how about the 3 in 1 combination? Yes, you read that right. A 3 in 1 purpose fan. The Amacool Portable Camping fan acts as a fan, light, and an aroma diffuser. It can evenly circulate air in any closed environment, illuminate your surroundings considerably high, and you can also repel mosquitoes by spraying mosquito repellents on its foam pads.
The rotation of the fan breeze then facilitates the circulation of the repellent around your surroundings, making your tent a mosquito-free one. It has a varied placement structure expedited by its hook at the top of the fan.
Read Also: Top Rated Hammocks with Mosquito Net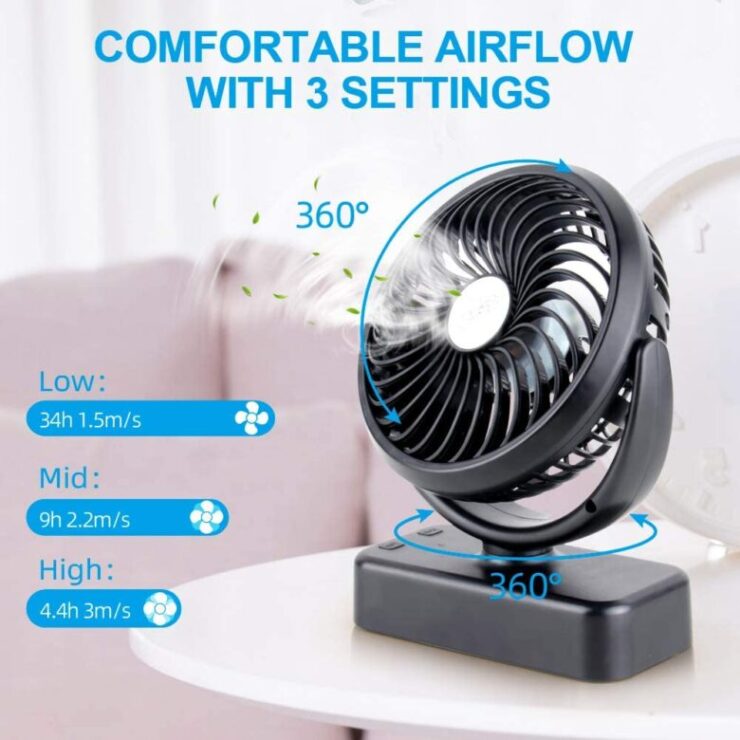 It can be hung onto the ceiling, the top of your tent, a tree, a car window gap, and so many more places. The sky's the limit for supporting hook-designed products, and the Amacool fan is one of them. Well suited for pets and babies, the fan whisper operates, thereby allowing babies to comfortably nap and not create pressure on the ears of pets, given their heightened hearing ability.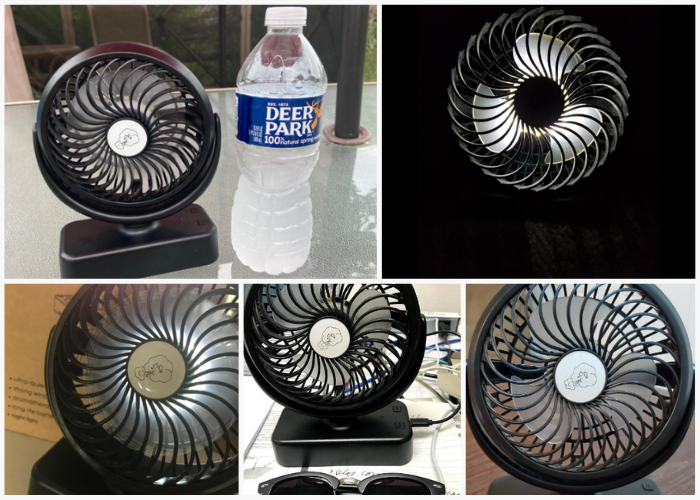 It is powered by a 5000 MAh battery rechargeable by laptops, computers and can also recharge phones, power banks, etc. It generates up to 40 hours of run time only with the fan and 18 days of run time with only light. You read that right. 18 days.
A must-have for breeze lovers and mosquito haters!
5. Odoland Portable LED Camping Lantern with Ceiling Fan – Best Value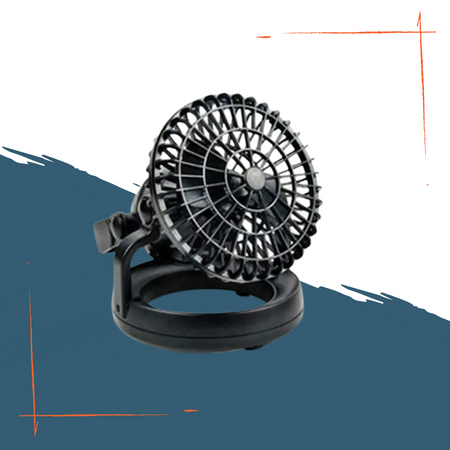 Rated Amazon's choice, this 2 in 1 LED lamp cum fan is rated a 4.5 out of 5 stars and for a good reason. Treading in the dark around your campsite is no longer a hassle with this portable LED fan. Providing a wind speed of over 10ft/s, it promises to keep you cool in the hottest weather conditions. It has 18 individual LED bulbs that need meager power to function on.
The pros of this fan are – It has a 360-degree rotation capability. The fan can be rotated 360 degrees vertically and horizontally to comfort you no matter how you're seated. It is very lightweight, removing the burden of having to carry a lot of weight during camping.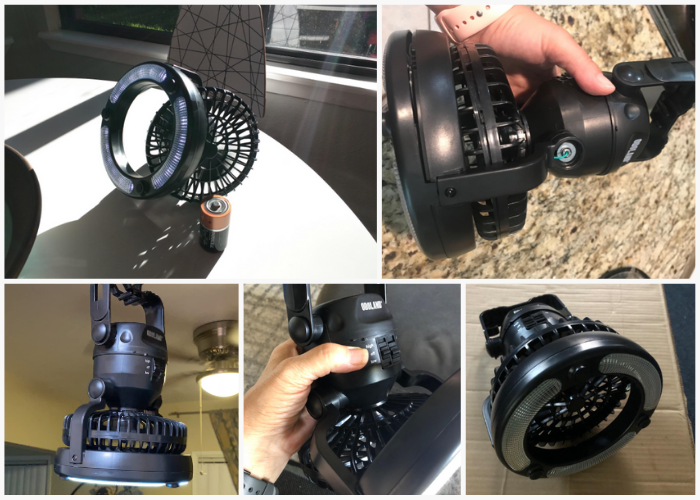 You can travel light with this LED fan. It also has a brushless motor, ensuring whisper operation. It has a life of 37 hours even on continuous usage. The fan has a runtime of 50 hours on low speed and 30 on high speed, making it one of the best-LED fans to exist on the market.
We also selected some other worth mentioning fans for you to check out:
Buyers Guide to Purchasing a Camping Fan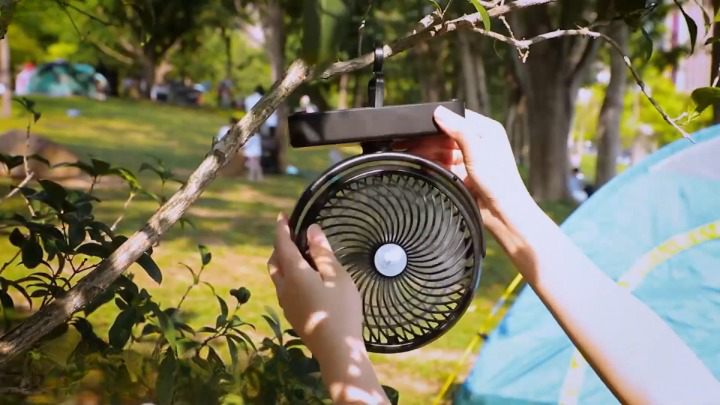 1. Power sources
Fans on the market come with various power sources. The most common is the traditional plug cord fans that can operate only by attaching themselves to a power socket, providing them a continuous electrical flow.
The next type of power source is the battery-powered class of fans. Certain fan brands manufacture fans that are operated with replaceable batteries. Although it does not need to be constantly recharged, the batteries do have to be changed often, which can be a bother for most people.
The final class of power sources is the rechargeable power sources. Rechargeable camping fans are the highest-rated and most popular class of fans on the current market. They need to be charged for a certain period and operate for a lot longer than they were charged for. Hence, it is ideal to go for rechargeable fans as taking a corded fan is just impractical, and replaceable battery fans can be unpredictable due to the use of a secondary product: the battery.
2. Speed levels
The speed levels of the fan are an essential factor while purchasing a fan. Different speeds are available on the fan because each group of speeds caters to the customer's varying needs. The low-speed setting is ideal for sleeping periods as it provides cooling while at the same time does not overpower the user with a hefty breeze.
In contrast, the high-speed setting provides a continuous strong current of wind to help users tackle sweat after a tiresome activity. It also helps drive out moisture from the tent room rapidly. It is irrational to bring a cord-based fan to a camping trip, optimal to get a rechargeable fan, and one should exercise caution while using a battery-powered fan at high speed as it can be depleted very fast.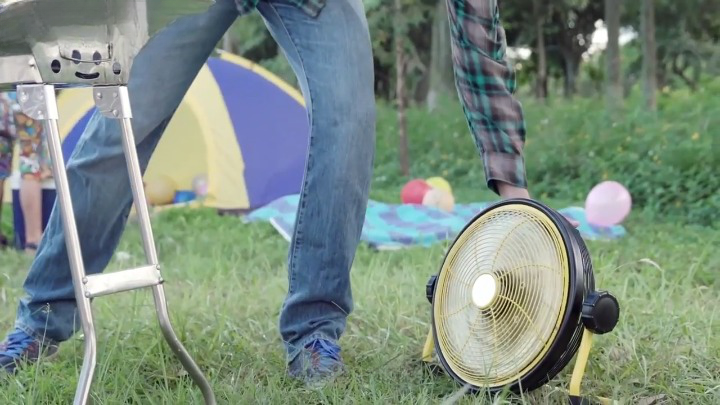 3. Placement
The ideal fan needs to be multi-optional when it comes to its placement in your surroundings. Most fans are hook-based and hung from the ceiling, hung to tree branches, tent walls, placed on tables, etc. It would be best if you went for a hanging fan suitable for a tent full of people. The placement of the fan on the top makes sure that the wind reaches everyone.
If there are people concentrated in a particular region with the tent, it will make sense to place the fan opposite to it to create enough breeze for the lot of them. Fortunately, there are many brands and placement options for the fans which the customers can choose from.
Conclusion
The feeling of a cold breeze touching your face is easily one of the best feelings in the world. So why should it be any different while you've decided to go camping? There are many brands to choose from, and I hope we've done our job in making it a tad bit easier for you to select an ideal fan from the various brands that exist on the market.
Just as it is with every superior product, finding the perfect one can be like finding a needle in a haystack. But things become a lot easier when you have a powerful magnet, now, don't you? We hope to serve as that magnet for you, so buy the perfect fan for your camping adventure. Steer clear of the bears and happy camping!
FAQs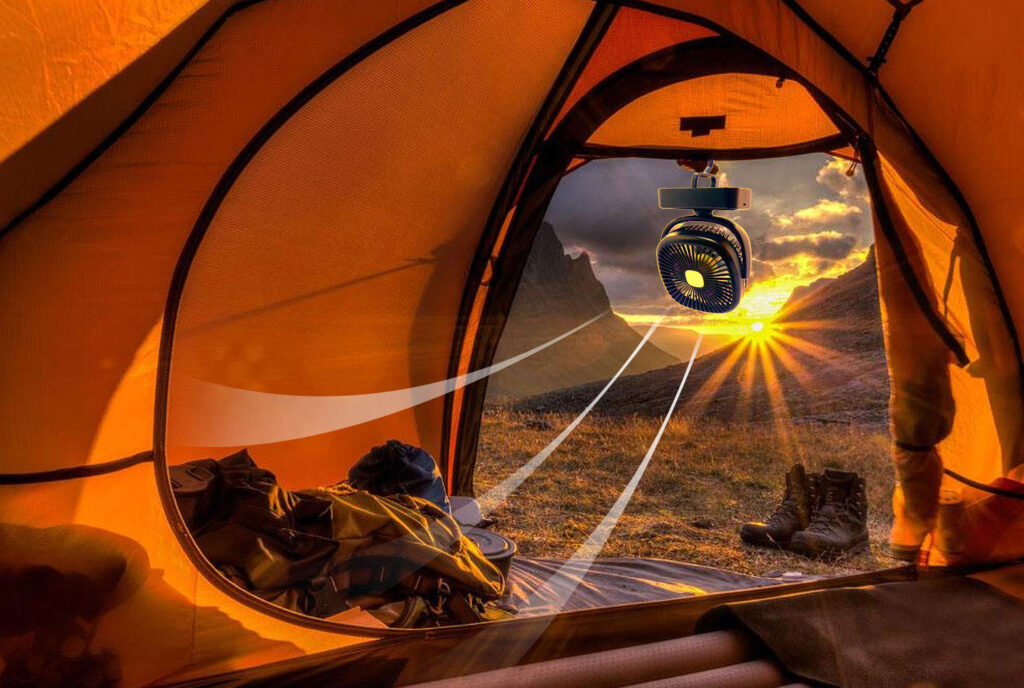 1. How do you run a fan while camping?
The best fan to make use of while camping is undoubtedly the rechargeable and portable fan. You can charge it for a few hours and go on to use it for hours more. It is recommended to use the fan during sleep hours as it keeps the room dry and cool.
2. How long do portable fans last?
This answer to this question is a very subjective one as it conclusively depends on the product itself. Some fans last for 30 plus hours of continuous usage, and some other fans run for lower than that. It is subservient to the battery capacity of the fan.
References:
https://koa.com/blog/tips-for-staying-cool-on-summer-camping-trips/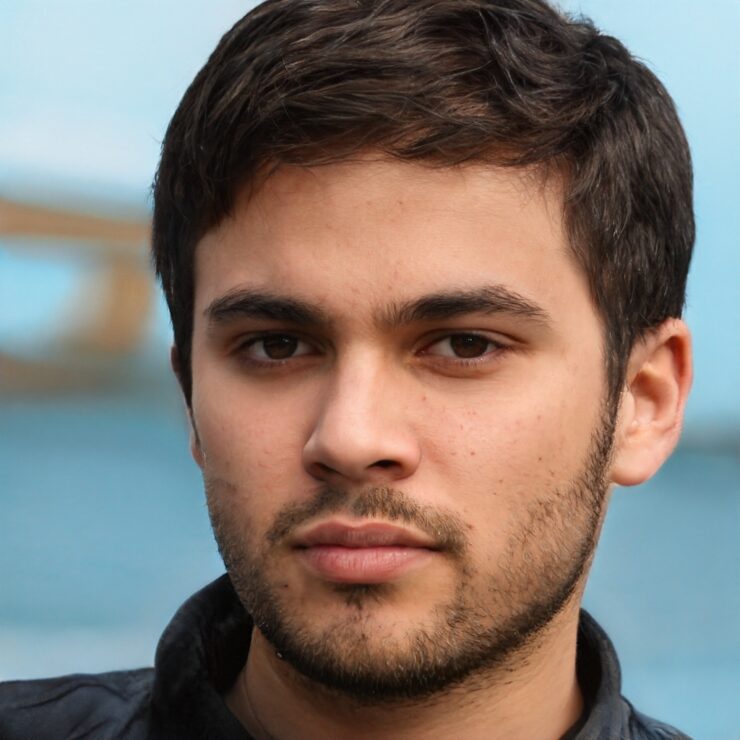 I love to explore the outdoors, cook over a campfire and pitch a tent. I want to share my adventures with you by writing articles, taking pictures, and sharing videos.