Winter camping can be a very entertaining and cozy activity, but it is one that requires special preparation and a different set of supplies and equipment. One of the most important things you need to do is to keep yourself warm, so today, we will talk about the best battery-powered tent heaters.
When you consider purchasing such a product, you need to take into consideration various factors such as heat output, price, safety, and many more. Today's market is jam-packed with various tent heaters from different manufacturers, so picking the one that will give you the best value may be a challenging endeavor. We understand this and want to help you get the best product that will serve your purposes, so we made a list of the top-rated products you can potentially go for. There is a lot to cover, so let us start.
List of Best Battery-Powered Tent Heaters
1. DEWALT DXH12B Portable Heater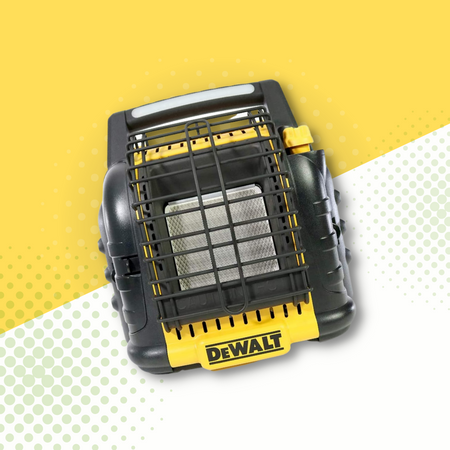 Dewalt is one of the most reputable brands in the world of tent heaters, and the DXH12B model deservingly stands at the top of our list. The brand made a name for itself for the durability and efficiency of its appliances, and this product is no different in that regard.
The heater is powered by 20 V MAX and FlexVolt batteries, and it grants exceptional 12.000 BTU heat output, which will definitely suffice for your winter camping trips. It is a powerful unit that delivers odor-free heating, which is very important since you will be using it in tents.
As far as the coverage goes, the DXH12B model can cover up to 150 square feet, which will be more than enough to keep you warm during frosty nights. It is a heat source that can easily warm up to six persons, so it is a great pickup for people that like to camp with family and friends.
Pros
Quiet and reliable electronic ignition
Three USB ports for charging
12.000 BTU output
Safe for indoor use
A high-velocity fan that efficiently disperses heat
Great fit for 6-person tents
Odor-free heating
Cons
The igniter requires a separate AAA battery
2. Texsport Sportsmate Portable Heater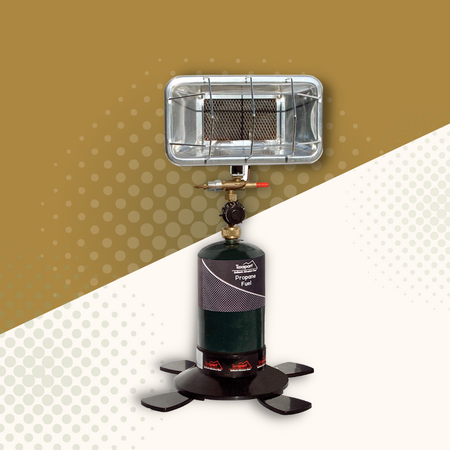 Made of stainless steel, safe, durable, and reliable, Texsport Sportsmate is a fantastic companion for winter camping trips. Not only does it perform well for camping, but many users claim that it is a very good pickup for multiple other appliances.
This unit can emit 3000 BTUs per hour, which is more than a decent heat output for smaller tents. It also has very good safety precautions and has an auto shut-off system, so using this heater indoors is a great option to go for.
In addition, this unit has a very long lifespan due to its sturdy construction. The unit also includes a molded plastic cup holder and a large paddle-foot plastic base that holds the propane bottle. The heater is also reasonably priced, so there are plenty of reasons you should give this unit a chance.
Pros
Auto shut-off valve
Pressure regulator on/off control
3.000 BTUs
Made of stainless steel
Durable and sturdy
Lightweight
Cons
A warning tag can become lose and slide down to vent holes
3. Mr. Heater Little Buddy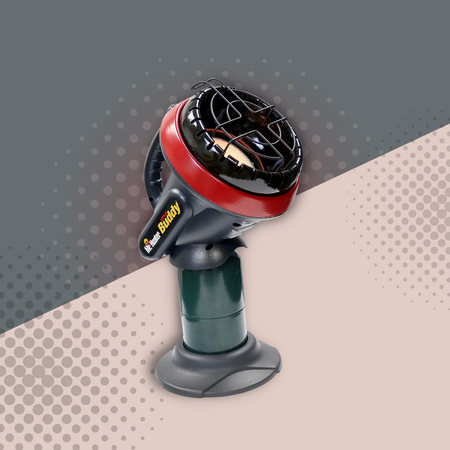 Mr. Heater is yet another reliable producer of quality and efficient products, and Little Buddy is one of the crowning jewels of the company. It is small in size, but do not let this fool you since it is a very powerful heater and can cover up to 95 square feet of space and heat it efficiently.
This is an ideal unit for heating one-person and smaller two-person tents with its 3.800 BTU heat output. As far as the safety goes, Little Buddy is a solid unit that has a tip-over switch and auto shut-off if you happen to fall asleep before turning the heater off.
The manufacturers also implemented the ODS (automatic low oxygen shut-off system), so you will not have to worry about the worst-case scenario when relaxing in your tent during winter camping. Another important thing to note is that this unit is also reasonably-priced, so make sure to check it out.
Pros
Low-oxygen sensor
Excellent for one-person and small two-person tents
Can heat up to 95 square feet of space
Odor-free
Great build quality
Cons
A bit high fuel consumption
4. Mr. Heater MH60QFAV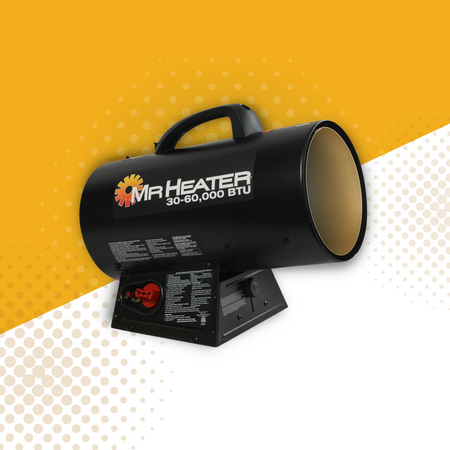 MH60QFAV is an extremely powerful heater that can generate a heat output of a whopping 60.000 BTUs, which is suitable for bigger tents, as it can cover spaces of 1.500 square feet, which is quite a lot.
On a low setting, at 30.000 BTU output, this unit can keep running for up to 14 hours. Due to its huge power, MH60QFAV can be used for a wide variety of appliances, not just for camping, so even if you are not a frequent camper, you can use it year-round for different purposes.
One of the main drawbacks of this product is that it can generate a lot of noise, especially on higher output settings. However, there are plenty of pros that make this unit a viable purchase, and for such huge heat output, this product is considered inexpensive.
Pros
The output of 60.000 BTUs
It can work for up to 14 hours when on low setting
Energy efficient
Cost-efficient
Suitable for bigger tents
5. Mr. Heater F232000 MH9BX Buddy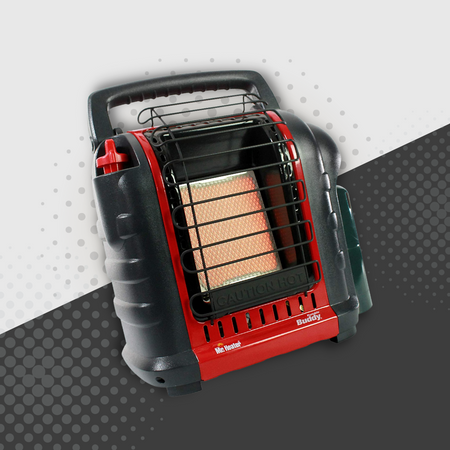 As you have probably noticed so far, Mr. Heater is a prominent name in the portable heaters manufacturing industry, and they offer plenty of quality products. This particular model is one of the most popular units due to its excellent heat output and reasonable price, considering the cool features it comes with.
This is a very powerful heater that can provide 4.000 BTUs at low settings and 9.000 BTUs at a high settings. With its total weight of 10 lbs, it is very portable, and you can carry it around and transport it with ease.
The unit is excellent for both outdoor and indoor use, and its sturdy build ensures that it will serve you for a very long time, as it can take quite a lot of beating. It is an excellent pickup for winter camping, and it will be able to sufficiently heat up your tent.
Pros
9.000 BTUs maximum heat output
Budget-friendly
Lightweight
Portable
Cons
At higher settings, the running time can drop significantly
6. Honeywell UberHeat Ceramic Heater for Powerful Personal Heating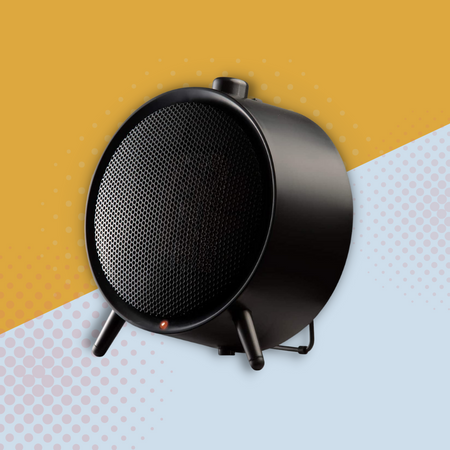 Coming from the Honeywell store, this tent heater is an excellent pickup for a single-person tent. It offers powerful 1500-watt heat, and for those that care about the visual appearance of these products, it has a compact and modern design that truly stands out.
This is an excellent unit that is ideal for tabletop or floor placement. It offers two heat settings, so you will be able to adjust everything. On the high setting, this heater can generate sufficient heat for up to 150 square feet, which is pretty good for such a small unit.
If you are more for that eco-friendly approach, you can opt for the low setting. There are also plenty of safety features you get with this product. It comes with an adjustable thermostat, a tip-over switch, cool touch housing, and overheat protection. Currently, it costs just under 40 USD, and considering all the features and heat output you get; this is a product worth checking out.
Pros
Easy to use
Plenty of safety features
Reasonably priced
1500-watt heat
Modern design
Cons
Not suitable for larger tents
7. Lasko Pro-Ceramic Utility Heater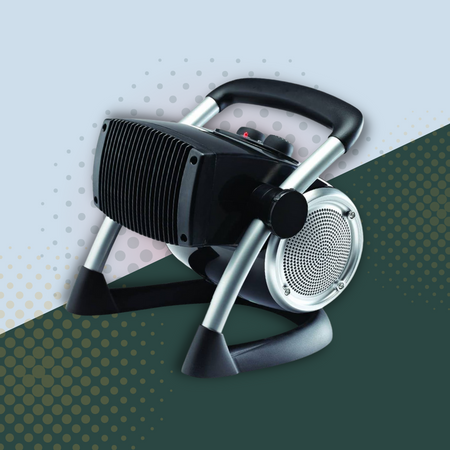 The Lasko Pro-Ceramic Utility Heater is a unit designed with convenience and ease of use as the primary goals in mind. It is a lightweight heater that can be transported anywhere effortlessly. The unit is available in different colors, and it boasts a modern and sleek design.
Aside from being beautifully designed, this heater offers plenty of cool features, and it allows you to direct 1500 watts of heat wherever you need it. There are also three heat settings you can easily adjust – high, low, and fan only. You will also find an adjustable thermostat on the unit, which is a nice little touch.
Mind you, this heater is not designed to heat bigger tents, but it is a great pickup for personal space and single-person tents. The safety system includes a safe ceramic component, overheat protection, and a fully assembled cool-contact lodging. It works pretty quietly and is a great pickup for winter campers that like to go solo on their adventures.
Pros
Compact size
Easy to use
Ceramic heating
Built-in overheat protection
Energy-efficient
Easy to transport
Cons
No high/low power settings
It is a personal space heater and is not very powerful
8. HeTR Portable Space Heater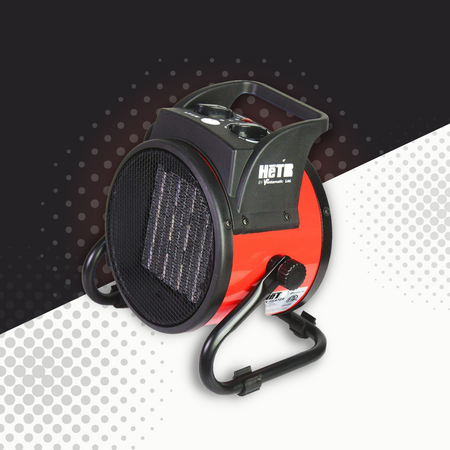 The HeTR is a very efficient heating unit that is pretty straightforward when it comes to setting it up, and it will effectively heat up your tent with a simple push of a button. It is also a highly portable and lightweight heater that works quietly, which is pretty convenient when you want to enjoy peace and quiet while cozying up in your tent.
This product comes with three heat settings – low heating, high heating, and fan-only mode. It is a solid unit that can heat a single-person tent, but it will not do much for bigger tents for bigger groups of people. It is furnished with an indoor regulator made of PTC earthenware, which prevents excessive heating of the space.
This device features a 1500-watt motor that can heat your personal space effectively. In addition, it is outfitted with an overheating security circuit, and it can disperse warm air throughout an area of up to 215 square feet very fast.
Pros
Overheat protection
Temperature control options
Ceramic heating element
Durable
Easy to transport and use
Compact in size
9. Trustech Space Heater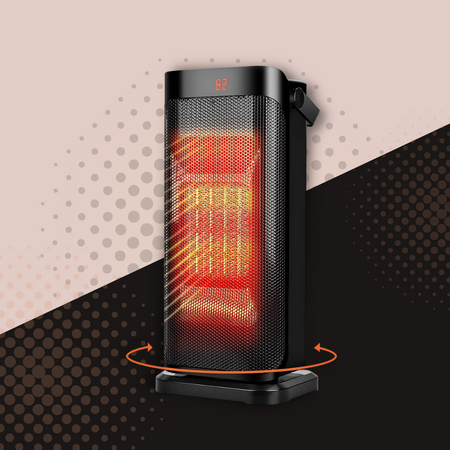 Coming from the Trustech store, this compact tent heater is an excellent option for anyone that looks for an excellent value/price ratio. It is a product that is completely indoor-safe and a great option for warming up your campsite even during the harshest winter conditions.
This unit comes with three different power levels, designed to accommodate different needs, depending on the weather of your campsite location. You can choose between 1500 W high heat, 1000 W low heat, and the natural wind mode, making it a highly versatile unit.
Trustech Space Heater also offers several safety features that are very handy when using it indoors. You get an automatic overheat protection system that will automatically turn off this unit when its parts start to overheat. There is also tip-over protection that will shut off the heater if it accidentally gets knocked over. Overall it is a powerful and safe unit that is well worth checking out.
Pros
Sleek design
Multiple safety features
Lightweight
Portable
Three different power levels
Cons
Housing material is not very durable
10. Honeywell HHF370B 360 Degree Surround Fan Heater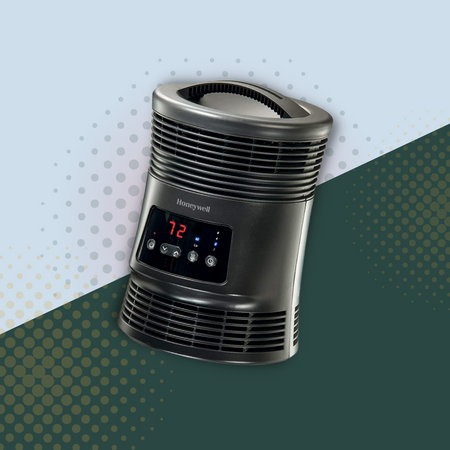 Last but not least, we have Honeywell HHF370B surround fan heater. Although it is last on our list, it does not mean that it is a bad product, not by a long stretch. In fact, this is a very powerful unit that is jam-packed with features that you would expect to get from a higher-priced heater.
This battery-powered heater boasts two different heat settings that allow you to warm up spaces as big as 250 square feet. It makes this heater suitable not just for tents but for RVs, cabins, larger tents, and other areas that might require some heating up.
HHF370B is a very easy-to-use unit, and it delivers enhanced safety features. There is also an adjustable built-in thermostat and a 360-degree tip-over switch, which allows you to heat the space that surrounds the unit. Overall, it is a quality product that comes for a pretty reasonable price, especially when you consider everything that you get with it.
Pros
Energy-efficient
360-degrees heating
Overheat protection
Cool touch carry handle
Easy to use
Programmable thermostat
Cons
The fan runs at the same loudness on both low and high settings
Things to Consider Before Buying Battery-Powered Tent Heaters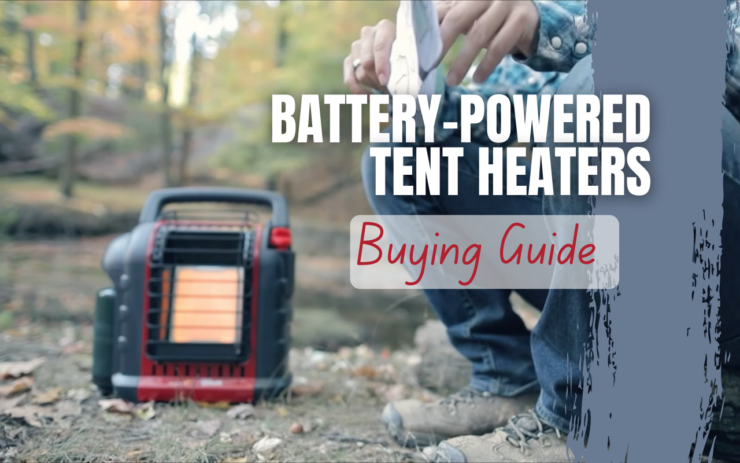 Before you decide to opt for either of the products we have just listed, it is important to know what features a quality tent heater should possess. One of the primary things you need to think about is safety, but there are also several other things to keep in mind. In the section below, you will find a list of guidelines you should follow when browsing for this product.
Automatic Shut-Off
Automatic shut-off is a must-have feature. With it, you will be able to doze off without having to worry about turning off the heater. Although many manufacturers claim that their heaters are for overnight use, every experienced camper will tell you that it is best not to chance it and get the unit that will automatically shut off after a certain amount of hours of uninterrupted use.
Tip-Over Switch
This is another important safety feature that you should look for when purchasing a tent heater. This switch will automatically turn off your heater if you accidentally knock it on the ground.
It is a very important feature since accidents tend to happen. For example, you might be the last person leaving the tent and not notice that you tipped the heater off, which can cause problems without this safety switch.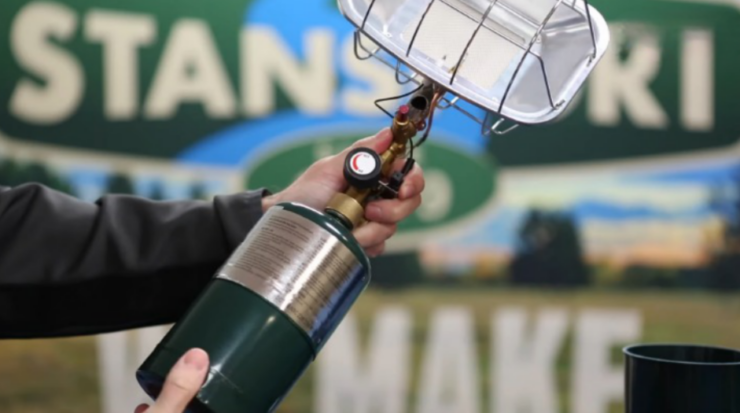 Overheat Protection
Overheat protection, as the name implies, is a safety feature that shuts off your tent heater when its parts start to overheat. It is a potentially life-saving function that you should look for when browsing for this product.
Stance and Stability
The floors in our tents are generally uneven and not the most level place. Due to this fact, you should make sure that the heater you want to purchase looks stable and stands straight inside your tent. Quality manufacturing can make a huge difference between catching your staff on fire and having a cozy and carefree evening during your camping trip.
Size
Choosing the proper size of your tent heater should be among your top priorities. Consider the size of your tent since, for bigger tents, you will likely require a bigger heater. You should also think about portability. If you are a frequent camper and like to travel solo, picking a smaller and lightweight heater might be the best option since you will be able to carry and transport it hassle-free.
Frequently Asked Questions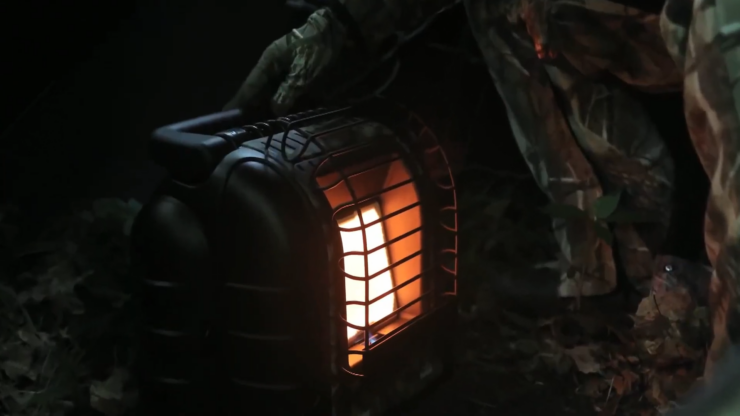 1. Are tent heaters safe?
Yes, they are. At least, that is the case with models that come with safety features such as overheating protection, tip-over switch, and automatic shut-off. These functions will ensure that you can catch some shuteye without worrying that your tent will catch fire.
2. Can a battery-powered heater heat your tent sufficiently?
It depends on the size and power of the heater. There are different models with different heat outputs. Make sure to check the manufacturer's label before spending any money since some models are suitable for only one or two-person tents, while others can warm up bigger tents.
3. Can I leave my tent heater on overnight?
If your tent heater has overheating protection and automatic shut-off features, then it is completely safe to leave them on since they will automatically turn off if their parts start to overheat. Some models even have a timer that allows you to set up the exact time when you want the heater to turn off.
4. How long do battery-operated tent heaters' charges last?
This entirely depends on the battery capacity of the model you have. Typically, these devices can hold a charge for between 8 and 12 hours. How long the battery will last also depends on the power regime you are using your heater on – higher heat output will consume more battery.
Final Words
Battery-powered tent heaters are effective and safe devices that are necessary for comfortable winter camping. The great thing about them is that they are packed with safety features and generally come with reasonable price tags.
We hope you found our guide informative and that you have found the product that can serve your purposes. In case you still cannot decide, revisit the section with our top-three picks, as all of them are packed with cool features and are relatively low in price.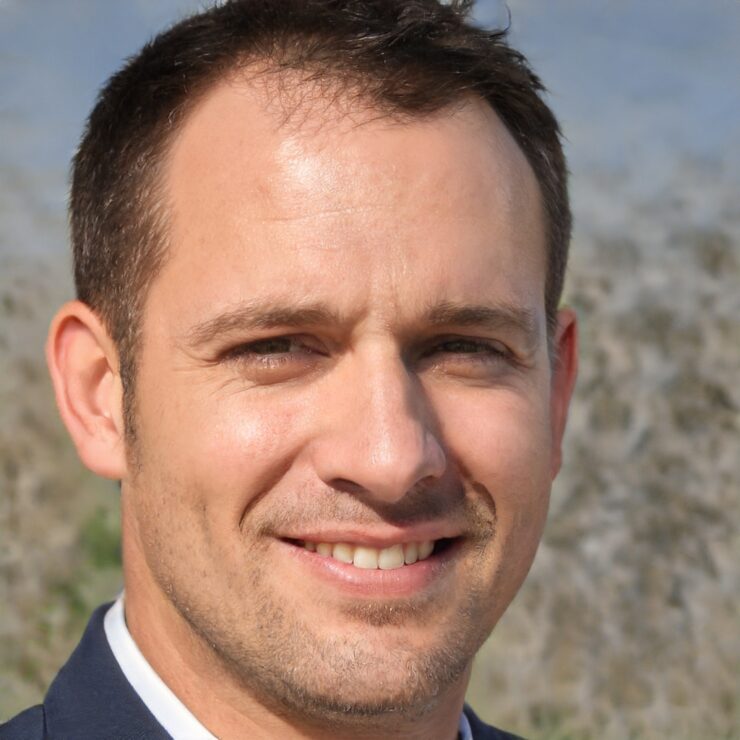 The outdoors is my playground 24/7, 365. Camping, hiking, mountain biking, grilling and all things related to the planet are my jam.