If you think that canopy chairs are only used for beach campings, then you are wrong. The purpose to use these chairs is to keep yourself from direct sunlight. So you can use them anywhere to stop straight encounters with the sunlight. You can use them on your lawns, in parks, on patios, near swimming pools, etc. to enjoy the heat yet to avoid harmful sun rays.
As with time, sun rays passing from the ozone layer are becoming too dangerous for your skin. In 2023, with drastic climate change, you must try to protect your skin from these rays with the help of shade chairs. You cannot stop your outdoor activities, so getting the best outdoor chairs with a canopy or shade would be the best solution to it. Check out some of the tested options as the best shade chairs in 2023!
Top Outdoor Chairs With Canopy or Shade
A list of leading canopy chairs for outdoor hobbies is mentioned below;
1. Best Choice Canopy Shade Chair – Camp Chair With Canopy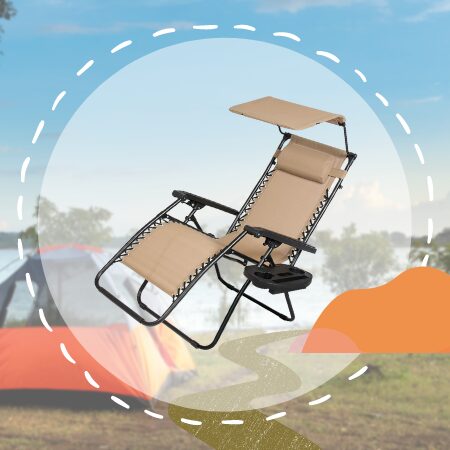 These chairs are well known for their best reclining system. Its smooth reclining system will get balanced and fixed as soon as you will sit on it. You can easily take it on your picnic to hilly areas and easily use it with no balancing issues. Its perfect make-up does not allow you to fall because it adjusts itself according to a person. You can get these chairs in different colors according to your interest.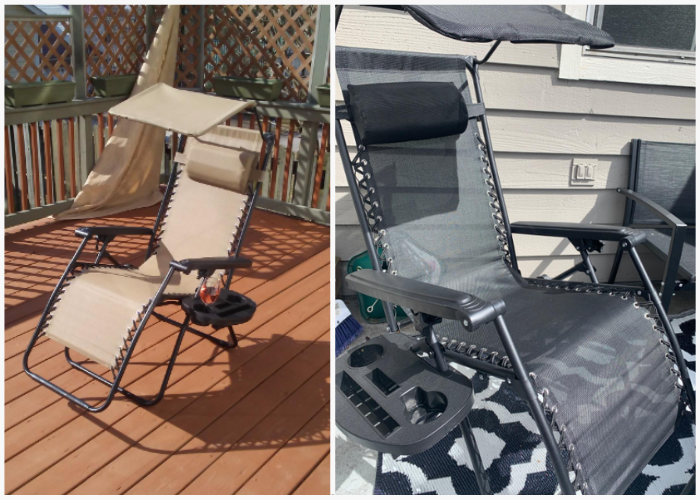 Its adjustable canopy will help you to adjust it on your face to avoid sunlight. The material used in these canopies is also best to not let the sunlight penetrate through it. You can easily rest your head on the hard headrest present on this chair to avoid any inconvenience. This head rests best for adults to read a book or newspaper comfortably. You can easily rest your arms and legs on it as well.
The presence of a detachable side tray will help you to enjoy your cup of coffee or juice while relaxing or reading a book. This tray is made up of hard material which can hold two or more cups at a time. If not needed, you can also detach it from the chair. With its lots of features and lightweight, you can easily take it for campings.
Pros
Headrest
Lightweight
Affordable
Cons
Not waterproof
Cheap sidelocks
In short, to use these shade chairs for a longer period, try to keep them from the rainwater. Do not leave this shade chair outside during the rain. The rainwater entering into the metal tubes can cause corrosion issues. Proper care should be given to this shade chair to use outdoors. Otherwise, it is a good and satisfactory chair.
2. BrylaneHome Camp Chair with Canopy Shade – Lawn Chairs With Canopy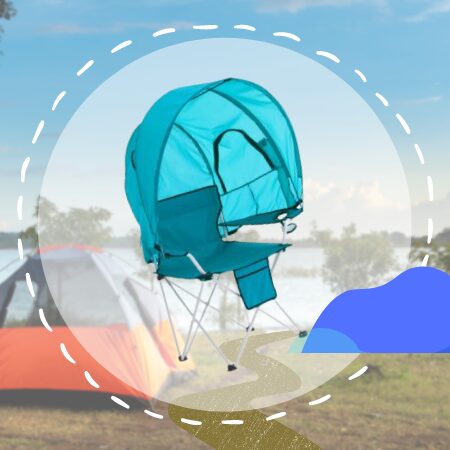 You can easily take shade anywhere you go, with the help of this canopy chair. It does not contain an adjustable canopy but it contains a tent-like fixed canopy on the top of this chair. It gives you a feeling of security or protection against the harsh weather around you. In this canopy, you can have a facility of a zip-open window to peek around you and to never miss a memorable moment in your surroundings.
Near the armrest of this chair, you can find the cup holder, made up of the same fabric as the shade.
You can easily put your cup or a glass of wine in that cup holder to use it from time to time. This shade chair also contains a storage pocket, where you can store lots of necessary stuff. This same pocket is also used as a carrying bag. You can fold the whole chair and put it in this carrying bag.
With 22 inches of width, you can easily get adjusted in this chair. It is not narrow and allows you to easily shift here and there with lots of space. Its cross and adjustable legs allow you to balance it on the improper ground and to easily fold it back to the carrying bag. For beaches and your backyards, it is a masterpiece to enjoy the beauty around you.
Pros
Foldable
Portable
Comfortable
Sturdy
In short, you can call it a covered wagon or a cave for its best composition, where you can hide as well as look around. Both functions can be fulfilled using this shade chair. It's very durable and you can use it for many years without any default in it and within a highly affordable price range. You can also add a mosquito net to it and use it free from bugs or mosquitoes.
3. Devoko Patio Chair Outdoor with Canopy – Best Folding Chair With Canopy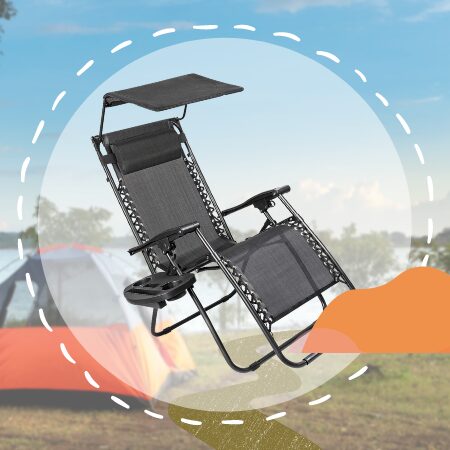 Devoko's shade chair allows you to rest, sleep and sit according to your wish. It is made up of superior Textilene fabric which is highly breathable and you can easily get adjusted to it. Its black color can be a worry for you as you know that black color is absorbent of sunlight. But there is no need to worry because this Textilene fabric is highly UV resistant. No matter if heat can pass through this material but harmful rays cannot.
Its legs and arms are made up of pure steel material. It is highly durable and you can easily take them out for excursions or campings. This chair is not only a source of relaxing your limbs and body parts but it is also a source of relaxation of your mind. The presence of a soft and comfy headrest will allow you to release the pressure on your cervical vertebrae and get a calming effect throughout your body.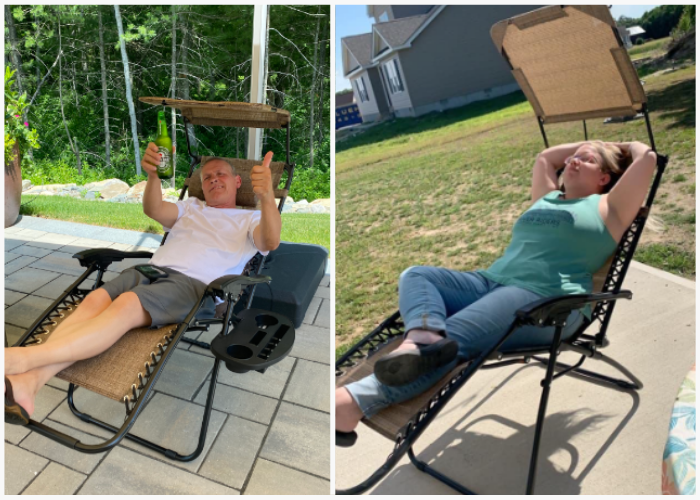 This chair is known as a zero gravity chair which means that it does not exert any force of gravity on your body and you will not feel any sort of burden on it. Instead, by using this chair you will feel free from any kind of pressure and can easily focus on the nature around you. You can easily use them on beaches, lawns, patios, gardens, swimming pools, etc.
Pros
Adaptable
Foldable
Sturdy
UV resistant fabric
To conclude, this shade chair does not require any assembly, you just need to take it out from the box to use it. Even in a small lawn or Terris, it can easily get adjusted. There is no compromise on its comfort or the soothing effect that is the specialty of this shade chair. Get it and forget the worries of harmful rays!
4. Goplus Double Camping Seat w/Shade – Outdoor Chairs With Umbrellas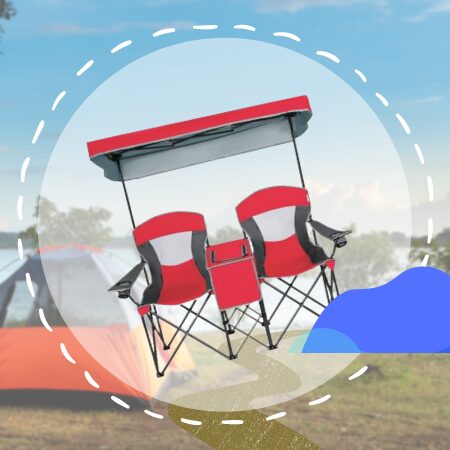 This unique double chair will be a good choice for a couple's date or your honeymoon. Instead of buying two separate chairs, you can get this double chair with fairly less cost and with great comfort. Its huge and adjustable canopy will stop the sunlight's interruption from any angle. The oxford cloth of the canopy which is a heavy cotton cloth will not let a single sunray pass through it.
The material used in it is steel which is coated with a black powder. This black powder coating helps in protecting the steel material from rust or flame-catching issues.
Hence, you can use these chairs even in rain as well. Its wide armrest will increase your comfort for resting your arms easily on it and a cup holder will serve you a coffee or drink while you enjoy your memorable moments.
The distance between the two chairs is covered by the cooler bag. This cooler bag can be used for multi-purposes. You can store your camera, mobile, mobile charger, or any other necessary belongings in it to keep them safe and near you. It also serves the function of a cooler by keeping your cold drink cooler while you're drinking. It does not allow the temperature of drinks to increase much even in the very hot summers as you put ice packs in it while hanging out.
Pros
Easy to carry
Adjustable
Comfortable
Wide seats
Hence, its extra-large carrying bag will easily accommodate these two wide chairs as well as the broad canopy over them. You can carry this bag with the help of straps as well as by putting it in the car, you are ready to go! There is no difficulty in its assembly, the presence of fixable buckles will allow it to appear sturdy.
5. Best Choice Products Chair Removable Canopy – Canopy Camp Chair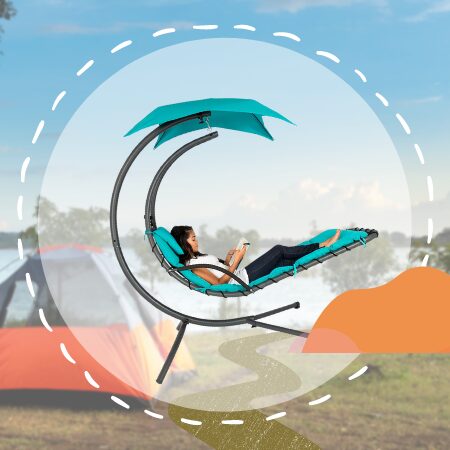 Some people want these canopy chairs for their home decor and to use them in a lounge. For extra-sunny afternoons, this canopy chair is best for exposure to heat as well as protection against harmful rays. The adjustable canopy will allow you to adjust its direction according to your wish. The 46-inch size of this canopy provides a huge shelter and you can easily mount it or remove it, if not needed.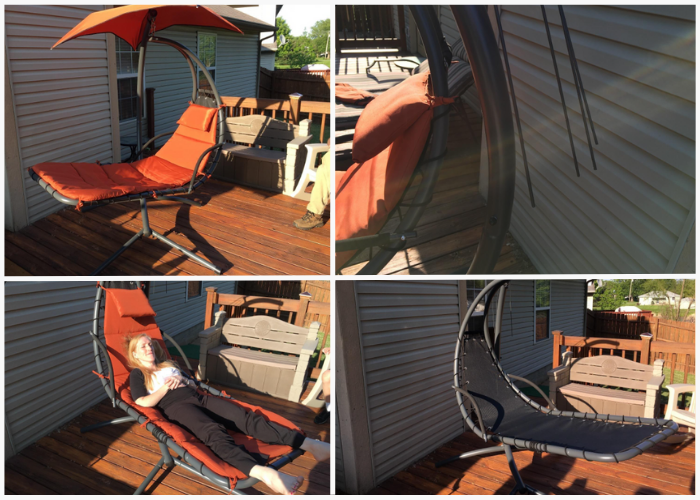 Its curve shape is best for the comfort of your back. It allows you to enjoy book reading and view your surroundings. It is of the high weight of about 265 pounds, you can use them outdoors but it is not good to take on excursions. It is specially designed for lounge use with elegant structure and high comfort. It is not foldable as other camping chairs, so enjoy it in your homes or backyards.
A 2-inch foam-filled cushion is spread throughout the chair. Your ease is the slogan of this chair, with every possible comfort. These cushions are water-resistant, as they are made up of polyester material, which makes them durable and long-lasting even in harsh weather conditions.
Its steel frame is coated with powder, which makes it anti-rust and durable. Hence, its water-resistant composition makes it more desirable.
Pros
Easy assembly
Sturdy composition
Highly comfortable
Hence, this great canopy chair can also be used to give your friends as a gift for a housewarming party. The presence of different color choices will help you to select the favorite color for your friends or according to their house's color scheme. This chair is multi-purpose and brings great satisfaction with the release of your bodily or mental pressures on it.
6. GYMAX Canopy Camping Chair – Portable Chairs With Shade
This beach chair can also be used for different purposes like lawns, backyards, swimming pools, etc. to enjoy the shade on a sunny day. On these sunny days, you need to stay hydrated for this purpose. The presence of two cup holders will allow you to keep your water bottles or cold drinks cups in them. These strong cup holders will not allow the spillage of your drink by your body movements.
The Polyvinyl chloride (PVC) fabric used in it makes it resistant to rainwater. You can easily wash this cloth in case of any stains or to keep it clean. The water or detergents will not affect the quality of this fabric. Its shiny appearance will add beauty to the chair's design. You can easily use them for campings or outings with the help of carrying bags. This small carrying bag can easily be held on your shoulder with no weight issues.
Its armrest and the chair itself are padded with soft material to provide shape and comfort to your body. Usually, the hard material of the armrests can be a source of tension or difficulty for your arms, but this chair will not let its composition cause suffering for you. Its X-shaped legs are easily foldable, to avoid any inconvenience while packing it in the carrying bag.
Pros
Foldable
Portable
Stable design
Durability
Hence, if you are facing an issue of bulky size or much weight, this canopy chair can be the best choice for you. No matter what your size, hard material, and sturdy make-up will allow you to use it without breaking it. This sturdy material makes it a little heavier than other such chairs but as long as it is fulfilling your other demands, its weight does not matter.
7. Sport-Brella Chair with Removable Umbrella – Chair With Shade Cover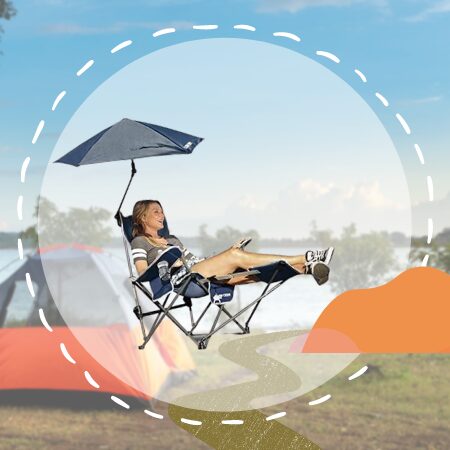 Sport-Brella has presented an ultra-comfortable canopy chair that allows you to enjoy three different positions of your choice. An additional option of this chair is that you can rest your feet on a detachable footrest while enjoying a book or the scenery around you. The huge canopy has three swivel options and a metallic undercoating that will protect you from ultraviolet A and ultraviolet B rays.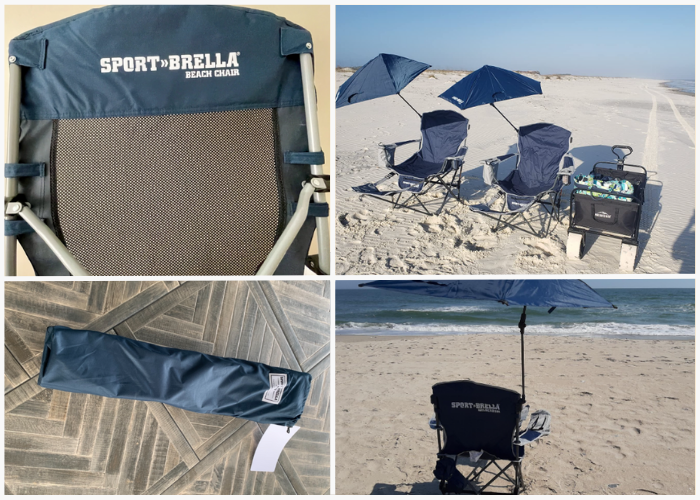 These rays can be very harmful to your skin as they penetrate your skin and cause a sunburn. This chair is perfectly designed to stop your skin from getting damaged. With wide armrests, you can easily rest your arms and get any kind of refreshments that would be at your fingertips.
The cup holders on both sides will allow you to keep your beverages or water bottles. Near these cup holders, storage pockets will help you to keep necessary items in them.
They are made up of lightweight steel material which makes them easy to move. You can easily take them out for tours without worrying about weight issues. You can get the aid of a carrying bag to hold them easily. Unlike its lightweight, these chairs can carry ample amounts of size, without any damage. So, no need to worry about your size, and get this chair without any further delay.
Pros
Storage capacity
Adjustable
Lightweight
Easy folding
Hence, this ultra-comfortable, easy reclining, lightweight, detachable canopy, etc. are the qualities you must be looking for in shade chairs to use on your trips. You can get all of these qualities together in this canopy chair. You can perfectly rest on them by resting your feet on the footrest. For travelers or hikers, this canopy chair with a detachable footrest is highly recommended.
Buying Guide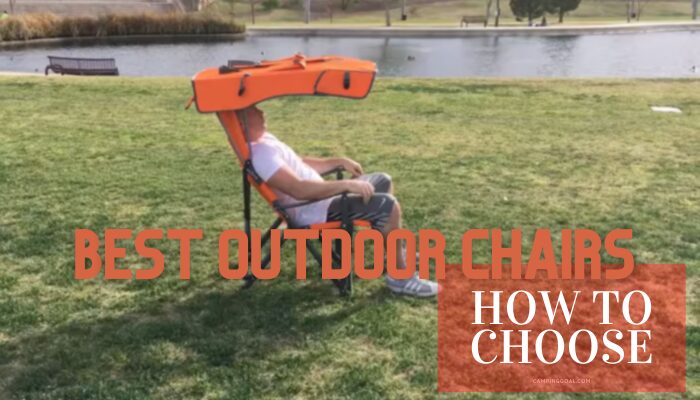 If you are interested in buying shade chairs for your outdoor activities then you must look for some important features in these chairs to enjoy them to the fullest. To guide you on these features, a list of attributes is mentioned that should be kept in mind while buying a canopy chair.
Price and Budget
These outdoor chairs are highly flexible with no use of any high-fi material, which makes them less costly. Before buying them, you must keep your budget in your mind. With fairly less cost, all your needs must be entertained by these shade chairs. You can get these chairs at all price ranges from less prices too high prices, but your priority should be an affordable chair. Sport-Brella is the best choice if you are looking for a good and less costly canopy chair.
Material
As these shade chairs are mostly used for outdoor activities, their material must be durable. You cannot change them again and again so try to select durable chairs first hand. Its material must be waterproof as well as stain-resistant. To avoid damage from the kids, it should be made with a long-lasting material. The fabric of these chairs must not be thin, it should be capable of holding the weight of a grown-up.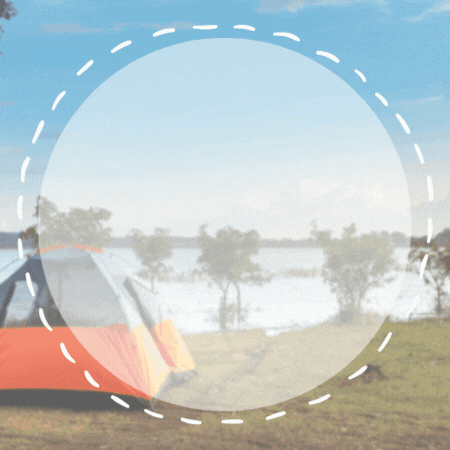 Portable
These canopy chairs are mostly used for campings. They must be portable so that you can easily take them on excursions. This is the reason your camping chairs must not be heavy and easily movable. You can easily carry them with you anywhere you go, in carrying bags. For adventurous people, the portability of these chairs should be the priority.
These carrying bags can easily be taken on your shoulders with the help of a strap or you can put them in your camping cars or any vehicle you are using. Because of their lightweight and flexibility do not take much space and are easy to carry. Gymax canopy chairs are best because their multi-purposes bag is hardly bigger than an arms size to hold a lot of stuff.
Enough Shade
The canopy of these chairs must be able to produce enough shade. Their name suggests that these are shade chairs, so they are useless if they do not produce enough shade. Before buying them you must check that its canopy should be of such a big size that can cover at least your upper part of the body from the direct sunlight.
Umbrella-shaped canopies on the top of these chairs are the best canopies. They can cover your whole body from sunlight, no matter at which angle of sun you are sitting. Simple shade can be able to cover you but by the change in the position of the sun, you would have to change your position again and again to avoid sunlight. BrylaneHome Camp Chairs are best for this purpose.
Comfortable Back
Many people enjoy reading books during excursions. For the comfort of your back, while reading, the backside of these chairs must be comfortable to avoid giving stress to your back. Many shade chairs are designed in a way that you can shade adjust them according to your will. You can straight them to sit straight and even lean on them in a sleeping position by adjusting them accordingly.
Sport-Brella shade chair is the best choice as it can be used for three types of positions. You can sit on them to enjoy the front view, you can lay to read a book or magazine, or you can sleep to take a nap shortly. All these different positions allow you to be comfortable in any way you want. Make sure to choose the best shade chair on an affordable budget.
FAQs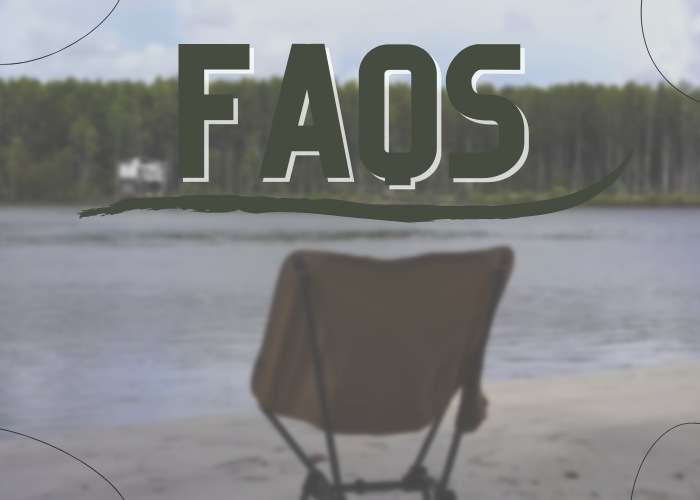 1. Is the shade enough to protect you against harmful rays?
The purpose of shade chairs must not be to just keep you away from the sunlight, but also harmful sun rays. These sun rays can be harmful to many human metabolisms as well. The cloth or fabric used in shade must be sun protective. Simple fabric can by no means be good for these canopies. Look for buying chairs with sun protective shades.
2. How can you fold this shade chair?
Folding of these shade or canopy chairs is not a big deal. When you take it out from the carrying bag, they are all set up with no need to set it up. You just need to fix some of the clips to make their shape erect and to use them properly. All you need to fold this chair back is to reverse the whole mechanism. Loose the fixed clips and fold them to put them back in the shade chair.
Wrapping It Up
All the above-stated outdoor shade chairs are best for use in excursions of 2023. But the top three picks among these chairs are;
BrylaneHome Camp Chair is the best pick among others because of its camp-like canopy that protects from sun rays from all angles.
Goplus Double Seat w/Shade Canopy is highly suggested for couples or families. It contains two seats together with a huge canopy to cover both the seats.
Sport-Brella camp chairs are famous for being ultra-comfortable. You can rest your limbs on it with high comfort and support.
These chairs will help you feel excited and you can easily rest on your journeys. Instead of fighting with sun rays with the help of sunblocks or other products, these shade chairs will provide you protection against sun rays as well as many other advantages. All you need to do is to select the best canopy chairs according to your needs and demands.
Check out these chairs also:
References:
https://koa.com/blog/sun-safety-tips-for-camping-avoiding-sunburn-on-camping-trips/
https://www.nytimes.com/wirecutter/blog/make-your-tent-last/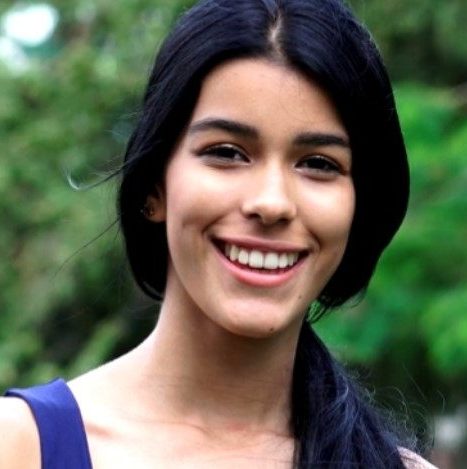 Christina Joyner is a seasoned expert for camping gear and everything related to outdoor adventures. With ten years of experience in this branch, she is an integral part of our team and author of comprehensive guides about equipment, best camping locations, and valuable tricks you should know when spending time in the wilderness.