The best pop-up canopy is a fantastic solution for a beach vacation, camping, barbeque, yard sale, or weekend in the woods. It is a practical product that will shelter you from the rain and sun or any other unpredictable weather conditions during your vacation time.
Adding this shade-casting product for your next BBQ, yard sale, or camping trip will give you much-needed relief during sunny days. However, choosing the appropriate canopy can be a bit overwhelming since there are so many different types.
We understand that this may be a struggle, so we did a bit of research and came up with some of the best you can find in today's market. Our list will consist of various types of canopies of different qualities that are suited for different budgets, so there will be something for everyone. So let us get into it.
List of Best Pop-Up Canopy
1. MASTERCANOPY Durable Ez Pop-up Canopy Tent with Roller Bag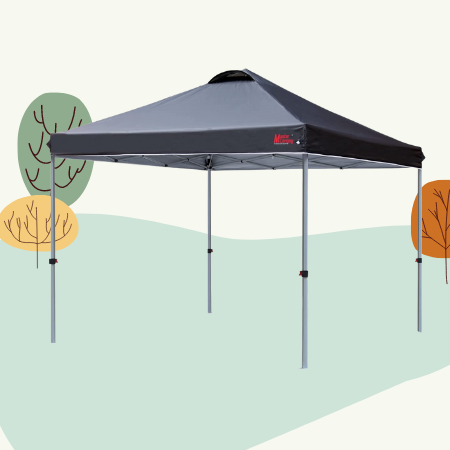 Available in nine different colors and four different dimensions, this pop-up canopy from the Mastercanopy store provides excellent value for money and is highly effective in protecting you from the sun. The size 10×10 is likely the optimal choice both in price and effectiveness.
The product comes with a wheeled pack bag allowing you to move it on the ground easily, so portability is yet another plus in the column of positives. When you place the canopy back in the bag, it is so small that you can store it pretty much anywhere you want inside your household.
Another great point is that this pop-up canopy tent is super easy to set up, and it can be done without the use of any tools. The height is also easily adjustable, so you can set everything up to get the best shade. It is both windproof and waterproof, so it can also shelter you from the rain to an extent. Last but not least, the price tag of this product is quite low, so consider checking it out, as it stands as the best pop-up canopy on our list.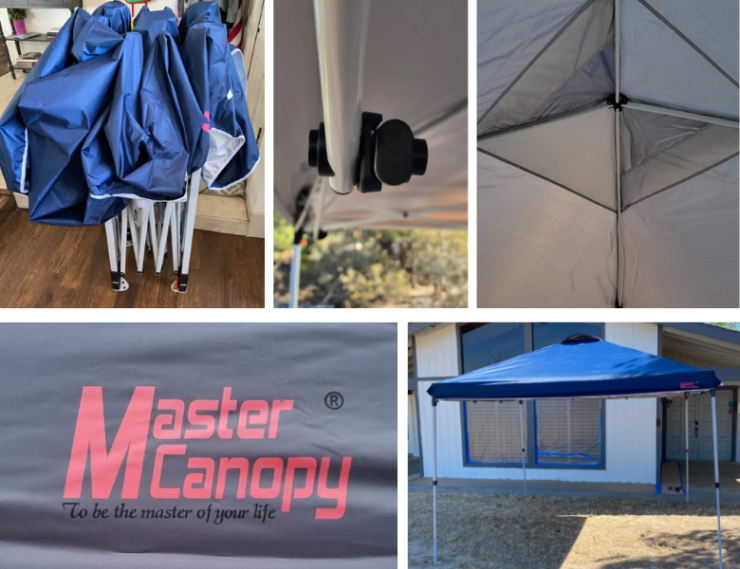 2. Caravan Canopy 10×10 V-Series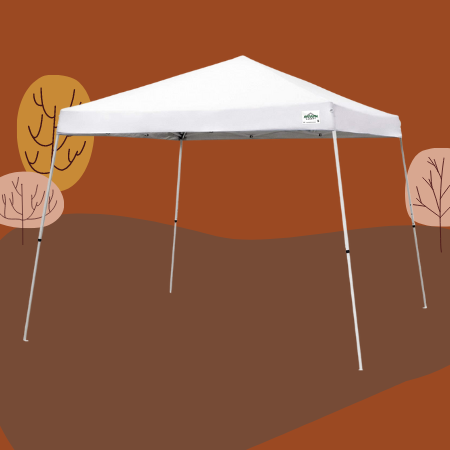 Although this 10×10 canopy is pretty lightweight, do not let it fool you because it can hold up strongly on both winds and heavy rain. This product features a sturdy alloy steel frame with a white powder-coated finish that prevents rust and dings, so despite the looks, it is a very stable and strong product.
This product is fairly easy to set up, although the first setup may be a bit stiff. However, after that, the product will loosen a bit and make the whole process much easier. It is a pyramid-style canopy that is covered with water-resistant 150-denier polyester that also provides superb UV protection.
You can adjust this tent's height in three positions, so setting up the shade according to your liking is super easy. In addition, you can choose this canopy in four different colors and several different sizes, so there are plenty of options to go for if you need something specific. Moreover, the price is fairly low, especially for the quality you are getting.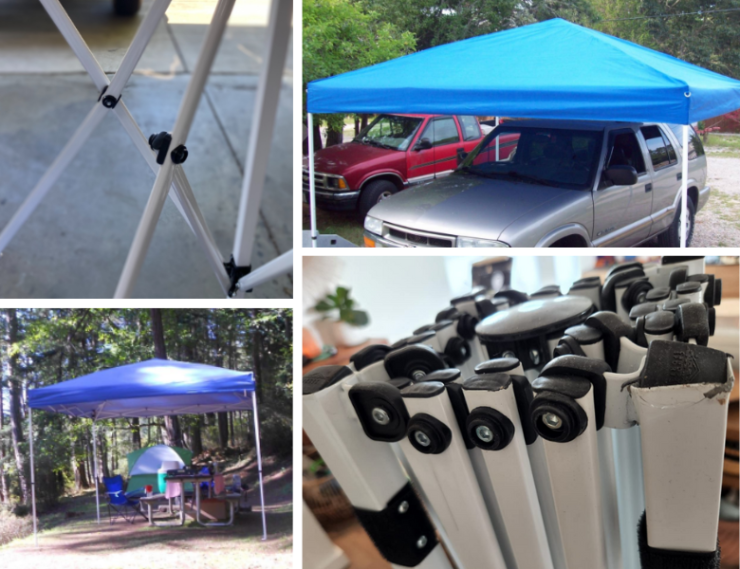 3. Eurmax USA 10'x10′ Ez Pop Up Canopy Tent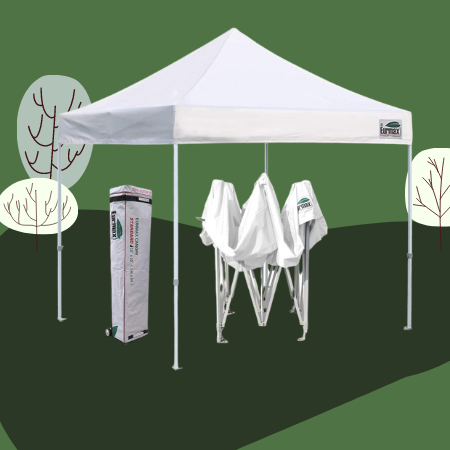 This pop-up canopy tent provides 100 square feet of effective sun protection and a peak height of more than 11 feet. Right out of the box, it is apparent that this product is made of top-notch materials and that a lot of attention was devoted to the manufacturing process.
The tent is super easy to set up and does not take much time or any tools to do so. The whole setup and takedown process are aided by quick-release tabs that allow each leg to fall into place, thus making your life a whole lot easier. You also get a nice traveling case in which you can store the product, and it is one of the bigger highlights of the product for its wide-open access, durable wheels, and comfy handles.
The one downside of this product that is worth mentioning is its size and weight. It is one of the heaviest products on our list, but at the same time, weight is often a testament to the canopy's quality construction. Either way, this might be too big a shelter for casual use, so make sure to check the size charts carefully.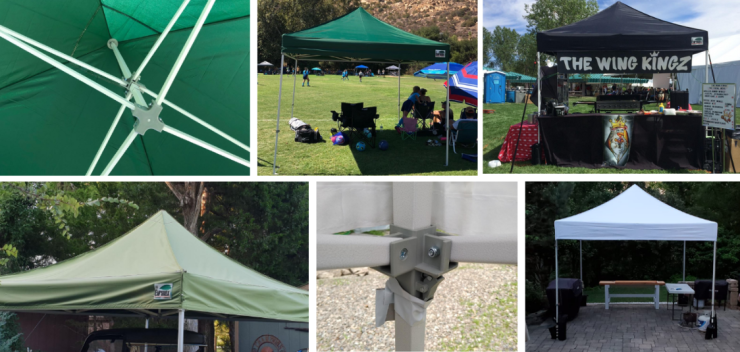 4. ABCCANOPY Patio Pop-Up Canopy Tent 10×10 Commercial-Series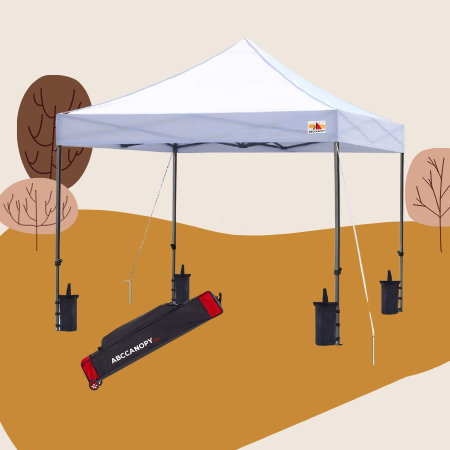 Coming from the Abccanopy store, this pop-up tent is available in over 20 colors from which you can choose and seven different sizes to accommodate different needs. It is made using heavy-duty fabric that is designed to endure both harsh winter and high heat during summer.
This particular size (10×10) is sufficient to cover four tables which is impressive. The product is completely waterproof and does an excellent job of blocking UV sun rays. It is quite large, so make sure to consider a smaller size if you need it for some more casual uses.
In addition, this canopy tent is fairly easy to set up, and it comes with comprehensive instruction that makes the whole process much more manageable. The canopy itself is also very sturdy when using the supplied weights, and considering the price it comes at, this is a really good bargain you should not miss on.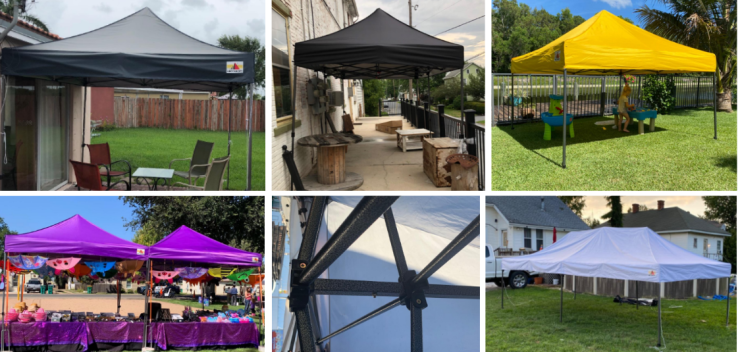 5. Best Choice Products 10x10ft Outdoor Portable Lightweight Pop-Up Canopy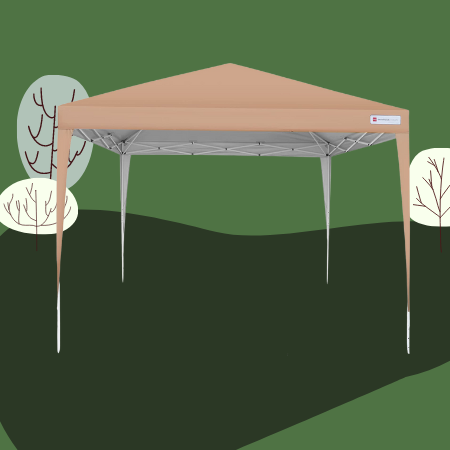 This simple and affordable pop-up canopy is coming from the Best Choice Products store and provides much more value than you would assume from the price tag. It is easy to assemble through a three-step process and stands very sturdy once it is finished.
The cover is made of high-quality materials and provides excellent UV resistance, while the frame is sturdy and rust-resistant. Aside from being highly functional and effective, this canopy is also visually appealing and can be used for some elegant occasions such as parties and outdoor dinners as well.
You also get a convenient carrying bag for effortless transportation and storage and all of that for a price of less than 100 USD. Given the fact that this pop-up canopy tent is large enough to cover a small table and four chairs, this price is a really good bargain and a product well worth checking out.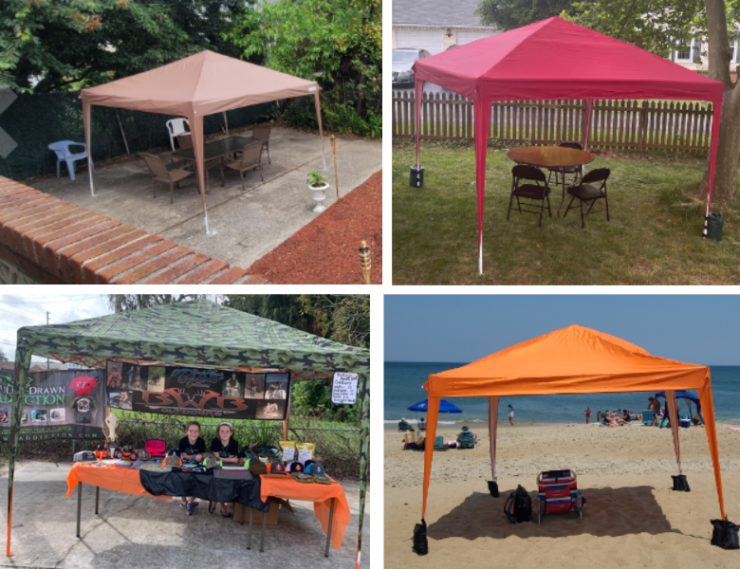 6. ABCCANOPY Ez Pop Up Canopy Tent with Sidewalls 10X20 Commercial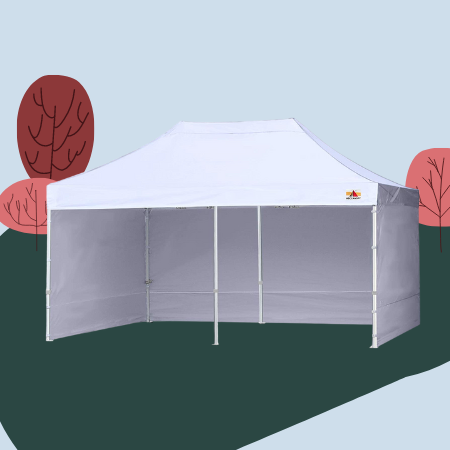 In case you are in need of a large and spacious pop-up canopy tent, look no further because this Abccanopy's product provides everything you would require from such a unit and then some. It provides 200 square feet of shade coverage, and it is big enough for around 20 people and lots of room for a table as well.
This is an excellent canopy that is suitable for various uses; from a farmer's market stall to keeping everyone cool for a backyard party, this product will do a fantastic job. It adjusts to three different heights, so you will be able to set everything up to your liking and convenience.
This is a very strong and durable canopy and has reinforced corners and Velcro for the pole joints so that it will serve you for a very long time. You also get a wheeled carrying bag with a rubber handle for easier transportation. It is available in six sizes and lots of colors, so there is plenty of choices from which you can pick an ideal canopy for your needs.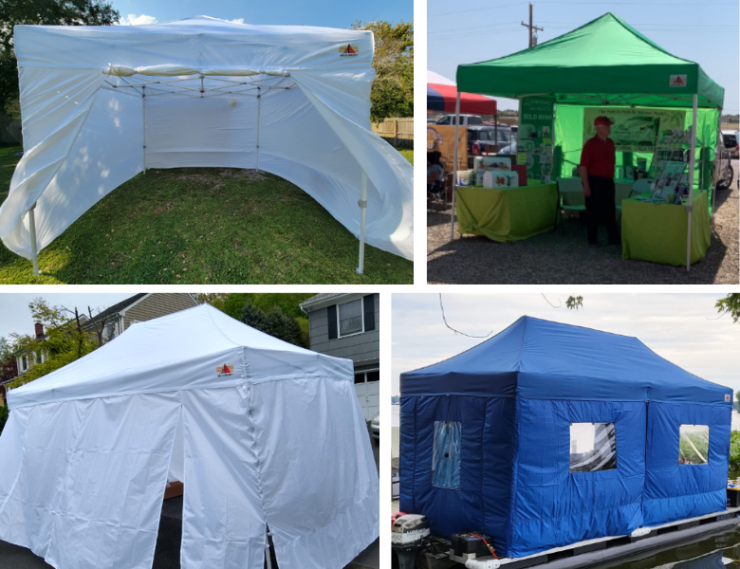 7. Patio Pop-Up Canopy Tent with Curtain 10×15 Event-Series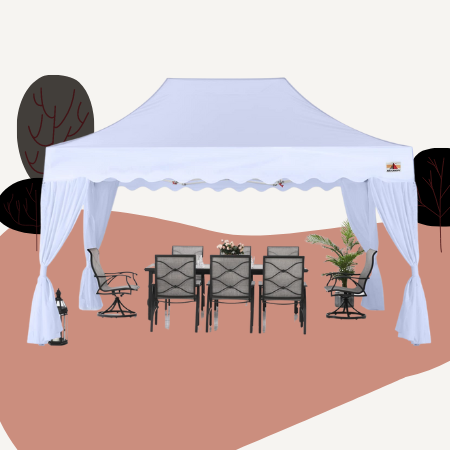 This pop-up canopy tent is ideal for larger parties as it is suitable for covering several tables with ease. The steel frame is very strong and sturdy and a testament to the durability of the whole construction, while the canopy itself is made from water-resistant 210-denier Oxford fabric.
This fabric can block up to 90 percent of the sun's rays, granting you comfy and relaxing shade at all times. It is also worth mentioning that the sidewalls are removable, so in case you need a different setup, you will be able to adjust it easily.
Same as is the case with most canopies we have listed so far, you can adjust this one to three heights, and it also comes with a roller bag for easier transportation. In addition, you can pick this canopy in three different sizes (10×10, 10×15, 10×20) and three different colors.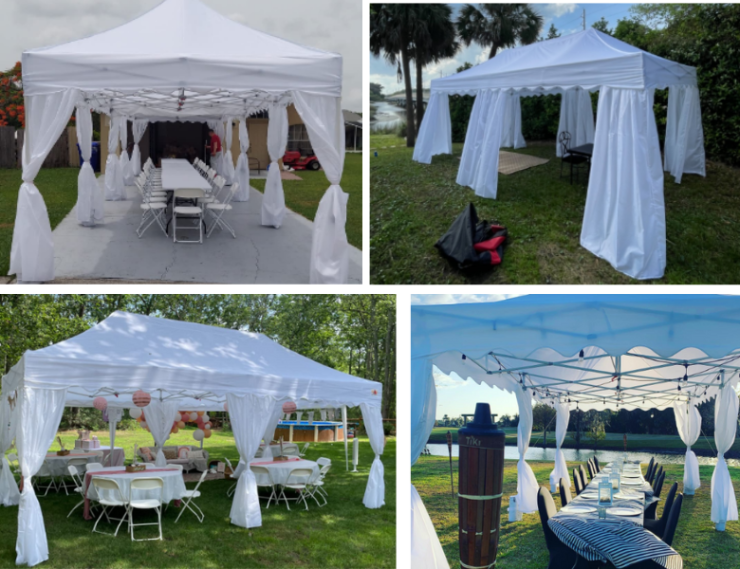 8. CROWN SHADES 10×10 Pop-Up Canopy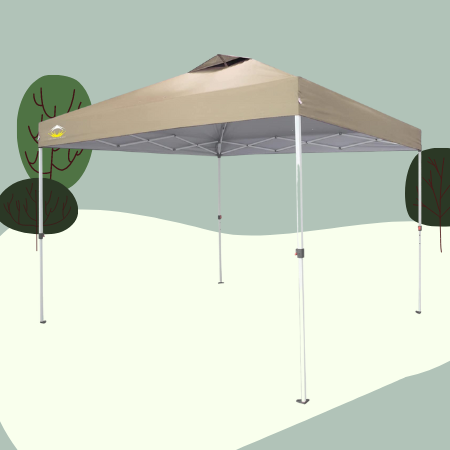 If you require a pop-up canopy that creates a wide shade, comes at an affordable price, and is easy to set up, this Crown Shades unit might be exactly what you need. It is a visually appealing product, and the quality and durability are on a very high level.
This is a 10×10 canopy that provides 100 square inches of shade, has over 9' maximum interior height, and over 6' maximum clearance under the valance. It is effective for various uses, from small picnics and beach visits to smaller parties in your backyard.
The canopy fabric is a rugged 150D PU and provides excellent protection from UV rays and water resistance, so you can rest assured this product will serve you for a very long time in different environmental conditions. It is one of the best canopies on our list for casual use, and since it comes for a fair price, you should give it a go.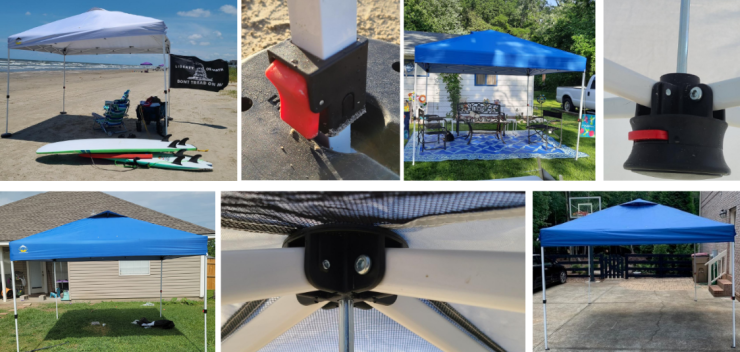 9. COOSHADE 13x13Ft Pop-Up Canopy Tent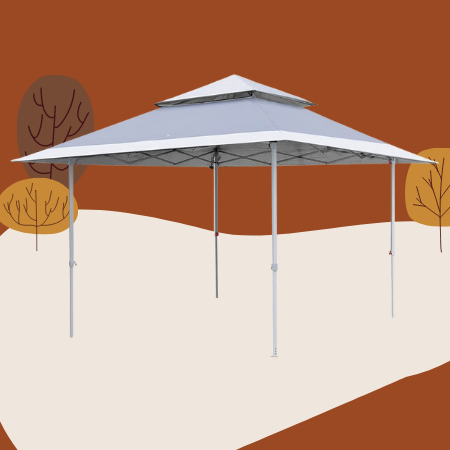 A high-quality pop-up canopy tent should provide quality shade, UV protection, and durable construction, and this Cooshade product succeeds in checking all of these boxes easily. It overs an exceptional sunshade and price/quality ratio that is absolutely unparalleled.
The unit comes with setup and takedown instructions that are pretty straightforward, and you should be able to finish the whole process in several minutes. It is also a bit larger (13×13) than most canopies that are typically 10×10, so it can cover a bit more space than you would expect.
The one drawback of this product that is worth mentioning is that the legs are not super strong, but there is an easy fix to this since you can tie the canopy down if any stronger winds start to blow. Overall, it is highly effective in blocking the sunshine and providing superb UV protection.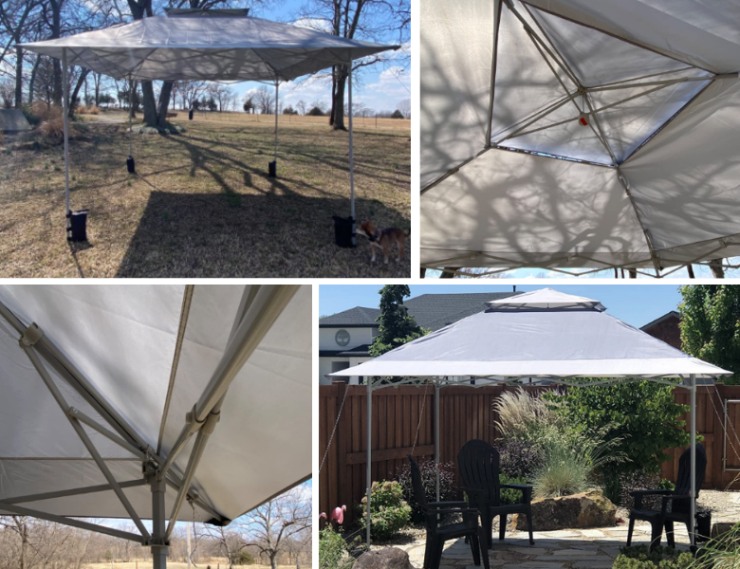 10. Leader Accessories Pop-Up Canopy Tent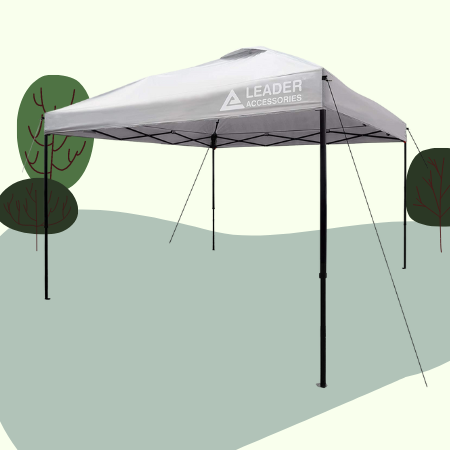 Ideal for BBQ parties and numerous outdoor activities, this pop-up canopy tent offers superb shade, and it is definitely one of the highlights of the Leader Accessories store. It holds up excellently whether it is in heavy rain or on a hot summer day.
The structure of the product is very nice and sturdy, and once it is fully assembled, it looks pretty impressive. It is an excellent choice for a good quality family recreational pop-up that can be used on various occasions. Setting it up and tearing it down is fairly simple and easy, as with most similar products.
The storage bag is so good that it deserves a review of its own. It comes with a double zipper that allows you to lay the unit inside easily. The only downside worth mentioning is that the stakes are a bit too smoothly polished, and they do not quite "bite" in the grass as you would expect so they may be a bit vulnerable to stronger winds. Other than that, it is a great product, providing a great shade and protection you should definitely check out.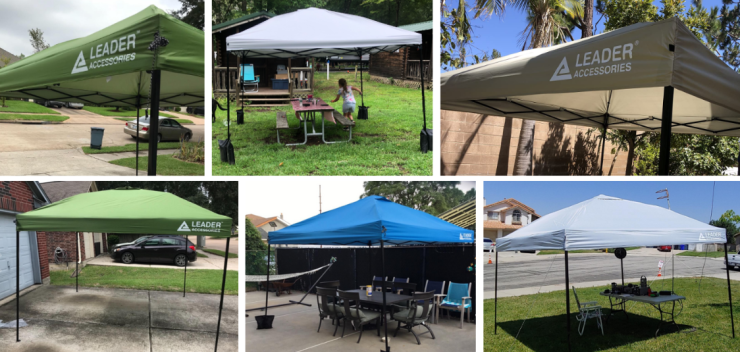 Things to Consider Before Purchasing Pop-up Canopy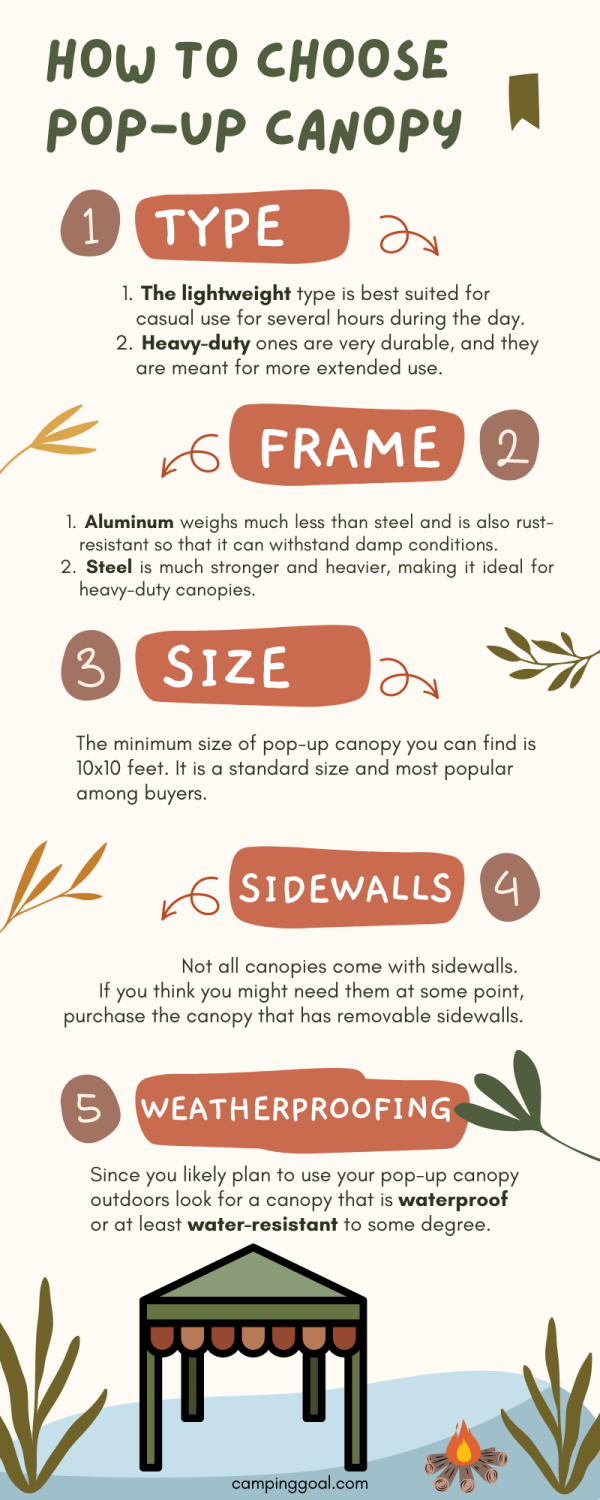 Whether you are going for a long camping trip or casually barbequing in the comforts of your backyard, a pop-up canopy is something that will make your life much easier, especially during warm summer days. Picking the right one can be tricky, so we have listed some of the important things to consider when browsing such a product in the section below.
Also, check out our post on essential things to bring on your camping adventure.
1. Type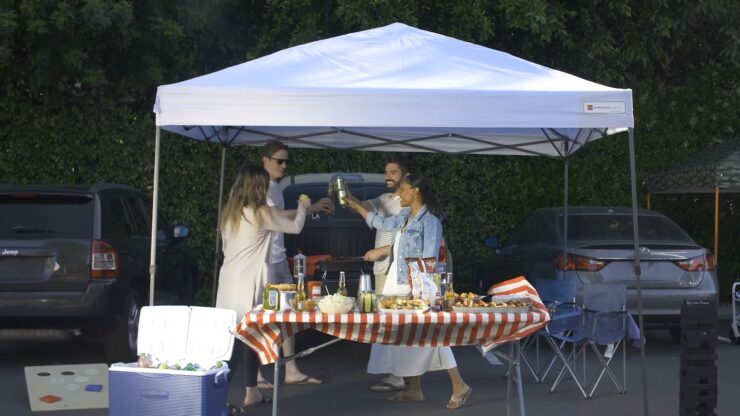 There is a total of two types of pop-up canopies – lightweight and heavy-duty. The lightweight type is best suited for casual use for several hours during the day. On the other hand, heavy-duty ones are very durable, and they are meant for more extended use.
2. Frame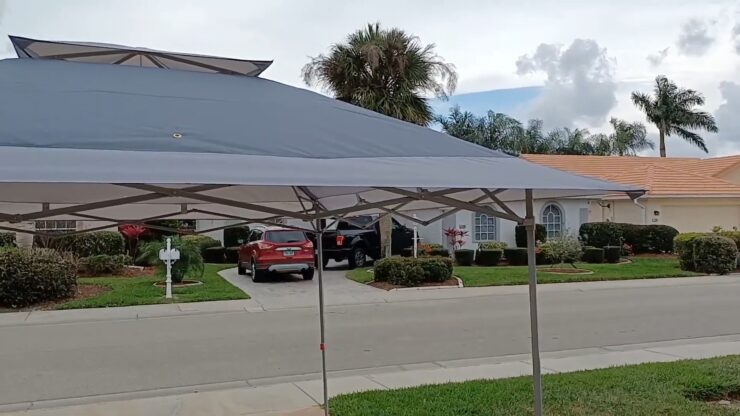 You can choose between two types of frame – aluminum or steel. Aluminum weighs much less than steel and is also rust-resistant so that it can withstand damp conditions. Steel is much stronger and heavier, making it ideal for heavy-duty canopies.
3. Size
As you probably already saw from the reviews of the products we have chosen, the minimum size of pop-up canopy you can find is 10×10 feet. It is a standard size and most popular among buyers. Of course, you can find much bigger canopy tents, but they are usually suited for larger parties, so purchase accordingly.
4. Sidewalls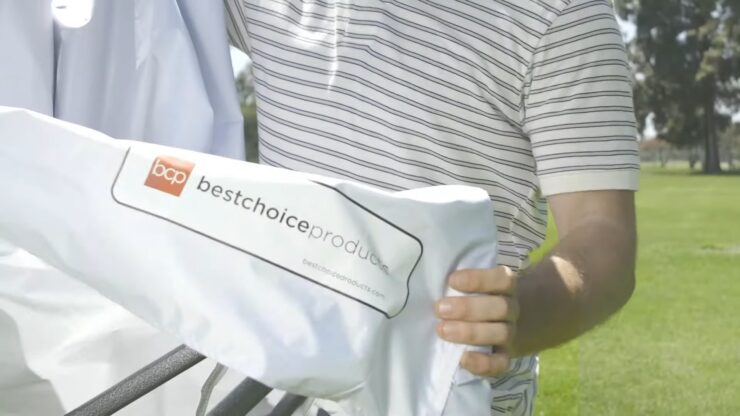 As you probably noticed, not all canopies come with sidewalls. You can find tents that come with anywhere from one to all four, and it all depends on your needs. If you do not require sidewalls for some specific need, do not waste money. However, if you think you might need them at some point, purchase the canopy that has removable sidewalls.
5. Weatherproofing
Since you likely plan to use your pop-up canopy outdoors, weatherproofing is an absolute must. It is something that will grant you durability and make your canopy withstand various environmental conditions. Look for the unit with UV coatings that will block the sun's harmful UV rays. It is also wise to look for a canopy that is waterproof or at least water-resistant to some degree.
Frequently Asked Questions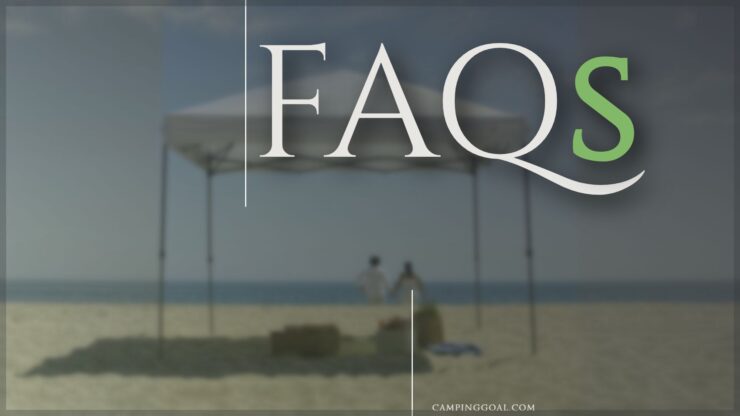 1. What is the difference between a tent and a pop-up canopy?
Although these terms often overlap, there is a technical difference between them. The main difference is that the canopies have framed roofs, while tents do not.
2. Does the color of the pop-up canopy make any difference?
Yes, the color does make a small difference since darker materials have higher temperature absorbency. It does not reflect as much on the inside of the canopy, but it does make a minor difference, so the darker canopies will certainly be warmer than the light ones.
3. Can a pop-up canopy handle strong winds?
The wind resistance varies from model to model. Most lightweight canopy models can withstand lighter wind of five to ten miles per hour without any issue. On the other hand, heavy-duty canopies are stronger and heavier, and they boast much better wind resistance.
4. Which material is best for a pop-up canopy?
Although polyethylene and vinyl are excellent material choices for pop-up canopy tents, polyester is likely the best solution. It is a water-resistant material that is highly durable and able to protect you from a majority of the UV rays.
Final Words
Pop-up canopies are certainly one of the most effective products to protect you from the harmful UV sun rays, and they come in quite a variety from intended usage to quality and value. Although picking the ten best was not an easy endeavor, we managed to find the products that are versatile both in features and price.
We hope you liked our list and that you will find the pop-up canopy that will serve your purposes. If you are still uncertain about which one to pick, we recommend you go for the top pick on our list as it represents the best balance of quality and reasonable price while providing you superb value.
References:
https://www.popularmechanics.com/home/g35765278/best-pop-up-canopy-tents/
https://www.hgtv.com/lifestyle/travel/best-canopy-tent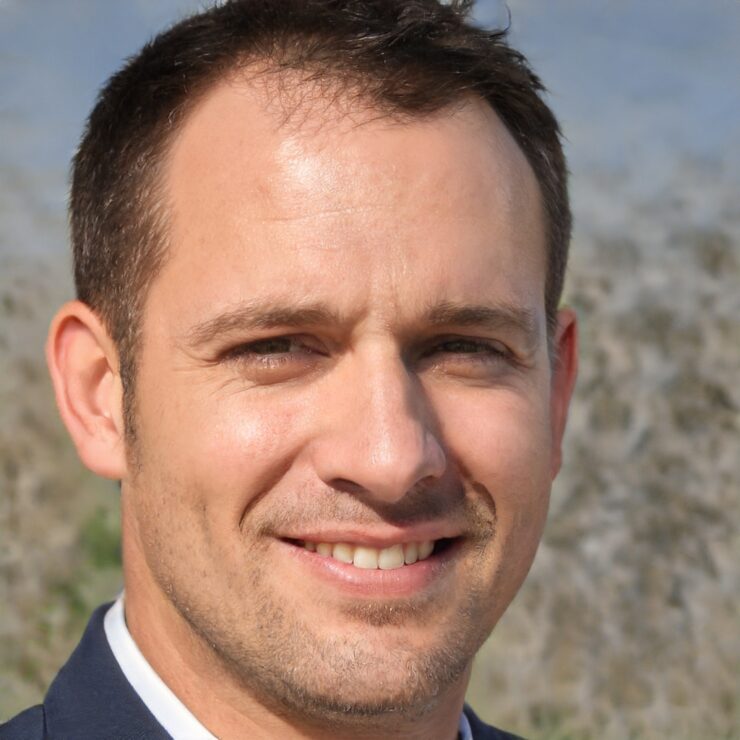 The outdoors is my playground 24/7, 365. Camping, hiking, mountain biking, grilling and all things related to the planet are my jam.