When you plan some type of wedding, corporate event, party, or reunion, the regular tent just does not cut it for the number of guests you are inviting. This is when you should explore your options and get the best 10×20 pop up canopy tents, as they are large enough to accommodate this type of event.
As always, we have picked the products that will provide you with the highest value and the products that will suit different budgets. Quality and longevity are the things we looked for the most since we want you to pick the canopy tent that will serve you well and serve you for a longer period. There are a lot of features and details to cover, so without further delay, let us get into it.
List of Best 10×20 Pop Up Canopy Tents
1. ABCCANOPY Premium 10×20 Canopy Tent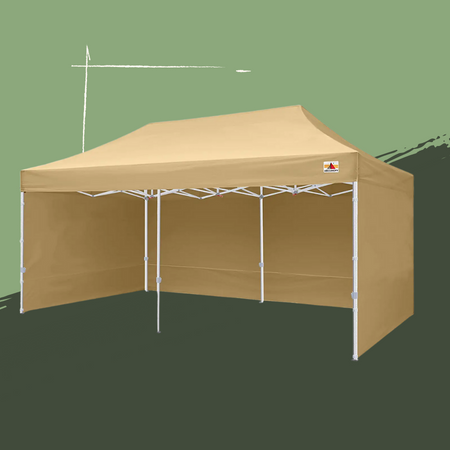 ABCCanopy premium 10×20 tent is one of the tents that is difficult to rival in terms of all-inclusive features and affordable price tag. It is quite a versatile product that is suitable for larger events, and it comes in ten different color patterns so that you can pick the one that will suit your decorations best.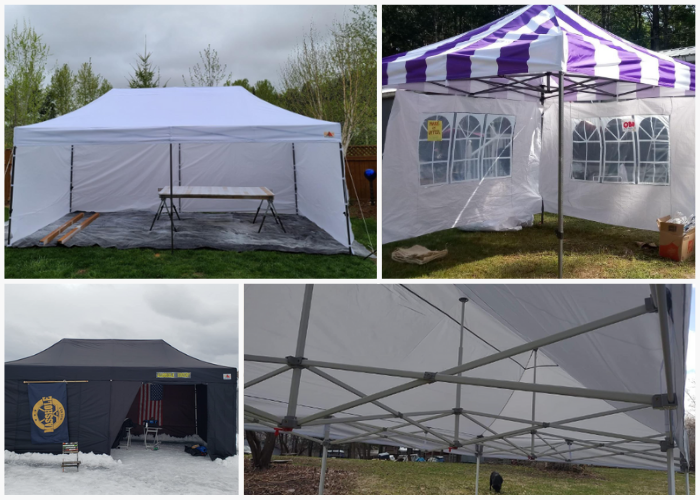 This is a top-notch tent that comes with diversification panels that are a mixture of sidewalls, door panel sidewalls, half walls, and mesh walls. A mesh wall does an excellent job at protecting you from insects, while two half walls bring some professional appearance, which is nice for formal events.
As was the case with all ABCCanopy tents, this one's heavy-duty frame is constructed with powder-coated and rust-resistant steel with nylon plastic connecting hardware on telescoping legs and corner connections. Overall, this is a high-quality tent that is more affordable than other products in the class.
Pros
Waterproof
Powder-coated and rust-resistant steel frame
Windproof
Excellent UV protection
Cons
A bit heavy and can be difficult to set up
2. MASTERCANOPY Premium Heavy Duty Pop Up Commercial Instant Canopy Tent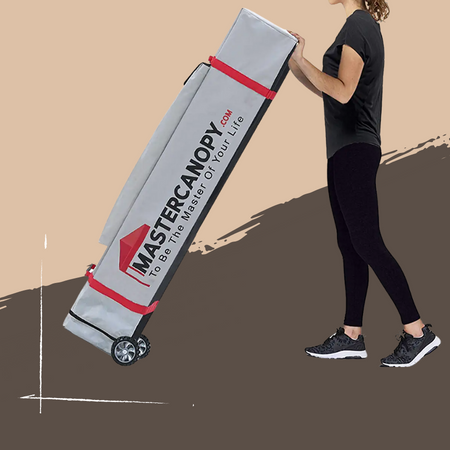 This heavy-duty canopy tent is a product coming from the Mastercanopy store, and it is available in five different colors for you to choose from. It is made of polyester fabric that is resistant to water and has very good UV protection, which makes it great for various outdoor events.
Since it is made of high-quality materials, they do an excellent job at preventing deterioration and protecting the tent's occupants from the elements. The set also comes with a wheeled carrying bag for easy transportation. The roller bag also has reinforced handles, large wheels, and a rust-resistant zipper.
This tent is also highly resistant to winds with a hexagon straight leg design, paired with included sandbags, stakes, and ropes. All of these are suitable to withstand winds that are up to 30 miles per hour strong.
Pros
Quality construction
Very good UV protection
It comes with a wheeled carrying bag
Stable frame
Cons
It does not come with the velcro hook and loop to attach the walls
3. Pop Up Canopy Commercial Grade 10×20 Instant Shelter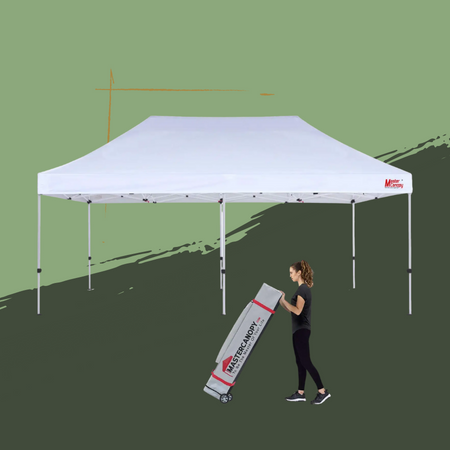 Regardless of the intended use, this Mastercanopy tent offers everything you require for commercial use and comes at a pretty affordable price as well. It is also available in eight different colors so that you can combine it with pretty much any type of event.
The frame of this pop-up shelter is constructed using high-grade steel with a hammer-tone powder coating which adds a lot to overall stability. This coating also helps you protect the frame from rust and increases the longevity of the entire construction so that you can use it for years to come.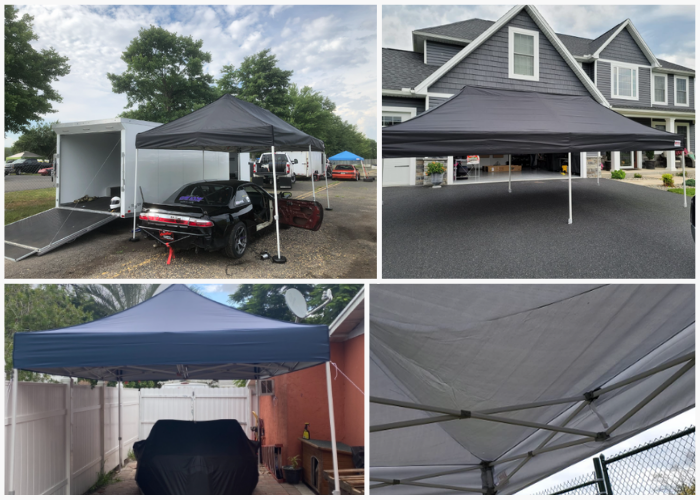 The weight of this canopy stands a bit high but reasonable at 93 lbs. This means that it will likely be difficult to assemble this tent on your own, so it is recommended to bring someone along to assist you in the process. However, transportation of the pieces should not be difficult since a roller bag is included in the set.
Pros
Excellent price
Included roller bag
High-grade steel construction of the frame
Easy to transport
Cons
No assembling instructions
4. COOSHADE 10X20 Ft Pop Up Canopy Tent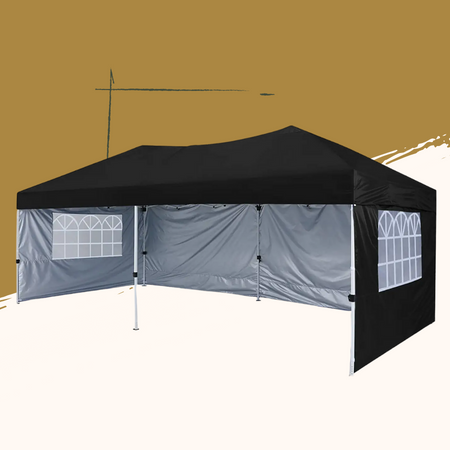 This heavy-duty 10×20 pop-up canopy tent is a perfect product for various types of events and does an excellent job of protecting its occupants from the elements. It is spacious, elegant, and durable, while it is also available in eight different colors that can suit various occasions.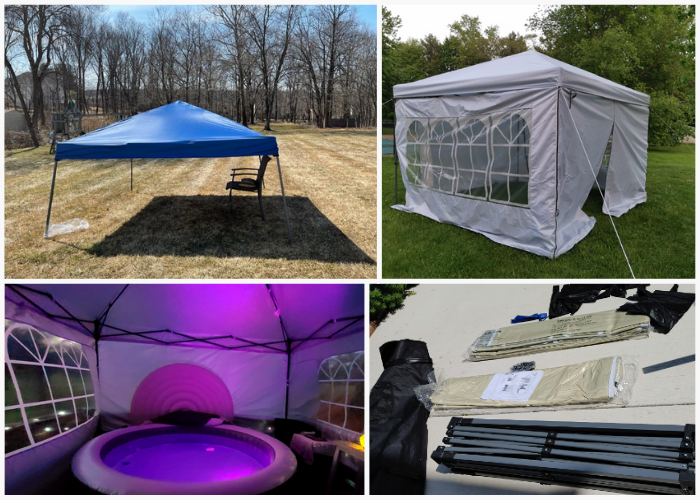 The frame of this canopy tent is designed using heavy-duty painted steel. This design and workmanship are on a very high level that ensures superb ruggedness and stable construction. In addition, the frame is also rust-resistant, which is very useful in rainy conditions and ensures longevity.
Once you buy this tent, you will not have to buy some extra accessories and spend additional money since this set provides you with everything you need. Moreover, it is very stable and can withstand winds of up to 60 mph. Setting it up is also very easy and can be done by a single person.
Pros
Easy to install
Ground anchors, sidewall, and carrying bag with wheels are included
Very sturdy and stable in windy conditions
Suitable for various events
Cons
Vague installation instructions
5. Instahibit 10×20 FT Outdoor Pop Up Canopy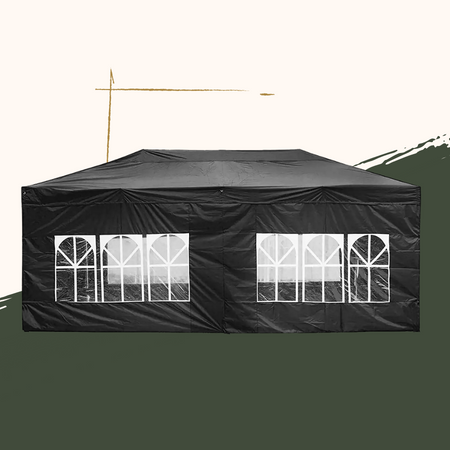 Coming from the Instahibit store, this spacious and sturdy pop-up canopy tent is designed to accommodate larger groups of people easily. It is highly stable, affordable, and available in seven different colors that can be paired with various decorations for types of events.
This is a 10×20 ft canopy tent with sidewalls that are designed to offer you 200 square feet of shade coverage, which does an amazing job for bigger party events. There are also four-position height adjustments so that you can set everything up according to your needs.
The steel frame is also very sturdy and quality enough to keep the tent in its place even against the harsh winds. However, due to the quality of materials used in the manufacturing process, everything is rather heavy, so it is likely that you will need assistance in assembling the product.
Pros
Excellent shade coverage
Cost-efficient
Suitable for bigger party events
Great protection from elements
Cons
Heavy
Difficult to set up on your own
6. Outsunny 10′ x 20′ Heavy Duty Pop Up Canopy with Sturdy Frame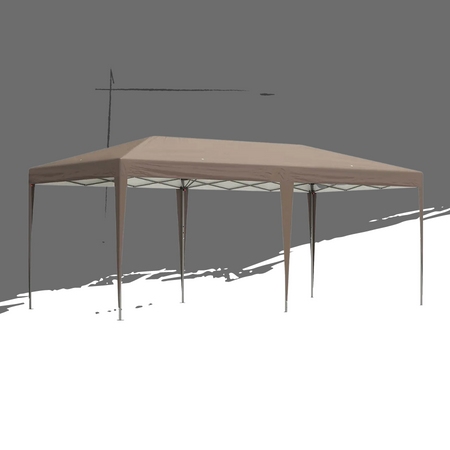 This heavy-duty pop-up canopy is a product from the Outsunny store, and it boasts coverage that is sufficient for larger groups of people. It is among the most affordable tents on our list, but the price does not compromise the quality. You can find it in four different colors and pair it with various party decorations.
Outsunny 10×20 pop-up canopy tent was crafted from oxford fabric which is reinforced with silver coating. This coating does an excellent job of protecting the tent's occupants from rain and UV rays. It is suitable for a wide variety of events and activities such as wedding receptions, graduation parties, catering, flea markets, etc.
Whether you are using this tent for some event or just want to be in the shade during warm summer days, you will get quick and easy accommodations with this product. The tent is relatively easy to pop up, but you will likely require assistance from one more person. Overall it is a very good tent and one of the most affordable you can find in today's market.
Pros
Affordable
Excellent coverage
Made using oxford fabric
Silver coating for element protection
Cons
It is not very stable in harsher winds
7. CharaVector Pop Up Canopy Tent 10×20 ft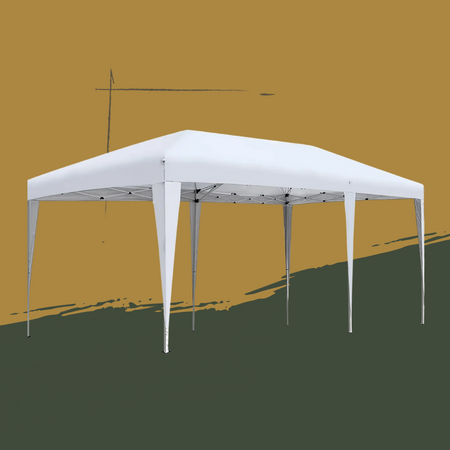 Durable, affordable, and stable – this pop-up canopy tent is a well-constructed unit designed to last for a long time and to protect you from the elements. It is a spacious product that can accommodate larger events and house a lot of people underneath.
The cover of this tent is made of waterproof polyethylene material that does an excellent job of blocking up to 90 percent of the sun rays as well. Moreover, due to its 210 denier with PU lining, it is completely waterproof and great in harsh weather environments where there are strong winds and rains.
The height of the tent is also adjustable, and it can be done with a simple push of a built-in button. The assembling process of this product is pretty straightforward, and it is done in three simple steps that will enable you to install it in no time, which is quite helpful if you need to save some time.
Pros
Sturdy frame
Easy to set up
Adjustable height
Included sandbags
Cons
Canopy quality could be better
8. Quictent 10×20 Easy Pop Up Canopy Tent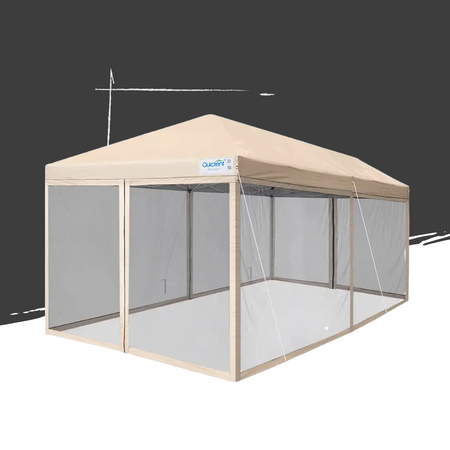 Despite its size, Quictent 10×20 pop-up canopy is one of the easiest tents to set up from our list. It is an affordable option that is designed to accommodate larger parties and is constructed in a way you will remain sheltered from the elements even in harsh weather environments.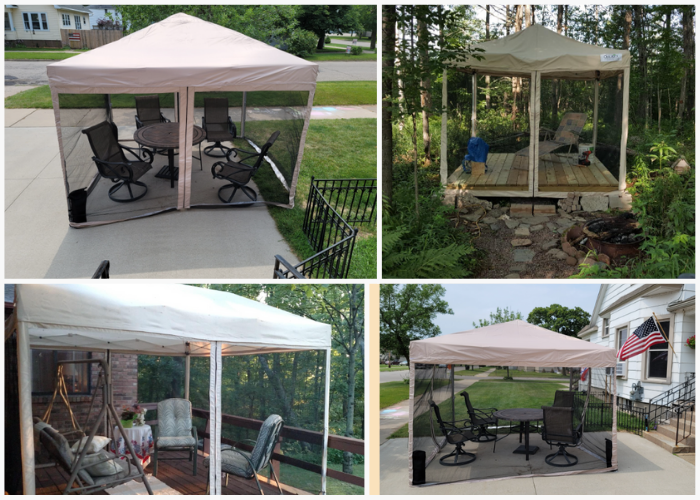 The netting screen is removable, so you will be able to use this tent in different environments and for different occasions. There is also a full strip of velcro sewn along the cover and side walls that does a great job of preventing seams. The mesh is held in a place tightly, so the protection from the elements is almost guaranteed.
The tent is very spacious and provides 200 square feet of cover, which is sufficient to house between 12 and 16 people underneath. Whether you plan an outdoor dining party, family meeting, camping, wedding, or sporting event, this tent has you covered, and all of that for a reasonable price.
Pros
Excellent protection from elements
Easy to set up
Very stable and can stand in place even without weight or attachment
Great protection from bugs
Cons
The manufacturer's instructions are not comprehensive
9. LEMY 10 X 20 Outdoor Wedding Party Tent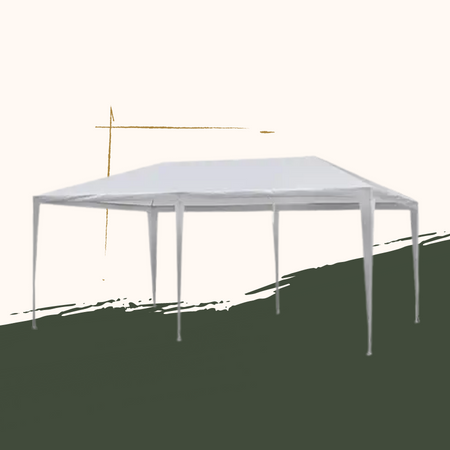 Heavy-duty, affordable, and versatile, this canopy tent is an excellent pick for what it is – a cheap yet reliable solution for outdoor events. It boasts an elegant white design which is suitable for various occasions, from wedding receptions to beach camping. Moreover, it is very easy to transport since it weighs a mere 37 pounds in total.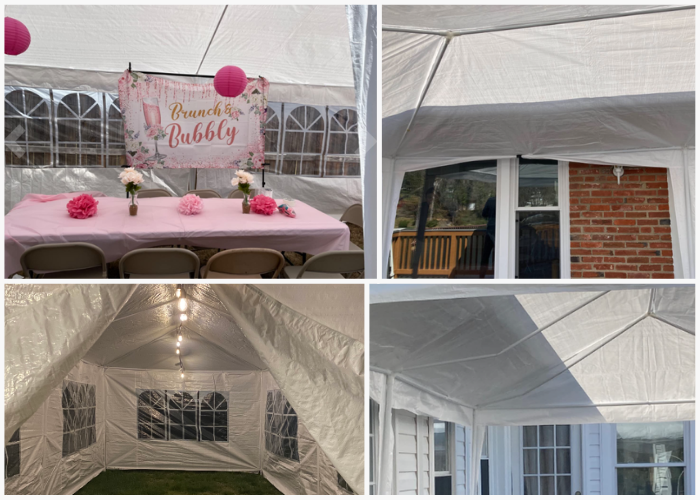 The frame is made using thick powder-coated steel that is also corrosion resistant and grants extra stability to the tent. The sidewalls and roof are made with polyethylene which is also decent protection from elements and also does a fairly good job of protecting you from the wind.
This tent also comes with all hardware for easy assembly and with ropes and stakes for extra stability. Keep in mind that this tent is designed for garden and leisure events, so it is not the best option for events held in harsh weather environments.
Pros
Beautiful design for elegant events
It comes with ropes and stakes for added stability
Assembly hardware is included
Six transparent church windows
Cons
It does not perform well in harsh weather
Things You Need to Know Before Purchasing a 10×20 Canopy Tent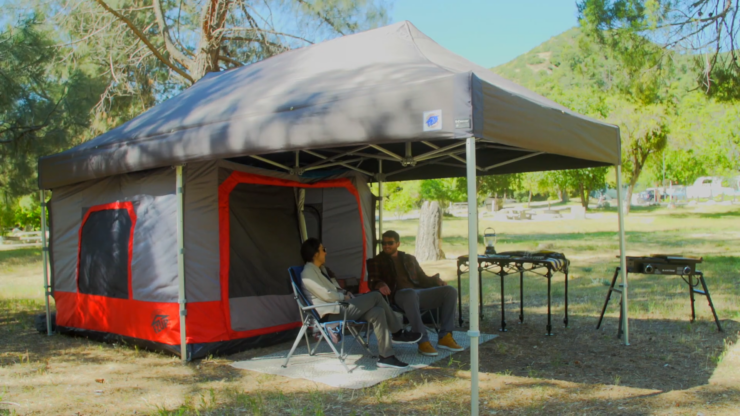 These pop-up canopies are often marketed as commercial and industrial tents. However, when you are browsing for such products on the market, it is important to know what to look for and get the highest possible value. We want to help you with this choice, so we have put together a brief list of guidelines you should follow in the section below.
Frame Material
A pop-up tent needs to have a quality and strong frame for better longevity and stability when exposed to extreme weather conditions. You should opt for frames that are designed from aluminum or steel.
Aluminum frames are not as durable as steel, but they will not rust and corrode. This is important because over the course of time, the frame will keep their appearance, and the color on them will not fade. Aluminum is also lighter than steel which makes it easier for transportation.
Steel frames are generally cheaper than aluminum ones and are much sturdier. Even though steel can corrode, many manufacturers use powder coating that is also effective against rust. Steel is also more rigid than aluminum, so it stands a lot better in windy conditions.
Canopy Cover Fabric
Most canopy covers are made out of polyester, which is a very durable synthetic material. However, when choosing the fabric, you should know its denier because it sets apart this type of material. Denier refers to the thickness of the fabric, and the higher it is, the stronger the fabric is, so choose according to your needs.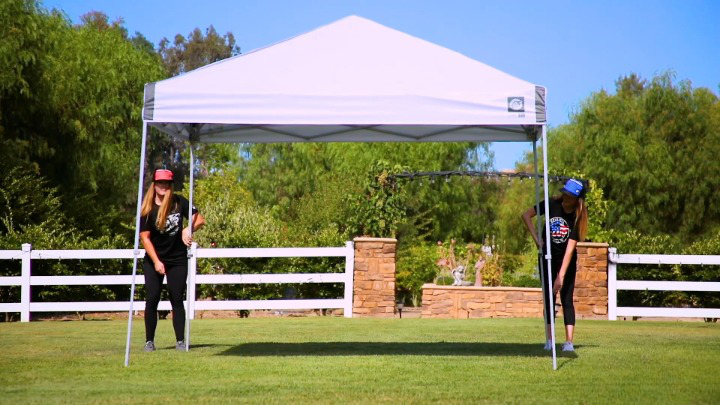 Weather Resistance
If a canopy you want to purchase is not equipped with the right features to face harsh weather conditions, it can easily get damaged and spoil your outdoor activities. Look for canopy tents that are designed to withstand heavy rain and harsh winds so that you can stay protected even in foul weather.
Side Walls
Although canopy tents are supposed to have all open sides, many commercial tents include removable sidewalls. In a way, this can limit the room under the tent, but it can also play an important role in protection from the wind and increase the space for branding if you are holding some type of presentation event in it.
Assembling Difficulty
These pop-up canopy tents tend to be rather bulky and robust, which makes the assembling process quite challenging. This is why you should consider the ease of setup before spending any money. If the tent you bought is too complicated and difficult for you to assemble on your own, seek help from professional contractors.
Frequently Asked Questions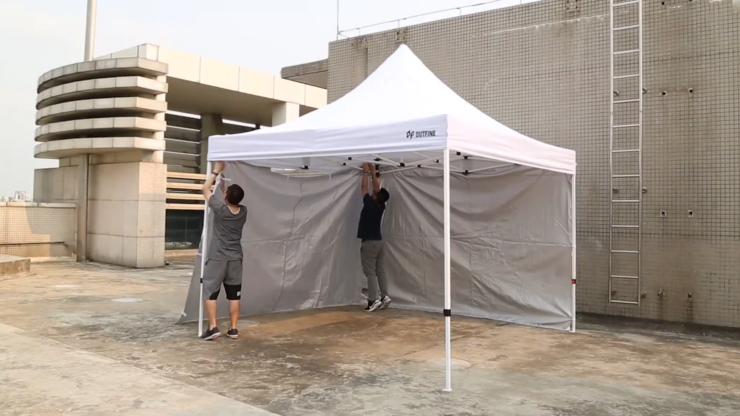 1. What is the tallest the 10×20 pop-up canopy can be adjusted to?
Both the basic and deluxe frames can be adjusted to a height of up to 11 feet. You can do so by using the push-levers that are usually located on the tent frame legs. The shortest height is 10 feet when fully set up.
2. What frame series is the 10×20 pop-up canopy in?
The 10×20 pop-up canopies can be found in either the basic or deluxe tent frame series. The basic types are mostly affordable and are made from steel, while the deluxe frames are available in five heights and can be adjusted to 11 feet.
3. What materials are the best for 10×20 pop-up canopies?
The most commonly used material in the pop-up canopy manufacturing process is polyester, a highly durable synthetic material. The quality of this material entirely depends on denier, which refers to the thickness of the fabric.
4. Are the 10×20 pop-up canopies easy to set up?
This largely depends on the manufacturer and the number of tools that get included in the product's package. These tents are also quite huge, and it may be difficult to set them up on your own. The best course is to look for assistance from a friend or to hire a professional contractor.
5. How many people can fit in a 10×20 tent?
These tents are perfect for larger events such as wedding receptions, parties, camping, or barbecuing. You can easily house between 16 and 20 people in this tent.
Final Words
The best 10×20 canopy tents are an absolute hit when organizing parties for larger people, not only for their size but for excellent protection in harsh weather conditions as well. They are practical and irreplaceable for larger outdoor events.
This concludes our guide, and we hope you find it informative and that you will find the perfect tent for your needs among our top picks. If you are still in doubt, revisit the top 3 products from the list, as all of them offer a quality set of features and also come for an affordable price.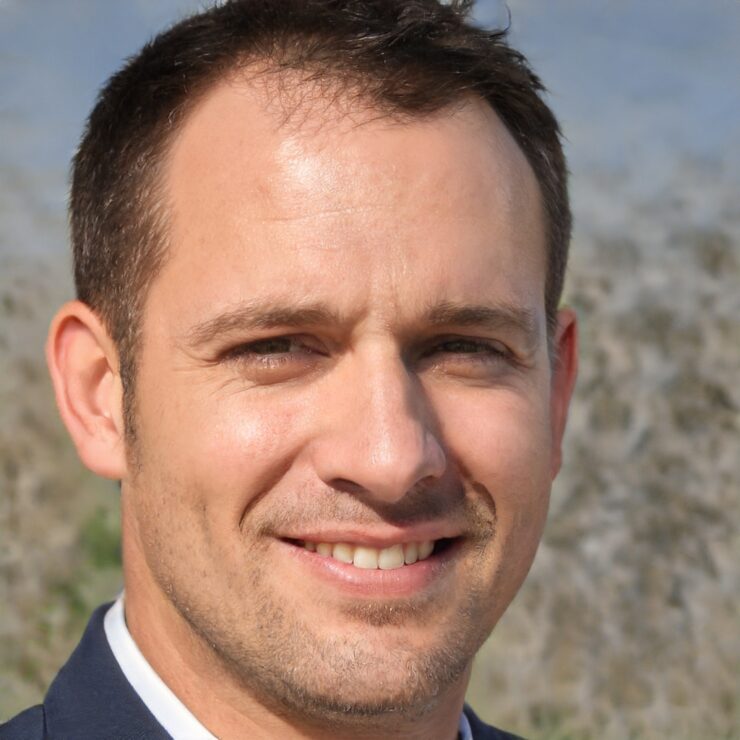 The outdoors is my playground 24/7, 365. Camping, hiking, mountain biking, grilling and all things related to the planet are my jam.