There is nothing like falling asleep outdoor in a tent or grilling steaks under the stars while having a chit chat with your loved ones. Cooking fresh food outdoor is a far more enjoyable vacations than a fully packed hotel room. I think camping and grilling are two activities that are glued together.
You can't imagine going camping without having a suitable grill with you.
Heading towards your favorite camping ground and looking for the best propane grill for camping? This review will clear up your mind about what is best for you.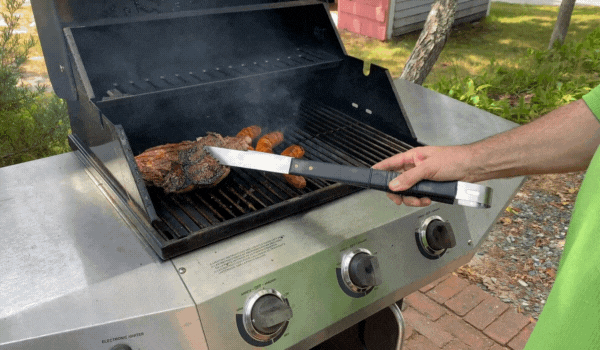 Factors to look for best propane grill for camping
Let's have a quick look at some points that must be considered before buying a grill, particularly for camping. For camping, a compact and lightweight grill would be a suitable choice. However, such grill might have less cooktop space. Grilling power and grilling area determine the time of grilling and the quantity of food to be grilled, respectively. Furthermore, you need to keep in mind, its fuel capacity and what kind of propane cylinders it can cope with and last but not the least, its price.
But not to worry this buying guide will identity all these factors, pros and cons so that you can make your mind as you desire. We managed to compile key features, pros and cons on the top 7 best propane grill for camping. Let's get you, the best propane grill for camping in no time all you need to do is have a look at below mentioned best products.
| Name | Weight | Grilling Power | Grilling Area | Ignition System | Key Comment |
| --- | --- | --- | --- | --- | --- |
| Coleman NXT Lite Table | 18 lbs | 8,500 BTU | 168 Sq inch | YES | Best Portable |
| Coleman RoadTrip LXE | 47 lbs | 20,000 BTU | 285 Sq inch | YES | Overall Best |
| Weber Q1000 | 26.6 lbs | 8,500 BTU | 189 Sq inch | YES | Premium Choice |
| Cuisinart CGG-180TB | 17 lbs | 5,500 BTU | 145 Sq inch | YES | Best Value & Portable |
| Smoke Hollow 205 | 20.4 lbs | 10,000 BTU | 206 Sq inch | YES | Best Table top |
| Cuisinart CGG-200B | 34 lbs | 12,000 BTU | 205 Sq inch | YES | Best Design |
| Coleman camp propane grill | 14 lbs | 12,000 BTU | 180 Sq inch | NO | Cheapest & Lightweight |
1. Coleman NXT Lite Table Top Propane Grill
Coleman understands the requirements of people; that is why diversity reflects in their products. Sometimes, people tend to observe solitude, which can do wonders for a man. Therefore, they created this model to the point, portable and lightweight, enough to carry one-handed. Just take a backpack bag on the back carry, this grill in one hand, you are good to go for some quality time in the wilderness. The lightweight body makes it the best choice for camping off the road where you can't carry other heavyweight grills.
Coleman NXT lite propane grill has an ignition button which takes no time to get the party started. It's a perfect grill to make a meal for at least two people, as having 168 sq in grilling space with 8500 BTU's of grill power. However, 8500 BTU's are more than enough for its grilling area that makes it perfect for windy weather. This product will not disappoint you in any weather condition. This property of having high grilling power presents difficulty for beginners as well. It gets too hot even at a low temperature, so need to be more cautious using it for the first time.
Moreover, it's easy to clean because of the removable oil tray which is installed in it. Just don't waste your time when you are looking for a portable, compact and lightweight propane grill, with a fair price.
Key Features
portable and compact design
Variety in grilling grates, grilling grate along with stove grate and griddle top
Ignition starts with a push of a button
Specifications
Brand: Coleman
Model: 2000014017
Weight: 18 pounds
2. Coleman RoadTrip LXE Portable Propane Grill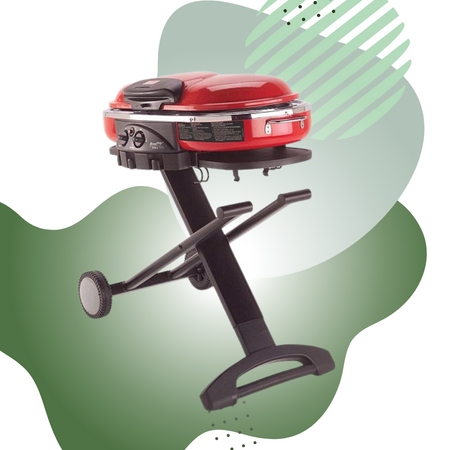 Coleman always comes to mind when you need to buy a household or outdoor cooking appliances. They produce some of the best portable grill available in the market. They always come up with an idea of stealing a top stop in the list. One of the keys to Coleman success is versatility in their products, which allure the range of buyers.
With a fair price, this propane grill has 20,000BTU grilling power spread across 285 sq inch grilling surface. If you are planning group camping, this grill will allow for grilling a hefty amount of food. This grill has an electronic ignition system in place, so no need for matches.
Some features that make it appealing to buyers are: It's come with interchangeable cooktop whether you want a grill grate, Griddle top or stove grate which Make this product versatile enough. Moreover, it has side trays where you can hold ingredients while cooking some steaks or hamburgers and a removable grease tray which adds up some points in favor of this product regarding easy cleaning.
This grill is attached with a 16.4oz propane cylinder with a flow control system which gives uniform pressure. Doesn't matter, it's your very first time, or you are a pro, Coleman RoadTrip LXE Portable Propane Grill will fit into your budget, space and power requirements. It is the overall best propane grill for camping considering its jaw-dropping features.
Key features
Lightweight and portable 
285 sq in grilling space
20,000BTU of power
compatible with 1lbs to 20 lbs propane cylinder
Foldable legs with wheels make it easy to maneuver and for storage
Specifications
Brand: Coleman
Model: 2000020937
Weight: 47 pounds
Burners: 2
Height: 37 inches
3. Weber Q1000 Liquid Propane Grill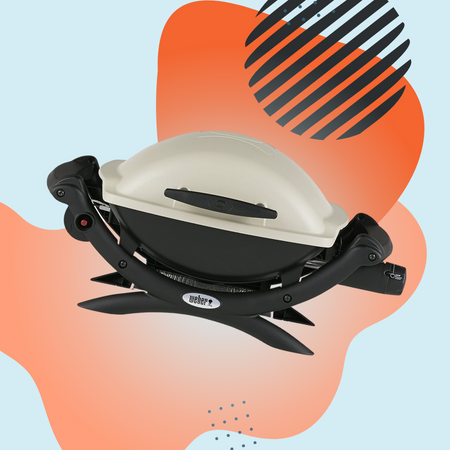 Weber and Coleman are two biggest rivals; competing with one another, toe to toe. In the end, both brands make it difficult to choose from. Weber Q100 is one best propane portable grill considering its compact design and durable quality.
Weber Q1000 has push-button ignition to get the party started in no time. But before you grill something requires 10 to 15 minutes of heating. Moving towards its grilling power, it has 8500 BTU's with 189 sq inch of cooktop space, which is one of the downfalls of this product. Weber Q 100 considered as having less grilling power per unit grilling space than any other in this list.
However, looking to the bright side, Weber Q1000 is unique in its elegant design, the top lid has better height, which makes it suitable for any kind of food to grill. Its height is 5.2 inches. Moreover, the top lid is compact, so nothing rattles around during grilling. Disposable propane cylinders of 14.1 or 16.4 can be used but need to buy them separately, but still, weber Q1000 is an excellent buy regarding its elegant design.
Weber Q1000 has nylon handles, which will remain cool while cooking and convenient to transport. But weber Q1000 doesn't have a foldable stand that makes the buyer buy a suitable table as well so as to adjust an appropriate height. This grill is perfect for mobile camping and a perfect tailgating companion as well.
Key features
Push-button ignition, no lighter required
Perfect for disposable cylinders but cylinders need to buy separately
Height of the lid is 5.2 inches, perfect for all kind of food
Porcelain-enameled cast-iron cooking grate
Specifications
Brand: Weber
Model: Q1000
Weight: 26.6 pounds
Burner: one
4. Cuisinart CGG-180TB Portable Tabletop Gas Grill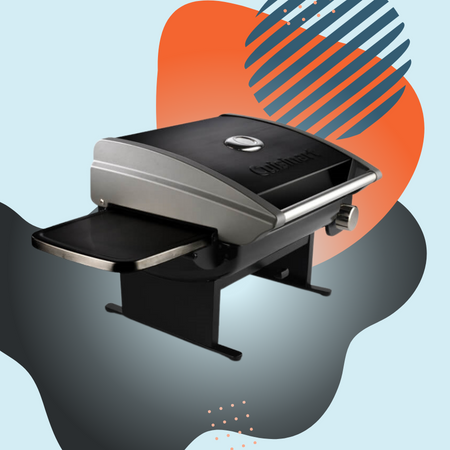 Cuisinart CCG another contender to rank in this list of best propane grill for camping. Cuisinart is well known for kitchen appliances; they do not disappoint making outdoor portable grills. One of the products which Cuisinart made is this particular grill.
The grilling power is just 5,500 BTU which is not the specification to be excited about, although 145 sq inch is enough cooktop space to grill enough food for 2 or 3 persons. This grill has foldable legs, which make it compact enough, but the legs are not very long. You need to have a proper table to set it on the table. However, another favor these legs can do is, they keep your grill at some height form table and prevent heating your ingredients on the table.
One twist away to start the grill, as it has a quick ignition button and has a temperature gauge that gives you control to maintain the optimum temperature required to grill perfect steaks as you like. Not the most lightweight on this list but weight is reasonable that you can carry it anywhere in the wilderness off the road. In the end, it is the best propane grill for camping regarding its lightweight and more importantly, its fair price. So, I call it the best value product.
Key feature:
Potable and small, perfect for camping, fishing; Perfect for boats, RVs 
Include a carry handle, easy to transport
Specifications
Brand: Cuisinart
Model: CGG-180TB
Weight: 17pounds
Burners: 1
5. Smoke Hollow 205 Propane Gas Grill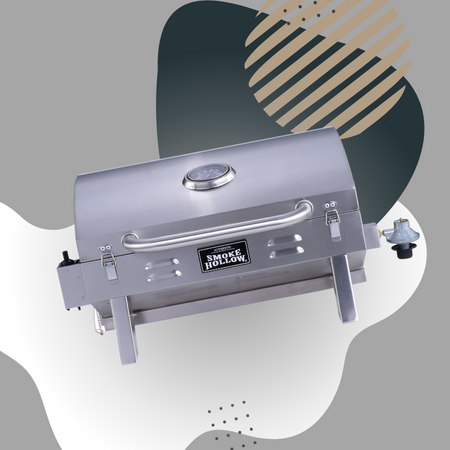 Planning camping in the woods or tailgating the grill that copes with both is Smoke Hollow's 205 model. This design comes with stainless steel foldable legs, open them, toss on the tailgate, you are good to go, or carry this to your favorite camping ground as it's lightweight.
This grill comes with a U-shape burner with 206 sq inch of cooktop space powered by 10,000 BTU of grilling power. Moreover, a unique feature that no other grills has in this list and a handy idea. It has a layer of a meshed tray over the cooktop so that it keeps your food warm until it's eaten while making a new batch of streaks or whatever you are grilling.
Apart from this great feature, it has a temperature gauge that gives you an instant reading of temperature and assists you in grilling at a specific temperature just as you like. Ignition is a push away. Easy to clean, as come with removable drip trays, you don't need to scrub for long.
What else, this product doesn't have, it is all in one package at a jaw-dropping price. Don't search around without having a look at this fantastic propane grill.
Key features
Disposable 1lb propane cylinders can be used, or need to buy an adapter for 20lb tank
U shaped burner means uniform cooking
Temperature gauge, gives you exact instant reading
Specifications
Brande: Smoke Hollow
Model:205
Weight:20.4 pounds
6. Cuisinart CGG-200B All Foods Tabletop Gas Grill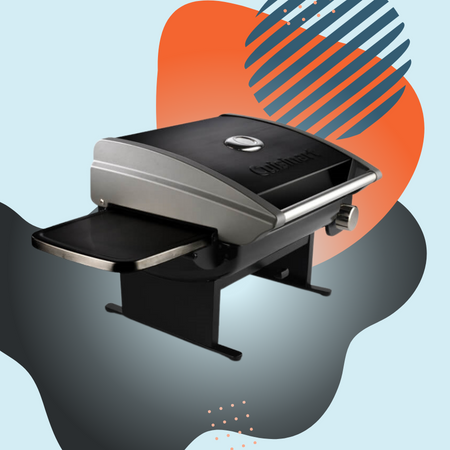 You will always find Cuisinart under your radar when you look for grilling products. Cuisinart presents another impressive product at a fair price. It has a temperature gauge that reads back accurate temperature. A twist igniter system to start 12,000 BTU of grilling power burner, spreading across 205 sq in grilling area make it a strong contender in this list.
One of the downfalls, this grill has U-shaped burner defectors which help in even distribution of heat. These are not very well for grilling with excessive dripping involved. When dripping happened, may clog a flame port or two. Moreover, don't have a grease management system of any kind.
Cuisinart CGG-200B is designed to run on 1 pound disposable tank. If you want more fuel capacity, it is compatible but needs to upgrade hose and adapter for a larger propane tank. Although it a best buy considering a cheaper option with reasonable features. Personally, I like its stylish design and color.
Key features
It has side trays where you can place your cooking ingredients
Compatible for larger tanks
One push ignition system
12,000 BTU grilling power with 205  sq inch cooktop space
Specifications
Brand: Cuisinart
Model: CGG200B
Weight:34 pounds
7. Coleman Camp Propane Grill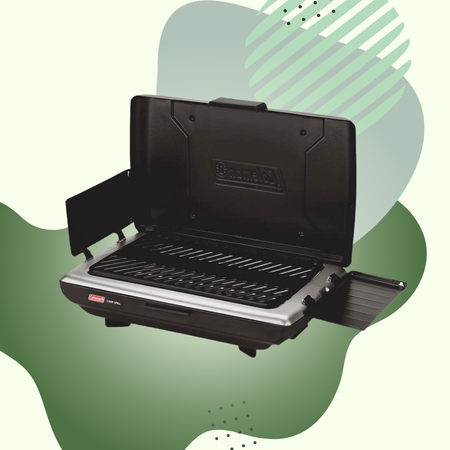 For camping deep into the wilderness, you need to carry a lot of items with you as a backpack bag, tent etc. In the meanwhile, if you are planning to grill there, you will think of a portable, lightweight and compact grill which can spice your camping adventure. This product is exactly what you seek while camping.
The burners of Coleman camp propane grill deliver 12,000 BTU of heat. While, it has 180 sq inch of grilling area, which is impressive thinking of its dimensions. Moreover, it is very efficient regarding fuel consumption.
The unique feature that other models don't have and make it ideal for outdoor activities in windy conditions. It has wind block panels which not only block the wind but can be used as side trays that provide space for preparing meals.
This grill is made of stainless steel; you don't need to worry about rusting. This grill can work for at least 2 hours when connected with 16.4oz of 1 lb of a propane cylinder. It is cheapest in this list so considering your low budget its is one best propane grill for camping.
Key features
Wind block panels
Best for outdoor camping
Good fuel efficiency
12,000 BTU grilling power for 180 sq inches of cooktop area
Specifications
Brand: Coleman
Model: 2000020930
Weight: 14 pounds
All the above products are great with their own scene. The only difference is your choice; you need to choose according to your need. I'm sure you can find a suitable grill from the above list that falls into your criteria. Moreover, If you want to know the factors to consider before buying a grill. Please scroll down to look for a comprehensive guide to buy the best propane grill for camping.
Also, check out some other models available on the market:
What to look for when choosing the best propane grill for camping?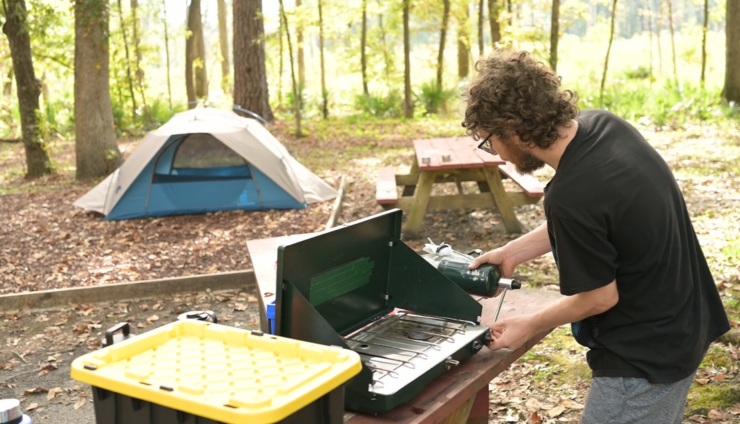 When you are looking to buy a grill for camping or replacing an old one, you need to ask yourself several questions such as
Where you want to use the grill the most?
Car camping, RV, backyard, tailgating, camping in woods or grill that can cope anywhere.
What kind of food do you want to cook?
Steaks, smoked chicken, burgers.
How many people do you intend to cook for?
Are you camping alone or a group of people, which is vital as you need to consider the grilling area first before buying any grill.
Where you intend to store the grill?
Whether your storage space is limited or doesn't matter, which will decide whether to choose a compact grill or not.
Once you asked yourself these questions, I'm pretty sure you would have clear thoughts on what specification you want to have in your grill that you intend to buy.
How To Choose Best Propane Grill For Camping – Buying Guide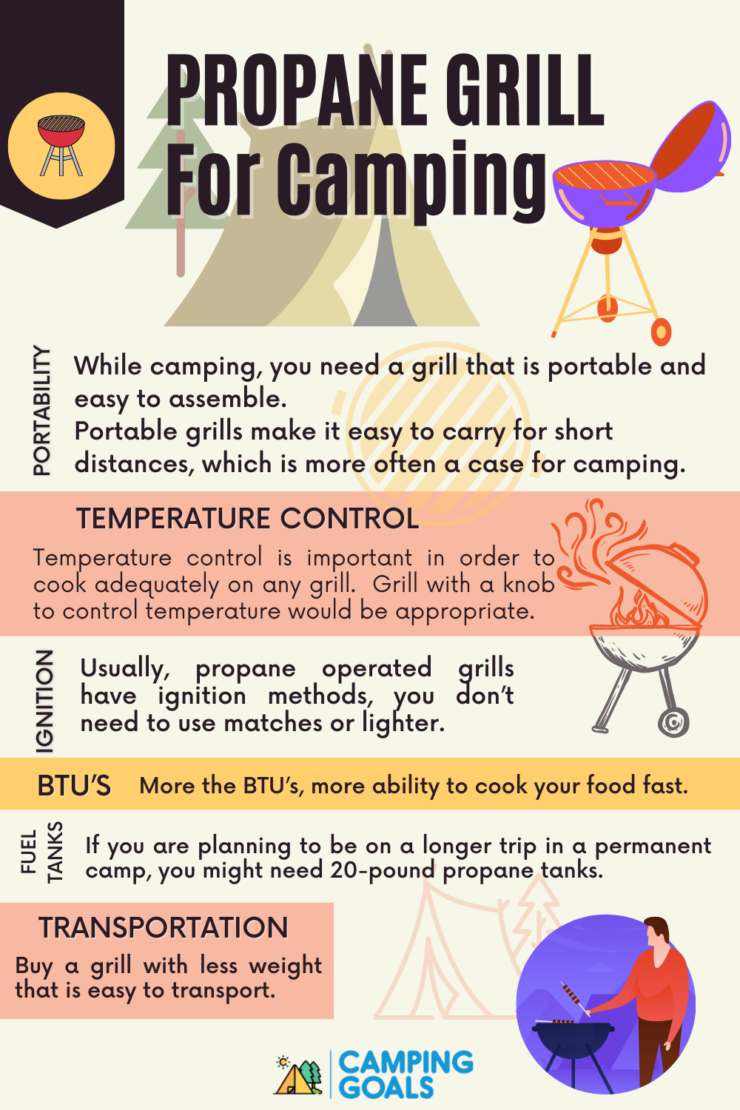 Moreover, I'm going to explain each factor you need to consider while buying the best propane grill for camping:
Portability
The essential factor to think of when you want a grill, especially for camping. While camping, you need a grill that is portable and easy to assemble. Simply grills which are more compact, so that occupy less space as possible. Portable grills make it easy to carry for short distances, which is more often a case for camping.
Temperature control
The most significant feature that makes propane grills superior to charcoal grill is the ease of temperature control. Temperature control is important in order to cook adequately on any grill. You need to maintain a fixed temperature so as to avoid burning the food and cook evenly. So, a grill with a knob to control temperature would be appropriate. Otherwise, why not choose a charcoal grill which is cheaper than a propane grill.
BTU's and surface area
BTU's is a British thermal unit defined as the amount of heat required to raise one pound of water to 1 degree Fahrenheit. BTU determines the output of gas that will heat your grill. It is grilling power; more the BTU's, more ability to cook your food fast. But it's not always true unless you consider the surface area as well. BTU'S per unit area give you true estimation.
Note: Rough estimation for a family, 150-180 sq inches of grilling area would be enough. However, if you are planning a party with more than four people, look for grills that have at least a surface area of 200 sq inches.
Ignition
Usually, propane operated grills have ignition methods, you don't need to use matches or lighter. The ignition method is also a key point over a charcoal grill. However, ensure the ignition method is in place before buying just for your convenience. We want you to have the best as we care about you.
Lightweight and easy to Transportation
Usually, people like to camp in remote areas, far from roads and cities to enjoy true nature. So, particularly for camping, you need to consider the weight of the grill seriously. To make your hike convenient, try to buy a grill with less weight that is easy to transport.
Fuel tanks
If you are using propane grills, it is obvious to have propane cylinders with you. Some of the grills have a disposable one-pound tank with grill some don't so make sure before buying.
If you are planning to be on a longer trip in a permanent camp, you might need 20-pound propane tanks. So you need to look into grills' feature whether it is compatible with bigger tanks or not, if not what you might need to make it compatible.
Frequently Asked Questions
1. How should I start a portable propane grill?
These grills are typically very easy to start. After you connect propane, turn on the burners. Some models have electronic ignition, in which case all you need to do is push the button, which will ignite the gas. For grills that do not have this specific feature, you will require some extra-long matches or a match holder to ignite the propane and get your grilling session started.
2. Is there a specific way to clean a propane grill?
The process of cleaning a propane grill is pretty straightforward, and it is not any different than cleaning any full-size gas grill. After you are done cooking, allow the grill to cool off a bit, then proceed to brush grease and food pieces off the grates with a grill brush. You will likely need to clean the interior of the grill and empty and dispose of the grease tray, which is usually located at the bottom of the unit.
3. Are portable propane grills suitable for indoor use?
No, these grills are not intended for indoor use. They require open air and lots of ventilation since they can give off carbon monoxide. If you want something to cook inside, look for indoor grills, which are generally electric.
4. Should I use a propane grill on a windy day?
Absolutely. Propane and electric grills are your best option to go for when grilling in windy conditions. These models are durable and freestanding, which makes them suitable for enduring any weather conditions.
5. How long should I preheat a propane grill?
When you are using a propane grill, it is best to preheat it to at least 500 degrees Fahrenheit. This is fairly simple and will take between 10 or 15 minutes of your time before you start cooking.
6. What can you cook on a propane grill?
There is a wide variety of meals you can prepare on these grills. Of course, when you think about propane grill, you instantly think of hamburgers, hot dogs, and summer barbecues. Essentially you can cook everything that you can on other grill types.
Final Words
All that now stands between portable grilling and you is your choice of brand and specific features in the grill. The most important thing is that you do not have to stay home to make delicious grilled meals, and with the products we have chosen, you will certainly find an ideal pick.
Read Also: Best Smokers for Beginners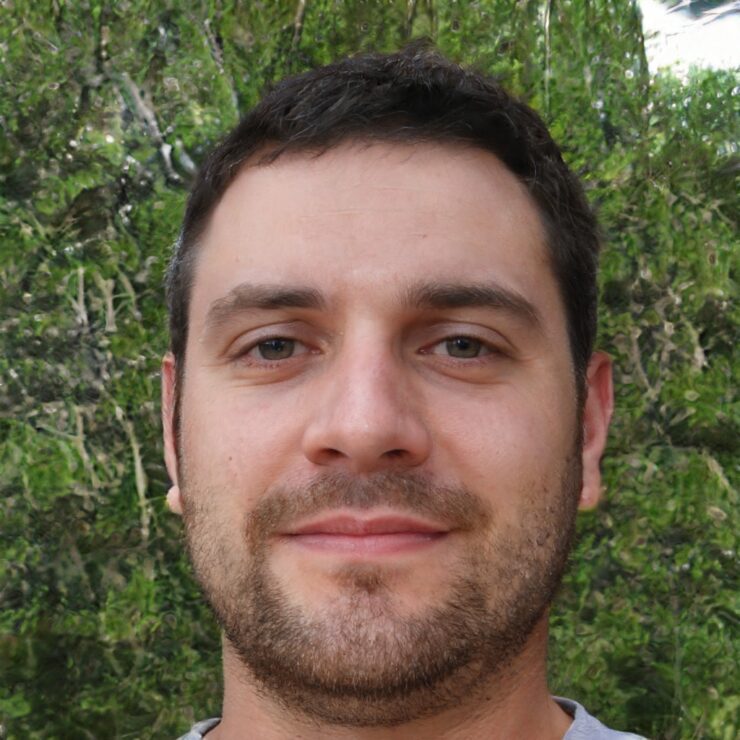 I love camping! There's nothing like being in nature, getting away from the hustle and bustle of everyday life.