If you like eating meat, but you also like preparing it, maybe it's time to get yourself a smoker that can help you explore making all kinds of delicious meals incorporating your favorite flavors into each bite.
To do that, the first thing you'll need (besides the meat, of course) is a good smoker that will not only make the process easy for you but will also help you enjoy preparing the food and have some fun while doing it.
Top Picks
Here are some of the best smokers available in 2023. Read our in-depth review and make a perfect choice for your first journey.
1. Masterbuilt MB20070210 Analog Electric Smoker with 3 Smoking Racks, 30 inches, Black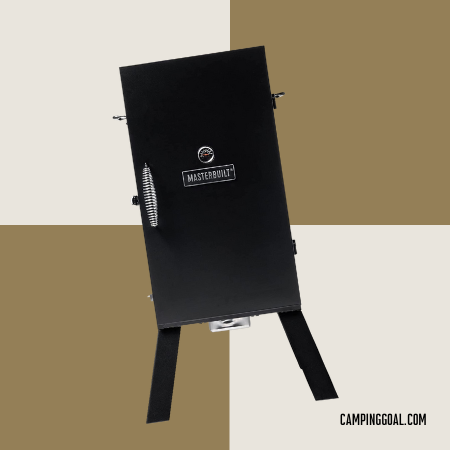 For someone new to smoking meat, an electric smoker is a way to go because it is easy to use and it will get you good results. All you have to do is plug it in and you have a working smoker, AND for a good price. This Masterbuilt analog electric smoker has a knob to set the temperature, so you can sit and relax while your meat is getting prepared.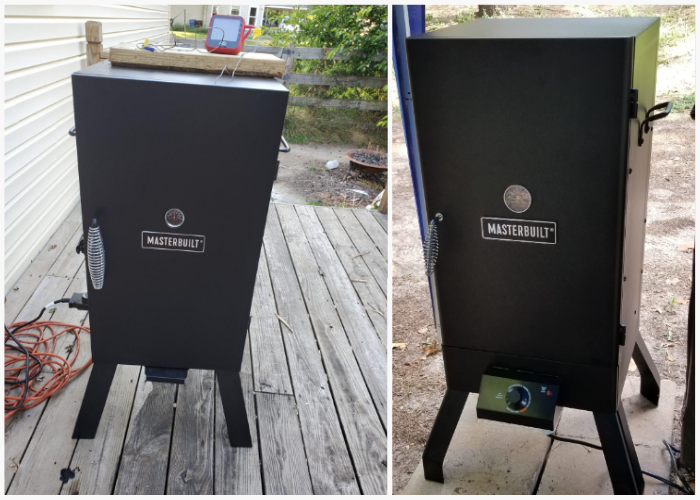 Electric smokers usually don't give you as much smoke in the flavor of the meat as some other types of smokers, but this particular model has a wood chip tray that will help your meat absorb some of that delicious scent. With a Masterbuilt 30″ analog electric smoker, you get good insulation, and its 3 chrome-coated smoking racks will provide you with enough space to fit, for example, two turkeys or three whole chickens!
2. Weber 18-inch Smokey Mountain Cooker, Charcoal Smoker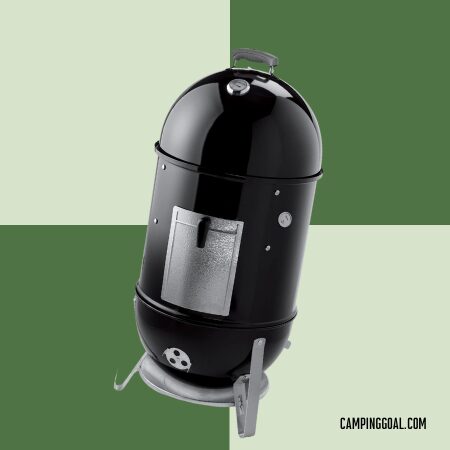 The Webber brand has been around since the 1950s, so it is safe to say they have a good reputation. You can't go wrong with this one. It has an affordable price, but it is built to last, and it is easy to use, so as a beginner, this just might be the right choice for your first smoker.
Weber 18-inch Smokey Mountain Cooker uses charcoal, so it gives you a specific smokey flavor at quite an affordable price.
This 18″ smoker will give you enough space to fit an entire ham AND some other large piece of meat. It comes with two nickel-plated grates. If this is too much for a beginner, the Webber brand also makes a 14″ model, or if your smoking needs are bigger, you can get a 22″ one.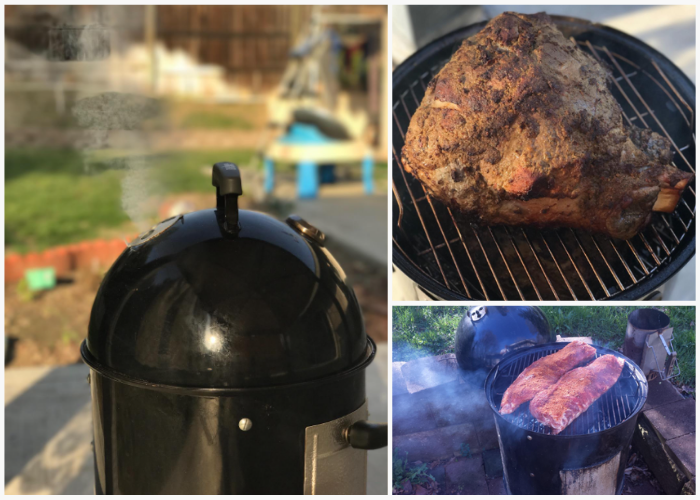 A heat-resistant handle will make it easy to use. Porcelain-enameled construction makes this smoker good at retaining heat. It comes with a water pan that helps you control the temperature that you can also monitor by a thermometer placed on the top lid, along with dampers that are easy to adjust – for precise heat control.
If you pick up the handle, it will open the vent on the lid and help you regulate the heat within the smoker. Opening the vents helps you increase the heat, and closing them, will decrease it.
Check out this video and find out how to use this smoker and all its features:
The cylinder (or "drum") design, slim profile, and rust-resistant metal legs make this smoker easy to place in any part of your backyard or carry it with you anywhere you want.
Another great thing about this smoker is easy cleaning! For your smoker to last long, give it a nice cleaning once a year. Just remove the grates and the ashes, clean it with a detergent and water and wipe it dry. Of course, it is not necessary to do this after each use – cleaning your grates with a grill brush and paper towel will do the trick.
Don't miss our article on tips & techniques when using a charcoal grill for the first time.
3. Z GRILLS ZPG-450A 2023 Upgrade Wood Pellet Grill & Smoker 6 in 1 BBQ Grill Auto Temperature Control, 450 Sq in Bronze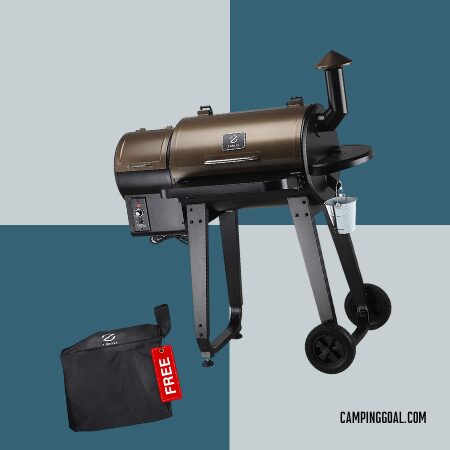 As opposed to electric or propane smokers, this wood and pellet unit will give you much more of that wood fire flavor, but with the same ease while using it. This is a pretty straight-forward pellet grill, so it is very easy to operate, even for beginners, since it has an electronic auto-start. The temperature control is digital, with a real-time LED display.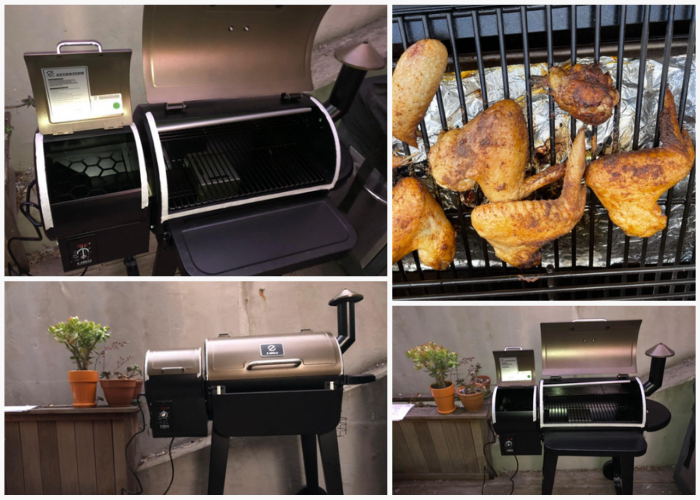 Once you set the temperature, the unit will automatically add a pellet as needed to regulate the heat, you can just sit and relax. Your food will be cooked evenly, with an offset of just 20 degrees.
Since this is an all-in-one model, you can also bbq, roast, grill, bake, braise, sear, and char-grill in this 452 sq. in cooking space with 2 cooking racks, in 180° to 450° F temperature range. If you wrap the grease tray with foil, you will have no trouble cleaning it in no time.
Watch the following video for a customer's review:
The design of this smoker is appealing, with the stainless steel look, wheels that will help you move it around your back yard, and the rack for storing some accessories you might need.
4. Masterbuilt MPS 230S Propane Smoker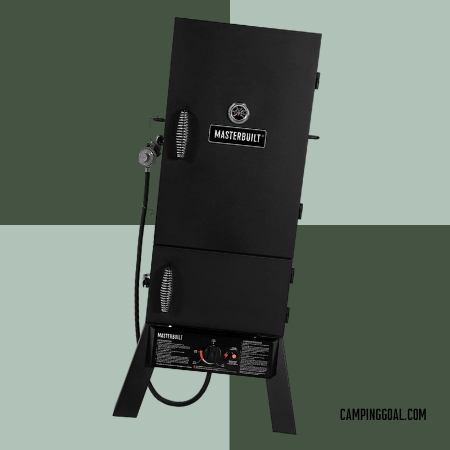 Another Masterbuilt unit that can be used with no trouble at all. This propane-fueled unit is easy to use – all you need is a propane tank. Just push the ignition button to light the burners, and you are good to go!
It comes with 4 racks, which gives you enough capacity to smoke a lot of meat. The temperature controls give a solid overview of the heat. However, it does not come with a regulator for the propane tank, but you can get one in any supplies store.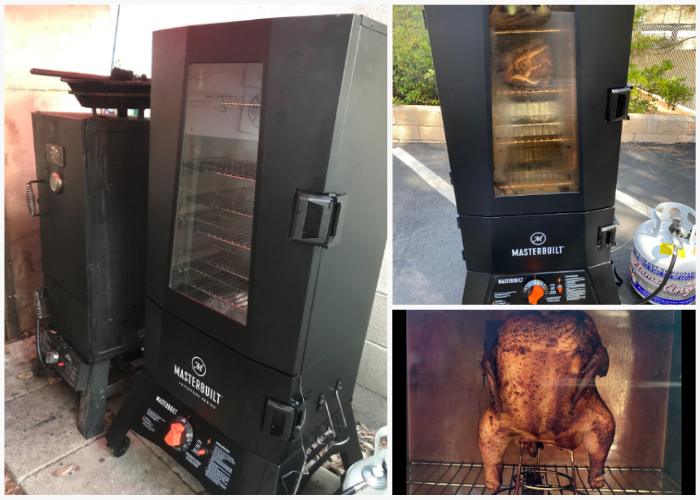 The removable water bowl and air dampers add moisture and flavor to your food, but like with electric smokers, you will not get a lot of smoky flavors since it does not use real fire as fuel. It does contain a wood chip tray for some of that experience.
5. Royal Gourmet BBQ Charcoal Grill and Offset Smoker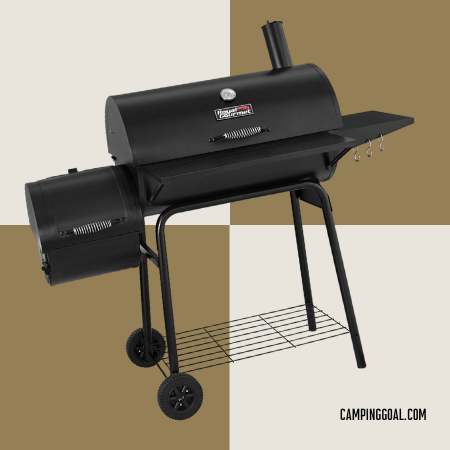 Offset smokers might not be the best choice for beginners since they are not easy to use as some of the other types of smokers we described. However, it could not be left out of this list, because offset smokers DO get you the most of the wood fire flavor, that is the main reason we use smokers, right?
Because of its low price, this traditional charcoal grill with offset smoker combination is a great model to buy if you want to see if offset smokers are a real deal for you.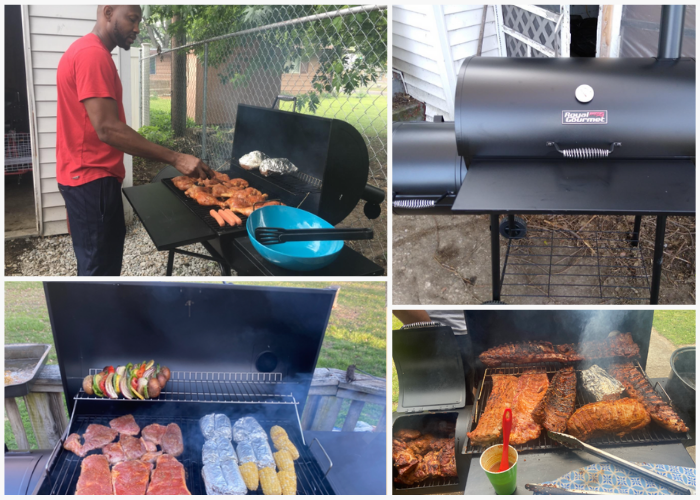 800 sq inches total cooking surface is one of the great features this unit has to offer. If you want to adjust the fire pan, you can just simply lift the handles to the desired distance to control the amount of heat.
If you are into camping, this model is great for you – it comes with wheels that help you move it around as needed.
Buyer's Guide – What to Look for When Buying a Smoker?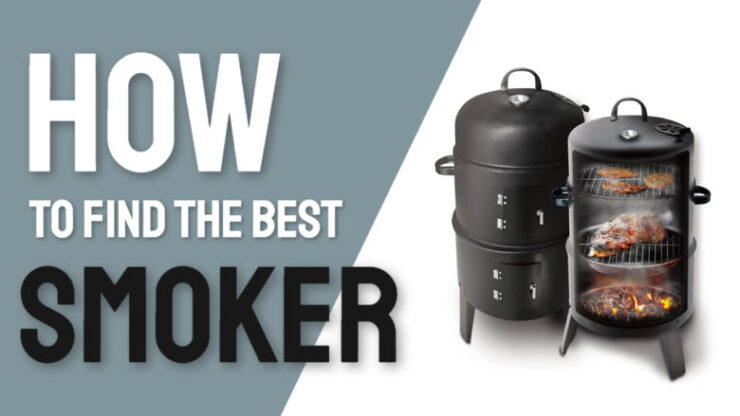 Fuel Type
As mentioned before, different types of smokers use different types of power sources. This just might be the thing that decides what kind of smoker you should get.
1. Electric smokers
If you are new to the art of smoking meat, this just might be the way to go. Using an electric smoker, all you have to do is plug it in, add little wood chips, set the temperature and you are good to go. Piece of cake, right? These types of smokers are great for maintaining temperatures, but a fair warning- you won't get that "Smokey" taste that a real fire would give you.
2. Propane smokers
Propane (gas) smokers look similar to electric smokers. The difference is that they use propane tanks as a heat source. Gas smokers DO give you a better smoky flavor compared to the electric ones but are not quite easy to use when it comes to controlling the temperature.
If you decide to go with the one in the lower price range, your smoker will probably have some kind of high/low dials that control the gas flow, and not a specific number scale that shows you the exact temperature.
Read Also: Best Propane Grills For Camping & Travel
3. Pellet smokers
Pellet smokers are also really easy to use because they can keep a constant temperature – burning wood pellets as needed. You can enjoy a nice conversation with your friends while also preparing them a nice meal, not worrying about the temperature all the time, and as they can sometimes go up to 500 degrees F, you can use them as a classic grill.
If you like that "smoke" flavor, a pellet smoker is a good way to get it, although not quite like with the smokers that use real fire.
4. Charcoal smokers
If you do prefer a heavy, deep flavor that real smoke gets you, a charcoal smoker is a way to go. Shaped like vertical cylinders, these smokers have the heat source below your food, combining charcoal and wood to cook your meat.
The catch with charcoal smokers is that you will have to control the temperature on your own, but with a little practice, you can master this craft.
Don't Miss: Best Charcoal Grills For Steaks
5. Offset Smokers
Offset smokers use real wood fire. The wood is placed on the side of the chamber, therefore the name "offset". These smokers provide the smokiest flavor.
The downside is that controlling the temperature can be quite hard, as it depends on the fire. Also, the price of this kind of smoker can be high, so this can make you change your mind about smoking meat in the first place.
Here are some other types of BBQ smokers.

Temperature
When choosing a smoker that is just right for you, always keep in mind that you should know what kind of food you want to prepare. Some food is best prepared at high temperatures for short periods, while other kinds of food need a longer cooking time on low heat.
It is important to know how easy it is to control the temperature, how long it takes to heat up, how hot the grill will get, to know what type of smoker do you need.
Taste
We can all agree that flavor is the most important thing to focus on while preparing food. Therefore, if you crave that smoky BBQ flavor, a charcoal smoker might be the best choice for beginners, as it is fairly easy to use, and gives you just that – a smoky taste in each bite.
Safety
Playing with fire is never safe, so it is normal to think about what kind of smoker is the safest for you to use. When using offset smokers, you should be aware that they use real firewoods that can be dangerous if not properly contained. Gas smokers are the biggest safety hazards, as propane is extremely flammable and it CAN explode if not used right.
Size and Portability
There are different kinds of smokers regarding size, so think about your needs. If you want to cook small amounts of meat, a smoker with one or two grill burners will satisfy your needs. However, if you plan on smoking an entire turkey, for example, or a whole ham, smokers with multiple grill burners are more to your liking.
One more thing to consider is the location – where will you keep your smoker? While electric smokers can only be used near a power outlet, some other kinds like propane smokers can use a portable gas tank.
Charcoal, pellet, and offset smokers can be used anywhere, as they use types of fuels that can be transported anywhere. Also, you should check the weight of the smoker if you plan on using it away from home, like on camping trips.
Take a look at this infographic for more information on how to choose the best smoker for your needs:

Maintenance
How much time and effort are you willing to invest in cleaning your smoker should be one of the factors while deciding what kind of smoker to get. Unlike charcoal smokers that need careful cleaning after each use, gas and electric smokers are much easier to maintain. They do still need some basic cleaning – after all, you did use it to prepare food.
Price
Your budget might be defining the kind of smoker you will get. The market offers a variety of different kinds of brands and models, so you should be able the find the one that is just right for you in every aspect. A lower price can mean that your smoker will not last long – you might even have to replace it within a short period like just one year.
Smokers that cost anywhere from $150 to $400 will probably get you what you need, and there are a lot of models in that price range you can choose from. Although you can buy a smoker that costs up to 2000 dollars, for beginners, it is probably best to stay in that middle price range of 100-400 dollars.
You should also consider what type of fuel does your smoker use, and the accessories you will need, as it can all mean additional costs.
FAQ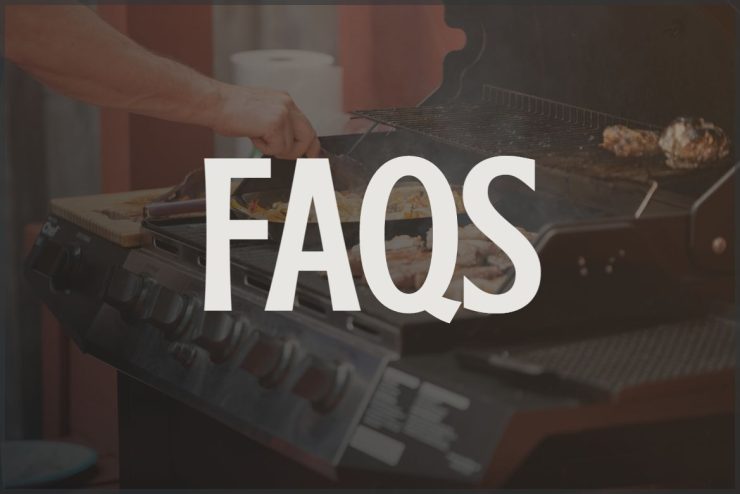 1. Is it worth buying a smoker?
The answer to this question depends on your preferences. If you enjoy preparing your meat slowly and having that specific smoke flavor and tender texture, then smoker is a way to go. If not, a grill might be enough for you.
2. What can you do with a smoker?
Well, first of all – MEAT MEAT MEAT! You can smoke bacon, ham, turkey, prime ribs… You name it! It can also be used to prepare smoked fish, like lobster tails or salmon, but some people even use it to make smoked mac and cheese, olives, nuts, or eggs. Your imagination is the limit.
3. What is the easiest thing to smoke?
This is also a question of many answers. Any meat can be thrown onto a smoker; you just have to know the basics of smoking. Consider the wood you want to use, the amount of time you have to do it, how much fat the meat has, and what do you want it to taste like.
Beginners can choose beef, as there are many beef cuts to choose from. Chuck roast is a great option, not as expensive as brisket and with enough fat to give you a great flavor. Spare ribs are a good option for a first-timer because they do not take a long time to cook, and you can add a great sauce or dry rub to enhance the flavor.
4. What are the benefits of smoking meat?
First of all, a smoker will provide you with a unique meat flavor that you cannot get in the kitchen. It can also make the toughest cuts of meat very tender and soft.
The meat that goes into the smoker is usually the cheapest, so you can prepare a meal for a lot of people with a small budget.
5. Which Wood Chips Should I Use for Smoking Meat?
As you progress in the art of meat smoking, you will learn more about what kind of wood chips do you need. Of course, there are a lot of options you can explore, and they will all give you different smoke and flavor levels.
Common wood chip flavors are cherry, peach, maple, hickory, oak pecan… Avoid trees that are high in resin like spruce, redwood, fir, pine, amber, cypress, elm, etc.
Conclusion
At the end of the day, as a beginner, you could choose some kind of cheaper model for your first time smoking experience, and as you go along with this journey and become a true master of family cookouts, you will learn more about your smoker needs and what kind of upgrade do you want. Let's not forget – it's all about the fun and enjoyment!
Before you go, take a look at some other models available on Amazon:
References:
https://www.foodnetwork.com/grilling/grilling-central-barbecue/articles/how-to-smoke-meat
https://www.simplyrecipes.com/recipes/how_to_turn_your_kettle_grill_into_a_smoker/
https://www.theguardian.com/lifeandstyle/2014/may/09/how-turn-barbecue-home-smoker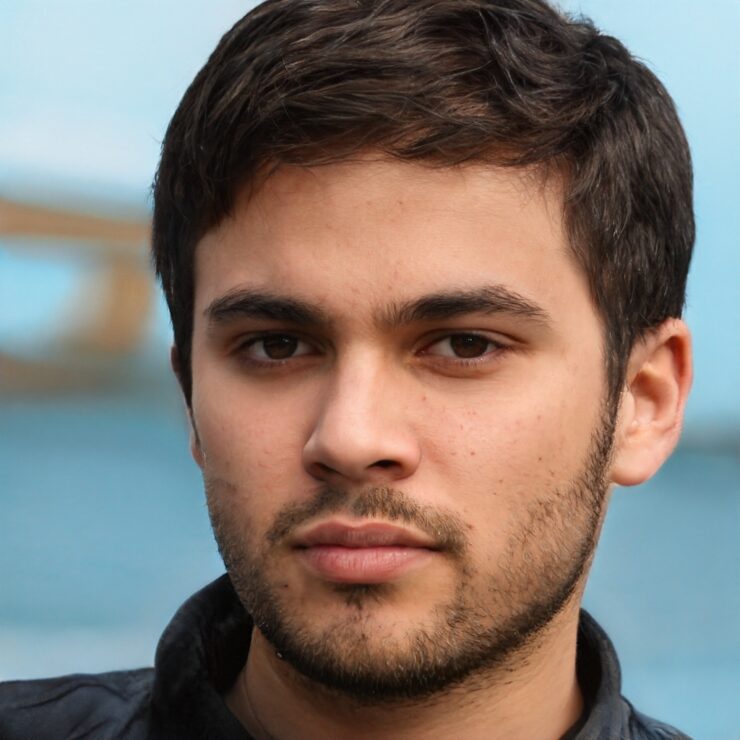 I love to explore the outdoors, cook over a campfire and pitch a tent. I want to share my adventures with you by writing articles, taking pictures, and sharing videos.