Do you remember when you were plunged to take only the container food and dry snacks on your camping trip? And that because of no storage or the food decays due to heat?
Gone are the days when you had to fret about the spoiling of food because of no refrigerators during camping. We have brought up the best camping refrigerators for year-round camping no matter what season and area you tour.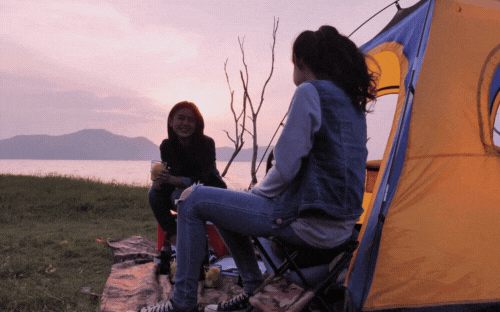 Moreover, these movable refrigerators are a great choice as a substitute for traditional coolers, which make your food soggy and wet as soon as the ice melts. There are numerous models accessible in these portable fridges.
Some operate on a 12-volt electrical system of a car, others work with solar panels, and many of them can be plugged into the electric sockets available at your camping location. We're disclosing the seven best camping refrigerators that can be used for year-round camping.
Best Portable Fridge for Year-Round Camping – Top Picks
Check out these seven best camping refrigerators that will serve you efficiently in your year-round camping with the necessary cooling facilities. They will provide you with all of the things you demand in your portable refrigerators.
1. Dometic CFX3 Portable Refrigerator and Freezer – Best Portable Refrigerator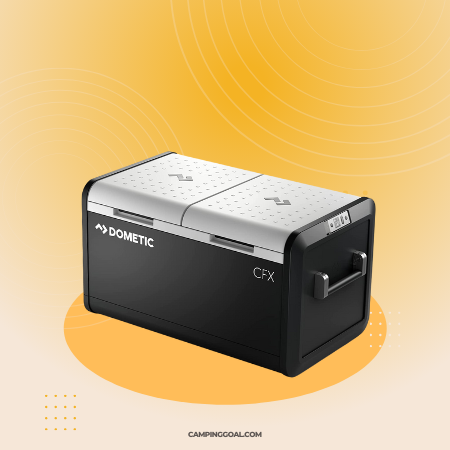 With no compromise overcapacity and storage, this Dometic CFX3 Portable Refrigerator and Freezer will provide you with an immense amount of storage for your food and bottles. Focusing on the outer of the refrigerator, the ExoFrame construction makes it robust enough to handle outdoor environmental conditions. Due to its rigid and sturdy components, you can take it to any road campings or summer outings.
There is an evaporator located inside the refrigerator, which is extended on all four inner walls of the machine. This refrigerator setting is responsible for providing even distribution of the cool air to keep all of your food cool. Furthermore, there is no dairy compartment in the refrigerator which increases the available space to store more food. The Colour display monitor makes it easier for you to see the temperature inside.
Additionally, the wire divider present inside the refrigerator is removable, and you can amend the space according to your need. With only 48 pounds of weight, this refrigerator is easy to carry and move. Ample storage of approximately 50 to 55 cans of cold drinks makes it ideal for long holidays camping.
The optimum temperature of minus 7 degrees Fahrenheit can easily be achieved with this refrigerator. Bluetooth and Wi-Fi connectivity can be used to control the temperature.
Pros
Lightweight
Heavy-duty construction
Large storage
Dometic CFX3 Portable Refrigerator and Freezer is an ideal refrigerator for longer camping trips. It has an immense amount of storage, allowing you to cool foods and water up to minus 7 degrees Fahrenheit. Furthermore, the robust construction makes the refrigerator long-lasting and efficient.
2. Engel MR040F-U1 40 Qt AC/DC Portable Tri-Voltage Fridge/Freezer – Best AD/DC Portable Camping Fridge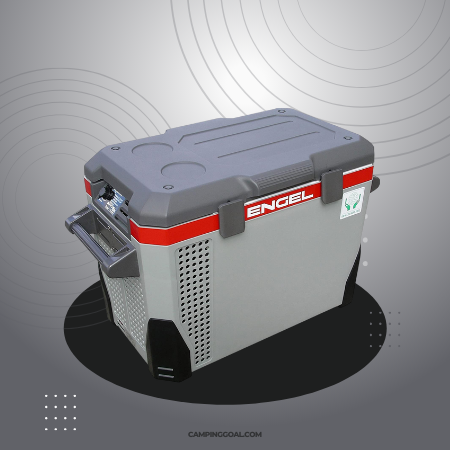 This is the most reliable refrigerator on the list. It is an AC and DC compatible refrigerator that operates on 220 volts or 110 volts of AC power and 24 volt or 12 volts of DC power. This product comes with both AC and DC power cables. Superb in durability and rigidness, this appliance is constructed with solid construction materials making it high in durability and longevity.
Extremely efficient Engel Swing Motor Compressor minimises the Amperes usage to only one or two Amperes per hour. This makes this refrigerator unique as it uses less than 40% Amperes as compared to other refrigerators. There is a wire basket available inside a refrigerator to increase the storage capacity. This helps you in storing things separately and differentiate if you have to store more than one item.
The compressor does not make any noise while operating because it is the quietest one among all. Furthermore, the refrigerator is also vibration resistant as compared to others.
There are removable handles present with mounting screws to help you remove and attach as per your requirement.
At the same time, the AC and DC power selection is automatic and ensures the efficient performance of the refrigerator.
Pros
Quietest in working
AC and DC power
Highly reliable
This portable refrigerator is the most reliable on the list with both AC and DC cables. This refrigerator is the quietest one and does not make any noise. Furthermore, there is a wire basket inside the refrigerator to enhance the storage if needed.
3. ARB 73 Qts Dual Zone Portable Fridge Freezer – Best Portable Refrigerator For Camping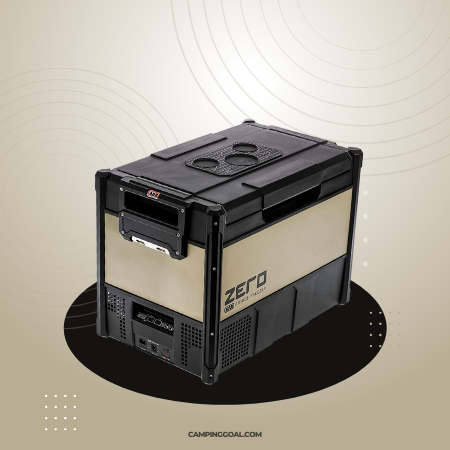 This consists of both fridge and freezer compartments with different temperatures to ensure you can put the things independently. It is designed by keeping in mind the ease of the user during camping. Furthermore, this ARB 73 Qts Dual Zone Portable Fridge Freezer contains different setups to ensure more functioning and convenience.
It consists of inlets for DC power cable located at front and back. There is an AC power which is located on the front for accessible connection. Furthermore, anti-slip and quick release lids make the pouring of the water easier for the user. There is a divider inside this dual fridge/freezer, which is removable to make sure you can make both compartments one or independent of each other.
Both compartments are independent in controls and functioning. Wireless controls and monitoring are made possible with the availability of Bluetooth connections. Moreover, the outer case of this product is made of stainless steel, which makes it durable and robust with all four corners for protection.
Pros
Independently controlled compartments
Bluetooth compatible controls
Strong construction
Cons
Bad quality temperature display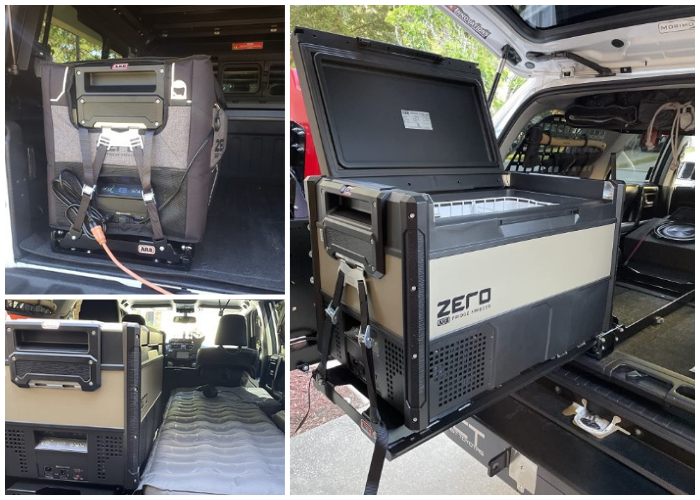 The most reliable, highly efficient, and Bluetooth compatible fridge freezer is an outstanding piece of machinery that you can take to your camping sites. It is made up of solid construction with the presence of independently controlled compartments. The convenience of the user is kept in mind while constructing it.
4. Aspenora 54-Quart Portable Fridge Freezer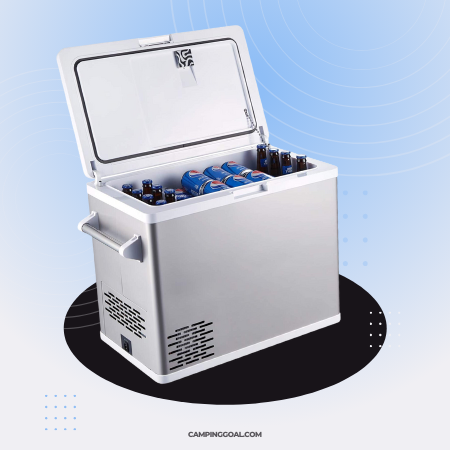 Aspenora 54-Quart Portable Fridge Freezer is made for you if you are searching for a long-lasting, durable product. This is the strongest and sturdy product on this list which is easily portable and consistent in long-lasting, efficient performance.
I will recommend you to get this product if you are looking for week-long camping trips.
Furthermore, the product is easier to carry because of removable handles, making it easier to put in the car and save space.
The outer of the refrigerator is constructed with aluminium alloy making the fridge more compatible and efficient in performance. You can keep your food at a cool temperature within this fridge for ten continuous hours even if there is no power supply. This is made possible because of the presence of 1.57 inches thick insulation inside the refrigerator.
No matter how many members are travelling with you, you can store many food and bottles in the fridge as it has vast storage capacity and space inside. The aluminium outer is dust resistant which makes it repel dust and convenient to maintain cleanliness. Furthermore, you can effortlessly clean the interior of the freezer because of the presence of a drain plug.
Pros
Easy to maintain
Strong aluminium outer
Vast capacity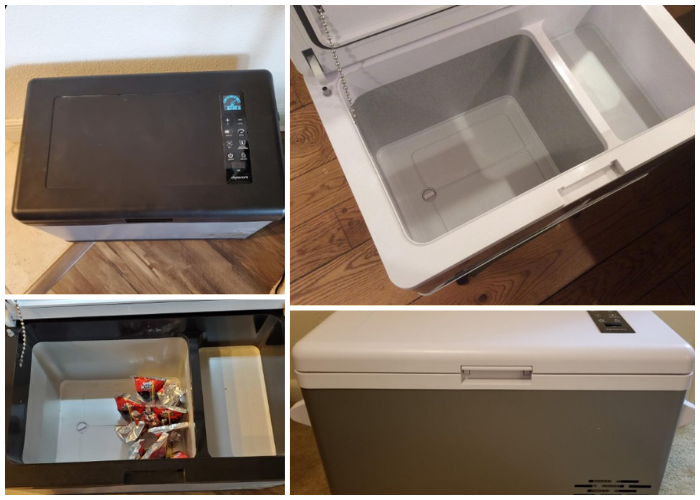 This is another refrigerator in the list which is portable and efficient in functioning. It is made up of aluminium alloy, which makes it strong and easier to maintain. The vast capacity allows you to store large amounts of food without any hustle.
5. Alpicool C15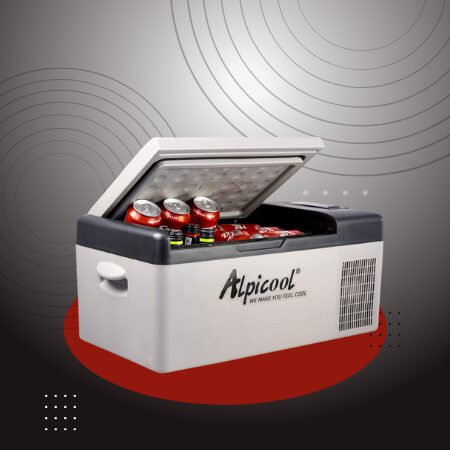 This is a dual function refrigerator which can be a fridge and freezer according to the need. The lowest temperature which is achieved is -4 degrees Fahrenheit, making it ideal for longer camping weeks.
The settings and controls of the refrigerator are made more accessible with the simple LCD control panel located on the top right side of the fridge. This makes the adjustments of temperature control and battery more convenient. The sealing property of the freezer is made possible with thick insulation, responsible for locking the cool temperature inside and keeping your food fresh for longer.
Furthermore, the fridge keeps on cool for ten long hours even if the supply is dropped. The benefits are not finished yet. You would be pleased after knowing that this strong and tough refrigerator is an anti-shake in nature which makes it reliable and efficient on rough and challenging roads.
This product will not annoy you with its buzz sound, as it works on less than 45 dB, which will not disturb your peace and comfort. Going into the details, I would like to tell you that with various levels of battery protection, this refrigerator makes sure that your vehicle's battery is not affected badly. This is overall an efficient refrigerator with lightweight and portable abilities.
Pros
Freezing without making of ice
Battery protection of car
Anti-shake ability
Cons
Inaccurate temperature display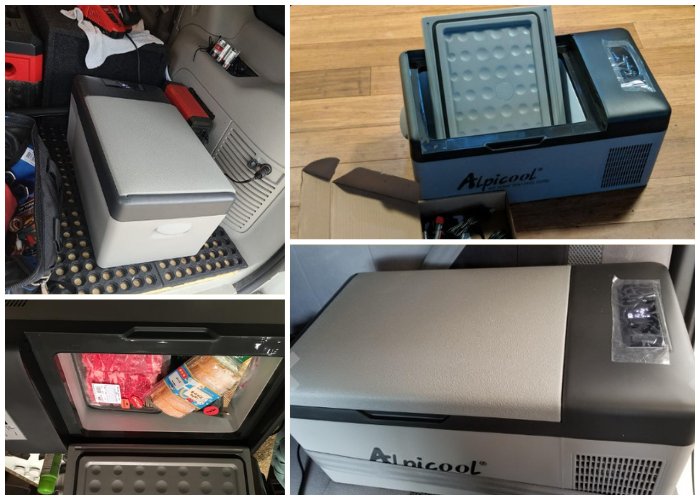 This is a highly affordable but compact refrigerator on the list. It is ideal for those who are looking for inexpensive products. The robust construction of this product makes this refrigerator anti-shake on rough roads.
The temperature display makes it convenient for you to monitor the temperature or various mode settings.
6. AstroAI Portable Freezer 12 V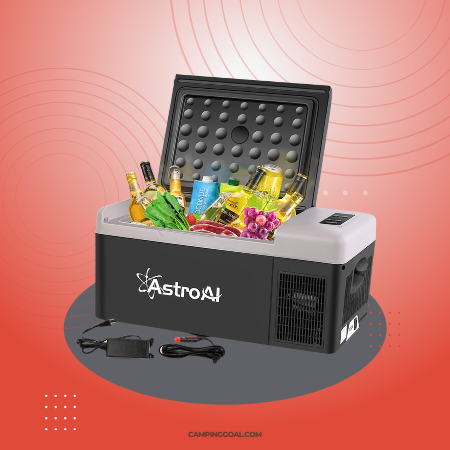 This is a versatile freezer not only for camping trips but also ideal for your home usage. With the availability of 100 volts to 240 volts AC supply and 12/24 volts DC supply, this is an adequate freezer for both home and camping purposes. It also consists of a portable power bank which saves energy and makes it more convenient for you to travel with AstroAI Portable Freezer 12 V.
Furthermore, you can also convert the freezer into a fridge with the availability of adjustment in temperatures. There are only four buttons available on the freezer to make it convenient to operate the settings and temperatures. Three modes, high, medium and low, for battery protection are available, which you can avail for efficient battery protection.
There is a USB charging port located on the freezer where you can charge your phone during camping. Additionally, an ECO mode is there, which you can activate for energy-saving purposes.
Without any disruption inefficiency, this freezer works outstandingly because of the presence of a powerful compressor that keeps on working even in hot and rough environments. Adding to it, the temperature can reach up to -4 degrees Fahrenheit.
Pros
Dual functionality
Versatile
Energy-saving ECO mode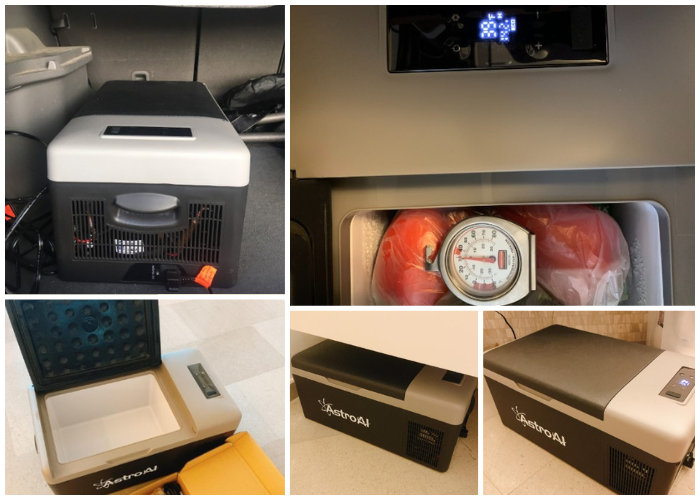 This refrigerator is versatile in functioning and can be used either at your home, in the car, or at camping sites. The energy-saving eco mode of the refrigerator makes it efficient in terms of energy consumption. Furthermore, this refrigerator can be made a fridge or freezer by simply changing the temperature.
7. ICECO GO20 Dual Zone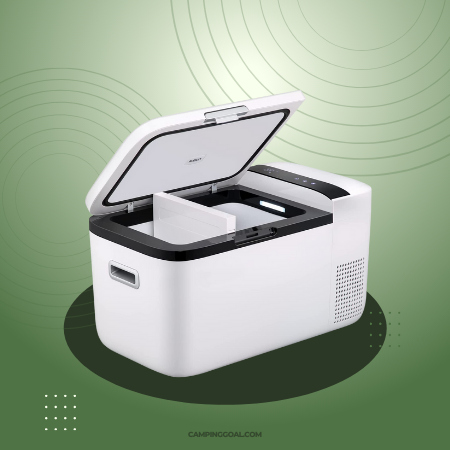 The feature which makes this refrigerator highly convenient and efficient is the availability of its mobile app. Download the app and control temperatures, different modes, and other features with a simple touch on the screen. There is a vast range of temperatures available, which you can select according to your need, from 0 degrees to 50 degrees Fahrenheit.
The AC and DC power supplies make it versatile to use for both home and camping sites.
Two different zones operate independently and function. One works as a freezer and the other works as a fridge. They both contain their settings with the availability of dual independent digital controller systems.
The partition between the fridge and freezer is removable and can enhance the space of the area which you want to use. The two latest functions present in the refrigerator are MAX mode and ECO mode, which makes the refrigerator latest and efficient. MAX mode is used for quick cooling purposes, and ECO mode is used for power-saving functions.
Pros
Operable via mobile app
MAX mode and ECO mode
Removable partition
Cons
Poor instructions on the app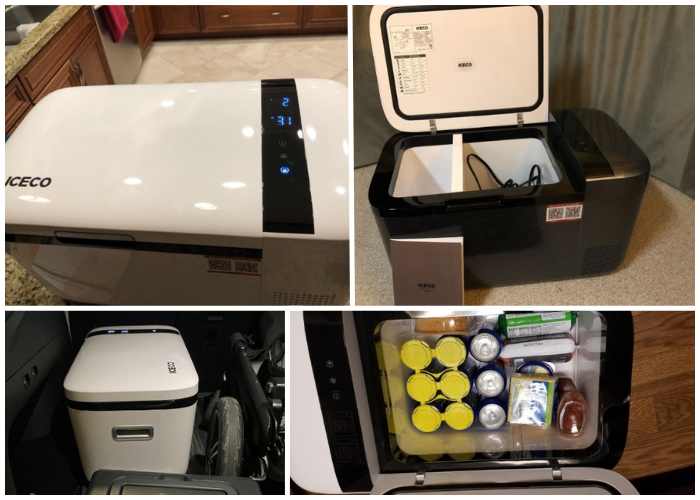 ICECO GO20 Dual Zone dual-zone fridge and freezer is a refrigerator that can be used indoors and outdoors. There are two latest features present in the refrigerator, which are MAX mode and ECO mode making it technological efficient.
Then, we have the app available with the help of which this refrigerator is conveniently operable.
Guide To Pick The Best Camping Refrigerator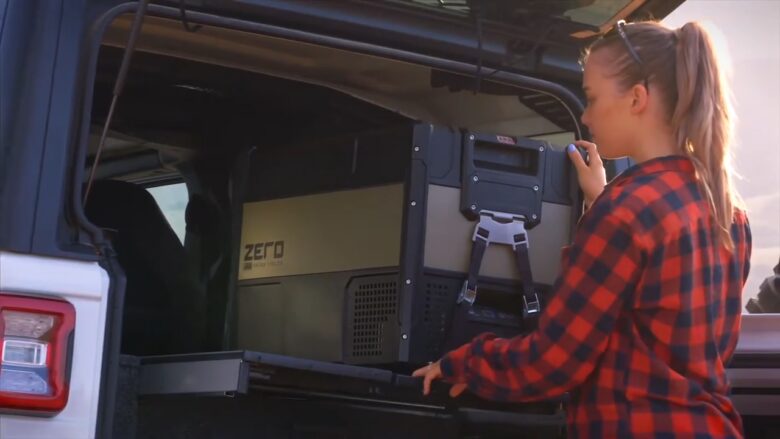 Look for the following features while buying the best camping refrigerator to make sure it serves you all purposes you want.
1. Size
Look for the size of the refrigerator before purchasing it finally. Large refrigerators use ample space and need more area in your vehicle.
Check for the availability of space in your car or truck you are using for transport. Get a refrigerator according to your need, such as 25 litres and under can manage 27 cans, 35 litres size can hold 47 cans.
Then, we have 40 litres with 60 cans and 50 litres with 72 cans. Get an ideal size of the refrigerator according to the time you are going to spend camping and the size of your vehicle where you will carry the refrigerator.
2. Types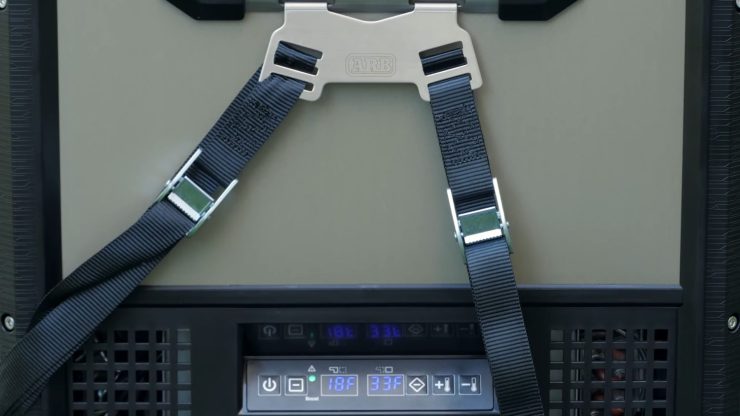 There are two types of refrigerators available — two-way portable fridges and three-way portable fridges. The two-way portable fridge operates on 12 volts and leading electricity, where the three-way portable refrigerators work either on gas or electrical supply.
Always keep in mind what source is available for you and which one is convenient for you. Getting the refrigerator according to the source of energy will save you from the great hustle.
3. Storage Space
Check for the internal space of the refrigerator before buying it finally. The space available inside the refrigerator depicts how much food, bottles and other things you can store in it.
Keep in mind to focus on how many people you are and how long you have to stay. In this way, you will know how much space you need in your refrigerator.
4. Battery Protection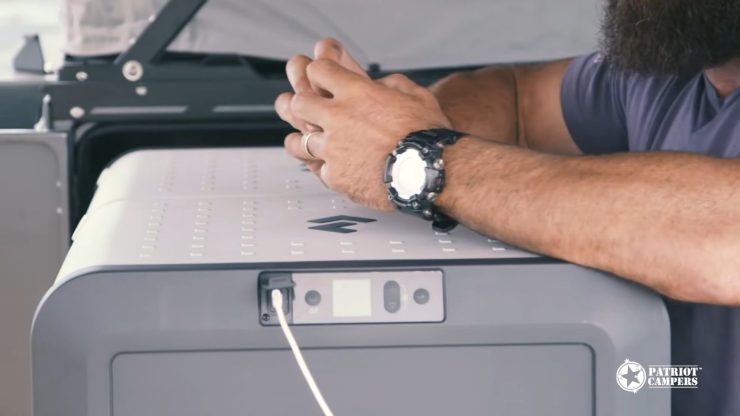 There are refrigerators available in the market designed to protect the battery by cutting off the supply at high voltages. There are variable levels; some fridges are trained to cut off the supply at 9.5 volts or more.
Similarly, there are other options available too. Battery protected refrigerators significantly minimise the harm these refrigerators can do to the battery. Go for the selection of battery protected refrigerators.
5. Durability
Check for the construction of the refrigerator and what material is used in its making. In this way, you will be able to guess about the life of the refrigerator and how long it will survive.
Keep in mind that the refrigerator will have to survive various environmental conditions, hot weather and sometimes extreme conditions. Make sure to get a product that is reliable and strongly constructed to make it survive any harsh surroundings.
FAQs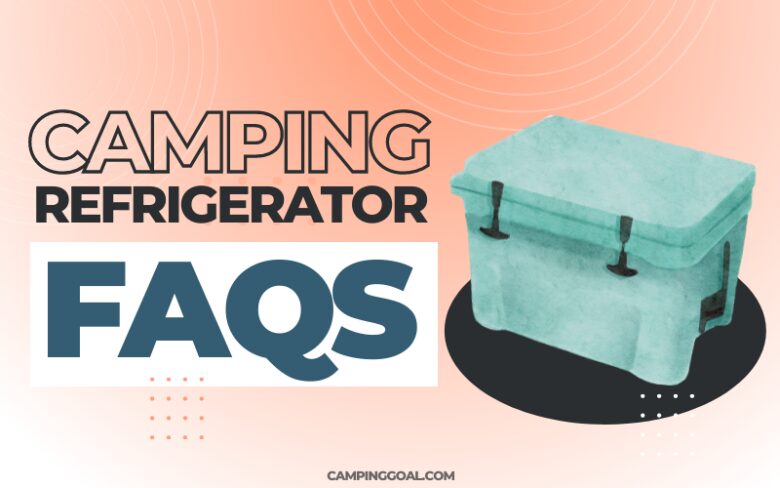 1. How long does a portable fridge last?
It has been noticed that most portable fridges last somewhere between 18 to 20 years. The availability of alternative power sources such as batteries and solar panels make them last longer.
Furthermore, if the product is used carefully and maintained properly, this ultimately increases its longevity.
2. How do you power a portable fridge?
Before putting the fridge in your vehicle when you are moving for camping, make sure to run it on 240 volts at home. In this way, you would be able to draw the most power at home.
So, before powering your fridge directly at 12 volts, your refrigerator is already cooled down at home after running on 240 volts.
3. Are portable refrigerators any good?
Yes, portable refrigerators are worth buying when you love camping and spend days and weeks outside your house. They help you in keeping your food safe and chilled. Moreover, portable refrigerators help in keeping the food fresh for many days.
Final Thoughts
Best camping refrigerators are portable refrigerators that are available in the market. Though they come with different specifications and costs mainly, their function is the same.
Make sure to read the review of the above products attentively and focus on the pros and cons to ensure you have learnt all the descriptions before making your final purchase.
Make sure to read the buying guide as mentioned above. It will help you in getting the product with all the necessary specifications in it.
As a reviewer but I will suggest,
Dometic CFX3 Portable Refrigerator and Freezer because it contains a large amount of space. It also has durable construction and lightweight built, which makes it portable.
ARB 73 Qts Dual Zone Portable Fridge Freezer contains two independently operated compartments that are easily compatible with Bluetooth controls. The robust construction of this refrigerator makes it durable too.
Aspenora 54-Quart Portable Fridge Freezer because it is easy to maintain and clean feature. With vast capacity and strong aluminium outer, this refrigerator is ideal for long picnics.
References:
https://www.thepioneerwoman.com/food-cooking/meals-menus/a93955/10-meal-planning-tips-for-a-camping-weekend/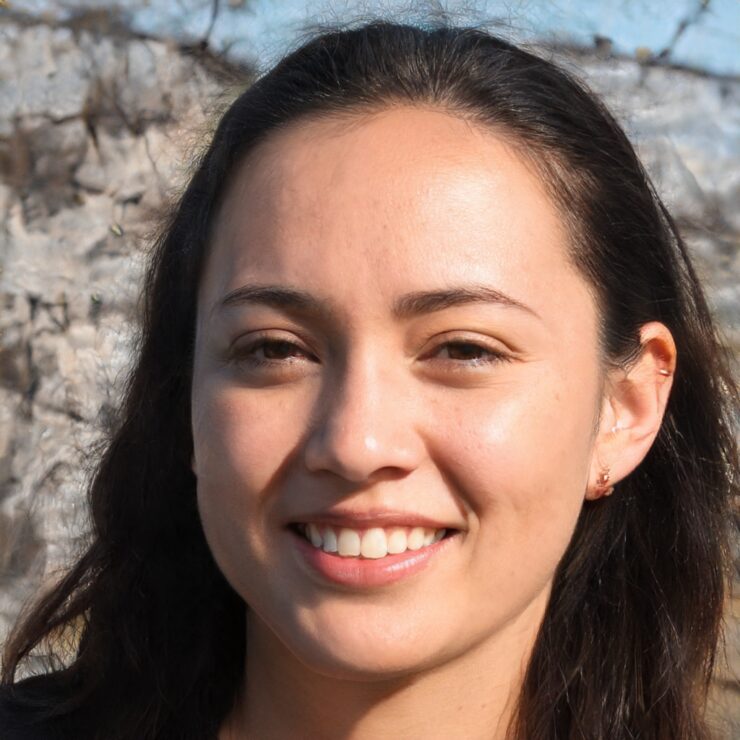 I am a passionate camping enthusiast and nature lover. I love the wilderness, solitude, and all the creatures who share my adventures!