You must be wondering about the viability of the canned food. Is it fit for your family? Does the nutrient composition get affected? What about the taste of your scrumptious food? Does it stay intact, or does it go foul? Calm down your excitement because we've brought a detailed article on canned foods.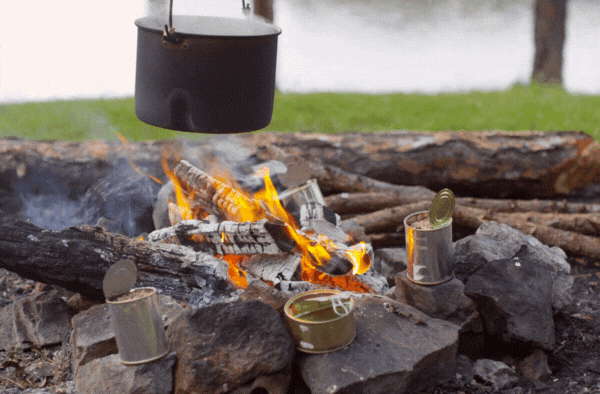 Canning is the process of preserving and increasing the life of food items like seafood, fruits, vegetables, soup, meat, etc. The food undergoes numerous steps and procedures and can then be stored for several years.
It is a myth that a portion of canned food doesn't retain nutrients. Many scientists have proved that canned foods uphold the nutritional value of food. Let's look at the top 10 canned foods.
Our Top Picks
1. Mountain House Breakfast Skillet – Best Canned Food for Camping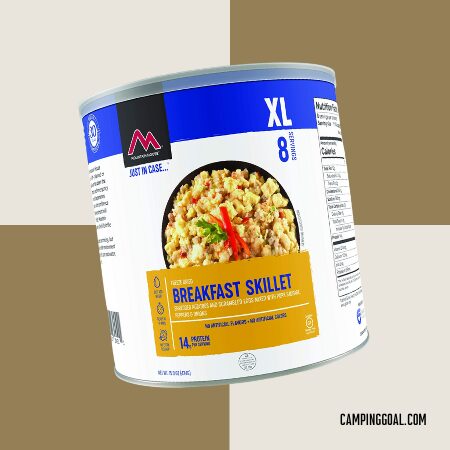 This canned food is your perfect partner for camping as it serves as a delicious breakfast. The Mountain House Breakfast Skillet is nourished with hash browns, scrambled eggs, crumbled pork patty, peppers, and onions.
Grab this can of merrymaking that doesn't have any added flavors or colors. This large scrumptious pack is enough for 8 servings. Scoop out the best flavors in just a few minutes. All you need is lukewarm or hot water.
This appetizing canned food sustains the nutritional value of all food items. This healthy dose of happiness has a shelf life of more than 30 years! This tempting house breakfast can be carried to trips, expeditions, camping, or can be your savior during mom's day out!
  2. Nutristore Freeze Dried Beef Dices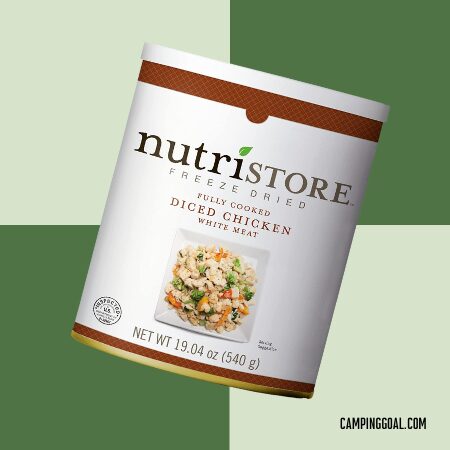 Nutritional Free Dried Beef Dices is a full nutritional and tasty dose of fresh meat. Include this versatile dish in your daily cooking, campaigning, or parties. The shelf life of Dried beef dice is 25 years. Pamper yourself with the rich and tasty USDA inspected tinned food. This tempting product fills the stomach of 20 people. This full meal pack can be returned if you feel it's not compelling.
The 4 pack version is capable of serving a humongous gathering of 80 people. Isn't it amazing? Blend it with your favorite chili, tacos, spaghetti, stroganoff. Stew, or ramen.
3. Mountain House Rice & Chicken
Enjoy the specially seasoned chicken and rice, immersed in the mouth-watering spicy sauce and accented with pimentos. This easy-to-make canned food is certified gluten-free by GFCO.
Perfect for a serving of 9 people, this piquant meal can be your comfort food in crisis, camping, or RV tours.
Don't worry about the rotting of food. Mountain House Rice and Chicken are backed up by shelf life of 30 years! Treat your taste buds with this super amazing appetizing meal box. This budget-friendly can is available in multiple sizes to suit your needs.
Choose from the 6 pack, pro pack, and pouch pack to tranquilize your dancing taste buds.
4. Augason Farms Vegetable Stew Blend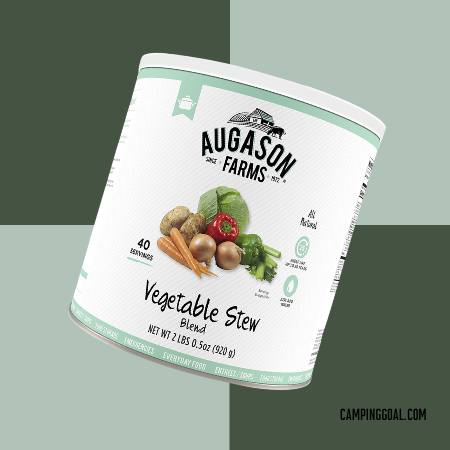 If you thought vegetables couldn't be appetizing and tasty, then you must try the Augason Farms Vegetable Stew Blend. This wholesome can of goodness is enough to serve 40 people at a time. Enjoy the tasty blend of vegetables during camping, RV tours, or as an everyday meal.
Potato dices, cabbage flakes, chopped onions, carrot dices, celery slices, green and red pepper. If you are worried about your dieting while on a trip, Augason Farms Vegetable Stew Blend is here to save you.
Augason takes care of your gut and provides you with gluten-free certified food as gluten is harmful to the intestines and leads to inflammation.
5. Augason Farms Banana Chips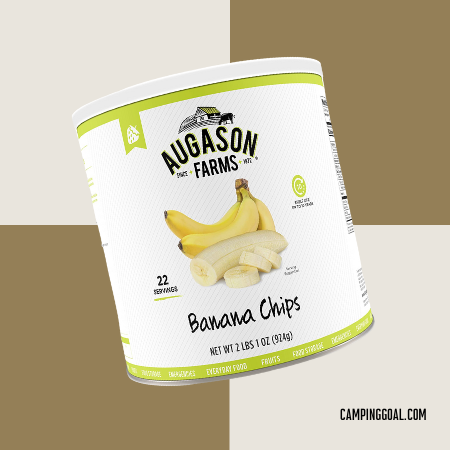 Banana chips are your partner in crime. Whether it be the cheat days or incessant eating on your first breakup, Augason Farm Banana chIps are here to vibe with you. Put them in hot cereal or enjoy them as a sweet snack; these banana chips can be consumed in innumerable ways.
These banana chips have a shelf life of 10 years. Perfect for a serving of 22 people, you can enjoy these crunchy chips at a get-together or during camping. You can trust the quality of these chips as Augason Farms have been serving lovely families for decades, and they now deal in 400 wholesome food varieties.
6. Armour Star Classic Homestyle Beef Stew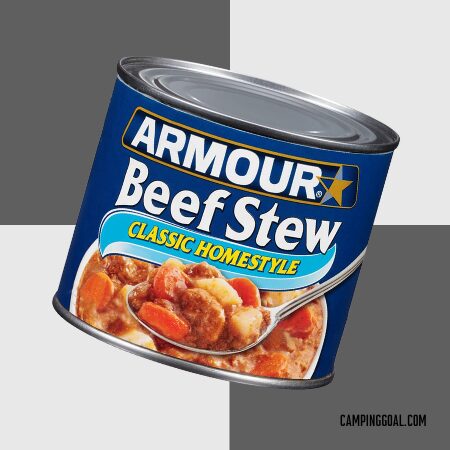 If you are scrounging for the heartiest and healthy meal, try Armour Star Classic Homestyle Beef Stew that has an enriched blend of beef, potato, and carrots. Add the tempting gravy to your night meals or carry it during camping or trips.
This gluten-free on-the-go meal solution can be stored for many years. It is embellished with great nutritional values like Vitamin A, B, and C, calcium, and iron. This canned food enjoys a plethora of positive reviews on Amazon. So catch your meal for tonight!
7. Augason Farms Freeze Dried Chicken Fettuccine Alfredo Kit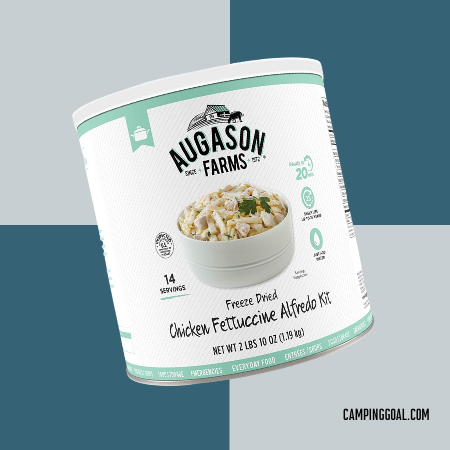 If you think there's no variety in canned food or canned food is monotonous, then you must try Freeze Dried Chicken Fettuccine Alfredo Kit. The mind-boggling taste of this pasta will allure your taste buds.
This kit is fit for 14 servings and can be stored for 5 years.
Whether you are running late for your office or ready for an expedition, this canned food is the perfect go-to meal for everyone. You just need water and a simmer to prepare this exquisite dish. This canned food must be stored in cold and dry temperatures at 55 degrees and 70 degrees Fahrenheit.
8. Augason Farms Brand Survival Lunch and Dinner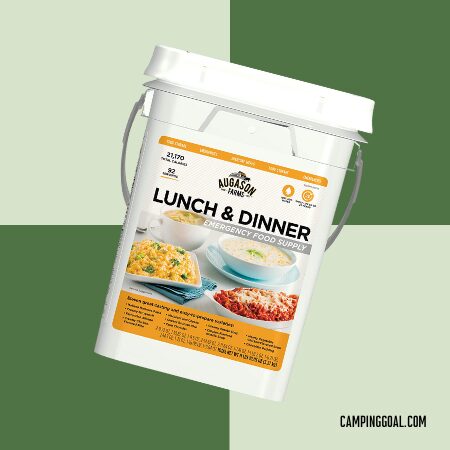 If you are searching for a jumbo pack to be taken on campaigns and trips, then this jumbo canned pack is perfect for you and your family. Total servings per bucket are 92, and food packets per bucket are 16.
The alluring items that you get in this packet are Vegetable chicken broth, Alfredo pasta, creamy chicken rice, creamy stroganoff, chocolate pudding, mac and cheese, and a lot more. With such a myriad food flavor in one pack, Augason understands family needs. With safety and tasty food, Augason farm products have been the fever pitch.
9. Mountain House Beef Stroganoff with Noodles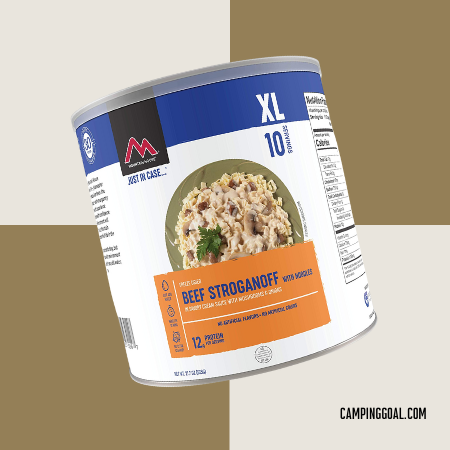 To pacify your craving for slurpy noodles, we bring the best combination of noodles, roasted beef, and mushrooms accented with creamy sauce. You don't need to refrigerate it. No artificial colors or preservatives make it a family-oriented canned product. This product stocks out really fast, so grab yours now!
10. Augason Farms Certified Powdered Cheese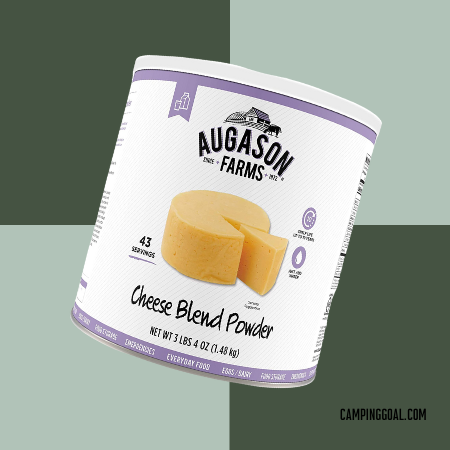 Prepare yummy cheese dips, hot cheese, and mac with this cheese power. This canned item comes with 40 servings and can be your partner in the kitchen for camping , for small gatherings, trekking, etc.
Save this pack for your guilt-free cheat days and experience the most classic cheese ever. However, cheese can have a useful life of 10 years but must be used within 2-5 years of purchase.
Refer to the tin can for some beguiling recipes of cheese. This canned food is listed among Amazon's best seller camping food and ranks 6309 under the sports and outdoor category.
Buyer's Guide

With the onset of the novel coronavirus, most of us will depend on canned foods. If you are getting frenzied over the retaining nutrition capacity of the can, then don't worry.
Although some nutrients might get lost during the healing process, the majority of them stay intact. While buying canned food, certain things should be kept in mind:
Quality: Look for any dents or damage on the cans. If the can has a dent or crannies, then don't buy one. This can result in food contamination. Also, the food inside damaged cans might get rusted or undergo fermentation by bacterias.
Storage: Never store the canned food beside the gas stove or hot places. This might spoil the metallic lids of cans. Never keep the cans in humid places. This can result in rusting and can lead to food contamination. Cans must be kept in cold and dry places, preferably in the fridge. Although most companies vouch for can live up to 25 years, try not to stock up unlimited cans. Acidic food items like tomatoes can go bad after a certain time. Thus, try consuming the canned foods within 2-5 years of purchase.
Nutritional value: Never ignore the nutritional value written on the canned food items. Prefer gluten-free products that have been certified gluten-free by GFCO.
FAQs

For how long can I store canned foods?
Canned foods have a long shelf life, as mentioned by various companies, but you shouldn't store the tinned food for that long. As told earlier, acidic food items like tomatoes, pickles, and juices may get spoiled much early and thus should be consumed within a year. Non-acid food items can be consumed within 2-5 years.
Do the cans have the best before date?
No, the cans usually don't have the best before date, but they have the manufacturing date. Always look for the manufacturing date and use the cans according to the principle "first in first out". First, use the cans that were purchased first. For more information, contact the manufacturer by dialing the toll-free number printed on the can.
Can I store the cans as it is once they are opened?
Once opened, the cans should be stored in an airtight container and should then be stored in the fridge or at room temperature. Once opened, these cans are vulnerable to getting rusted or can be affected by bacterial growth. This can lead to food contamination. If such food is consumed, it might result in food poisoning. If you doubt the smell and taste of the food, throw it at once.

Does canning result in loss of nutrients?
No, canning keeps the food nutrients close to fresh food. Although some of the vitamins might get lost during the healing process, this percentage is still less than the loss of nutrients that occurs while cooking. The vitamin loss can be about 5-20% if the food is stored for about a year.
How costly are canned foods as compared to fresh grocery?
Canned veggies and fruits are much cheaper and affordable as compared to fresh vegetables. This may be because of the perennial nature of cans in contrast to fresh items. Fresh items get spoiled after the harvest and even due to pests and rodents.
Can, on the other hand, are much safe and are stored for long. Fresh meat and beans are costly manifolds as compared to canned ones. So you can go for canned options without stretching your budget.
Is canned food better than fresh vegetables during Covid?
Indeed. The health of vegetables is vulnerable as they are touched by many people at many levels of harvesting, transportation, and selling. During Covid, canned food is being used by most people as they are out of harm's way. Once bought, these cans can be sterilized in lukewarm water and should then be dried with a dry cloth to avoid the growth of microbes on a wet surface.
Conclusion
As people demand nutritious and convenient food, the popularity of canned foods is surging drastically. These ready-to-eat food items are much more prevalent in western countries. The convenience, quality, and cost are some of the attractive features that make canned foods a preferable food item in a time of emergencies, trips, expeditions, and RV tours.
Canned food containing vegetables provides high nutritional value while retaining the essence of some of the important vitamins and minerals. In the era where we fell headlong into the busy city lives, people hardly have time to enjoy the meals at their homes.
These handy canned items save you a brunch! Some people think canned food is harmful to health. Canned food, if eaten at a limit, is not harmful; however, excessive or prolonged use of such food can have adverse effects on your health because the food items are not fresh. They encompass a lot of preservatives that might have a bad effect on your gut.
Take a look at these canned foods also: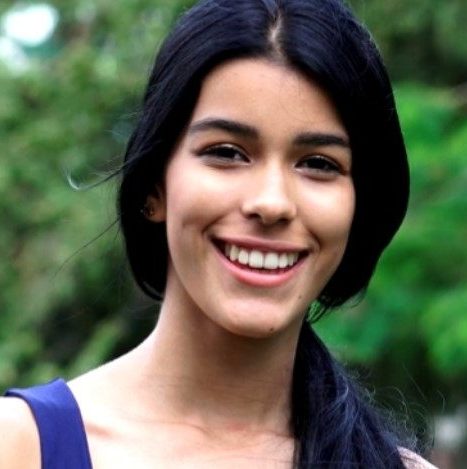 Christina Joyner is a seasoned expert for camping gear and everything related to outdoor adventures. With ten years of experience in this branch, she is an integral part of our team and author of comprehensive guides about equipment, best camping locations, and valuable tricks you should know when spending time in the wilderness.