Are you looking to buy the best charcoal grill for steaks? Let me stop you for a bit, when you are buying a high-tech device such as a camera or mobile phone, you understand the importance of looking into minor details as well, after all, it's slight differences that set them apart.
When purchasing low-tech devices such as charcoal grills, you might think of picking any grill. Even the most expensive grill doesn't have computer chips or a touchscreen. Don't get me wrong, even for a low-tech device, it's worth, considering the specifications of charcoal grills first before buying any grill.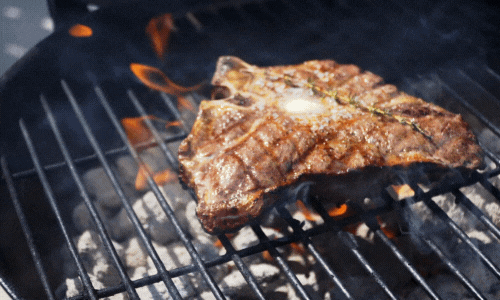 Don't get yourself tempted by the thought that any charcoal grill will give you perfect results. That's why we have done the research to find the best charcoal grill for steaks you can buy.
Our Top Picks
What's the big deal while deciding the best charcoal grill for steaks? Well, a charcoal grill is different from a propane grill, which is considered simple to use compared to a charcoal grill. Your charcoal grill plays an essential part in cooking your steaks and vegetables.
Precise grilling needs the right grill, or your expensive steaks well end up like grilled by a caveman. That's why we specifically reviewed some grills which are best for steaks.
So below you can find the best charcoal grill for steaks as your need:
1. Weber Original Kettle Premium – Editor's Pick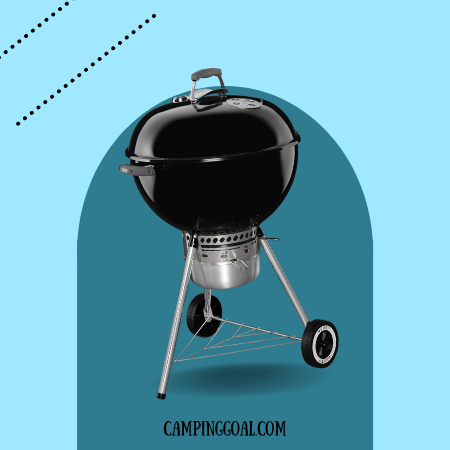 When you think of the charcoal grill, Weber is a brand that inevitably comes to mind, especially Weber's original kettle. The reason behind that it has been in the market for seven decades now. Your parents or grandparents may have used this particular circular design which hasn't changed since then. The old saying " Old is Gold" is correct for this grill. But it is still the most versatile, user-friendly and robust design ever built.
It has 363 sq. in of grilling area which can handle almost 10 to 12 burgers or two pairs of chicken. The most significant features I find in round grills. Instead of moving your food around, you can spin your grate to expose your steaks or whatever else you are cooking to lower or higher heat. Moreover, the grate has a hinge, so you can add coal while cooking.
Weber's original kettle is best for direct heat grilling however will work effectively for smoking because of the attached lid on top of it. Due to ash catcher, easy to deal with ash after cooking. There are some features that distinguished Weber's original kettle premium version from the rest of the versions.
The Premium version has aluminum dampers that help to control heat while cooking and helps in extinguishing coal quickly after you are done with cooking.
Even better, the handle attached stays cool enough; you don't need to wear any protective gloves. Weber has an integrated thermometer which is useful to attain temperature as you need. Long talk short, this grill is an all-time favorite when it comes to evaluating the best charcoal grill for steaks
Key features:
Dampers give you heating control
Built-in thermometer
The round design gives freedom from moving your food, you can rotate the grate instead of food
Porcelain-enameled on lid and bowl coating retains heat
It has two wheels on a tripod stand making it easy to transport
Specifications:
Brand: Weber
Model: 14401001
Weight: 32 pounds
Cooking Area:363 sq. in
Color: Black, Copper, Green
If you're tight on your budget, don't worry Weber original kettle comes up with a similar design but a cheaper version with a lack of few features.
2. Weber 741001 Original Kettle – Best Value for Money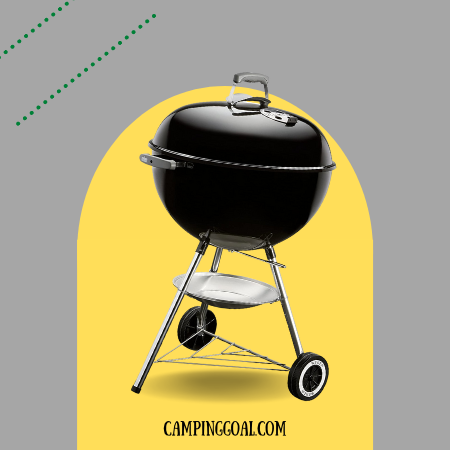 Weber 741001 is a Cheaper Version of Weber's original premium. It's cheap, which means will lack some key features as well. So, let's talk about the features that are not present in this cheaper version so that you can make up your mind.
The most important feature which will be lacking is the heat management system. No dampers are present in this version means can't control heat and temperature within the grill conveniently.
However, you can control temperature by adding a suitable amount of coal while watching the temperature carefully inside, although a built-in thermometer is present, which is indeed a good feature at a fair price. Moreover, it has an ash catcher.
The cooking area is 363 sq. in with a hinged grate, and the dimensions are the same as the premium version. Moreover, it comes in different diameters as, 22, 18, and 26 inches. We consider it the best charcoal grill for money because of its perfect match of price versus quality features.
Specifications
Brand: Weber
Model: 741001
Weight: 33 pounds
Cooking Area: 363 sq. in
3. Weber 10020 Smokey Joe – Cheapest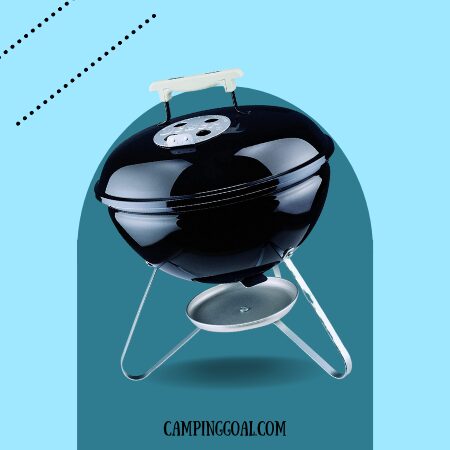 Weber introduces versatility in their product. Because of this, their products are appealing to a wide range of buyers. Contrary to Weber's original kettle, Weber 10020 Smokey Joe is compact and lightweight. This grill is best for camping, picnic and for those who do not have full-size grill space.
This round-shaped grill has a 160 sq. in cooktop area and a lid on top of it. Because of the lid, it can be used for direct heat grilling and smoking steaks as well.
Glass-reinforced nylon handle is attached to the lid that stays cool while cooking so you wouldn't need a mitt.
Two dampers are present to control temperature although a built-in thermometer is lacking in this one. The body of the grill is porcelain-enamel coated steel that prevents any rust and makes look attractive. Moreover, because of the porcelain coating, it retains heat as well.
The innovative feature is its foldable steel legs. On the one hand, These legs keep off the grill from the tabletop or ground while cooking. On the other hand, when you are done cooking legs fold up to hold the lid in place, make it easy to transport.
As it is so lightweight, you can carry it one-handed and compact enough to fit in the trunk of your car. With all these impressive features, you will be shocked to know its price.
Key features
Porcelain enamel-coated steel improves fuel efficiency
Foldable legs when folded hold the lid in place
You don't need mitt because of the Glass-reinforced nylon handle
Dampers are present means easy temperature control
Specifications
Brand: Weber
Model: 10020
Weight: 9.8 pounds
Cooking Area: 160 sq. in
4. The Original PK Grill & Smoker – Best Affordable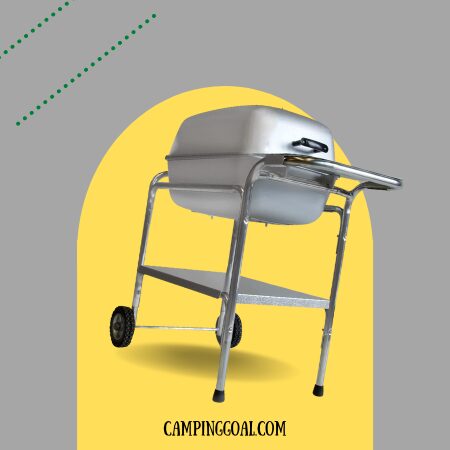 It is great for outdoor activities as well as for backyard grilling, this product by PK Grills is extremely durable and compact hibachi-style. PK's charcoal grill is made from heavy Aluminium, which retains heat and radiates it uniformly. Moreover, due to the ability to retain heat, it will consume less coal, making it a very efficient coal grill. 
Coming towards its grilling area, on top, it is almost 300 sq in. of grilling area which is more than enough to grill steaks for a family. It's easy to move because of the wheels. The unique thing that makes it superior to others is its body, as well as the grilling grate, which is made of Aluminum. On one hand, aluminum prevents Rust; on the other hand, the Aluminium body makes it sturdy and compact that will last forever. Moreover, it is easy to clean as well.
It has 4 vents, two on top and two on the bottom that regulates air and control temperature. Even better, the aluminum hood on top helps to convect heat and grill steaks to perfection. Therefore we consider this grill perfect for slow and fast cooking.
Another cool thing about PK is that you can lift off its top without any tool from its stand. This unique feature makes it easy to travel with or for the best for camping.
Key features:
The aluminum body makes it robust and rust-proof.
The portable top can be lifted off from the stand.
4 vents help to control the temperature.
Specifications:
Brand: PK Grill
Model: PKO-GCAX-X
Weight: 45 Pounds
Cooking Area: 300 sq. in
Find some of the Best Propane Grills on the market.
5. Royal Gourmet CD1824A (Best Overall)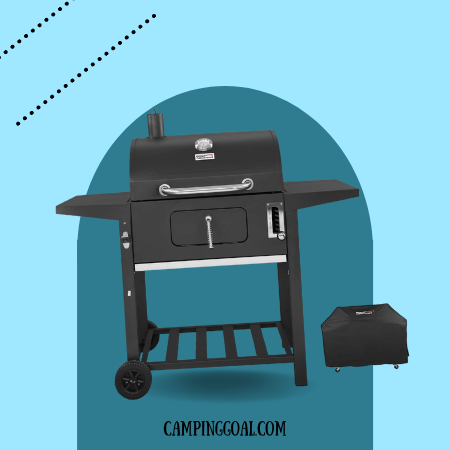 This grill is ideal especially for searing, chops, fishing steaks because of multiple cooking adjustments. It has a total of 598 sq. Inches is cooking space including 393 square inches of cooking grates along with 205 sq. Inches warming rack which helps your food to be warm enough until it's eaten.
The unique feature I like the most, you neither need to lift the lid nor the grates to add charcoal or stoking the coal. It has a front grate that gives you easy access to add coal or move the coal. Moreover, it prevents heat loss and makes it efficient.
Let's talk about heat control; this grill has many variables to control heat which make this grill versatile.
You can raise or lower the charcoal pan to six different levels, to vary heat to the grilling grate.
In this way, you can adjust the heat according to your need which helps you cook different sized steaks better. Even better, adjustable dampers ensure airflow and give more options to control heat level and temperature control inside.
Last but not least, an integrated thermometer allows you to monitor the instant temperature. As charcoal with these heat controlling factors makes this grill superior to propane grills which are considered to have better heat control.
It has two foldable side tables which give you space for plates, tools, and sauces. It has a large ashtray which spans the entire width of the grill for easy cleanup.
Key features
The adjustable height of the charcoal pan means you can vary the heat need for steaks.
Adjustable dampers control the heat and temperature.
Ashtray which covers the entire bottom.
Foldable side tables.
Specification:
Brand: Royal Gourmet
Model: CD1824A
Weight: 57 pounds
Cooking Area: 393 sq. in
Warming Rack: 205 sq. in
6. Char-Griller AKORN Kamado (Best High End)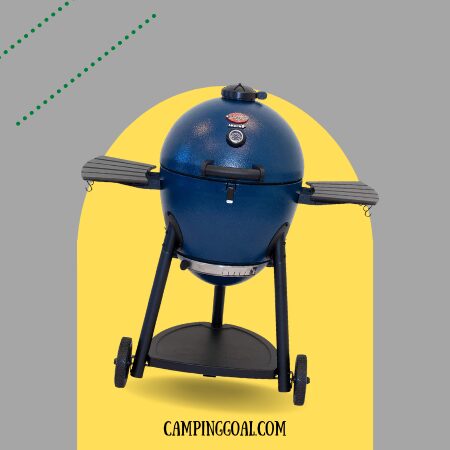 Char-griller Akorn is a product with multiple talents, its design not only allows you to use as a direct heat grill but as a smoker as well. But the best part yet to start, because of its insulated steel body there are many advantages.
First, it will help to retain heat and will consume less coal and will grill your steaks better. Secondly, Because of excellent insulation, temperature changes don't cause any fluctuation inside the temperature of the grill, making it the best choice for windy conditions.
The char griller Akorn gives you 314 sq inch of cooktop space plus 133 sq inch of warming rack which keeps you grilled steaks warm enough until it's eaten.
This grill comes up with a tripod stand with two legs with wheels that are helpful because of its heavyweight. And a peg leg for stability. Moreover, it has two foldable shelves which give you space for sauces and other cooking ingredients.
Last but not the least, considering the safety of your loved ones, either your kids or pets will be safe as the exterior of the grill is cool enough to touch. The temperature ranges from 200-700 degrees and easily can vary by using dampers because numbers are mentioned on it. Once the temperature is stabilized inside, the temperature is observed remarkably consistent throughout cooking time due to Perfect insulation.
However, perfect insulation has its downside as well, if the temperature goes too far above the desired temperature, it will take time to cool down but having dampers it's not a big deal. All you need to know the use of dampers. If you are a fan of grilling this grill can do multiple tasks for you if you like smoky charcoal steaks with proper searing as well go for it, It's a bit expensive but a great investment.
Key features:
A perfect insulated body promotes less coal consumption.
Built-in temperature gauge which indicates temperature and can control the temperature using dampers.
Foldable shelves and warming rack gives extra space.
Ashtray makes cleaning easy.
Specifications:
Brand: Char-Griller
Model: E1662
Weight: 90 pounds
Cooking Area: 314 sq. in
Warming Rack: 133 sq. in
Charcoal Versus Gas Grill, The Better Option For Grilling?
When you think of buying a grill for your weekend party or camping in the woods, the first hard decision would be what type of fuel? Charcoal or gas (propane). Both methods have their pros and cons because of that, it's a hard decision to choose one of them. However, we will explain the upsides and downsides of both, so that you can have the best product that matches your desire.
There you go pros and cons of charcoal v/s gas grill:
Upsides of charcoal over a gas grill 
Heat: The most significant leverage of charcoal grilling over gas grilling is charcoal flame burns hotter than propane or charcoal. That means charcoal provides better radiant heat that's why to produces better sear on burgers or steaks than a gas grill.
Cost: Another vital aspect to consider while comparing charcoal versus gas grill is charcoal v/s propane cost. A charcoal grill can cost approximately three times less than propane-operated grills. If you getting a charcoal grill for $ 100, then you are may find a propane grill for $ 300 with the same features.
Flavor: Many people believe while grilling with coal, due to its high temperature, it releases dripping including fats, oils, and protein. All these dripping hit the hot coal and vaporize afterward sock back into meat that makes a unique flavor. That's why coal grilling is all about, the flavor that makes people crave for more.
The upsides of the gas grill over charcoal
Cooking Time: Charcoal takes more time to pre-heat than gas-operated grills. Moreover, a gas grill is a push of a button or a twist away to start ignition.
Control of Temperature: You can control the temperature of the gas grill, more straightforward to monitor the temperature. On the other hand, a charcoal grill requires monitoring of temperature constantly. So you are more likely to burn food in case of the charcoal grill if you are not an experienced, person.
A charcoal grill produces ash. So, gas grills are more convenient to clean but don't forget you need to clean the mess created by oil dripping in case of the gas grill as well.
How to Maintain Charcoal Grill
The best way to maintain your charcoal grill is to clean it after every use. You can use a wire brush to remove any grease from the grates. Scrape off any leftover food or debris that might have been left on the grill from previous use. This will help prevent cross-contamination of flavors when you start cooking.
Always remember to keep your grill as clean as possible because if it isn't, it could cause flare-ups of grease and fire which could lead to an unpleasant experience while trying to cook your food. 
Cleaning a charcoal grill is a tedious chore. It requires time, patience, and elbow grease. 
The first step is to let the grill cool off. Once it's cooled down, use a wire brush to remove any stubborn bits of food that might have stuck to the grate. Next, take your scrubbing pad and clean the grate with soap and water or one of these handy grilling cleaners. Finally, dry the grill with paper towels before storing it away for next time!
Frequently Asked Questions
What is the best grill for steaks?
As far as the best charcoal grill for steaks is concerned, the answer to this question lies in how the charcoal grill is different from propane grills. For a charcoal grill, it is difficult to control the temperature. To maintain temperature, the charcoal grill is considered the best which has good ventilation controls. e.g has multiple vents.
Secondly, should have enough space to move the steaks on the grates to get direct and indirect heat for proper cooking. Third, should have multiple grates positions available.
At last, it needs to consider how easy it is to add charcoal or removing ash is. Moreover, other factors are also worth considering how efficient is the grill regarding heat sustainability, weight, temperature sensor. We review some of the charcoal grill best for steaks have a look.
What is the best charcoal grill for the money?
The charcoal grill is considered best for money if the charcoal grill has enough quality features that a customer willing to paying for it. This means a perfect combination of money versus quality. In short, a charcoal grill which worth each penny. We reviewed Weber 741001 Original Kettle as the best charcoal grill for the money.
If up to your choice, which one you find is better. However, if you are a newbie, a gas grill is a more convenient option. On the contrary, if you are an occasional griller then, charcoal is an economical option with a unique flavor, and with a bit of practice, you can have superb results.
What to consider before buying a charcoal grill? Watch the following video to find more:
Learn more about charcoal grilling tips and techniques in our article – Using the Charcoal Grill for the First Time. 
Check out some other models available right now: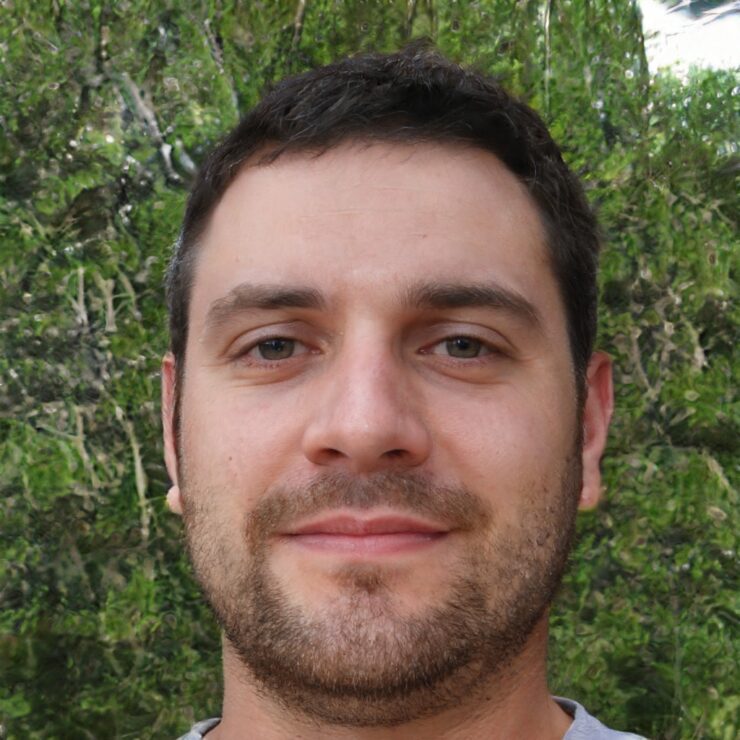 I love camping! There's nothing like being in nature, getting away from the hustle and bustle of everyday life.