In the past year, when the world was closing down, going under lockdowns, the only outdoor activities families could enjoy with utmost safety were in nature. Out of all the different activities, hiking and camping were the most favorite ones for a lot of people.
And people enjoyed it so much that it is a common opinion of many to do these, especially camping more often. Since dogs are a part of a lot of families and the most significant camping fans, tents with dog doors will be a smart purchase.
Top Tents With A Dog Door
1. Coleman Dome Tent With Screen Room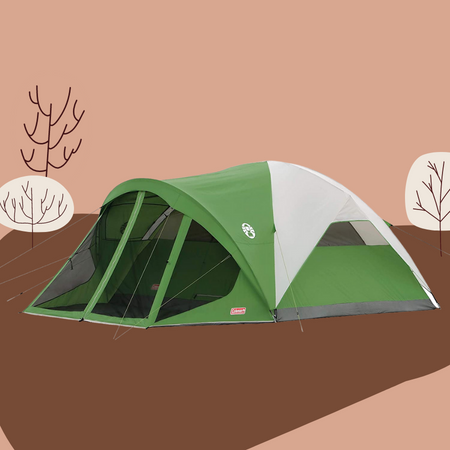 This one right here is a six-person tent and includes a screen room. It can quite easily fit two queen size air beds. Its room interior expands up to 10 x 9 feet with 5 feet 8-inch height at the center. Apart from that, it also has a 10 x 5 feet screen room space for a bug-free lounging experience.
Its welded corners do not let any water get inside the tent, making this dome-shaped tent safe and suitable for all seasons. It is made of polyester taffeta 75D fabric, which is also a contributing factor in making the tent waterproof. This tent that comes with a zip closure has fiberglass poles for better durability and quality.
With enough interior space, this tent also comes with several storage pockets to keep all the necessities together and convenient to reach. The window awnings enable you to keep the windows open as well. It comes in a carry bag to make storage and movement easy and accessible. All this with a dog door.
Features:
This tent weighs nearly 21 pounds, making it extremely easy to carry.
It comes with waterproof floors, zipper protection, a wind-strong frame, and inverted seams for complete safety, making it a perfect choice for camping regardless of the season.
Easy to install, takes only 15 to 20 minutes.
Plenty of storage space
2. Coleman Sundome Tent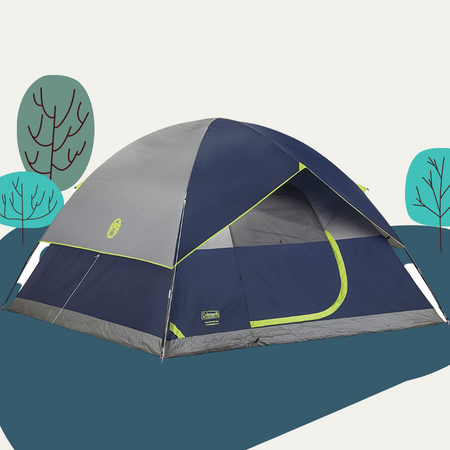 This tent by Coleman is a little different from the previous one. It comes in two colors, navy blue and green. You can choose the size of this tent at the time of checkout. It is available with a tent capacity of 2,3,4 and 6 people, making it easy to make a choice.
This tent, made from polyester taffeta 75 and fiberglass poles, is water-resistant and wind and rain tested. Its robust frame can resist more than 35 mph winds with ease.
The huge windows in this tent provide excellent ventilation. The e-port makes it easy for you to stay connected to power and electricity inside the tent. The tent also comes with a massive door to make it easily accessible for dogs.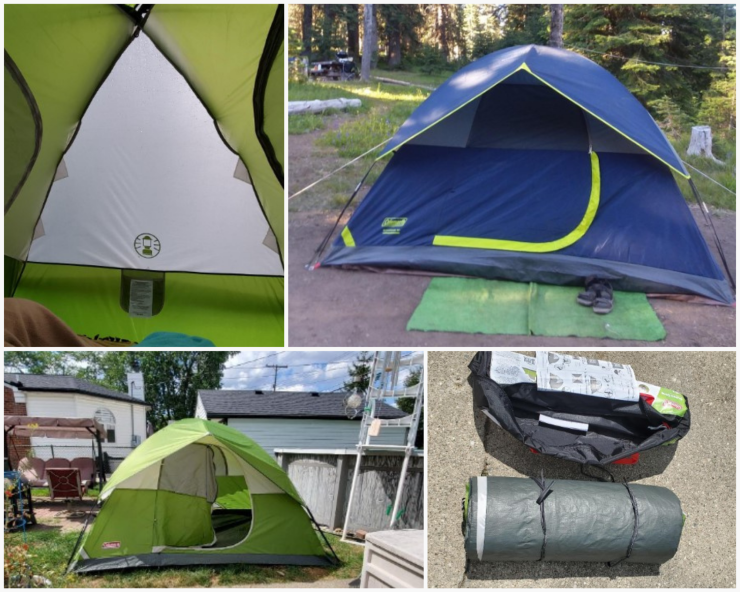 Features:
The tent is waterproof.
It is pretty easy to carry, package weight being under 3.5 kilograms.
It takes barely 10 minutes to set, making it an easy set up.
Its large windows make the insides of the tent well ventilated and airy.
E-port can connect the tent to electricity.
3. Camping Tent – HIKERGARDEN 2023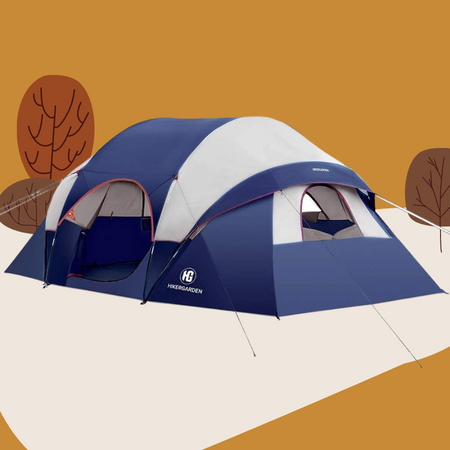 This camping tent by hiker garden is a ten-person tent. It can easily accommodate ten people alongside your pet dogs. You might as well call it a family tent. With a ground dimension of 168 x 132 inches and a center height of 74 inches, most people can stand up straight inside this tent. To give you a rough idea, this tent can easily accommodate three queen-size mattresses.
It is an ideal choice of tent if you enjoy camping in large groups. This tent will save your group the energy of carrying many tents for a comfortable stay, and just this one will be enough.
It is made out of water resistance and wind resistance 185T polyester and fiberglass poles for better hold. Its strong frame and exterior come with an attached rainfly and will not blow away in a windy atmosphere.
With the help of two builders, this tent can easily be installed in less than 20 minutes if done correctly. This tent also comes with divider curtains to maintain the privacy of all its occupants. It comes with a large mesh door, multiple mesh windows, and a breathable top ceiling to ensure proper ventilation.
Features:
This tent ensures the privacy of all the occupants.
Anyone can carry it easily single-handedly.
It is well ventilated.
Comes with a strong frame and a well-attached rainfly to protect the camp when the weather gets frisky.
4. Toogh Camping Tent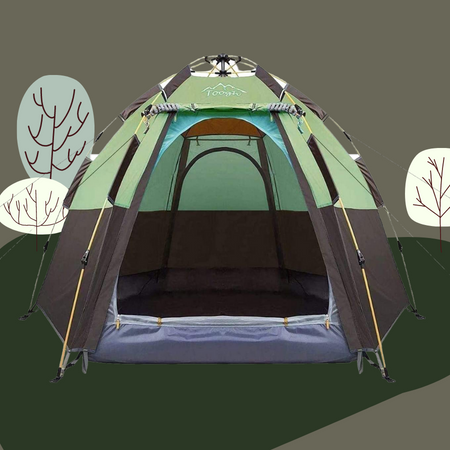 This camping tent by Toogh comes in 5 different colours, grey red, dark brown, brown, dark green, and lake blue. This tent can easily accommodate 3alongside a pet, preferably a dog.
It comes with a zip closure and weighs 13 pounds, making mobility easily accessible. This hexagon camping tent is made of 210T+ Oxford fabric in a 100 per cent unique design. The material is of high quality and is waterproof.
Its unique design and six edges make it extremely easy to set up and utterly resistant to bad weather. Because of its shape of a hexagon, it is the least likely to be torn down by the wind.
It comes with dual entrance doors and dense mosquito nets to protect the same, yet it does not affect the tent's ventilation.
Features:
Anyone can easily carry this tent, the whole of its weight being 13 pounds.
It is tough to break in heavy wind and bad weather, providing complete protection because of its shape.
The tent is waterproof.
Comes with protection against mosquitoes
Is well ventilated
5. Elite Montana Tent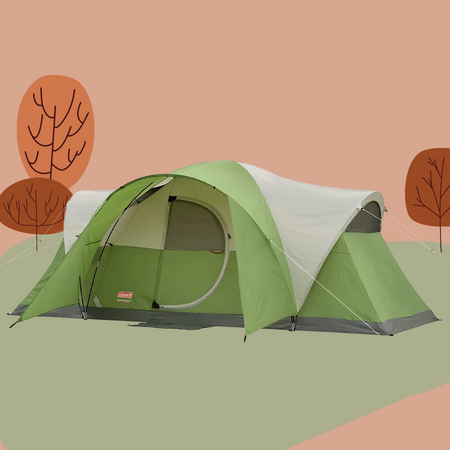 This tent is another camping tent by Coleman. It is an eight-person tent and can easily accommodate 2 to 3 dogs alongside six people without any hassle. It is available in three colors, blue, black, and green, and all of these come with zip closure.
With a total weight of 24.5 pounds, this camping tent comprises polyester fabric and fiberglass poles. Since fiberglass cannot be broken easily, it makes the perfect material for camping tent poles. And polyester provides a waterproof exterior to cover up these fiberglass poles.
It is a three-season camping tent. With 16 x 7 feet width and 6 feet 2 inches height and the center, this tent is as spacious as they get. To give you a rough estimation of this tent's size, it can easily fit in up to three queen-size air beds.
It comes with sizable extended window awnings to keep your gears and necessities dry. It also enables you to keep your windows open for an extended period of time. It comes with a carry bag which makes it easy to transport this camping tent from one place to another.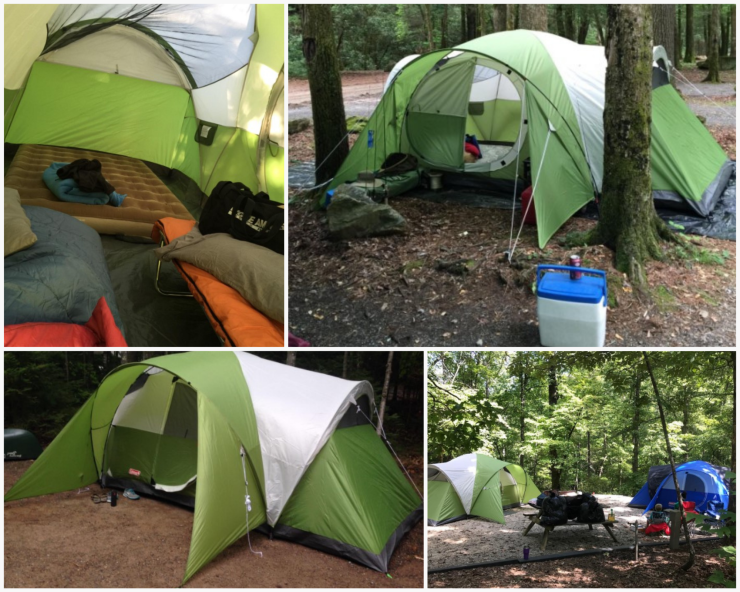 Features:
It is pretty easy to carry because of its weight.
It requires no more than 15 minutes to set up with complete finesse.
The tent comes with great inside space.
Stands strong against bad weather.
Is dog friendly
Also, comes with a super-strong tent frame
Buyer's Guide To Buying The Best Tents With A Dog Door
While buying a camping tent, there are certain things you should check for and keep in mind. To make sure you choose the correct camping tent for yourself, you can use the following checklist.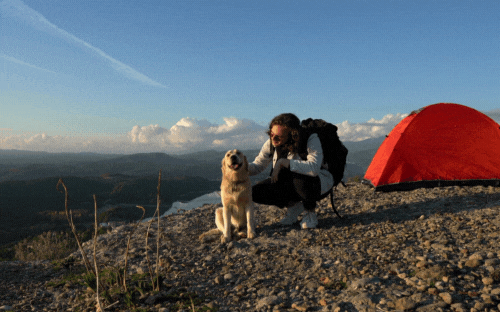 1. Number Of People
Although this might seem a straightforward decision to make, it is not. To decide on one size:
Think of how many people you usually go along camping with.
Remember to keep the count of dogs as well.
Go for the nearest number of people accommodating a camping tent you can get.
Some people think that going for the largest available is the safest option, but it is not. This will make you lift more weight than needed on all your camping trips.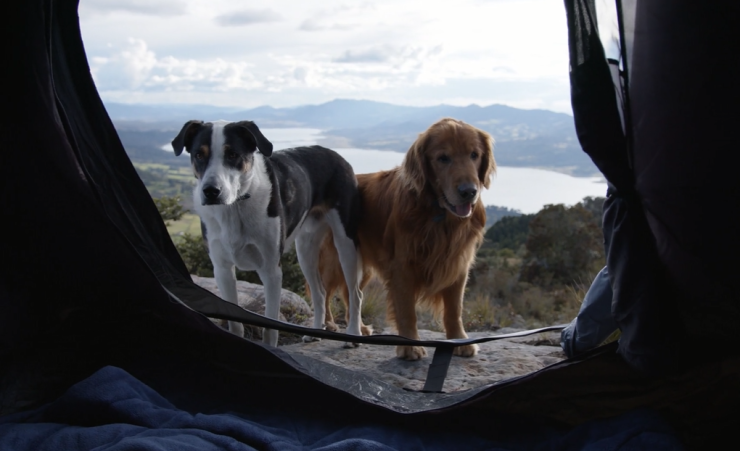 2. The Weather You Will Be Camping In
This is a crucial point. Most people prefer a time of the year they like camping the most. It depends on different things, obviously. The city or the country they live in, their professional lives, etcetera.
Decide what season works the best for you, and then buy a camping tent accordingly. It will help you choose between three and four-season camping tents.
3. Tent's material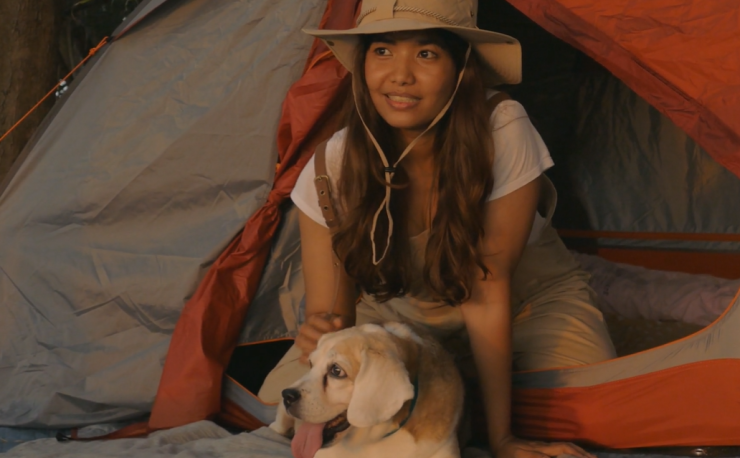 Checking whether the tent's material is the best available is an important thing to do while you are out shopping for a tent. When you like a tent, check its material and see its water resistivity. If and when you are satisfied with the same, then go for the purchase.
4. Ventilation
Even when you are in the hills, it is essential to make sure your camping tent has enough windows. The material that camping tents make usually makes it challenging to breathe underneath if wholly sealed in. This makes it so much more important that the tent has enough windows.
5. Additional Features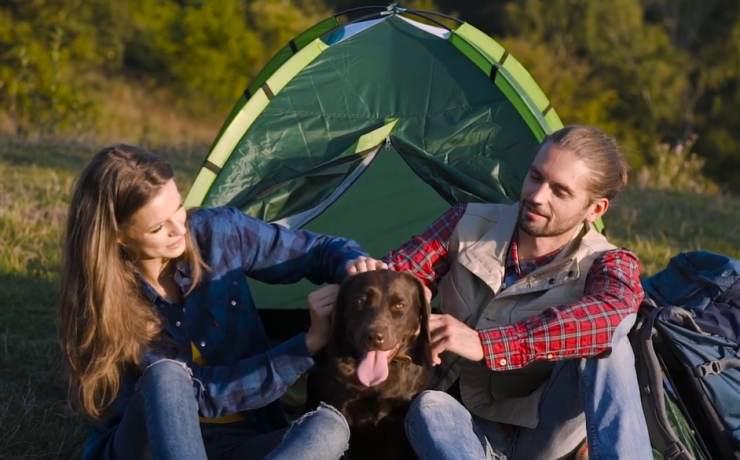 Different camping tents come with various additional features. Some differ from brand to brand and some by model. When out in the middle of nowhere, it is a necessity that you are aware of all the accessories and functions that your camping tent has. It keeps you prepared for whatever may come.
Conclusion
When buying a camp tent with a dog door, there aren't too many options out there. Above, we have curated a list of the best camping tents you can get off amazon that will be just as amazing for your little furry friend.
We understand that everyone has different needs. All the tents listed here have the most advantages and qualities to be the best fit for you. There are certain things you should remember while purchasing a camping tent.
The tent's material, the material of the poles, and the season you prefer the most. Apart from all this, you must make sure that your buying tent comes with a solid frame. Since dogs like running around and being total goofs, it is essential that the tent stands and can bear the dog's furry attack.
FAQs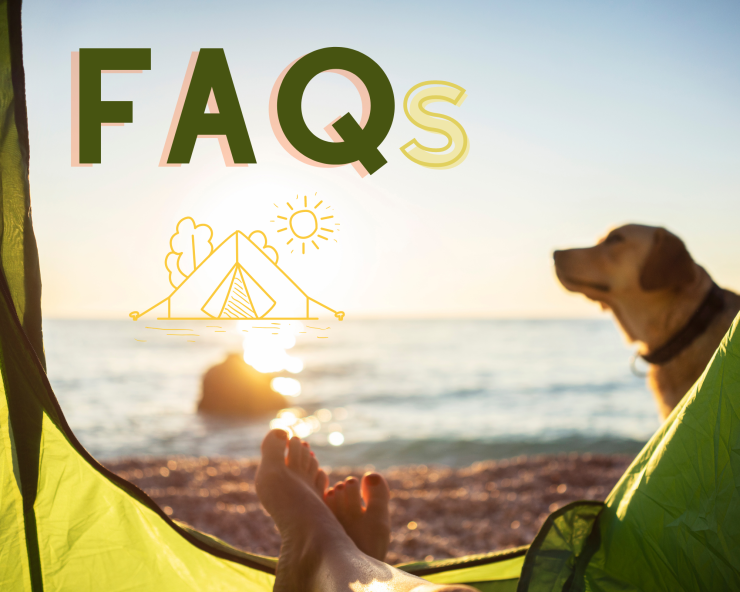 1. How much should I spend on a tent?
The basic price range for tents lies between $40 – $60 if you are going for a two-person tent. As the number of people you need a tent for increases, the price gradually increases. But anything below the basic price range will not get you an excellent quality tent.
2. What is the best material for tent poles?
As we have mentioned previously in this article, there is nothing better than fiberglass when it comes to poles. They are functional, durable, least likely to break, and do not weigh a lot.
3. Are cheap tents worth it?
Practically speaking, NO. Even though the expensive tents are for the people who camp a lot, a cheap tent will take you nowhere. It will lack durability and quality, and that is not something you should take chances with while purchasing a camping tent.
References: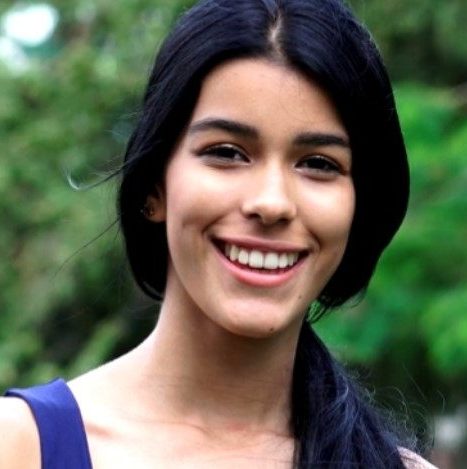 Christina Joyner is a seasoned expert for camping gear and everything related to outdoor adventures. With ten years of experience in this branch, she is an integral part of our team and author of comprehensive guides about equipment, best camping locations, and valuable tricks you should know when spending time in the wilderness.