If you thought camping during spring and autumn was fun, camping during winter gives the rest of your experiences during other seasons a run for its money. Winter is a beautiful part of the year that makes everything in nature just look a lot more beautiful. Although a treat for the eyes, winters can be rough on the body and can especially be challenging if you want to camp.
Being said that, you will have to be fully equipped with the best tents to start with. But regular tents won't cut it for winter. You will need to have a tent warm enough to make your camping experience a pleasant one. This is where stove jack tents step in.
Stove jack tents are camping tents that are equipped with a tight hole to fit a pipe acting as a chimney for the fire started inside a tent to keep you warm. So without further ado, let us dive into the finest picks of stove jack tents of 2023 carefully curated for you!
Top Picks Best Tents with Stove Jacks
1. DANCHEL OUTDOOR Tent with Two Stove Jacks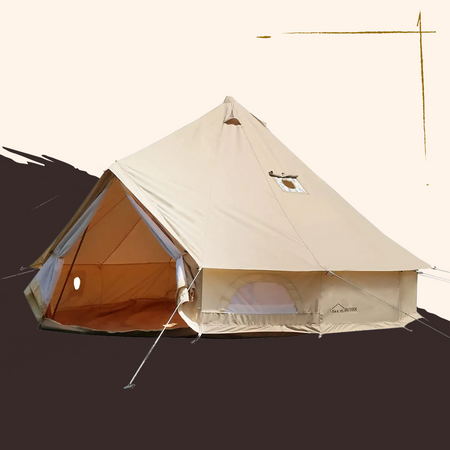 Elegant looking with the beautiful color of khaki, this tent for good reason takes the top spot on our list due to its optimal yet extremely valuable rendering qualities.
Made out of cotton canvas, it is well breathable but at the same time provides much-needed insulation if you're going to camp in the winter plus, it also has 3000 millimeters of water resistance making it an extremely good camping companion not just during the winter but also during the rainy season.
Made of steel, the installation pole is extremely stable and withstands considerable wind thrust. Equipped with two stove jacks, make sure to use a smoke pipe of a diameter lesser than 5 inches. Made of fire retardant materials, they are extremely durable and safe. Both stove jackets are lined with fire resistance strips ensuring that the canvas does not catch fire.
The Danchel Stove jacket tent has rollable sides which facilitates use during multiple seasons making it an effective tent for a summer evening as well. It has multiple canvas windows spread out, providing you all-around three hundred and sixty degrees of ventilation.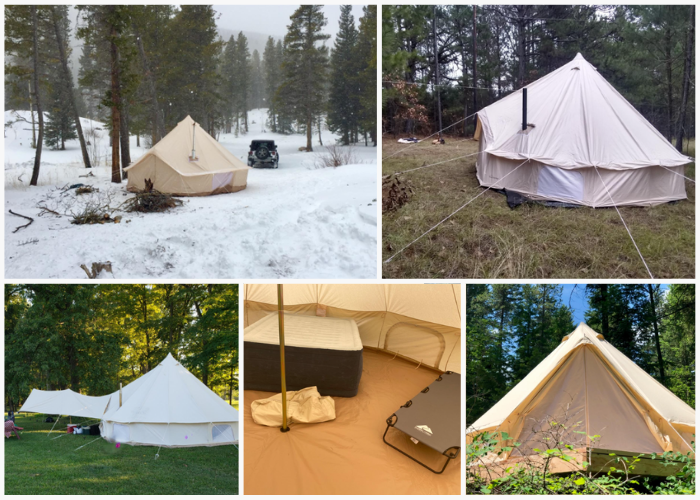 This product comes with a one-year warranty with a free exchange in case of any manufacturing defect. A must-have for winter campers.
2. Pomoly HEX Teepee Hot Tent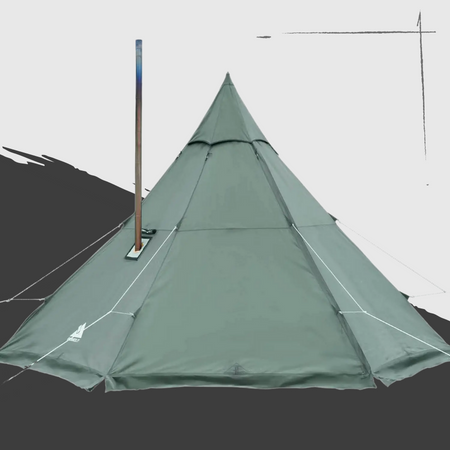 This tent is efficient as is effective. Very affordable, the tent's feature of height allows you to stand freely in it without the need to crouch. The core advantage of this stove jack tent is its 300D Oxford Cloth With Silver Coated Layer canvas which provides high water resistance, anti-wear and tear and provides a lot more insulation than the average Teepee tent.
Equipped with a stove jack, allowing you to start a wood fire inside the tent, making your food and camping experience wonderful.
It also has a removable cap acting as a vent for fresh air for when the main zipper is closed. Designed with two doors it gives you an option of a multi-entry pathway based on your preference. It also has 6 sides of snow skirts that can be strapped to the ground with rocks or soil and still providing stability more than the average teepee tent.
Made out of 3500 millimeters of water-resistant canvas it is very effective during rains as well.
3. OneTigris Smokey HUT Ultralight Hot Tent

Lightweight, compressible, waterproof, and durable. What more could you possibly ask for when it comes to the perfect tent? Unveil your wildly euphoric adventurous side, set camp with an OneTigris tent and return home with a mind full of memories, and a longing for more camping.
Feel at home even whilst being away from home inside this magnificent tent; eminently equipped with all necessary features such as top vents, a chimney, and the complete setup consisting of tent poles, guy-lines, and tent pegs. Fabricated with material that embellishes strength; 20D silicone coated nylon fabric, this tent comes in different colors too; choose your pick!
This tent is particularly distinguished from ordinary tents due to its top opening; this allows you to utilize the burning stove whilst camping. You're no longer restricted to particular seasons when it comes to camping, now any season is right to set camp! Get cozy in your tent even in the winters with the OneTigris Smokey HUT.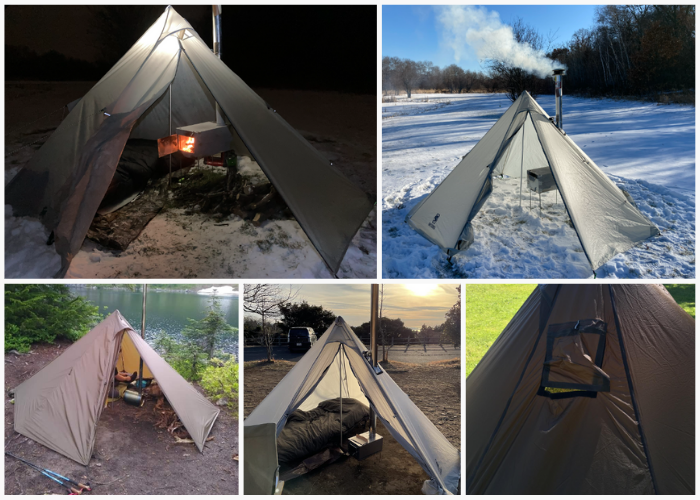 In case the weather changes, simply unzip any one of two windows for a perfect amount of ventilation, you're practically covered for any season. Redefine your camping experiences with our optimally appealing tents.
4. Playdo Waterproof Cotton Canvas Bell Tent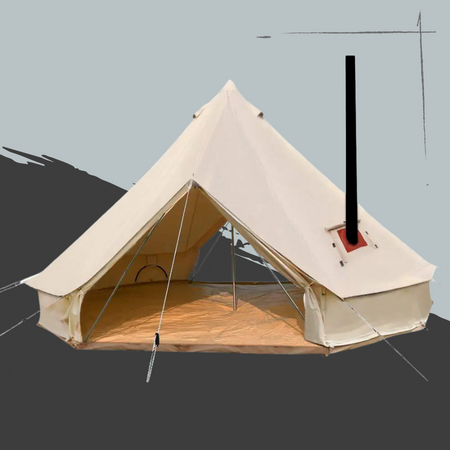 This stove jack tent is fabricated for your convenience. It is an exceptionally good companion for your camping trips, catering to your every need. Light on the wallet, the Playdo brand continues to prove to be an adept choice in the camping accessory industry.
Designed with a power cable inlet on the sides of the tent walls, facilitating the use of various appliances such as air conditioners, coolers, heaters and other essential electrical appliances of basic necessities such as phone chargers, coffee makers, electrical stoves etcetera.
Dynamically adaptive, this tent happens to be of use to you in all 4 seasons hence holding a multi-use feature. Having a capacity of over 3000 millimeters of water resistance, it is highly waterproof, allowing you to effectively utilize this tent during a heavy period of rain and all seasons of monsoon.
Made out of cotton canvas, this tent constitutes light and breathable material, allowing protection against wanted insects and critters while simultaneously enabling ventilation. Perfect for a romantic getaway, this tent is more than adequate to fully house 2 people.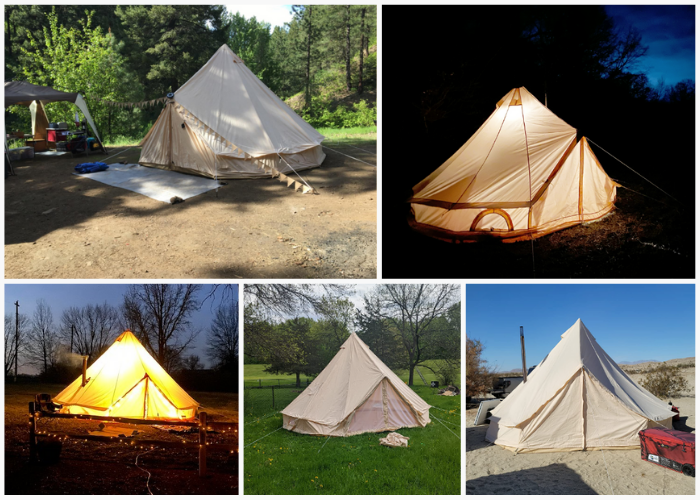 This tent can be used for various other activities apart from just camping such as a permanent tent in your backyard for your kids to play in, barbecue sessions with friends and family.
5. OneTigris Iron Wall Stove Tent with Inner Mesh

Rated a high 4.5 out of 5 stars, this OneTigris Iron wall stove jack tent comes in two beautiful colors, coyote brown and OD green. Fabric designed with 20D silicone coated nylon to provide extreme lightness and flame protection at the same time, giving 2000 millimeters of water resistance, this fabric is highly durable and versatile.
It also has obstacle-free quality zips made by the world's largest zipper manufacturer the YKK group. With a 7 sided heptagon shape, it comprises key installation points for effective resistance from wind thrust.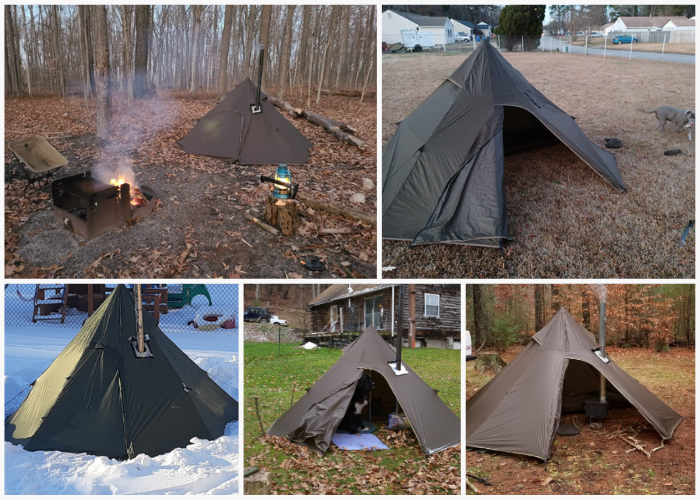 Divided into two spaces, ideal to use one half for sleeping and the other half for a fireplace with a top opening for a hot exhaust pipe and two windows for adequate ventilation. Popular with coniferous regions, the coyote brown color allows you to effectively blend into the background and completely distinguish yourself from city life.
Weighing at 4.2 pounds, it is very light allowing it to be easily storable and portable.
Buyers guide for purchasing a Stove jack tent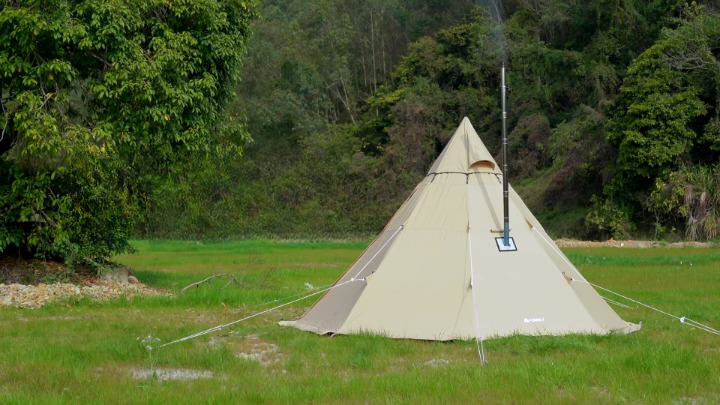 Although camping is a very adventurous and wholesome activity, prepping for all your camping needs can be a little challenging and confusing as well. But why worry when we're here to make your choices easier? Here is the complete buyer's guide for purchasing a quality stove jack tent to add to your list of camping assets :
1. Fabric material
Most tents are designed with cotton canvas fabric for good reason. Cotton canvas fabric helps with insulation of heat thereby effectively trapping heat but at the same time plunges out the moisture, allowing for a warm but dry environment inside the tent.
Although made of cotton, the canvas material guarantees that the material does not melt due to the high temperatures of the stovepipes. The disadvantage with canvas materials is that they can be a tad bit heavy making it a little disadvantageous for trekking campers in specific. Thankfully there is a substitute for canvas fabrics.
You can go for nylon-based fabric which although is highly flammable but can be effectively used when coated with silicon. This makes a good fabric material that's light and easily portable. Hence make sure to go for fire-resistant, easily portable fabric tents.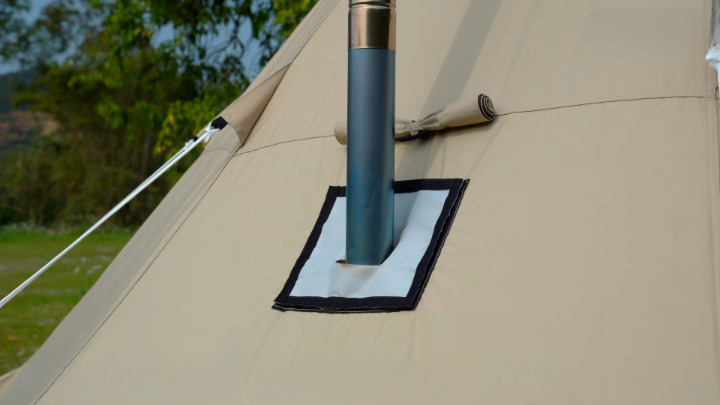 2. Resistance to fire
So basically there are two types of tents with respect to fire resistance. There are fire-resistant tents that are nonflammable on a chemical level and there are fire retardant tents that slow down the fire burning or even self extinguish when exposed to direct fire. Fire retardant tents are extremely innovative as they can be well used with a stove in a tent.
3. Ventilation
Ventilation is a very important aspect of your life. Seriously though, it can be a matter of life or death. There needs to be adequate ventilation for you to breathe so it wouldn't hurt to choose to find a tent that has an extra few windows. But make sure to get windows with meshes that prevent unwanted critters that stroll by. A nylon tent with mesh components is an extremely good choice for tents.
Conclusion
Are you in love with the idea of camping but are trapped indoors due to the seemingly endless cold weather? A common crisis that the masses of campers face on an annual basis is the restriction of camping only in certain seasons; summers and springs. Well, no more of that. One purchase of a stone jack tent and you're good to go, even in the winters.
Stove jack tents empower you to camp whenever you like, wherever you like. You may now let go of the fear of feeling chilly inside your tent, you no longer need to step out of your tent to light a stove whilst camping, you can now do so within the comfort of your confined indoor tent space.
Equipped with numerous versatile features, stove jack tents prove to be the perfect pick for all campers.
Travel light with this tent, and watch it unfold into the perfect temporary dwelling for your memorable naturistic experience. These tents cater to your every need; they are waterproof, include electric cable holes, and also enough windows for a proper amount of ventilation.
These tents come in an easy setup, all wrapped in a bag, allowing convenient set up by even a single person alone. Camp in all seasons, and feel at home with these stove jack tents. This winter, keep yourself warm, happy, and within the clutches of nature.
FAQ's

Q1) Can one leave the stove on all night inside a stove jack tent?
-Yes, all you campers may leave the stove on throughout the stove jack tents due to their increased fire-resistant capacity. The material of the fabric has been upgraded to red fire glass, thereby making it much more heat resistant and safe.
Q2) Does the stove pipe remain securely put even in windy conditions in the stove jack tents?
-The tents are sturdy and the material is strong enough to remain upright and withstand the windiest temperatures. The stove pipe remains secure and upright due to the strength of the material.
Q3) How does one place a heating instrument inside a stove jack tent?
-The stove should be placed inside the tent towards the door so that it is conveniently close to the wood stacking outside. It must be ensured that the metal of the stove is at a minimum of 2 feet away from
the fabric wall in order to minimize the possibility of fabric burns, or scorching. Campers must also make sure the stove sits close to the floor to maximize the heating.
Q4) How long do stove jack tents take to set up?
-Stove jack tents are fairly easy to set up and pitch. These dynamic 4 season tents barely take 20 minutes to set up, it may initially take longer for the first few attempts, but an experienced camper will be able to pitch it with ease. The only point of difficulty for an individual setting it up alone may be the holding of the center pole while the lines are being set up.
Take a look at these tents also:
References: 
https://www.hipcamp.com/journal/camping/top-10-winter-camping-tips-to-help-you-stay-warm
https://koa.com/blog/a-beginners-guide-to-camping-for-the-first-time/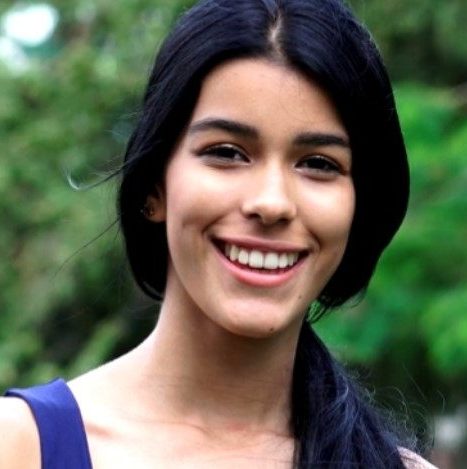 Christina Joyner is a seasoned expert for camping gear and everything related to outdoor adventures. With ten years of experience in this branch, she is an integral part of our team and author of comprehensive guides about equipment, best camping locations, and valuable tricks you should know when spending time in the wilderness.