"It feels good to be lost in the right direction." "It's the journey that matters, not the destination." This quote pretty much sums up what most of us wanderlusts feel about traveling. The excitement and adrenaline rush of traveling to new places is an unparalleled feeling in our lives. It is vital to have your belongings with you packed safely for a wholesome traveling experience, especially when you're journeying on the road. Rooftop cargo carriers do precisely that.
Usually strapped to the top of a vehicle, most commonly on a car, rooftop cargo carriers ensure safe and sturdy storage of your belongings that are a must-have during your journeys. There are many brands on the market with various specifications such as size, storage capacity, carrier material, and so on.
Making a logical choice based on all these factors can be slightly tricky and sometimes an outright boresome activity. Allow us to make these choices easy for you with our carefully curated picks of the top models of rooftop cargo bag brands of 2023.
So without further ado, let's jump in!
1. Amazon Basics Rooftop Cargo Carrier Bag, Black, 15 Cubic Feet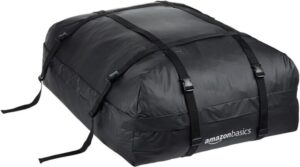 Rated a 4.5 out of 5 stars, the Amazon Basics Rooftop Cargo Carrier Bag symbolizes simplicity and high effectiveness. Amazon Basics has gotten a knack for seamlessly entering various markets and introducing consumer products at very affordable prices, making it easy for the masses to afford their products and still walk away with high utility. It offers 15 cubic feet of space to store your traveling essentials.
A reasonable offer, but it gets the job done. Compared to the price paid for the cargo bag, 15 cubic feet of space is well worth your money. It is designed to have eight cinch straps, each of one-inch wide polypropylene straps; this cargo carrier bag offers stable placement of itself onto the top of the vehicle on which it is placed. You don't have to worry about the bag falling off because once strapped, the bag becomes one unit with the car. The cargo bag is made out of a hundred percent waterproof material.
Along with being a hundred percent waterproof, the bag is also fade-resistant, making the bag impervious to even the worst weather conditions such as the sun, rain, wind, grit, dust, etc. It comes with an oversized zipper which eliminates doubts of fabric tear due to excess storage. You can comfortably store your items inside the bag without having to worry about the zipper being damaged.
It has hook- and- look stay-dry flaps, which ensure that storage contents are completely dry. The zipper is waterproof as well.
An ideal choice for users looking to get utility, all while being on a budget.
2. ROOF MASTER Rooftop Cargo Carrier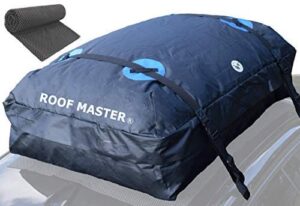 If you're the type of traveler that isn't a fan of rooftop racks, hop on because the ROOF MASTER Rooftop Cargo Carrier is one of the most versatile rooftop cargo bags that exist on the market. This rooftop cargo bag does not need a rooftop rack to be strapped onto. It can be strapped to a multitude of vehicles without the need for a rooftop rack, although it does need hooks to strap it on, which are not included with the product. The hooks need to be purchased separately.
Ideal for regular camping fanatics, adventurous families and couples on the road, or anyone for that matter who are looking to have that additional storage space, this rooftop carrier bag provides the space available in an average sedan trunk of about 16 cubic feet. Designed to have extra-wide straps with Duraflex buckles, this bag ensures safety and stable placement on your vehicle.
It also comes with a high friction mat placed underneath the bag to limit the motion of the pack despite the inertia by your vehicle during your journey. Designed to last long, this carrier is made out of a softshell cargo exterior manufactured from military-grade Nylon Cordura fabric. This material has five times the strength as well as wear and tear resistance compared to the usual high-grade plastic polymer, the Polyvinyl chloride, known more commonly as PVC.
Made out of a hundred percent waterproof material, this cargo carrier promises to keep your storage items dry even in the wettest of circumstances, making this a highly effective and efficient cargo bag to store your items in.
3. RoofPax Car Roof Bag & Rooftop Cargo Carrier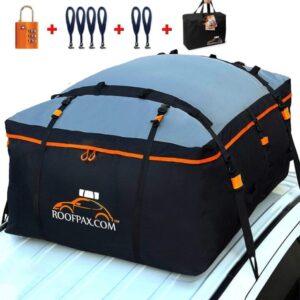 Stated to be the only brand that provides four plus two car hooks that come with the product, the RoofPax Car Roof Bag offers maximum safety and stability without customers having to go overboard to purchase expensive hooks to strap onto their vehicle. Customers can strap this rooftop carrier bag to cars such as a wide range of SUVs, ATV's and pickup trucks.
It is also available in three distinct colors of black, gray, and orange. RoofPax is stated to be the safest and most secure Car Roof Cargo Bag existing on the current market. The Roofpax brand prides itself on its promise of safety, and it makes sense as it can be dangerous to tie down cargo bags onto the top of the vehicle with its straps going through the inside of the car, which might affect the effectiveness and spontaneity of airbags in case of an accident.
Moreover, it is illegal in certain states to even have cargo bags strapped onto vehicle tops with the straps going in through the inside of the vehicle. This rooftop carrier is designed with military-grade heavy-duty materials with waterproof dual seam technology and a double layer of water repellent innovation. On top of the primary straps to hold down the carrier bag coupled with car door hooks, the bag comes with ten elastic velcro strap restrainers to prevent the straps from flapping. It has an SBS zipper that is manufactured by the Chinese zipper manufacturing pioneers SBS.
Double-covered straps with eight Velcro straps and 10 NIFCO buckle straps are the additional security features that Roofpax provides its customer base. Having more than an average sedan's storage space, this carrier offers 19 cubic feet of storage space, which should be more than adequate to store essentials as well as other items for your journey.
With outstanding features, high security, and top-notch value rendering qualities, the Roofpax rooftop carrier bag is definitely worth the money paid for it.
4. MeeFar Car Roof Bag XBEEK Rooftop top Cargo Carrier Bag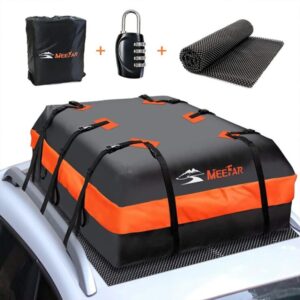 Those customers looking for a rooftop cargo bag that is heavy duty and economical as well have come to the right stop. This rooftop carrier bag is made out of a hundred percent waterproof and tear-proof material, promising to provide safety, stability, and long-lasting durability. Made out of 700D PVC polyurethane tarpaulin, this cargo bag consists of various high-end heavy-duty materials such as grid material with high-frequency voltage technology, which is a key sign of quality.
It comes with one anti-slip mat, one storage box, six security hooks, and one lock for your luggage. Made out of a softshell exterior, this facilitates easy folding of the bag into the storage box. This cargo bag is also extremely easy to install, all in a matter of a few minutes. Working with both roof racks or no roof racks, the MeeFar cargo carrier goes with any car or SUV model. Adding extra security to the luggage comes with a luggage lock to eliminate the fear of theft or content spillage due to damage.
Providing a whopping 20 cubic feet of space, you can choose to store up to 6 suitcases, tents, sleeping bags, clothes, you name it, it can store it.
Therefore, the MeeFar rooftop cargo bag is a satisfactory bag providing service and cost-effectiveness as well.
5. Asani Waterproof Car Roof Top Cargo Carrier Bag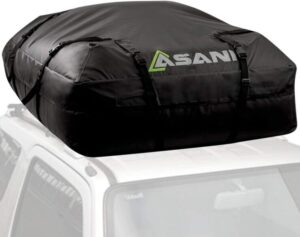 Symbolizing the peak of simplicity and respective utility, the Asani Waterproof Cargo Carrier Bag promises to be a hundred percent waterproof whereas most other cargo carrier bags let in water through their zippers, even if not through the direct permeability of the bag. It is designed with a triple-layer waterproof tarpaulin that stands the challenges of extreme weather conditions such as the sweltering heat, pouring rain, and freezing temperatures.
It also has a zipper flap that prevents water from coming in contact with the zipper in the first place, thereby effectively preventing any water from entering the inside of the bag. Offering you ample storage space of 15 cubic feet, the Asani rooftop cargo bag reminds us why it is always better to choose a fabric-based cargo bag over a hardshell polymer-based cargo box.
In contrast to cargo bags that cannot take the shape of uncommon materials, the Asani cargo bag reminds us that its fabric-based outer covering effectively flexes around the materials being stored, all while able to take the surface tension without tearing. It also has a weight capacity of 99 pounds. Provided with eight reinforced straps with heavy-duty buckles, you will be on the road in no time as it takes a minimal amount of your time in installation. Simple, effective, and cost-efficient, the Asani cargo bag is definitely a must-have.
Buyer's guide to purchasing a Rooftop Cargo Bag
Now that we've placed our top picks for cargo bags before you go ahead and make the final call, you will have to know the determinants involved, which influence the quality of the bags and, in turn, influence your purchasing decisions. Here's a concise and clear buyer's guide to help you purchase your ideal cargo bag.
Volume and Capacity
The primary function of a cargo bag is that of storage. The more storage, the better as you can have more things to store and in an ample fashion. However, it is important to take into consideration that the size of the cargo bag should be coherent with the size of your vehicle. The minimum and maximum range of cargo bag sizes are between 10 to 25 cubic feet.
The most optimum would be in the middle of it, around 15-16 cubic feet. Another thing to remember would be the type of items you decide to store. Heavy machines take up the most spot leaving you with lesser storage space, but it all depends on your storage choice.
The durability of the bag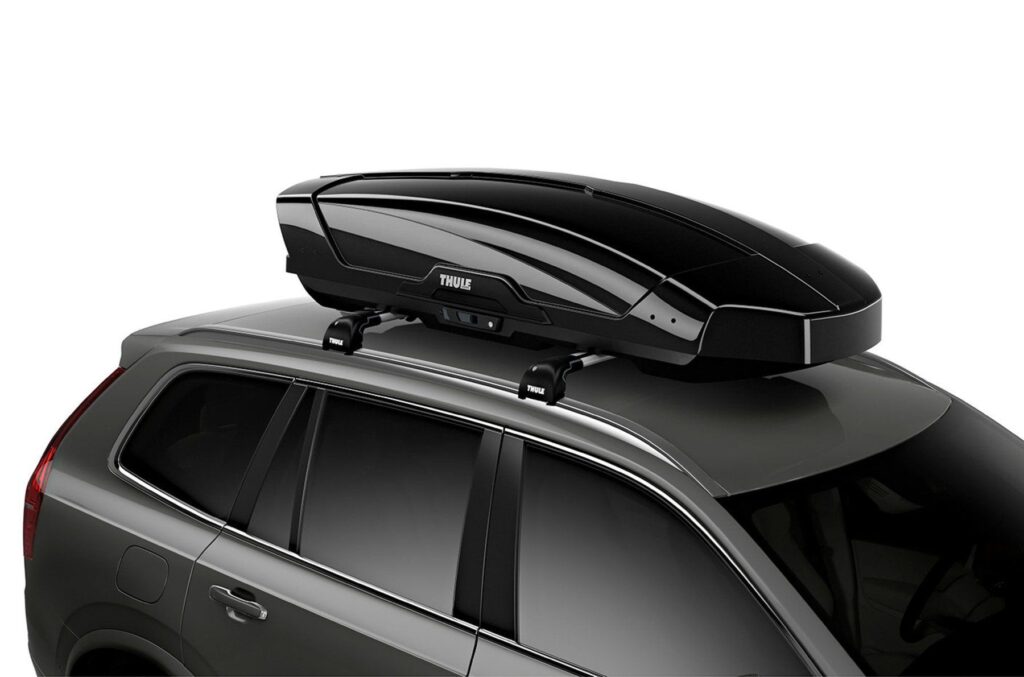 Purchasing a quality rooftop cargo bag is a non-recurring investment, and hence, you can expect it to last long, but some models do not last as long as we wish. It is important to purchase a cargo bag that is made of a heavy-duty high-grade outer covering, which promises durability in the worst weather condition and regular wear and tear. Look for brands that are steadfast with innovation as those brands manufacture their model's outer coverings in such a way that it has a rigid protective layer but also can accommodate irregularly shaped items without compromising the surface tension.
Suitability
You will need to purchase a cargo bag that suits your already existing fixtures on your car (if any). There are different shapes of cargo bags, such as square-shaped, circular, and cargo boxes, which are limited in their adaptability. Make a wise choice of purchasing the right cargo bag based on its shape and adaptability while installing it.
Design of the bag
It is a little hard to understand how but the shape of the bag has an effect on the rate of fuel consumption of your car. It is important to buy a cargo bag that is an eye-pleaser, but it is also important to keep in mind the aerodynamic qualities needed for efficiency. If the shape of the bag is too square in nature, it creates a greater drag on the movement of your car, making fuel depletion faster in proportion to the weight of the bag. Hence, make sure to buy the bag that has an optimal effect on the use of resources.
Conclusion
Making an informed and rational choice of buying the right cargo bag does not have to be a difficult issue to deal with, especially not when we're here to make your choices easier. We hope this was an informative and helpful article to help you understand the pros and cons of various bags and also the determinants that go into choosing the right one. Now pack your bags and hit the road!
FAQs
Do Cargo bags scratch your roof?
The most common answer is that they do not. Although continuous friction between the bag and car surface can lead to scratches over time, this can be prevented with an anti-slip mat that separates the car surface and the bag.
How fast can you travel with a cargo bag?
It is not recommended to go over 90 MPH.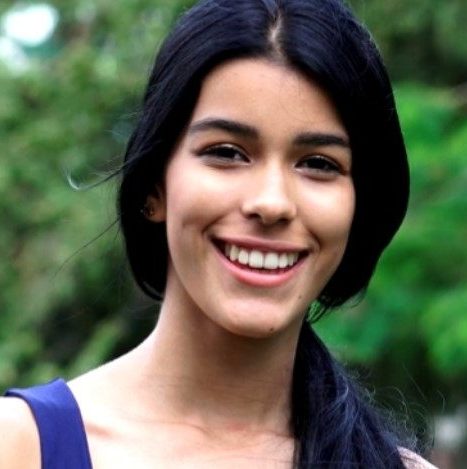 Christina Joyner is a seasoned expert for camping gear and everything related to outdoor adventures. With ten years of experience in this branch, she is an integral part of our team and author of comprehensive guides about equipment, best camping locations, and valuable tricks you should know when spending time in the wilderness.