Get your kayaking essentials alongside you because of these best large space kayaks for big guys, which are comfortable and extremely stable!
Finding the best large kayak is a tricky task, as the market offers numerous products under this category. However, if you are planning to buy a large boat for big guys, then you're in the right spot. Here, I will be discussing the best options, like the one with around 230 lbs capacity. Before making a purchase, make sure to address your preferences,
In short, there are different kinds of kayaks available, like sit-in kayaks, sit-top kayaks, inflatable kayaks, whitewater kayaks, fishing kayaks, beginners kayaks, and more. Luckily, there are certain kayaks that are best for heavy kayakers. In this article, I will be mentioning top-notch products along with a handy buying guide so that you end up with an exceptional seaside partner!
Topt Large Kayaks For Big Guys
1. Sea Eagle 370 Deluxe – Kayak For Heavy Person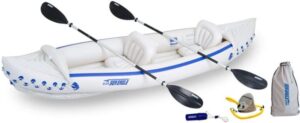 Sea Eagle is one of the famous brand names in the boating and kayaking marketplace. It is popular because of producing quality products which have covered numerous positive feedbacks by customers. The Sea Eagle 370 Deluxe is a tandem kayak. The tandem kayaks are based on cycling or paddling movements. These kayaks are ideal for recreational transportation as they offer great stability and maneuverability.
This large kayak is inflatable in nature. The inflatable products are lightweight and portable. It is based on multiple air-chamber technologies, which means it has more than one inflatable chamber so that if one gets burst accidentally, the other remains inflated and helps the boat is floating. So there are very few chances of the drowning of inflatable kayaks.
The Deluxe kayak offers great build quality. It is made up of strong material that provides a shield against external factors. In the setup context, it is a three-person kayak and can store a maximum of 650 lbs. The weight is more than enough. It comes with two foldable chairs and dual paddles that easily enjoy kayaking with your friends and family members.
Pros
Extremely Stable
Multiple chambers mechanism
Perfect Weight capacity
Lightweight
Portable
Cons
The average quality middle seat
In a nutshell, this popular kayak is ideal for hobbyists who want to enjoy their weekends in a calm environment. It is lightweight, portable, stable, and shows good mobility. I recommend this option to those who planned the kayaking trip far from home.
2. Driftsun Rover 120/220 Kayak – Kayaks For Large People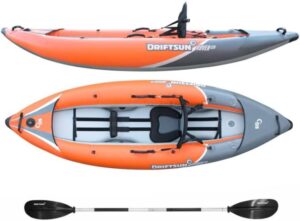 Whitewater kayaking refers to outdoor and recreational trips which are organized just for relaxation and enjoyment. These kayaks are portable, lightweight, and come with user-friendly features. However, whitewater kayaks are a little expensive than other types, but the price is worth it. The Drift Rover is another inflatable kayak on our list, which is categorized as a whitewater boat.
This inflatable kayak is composed of tarpaulin polyvinyl chloride (PVC) material. It is a synthetic element that provides resistance against external factors. It follows 1000 D reinforced technology. The best thing about the construction of this kayak is that it is highly resistant to punctures.
There is nothing to worry about with these inflatable kayaks. It is based on multiple chambers mechanisms and offers easy inflation and deflation, making it an appropriate choice for beginners or entry-level kayakers. It takes less than 10 minutes for complete inflation.
The dimensions of this boat are 12.6 x 38 x 13 inches (length x width x height). As it is an inflatable kayak, it is lightweight. It weighs only 28 lbs which makes it a portable choice and an ideal kayak for travelers. However, lightweight doesn't mean any low carrying capacity. It can hold 600 lbs. The weight makes it the perfect choice for big guys!
Pros
Great build quality
Ideal for travelers
LIghtweight
Portable
Quick inflation and deflation
In conclusion, this product is selected mainly because of its extraordinary construction. It is a durable, sturdy, and resistant item on our list. I recommend this inflatable whitewater kayak to travelers and weekend enthusiasts.
3. Sea Eagle 380x Inflatable Kayak – Big Man Kayak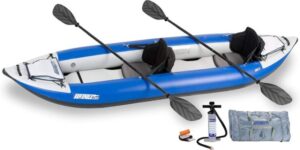 Looking for a superlative model? Here you go with the Sea Eagle 380 x pro package kayak. This is another extra tough watercraft that is designed for two to three adults. It is constructed with polyester material which is extremely durable and resistant. This bateau is ideal for heavy people as it can hold around 750 pounds of weight. You can enjoy sea-kayaking with your partner on this best product.
I will really like to appreciate the outer building of this boat. It is based on high-pressure fabric construction that resists approximately all kinds of punctures. This helps beginners to enjoy sea-riding without any fear. It is a highly stable and balanced option out there.
The total dimensions of this item are 12.6 x 39 inches, and it weighs 40 lbs. From the interior side, the proportions are 11.9 x 15 inches. You might find something lighter than this, but the quality and sturdiness are unbeatable. Moreover, it offers convenient inflation and deflation mechanism, which saves your time. Even beginners can set it up in no more than eight minutes.
Furthermore, this package kayak includes additional accessories like a carrying bag, slide-in-swept back skeg, hand pump, and more. The repair kit and instruction manual are also included, which makes the maintenance easier for users. It is a very convenient and user-friendly option.
Pros
Convenient
Includes additional accessories
Ideal for beginners
Quick inflation
Heavy-duty construction
Cons
Average choice for warmer climates
The best thing about this product is that it comes up with a package. It includes all the extra essentials which might be needed during your trip. It is recommended for its convenience, extraordinary features, and great building.
4. Pelican Maxim 100X Kayak – Most Stable Kayak For Big Guys

Here comes the Pelican Maxim kayak! It is a recreational sit-in boat designed for paddlers or hobbyists interested in outdoor fun and enjoyment. It is a perfect option to convert your seaside experience into a memorable trip. This is not an inflatable kayak like the ones discussed above. Many people might think that solid watercraft are heavy, but that's not the fact.
The Pelican Maxim is a lightweight boat that is easy to carry. It is equipped with side T-shapes premium quality handles located at the front and rear, both sides. The transport would be easier with the help of these handles. The lightweight doesn't mean that it can't support heavy people. This boat can weigh 125 kg weight which is quite good as it is a solo person kayak.
I really like to appreciate the shallow hull design of this boat, making it different from other basic options in the market. The design is intended to provide maximum stability and maneuverability. It is a one-person kayak and has friendly features that can be carried and maintained by a single man. In short, it is a good performing watercraft.
Pros
Highly stable
Convenient
Good build quality
Lightweight
It is a solo person kayak and is best suited for ones who love cycling or paddling. It is lightweight, portable, and easy to carry. You can move it without putting in any extra effort because of the strong grip handles located on it. Overall, it is user-friendly, affordable, and the best in performance.
Read also: Best Kayak Roof Rack For Cars With And Without Rails
5. Vanhunks Voyager Deluxe – Kayak For Big And Tall
Searching for something a little fancy? Here you have the Vanhunks Voyager deluxe kayak that comes in a beautiful layout. It features blue, white, and black colored patterns which look very aesthetically like seawater. The dimensions of the product are 370 x 81 x 37 centimeters (length x width x height). It weighs 35 kgs.
It is not a lightweight watercraft but considered because of its heavy-duty construction. If you are looking for an option that lasts longer, then you should consider this voyager! It is composed of aluminum metal material which adds durability, sturdiness, and strength to it. The outer side of this boat follows a thick layered design which provides a shield against extreme environmental conditions, light direct UV, high temperature, or high pressure.
The seats are also made up of metal and offer adjustments. It has all three seat setups with two paddles, two-rod holders, and two storage hatches. It is an ideal choice to enjoy riding with your partners!
Pros
Resistive
Looks beautiful
Durable
Metal construction
It is one of the most durable watercraft out there in the market. It is a little bit expensive because it boasts a metal building. In brief, it is a strong, long-lasting, and sturdy choice to make!
6. Vanhunks Boarding Black Bass Kayak – Best Kayak For Big Person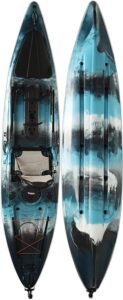 Here come the thirteen feet long kayak! The long kayaks are a great idea for those who love speedy rides. There are numerous advantages of getting long kayaks instead of shorter ones; for example, these are speedy, convenient, require less effort, best in performance, and typically have more holding capacity. In short, the Vanhunks boarding black bass boasts greater proficiency with minimum effort.
It is a sit-on-top kayak, which is one reason we can't call it beginners-friendly. But, it is stable and sturdy as it follows polyethylene construction. The ethylene material is known for providing rigidity and resistance to the surface. On the inside, this boat is equipped with steel fittings. In short, it offers an overall complete heavy-duty building which creates it as a long-lasting choice.
The dimensions of the kayak are 395 cm x 81 cm x 35 cm (length x width x height) and it weighs 33 kgs. It can hold more than 500 lbs weight which makes it a great choice for big guys. Moreover, it includes a single seat, one paddle, and a fishing rod. It is an ideal choice for solo people to enjoy fishing, water riding, and adventure.
Pros
Long
Requires less effort
Great weight holding capacity
Stable
Cons
Not appropriate for entry levels
Briefly, this best large and long watercraft for big guys totally with its price! It features durable construction, stability, great weight capacity, and more. It requires low effort and gives maximum output.
7. Lifetime Tamarack Angler Kayak
Here comes the Lifetime Tamarack Angler watercraft. The angler kayaks are basically used for fishing. These kayaks are designed for solo people used only and have a wider beam. In other words, it has the widest measurements side to side, which makes them perfect for fishing. However, people also use these kayaks for recreational or racing purposes. Moreover, the increased width of these kayaks also adds more stability, which is one of its main reasons.
Before anything else, I really like to appreciate the raw material used to make this strong bateau. It is composed of polyethylene material. It is one of the most widely used plastic elements in the construction of kayaks. It adds more thickness and stiffness to the boat as compared to other building elements. It is less pricey and protects against UV and temperature changes.
It is a comfortable bateau that is equipped with an adjustable and padded seat with a backrest. The bottom is quite flat and comes with multiple footrests. Moreover, there are two fishing rod holders and two paddlers. The best thing about this boat is that it is stable and offers an extremely comfy and calm environment.
Pros
Very comfortable
Best-suited for two persons
Fishing bateau
Highly stable
Cons
Packaging needs improvement
As a whole, this sit-on-top bateau is an ideal choice for fishing. It is one of the most comfortable boats available in the market. It is considered because of its padded seats, multiple footrests, and protective building.
Buying Guide
In this section, we will discuss the important parameters you should before purchasing an appropriate option. Actually, every best kayak is not meant for you. Thus, you have to make a choice depending upon your personal preferences. Particularly, as we are concerned about the big-sized boats that are great for heavy people, you should have the carrying capacity as the main element.
Carrying Capacity
It refers to the load or weight which a kayak can hold. It is a fact that large kayaks offer more space or capacity as compared to the smaller options. But, about the water riding, it is imperative to know the exact load capacity. Because if you exceed the limit, your boat or kayak might drown.
There are kayaks available in the market which can support heavy people who weigh 325 pounds maximum. It is not the case that you match your weight to the carrying capacity because the essentials for fishing and stuff like that are also considered weight. So overall, around 250 to 350 pounds carrying capacity is superlative for big kayakers.
Style
There are different designs of kayaks available in today's markets. Mainly, there are two types based on the sitting position of the rider: Sit-on-top kayak and Sit in a kayak. They sit top kayaks have sitting areas little in the air. These are the fashionable kayaks and are best-suited for touring and sea styling etc.
On the other hand, the sit-in kayaks are like traditional boats. These are old-fashioned. In these boats, the sitting area is located inside with proper arrangement. It is an ideal option for fishing or relaxation. In my opinion, sit-in kayaks are a better option for big guys instead of sit-on-top boats.
Raw Materials
The building material used in the construction of a certain kayak is essential. This is because quality building adds resistance against environmental factors like UV radiation, high temperature, high pressure, or rust. Moreover, if your product is composed of sturdy materials, it will last longer than the one having a cheap establishment.
In the context of the kayaks for big guys, I suggest you check build quality properly. Ensure that your boat is composed of heavy and strong elements so that it will not get burst or broken in any case. In inflatable kayaks, I recommend the highly durable polyurethane material. In other boats, wooden or thick plastic is strongly suggested.
Width or Size
Kayaks should be a little wider so that they could be suitable for big guys. Make sure to go for an option with a big and open cockpit area as it provides more stability. Again, stability and balance is a necessary option while discussing the water ridings.
Budget
Price is another important parameter, especially for budget-conscious buyers. Some kayaks are expensive while others are cheap, like starting from around $70 (Inflatable kayaks) to more than a thousand dollars (For example, White water kayaks). You have to decide on one as per your pocket!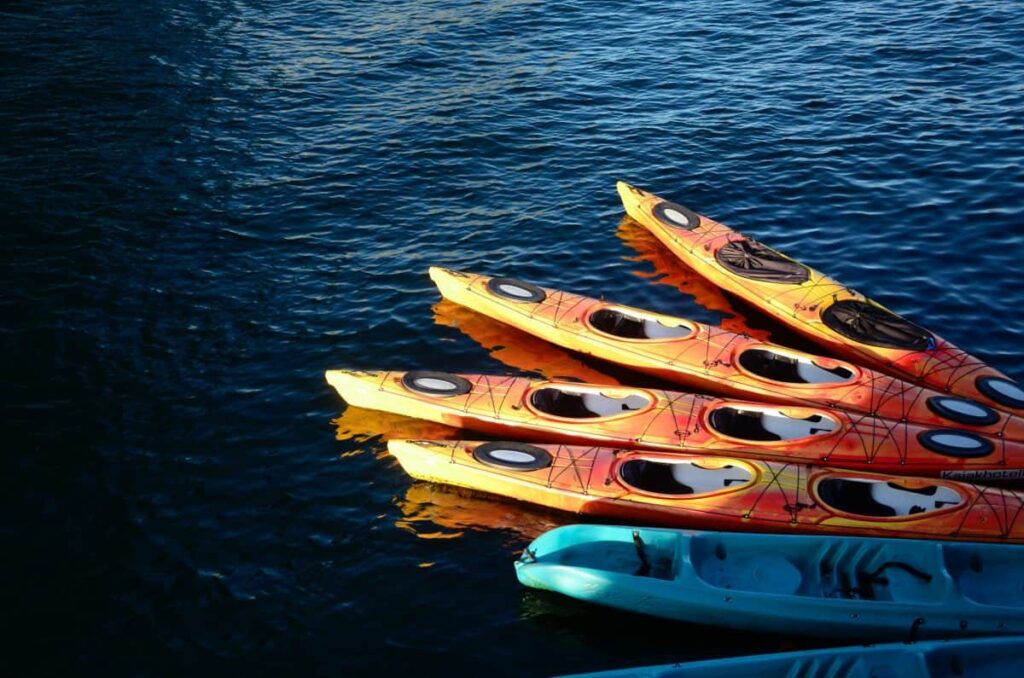 FAQs
Do kayaks have a weight limit?
Yes. The weight limit refers to the carrying capacity, which means how much weight a bateau can hold without drowning or losing balance. The recreation kayaks come with a limit of around 200 to 450 pounds and are ideal for touring and oceans. At the same time, the fishing kayak boasts 400 to 550 weight capacity. And, the tandem kayaks range from 450 to around 700 weight limit.
What is the best lightweight kayak?
Mostly, the inflatable kayaks and some plastic solid kayaks are light in weight. The metal ones are heavy comparatively. In my opinion, the Driftsun Rover Inflatable kayak is one of the most portable and lightweight options on this list.
Which kayaks are the most stable?
The kayaks which boast the hull's design are mostly stable. The sit-on-top recreational kayaks are also intended to provide greater stability and require minimum effort to perform efficiently. According to my perspective, a lifetime Tamarack Angler Sit-On-Top Kayak offers extreme stability.
Is it safe to kayak if you can't swim?
You can still go kayaking if you have no basics of swimming! But, make sure to consider an option that is safe and stable itself. Also, you need to understand the good knowledge of kayaking by a good instructor who will guide you about every possible difficulty which might come your way.
Final Words
In the end, you have gone through enough information regarding "best large kayaks for big guys 2023". Mainly, you have to examine the stability, building, convenience, and balance of each kayak before making an appropriate purchase. It was difficult to pick the perfect option, but here are my top picks:
Sea Eagle 370 Deluxe for its multiple ar chamber mechanism, convenience, and portability. Vanhunks Voyager Deluxe for its metal construction, beautiful design, and sturdiness. It is highly durable. Lifetime Tamarack Angler for its comfortability and high-end stability. It is a great option for fishing.
There are many different kinds of kayaks available in the market which are intended to serve different purposes. You have to consider one as per your use and preference. Make sure to go through the comprehensive buyer's guide I mentioned in this blog to make a perfect choice!
Happy Kayaking!
Take a look at these kayaks also: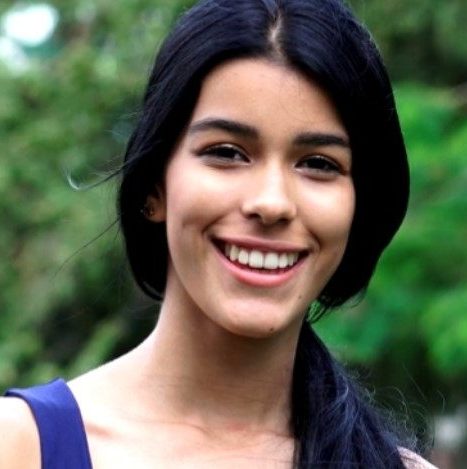 Christina Joyner is a seasoned expert for camping gear and everything related to outdoor adventures. With ten years of experience in this branch, she is an integral part of our team and author of comprehensive guides about equipment, best camping locations, and valuable tricks you should know when spending time in the wilderness.