Camping is an excellent opportunity to embrace nature in a true sense. Some people like to stretch their legs on wilderness trails, while fresh air caresses their face. There is nothing better than sitting around a campfire and sharing stories with your family and friends, cooking food, or having a cold beer.
If you're more of a person, who likes to sit around camp and share time with their family or friends. Then, there is no doubt investing in excellent quality stools would be essential.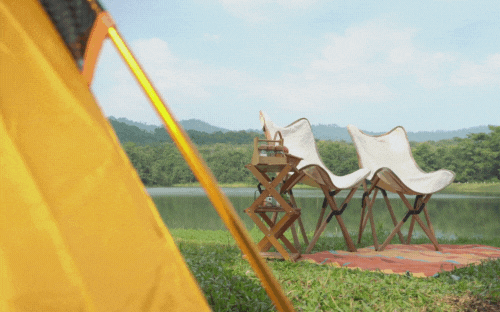 Not an old stool is going to give you any favors while enjoying a weekend in your favorite camping spot. You need to have something that speaks to your needs like stools with comfort, durability, convenient to carry, and easy to set up. So, let's see some camp stool for 300 lbs, the tools which can withstand at least 300 lbs of load.
We have managed to compile a list of the best camp stool for 300 lbs available these days. Our review of these stools is based on multiple factors. Such as its quality, durability, load capacity, weight, and most importantly, its comfort. Moreover, reviews are based on consumers' reviews and will identify specific features in stools along with price range.
Top Heavy-Duty Stools That Can Withstand at Least 300 Lbs
Let's get camp stools for heavy-duty and kill the waves in the wilderness.
1. Walkstool Tripod Stool-Heavy-Weight – Best Camp Stool for 300lbs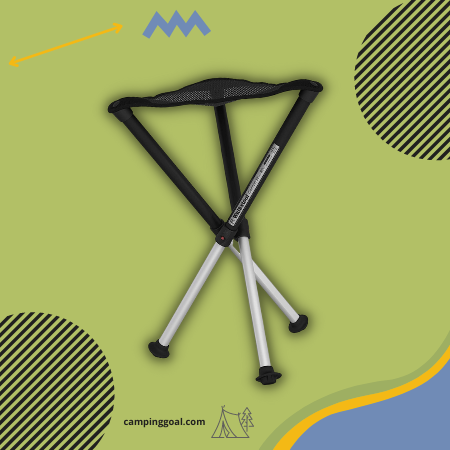 This product is made by a Swedish company, one of the best for outdoor products, especially heavy-duty stools. Walkstool tripod stool comfort is not only durable and sturdy, which can handle up to 450 pounds but lightweight as well. It's the best product when it comes to weight versus load capacity.
Considering the load capacity it is one of the best camp stools for 300 lbs, people having weight more than 300lbs.
The design of stools is neat and straightforward with an Aluminum frame, which gives strength and lightweight. Mesh polyester seats make it breathable, and the seat is big enough to handle the largest of users. Moreover, this stool comes with rubber feet that prevent loss of balance while supporting heavyweight.
Last not the least, this stool comes with ranges of seat height so that you can choose according to your desire. Indeed, this product is one of the best portable stools in the market for someone who is looking for stools that can hold heavyweight.
Specifications:
Dimensions (Unfolded) : 22" x 18" x 15"    (Inches)
Dimensions (folded)       : 22" x 4"                 
Weight: 1.75 Pounds
Load capacity: 450 Pounds
Frame: Aluminum
Seat: mesh polyester
2. ComfiTime-Heavy Duty Foldable Stool for Indoor and Outdoor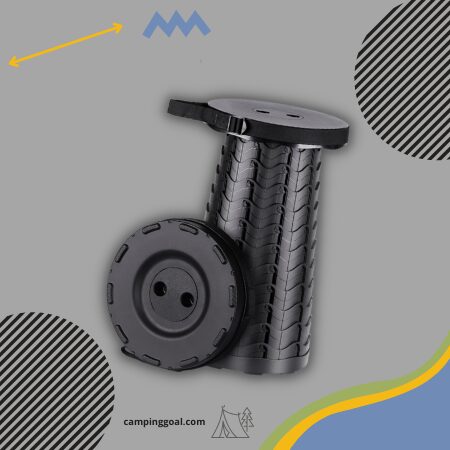 As the name suggests "comfitime" is meant to provide great comfort and convenience whether for its usage, storage, or transportation. Confitime folding stool fulfills all its requirements as its name suggests. First of all, it's not only known for comfort but for its robust design that can withstand 300lbs of weighing, to be precise it can hold up to 350lbs that is just amazing.
Another eye-catching feature is the adjustable height, it's the feature that collapsible/retractable stool is known for. It's easy to adjust height just by rotating it and because of this particular feature, it is best suited for adults and kids as well.
Never the less, it comes with a memory foam seat cover for your comfort it is water-resistant as well. Moreover, its plastic body and water-resistant cover make this stool suited for indoor and outdoor activities. As a bonus, it has a water-resistant storage bag for convenient storage and transportation. With a fair price and such features it on the best camp stool for 300 lbs. In my option, it is one of the best heavy-duty portable stools.
Specifications:
Dimensions (Unfolded): From 2.4-inch to 18.5-inch Height
Dimensions (folded)       : 9.8 " x 2.4 "(Disk)                 
Weight: 2.86 Pounds
Load capacity: 350 Pounds
Material: Germany-imported PP Plastic Material
Seat: Memory Foam
3. XOPRO Ultra Heavy-Duty Foldable Hiking Stool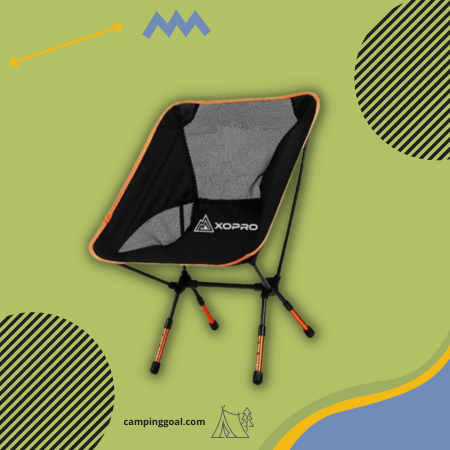 This product may look more like a chair, but without a hand rest that makes it appealing for all kinds of buyers. Whether you are heavyweight or slim, it can comply with everyone's needs. This stool can support up to 300 pounds with its reasonable weight of just 2.2 pounds.
What makes it durable and robust is the aluminum alloy frame that can withstand heavy pressure. Seat with mesh fiber that circulates the air makes it perfect for summer camping. The significant property that makes this stool a strong contender in this list is its ergonomics. Having a backrest is a favor for you after being tired from hiking or other hard work activities.
This stool is portable and can be folded up into a zipper storage bag. Even better, it takes no time to set up. Moreover, its height can be adjustable as desired. This stool is perfect for camping, hacking, fishing, and in your home garden as well.
Specifications:
Weight: 2.2 Pounds
Load capacity: 300 Pounds
Frame: Aluminum Alloy
Seat: Mesh (Triangular)
4. ALPS OutdoorZ Rhino MC Hunting Stool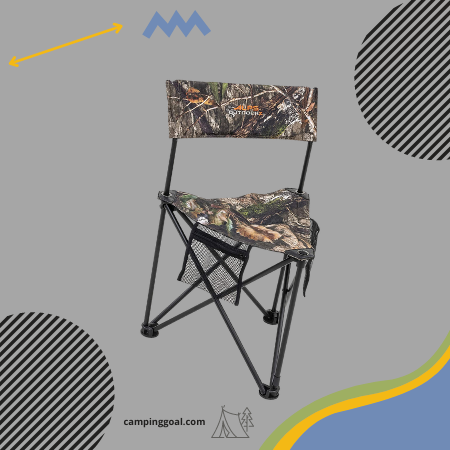 This stool has a backrest that is a unique thing about this product. That means you can lean back and ease yourself without falling out of the stool. Backrest improves it's ergonomics and makes it comfortable. You might think, having a backrest may cause difficulty to handle but make no mistake it is very compact and can carry in a small bag. It is easily collapsible and fit into shoulder bags.
The key feature of this stool is its triangular seat. This kind of seat promotes proper blood circulation in the legs. Because of this property, it's best for those who like to sit a lot.
Even more, on one hand, a triangular seat and backrest give you relaxing comfort. On the other hand, the powder-coated steel frame adds durability and strength to withstand 375 pounds, and it means perfect for those who are looking for a camp stool for 300 lbs. At last, two small pockets are available you store your essentials as well.
This product is a perfect match for activities, which requires a lot of sitting, such as fishing and camping. Furthermore, it can be used for other purposes because of its long-lasting use.
This product is a perfect match for activities which require a lot of sitting, such as fishing and camping. However, it can be used for other purposes because of its long-lasting use. Due to its ergonomically designed backrest, it is the best camping stool with a backrest.
Specifications:
Dimensions (Un-folded) : 19" x 19" x 31"    
Dimensions (folded)     : 6" x 19" x 28"         
Weight : 5 Pounds
Load capacity: 375 Pounds
Frame: Powder-coated steel
Seat: Mesh
5. ALPS OutdoorZ Horizon Swivel Stool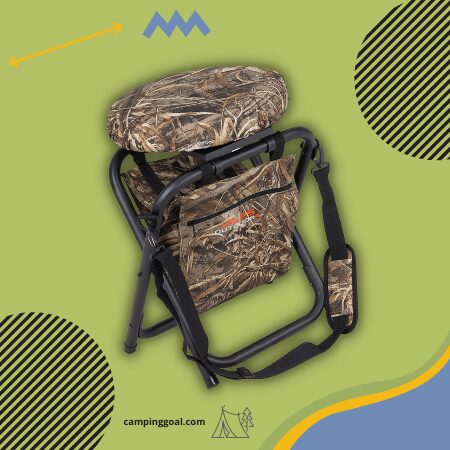 ALPS OutdoorZ Horizon Swivel Stool is one of the best camp stools for 300 lbs. Many features are appealing to a wide range of buyers. This stool is perfect for holding a 300 lbs weight because of the Powder-coated steel frame. Moreover, the frame is fitted with 360 degrees rotating seat, which gives an edge to other listed stools.
But on the negative side, its weight is 10lbs, which is very heavy to carry. However, this can be collapsible into smaller dimensions. Due to lack of backrest, it's not very comfortable, and the seat is not meshed so not suitable for the summer season.
Let us look into the brighter sides of this stool. It is attached with a large storage bag with multiple zips to store your extra accessories. Furthermore, it's very durable and withstands wear and tear. It's very stable and perfect for outdoor adventures.
Specifications:
Dimensions (Unfolded) : 17"x 17" x 22"  
Dimensions (folded)       :  6"x 17" x 24"    
Weight: 10.5 Pounds
Load capacity: 300 Pounds
Frame: Powder-coated steel
Seat:  swivel (round)
6. Backpack Folding Camping Stool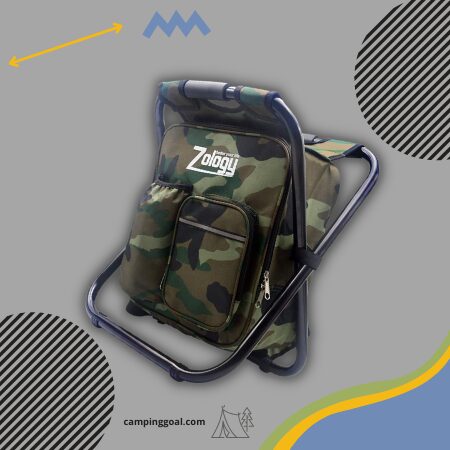 One of my favorite products because of its versatile design. Have you ever thought of packing foldable stool in your backpack? I know it's difficult to fit all things in a backpack. If you have faced the same problem as me, this product is the savor. It is a stool and in meanwhile, its backpack as well. Let us get into more details of it.
It is built in such a way that you can use it as a backpack, and whenever you want to sit, all you need is to put it into the ground. This folding stool is built with a cooler bag that keeps your food and drinks cool. One downside of it as cooler is made of fabric so that cooling wouldn't sustain for long. However, if you do not want to utilize it as a cooler, you are left with a lot of space to pack your camping gear.
Nevertheless, it has a lot of pockets that could be very handy, such as holding your bottles, keys, umbrella, power back, and chargers that can fit in.
Moreover, its weight capacity is 330 lbs that speak for its durability. Its weight is just over 3 lbs, and It is quite comfortable and economically designed. It has a sturdy steel frame. The backpack fabric is waterproof and easily washable.
Due to its amazing features, you can understand it is convenient for multiple activities like camping, fishing, tracking, road trips. In our recommendation, it is one of the best heavy duty folding stool.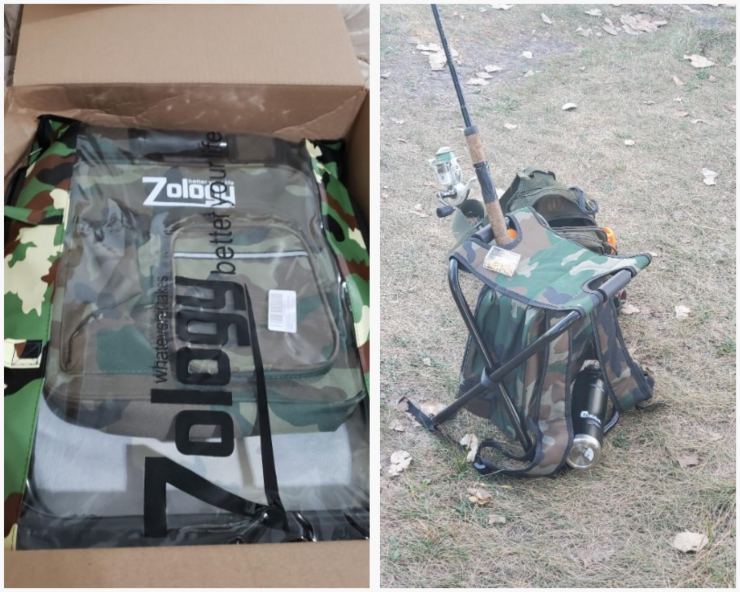 Specifications:
Dimensions (Unfolded) : 14.17" x 16.14" x 11.42"
Dimensions (folded)       :  Fordable
Weight: 3.31 Pounds
Load capacity: 330 Pounds
Frame: Powder-coated steel
Seat:  Oxford Fabric, Square in shape
7. Heavy-duty Portable Folding Stool-Triple Tree
BoWen Portable Folding Stool presents a simple design but heavy-duty stool. This stool looks fragile in appearance but can withstand 600lbs of weight without buckle, snap, or creak. This stool can Hold weight up to 600lbs, making it the optimal choice for those who are just looking for a camp stool for 300 lbs. Even better, the frame is made of steel for a long time using without rusting.
This stool is easy to set in no time, very compact and it is considerably lightweight. All these properties make it easy to travel with this stool.
Against some advantages, perhaps some disadvantages would be better to acknowledge its true evaluation. This stool is not ergonomically designed, as no backrest is present and cannot adjust its height.
Despite some negative points, it's one of the best products for camping, fishing, hunting as it is convenient to carry with you. It is also a good product for BBQ parties as you can grill sitting on it very easily.
Specifications:
Dimensions (Unfolded) : 13.9"x 14.3" x 16.8"   
Dimensions (folded)       :  13.9 "x 2.4" x 22"       
Weight: 4.3 Pounds
Load capacity: 600 Pounds
Frame: Steel
Seat:  Oxford fabric coated waterproof Nylon
How to choose the right camping stool for you?
Watch the following video:
Guidelines to repair a metal bar stool
Although metal bar stools are fairly sturdy, there may be a need to repair them periodically especially if we use them in outside weather conditions. Exposure to sunlight and rain often leaves some damages to metal stool. When things get damaged then repairing is usually a cheap alternative to buy a new one. After reading the following guideline you will be able to repair your metal bar stool at home.
Rust removing and paint coating
Metal bar stool will rust if you expose it to rain or a moist environment for a long time. If corrosion starts on aluminum or steel surfaces at an early stage then you can easily repair your stool. Just take sandpaper to clean the metal surface from rust. After cleaning apply a protective coating of rust repellent paint to increase metal life.
Stabilizing stool balance
When the legs of your bar stool become uneven then you don't need to replace it. You can adjust it easily. Simply find out which leg is shorter and then weld a metal piece of the required size with a shorter leg. You can also use a rubber bottom with a little more length.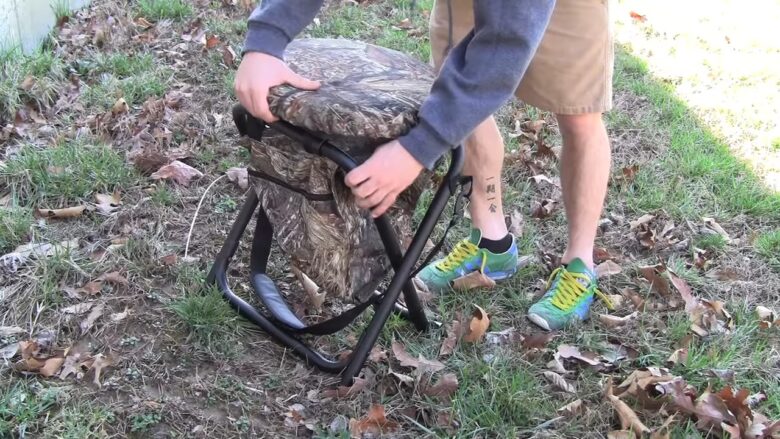 Use the metal paste to fix Cracks
If there are any small chips or cracks in aluminum or steel then use a metal paste and hardener to fix it. Once the paste is dry then use sandpaper to smooth the surface and apply rust repellent paint.
Weld the breaking parts
Sometimes stool leg material is not strong enough to support a lot of weight which results in broken stool structure material. But you don't need to worry because you can give new life to the metal stool by welding breaking parts. If you have experience in TIG welding then this is a very simple process. A word of advice here, you should use a specialized tig welding helmet for tig welding.
Replacement of bar stool seat
When the bar stool seat starts to show signs of wear then you should replace it to give a new look. Different colors and styles of seats are available in the market. So you can choose the look you prefer easily. It is more cost-effective than purchasing a new stool.
Things to Consider Before Purchasing a Camp Stool
Now that we have listed some of the best camp stools you can find in today's market, it is time to present to you some important features each of them should possess. In order to help you make a smart investment and get the best possible chair that will serve you for a long time, we made a brief list of guidelines you should follow in the section below.
Portability
Portability is one of the essential things to consider before this purchase since you will be moving the stool a lot, which is why it is important for it to be lightweight, compact, and easy to move from place to place. Look for a chair that weighs around 15 pounds or less. It is also crucial to be able to pack it down into a proper carrying case that should have a built-in shoulder strap.
Materials and Durability
When browsing for a camp stool, it is important to check if it is durable and made of high-quality materials. If you pick the stool without a rugged frame, durable stitching, and high-strength fabrics, it is only a matter of time before it gets damaged or torn, which can cause some safety issues.
Size
The size of the stool is another essential thing to consider before you spend any money. Extra wide or extra long seating areas may cause some fit issues for shorter or smaller campers. If you get a chance, make sure to try sitting in the chair to see if it feels right for you and that it provides sufficient comfort.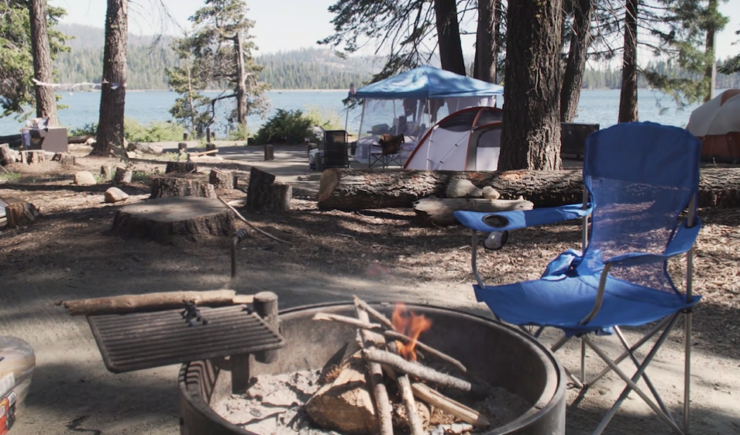 Comfort
The finest camp stools on the market include some added comfort features that will set themselves apart from your typical folding chairs. Look for the stool that has features such as adjustable height for arms and padded headrests.
Unfolded and Folded Size
Since you want to take this stool to your camping adventures, you need it to be compact and easy to carry. Make sure to check the stool's size in folded and unfolded state so that you can figure out how much space you will require to store it.
Stability and Leg Design
Camping stools are much lighter than traditional camping chairs, and they often boast various (sometimes unconventional) leg designs for easy packability and weight savings. This typically has an impact on stability, so make sure that the stool you are picking can carry your weight and that its legs are designed to stay planted firmly to the ground.
Frequently Asked Questions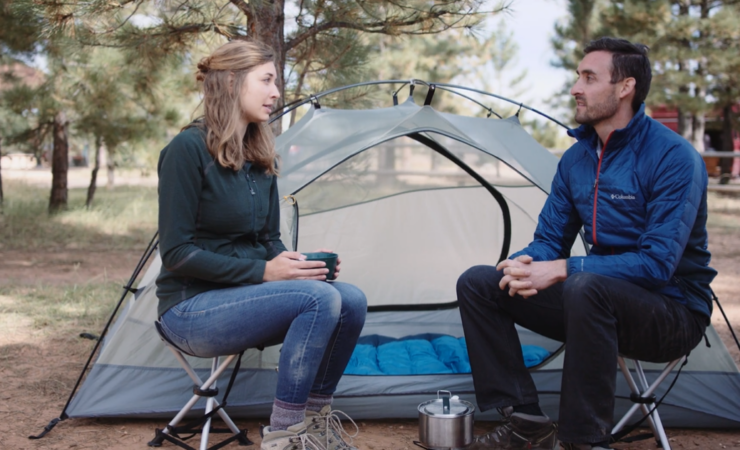 1. Why are camp stools important?
First of all, camping stools are very practical, and they will allow you to enjoy the camping experience fully. They are also very lightweight, and you can easily pack, store, and move them around hassle-free.
2. Are camp stools different from beach chairs?
Yes, camp stools have a different grip from beach chairs. Camp stools sit best on plain ground, grass, or concrete, whereas beach chairs are best used on sand, pebbles, and other types of uneven ground.
3. What is the weight limit for camping stools?
Camping stools come in a wide variety of weight limits. Typically, an adult camping stool can support a weight from a minimum of 225 pounds up to 500 pounds. There are also extra large stools that can support more weight than standard ones.
4. What is the best material for a camping stool?
The best camping stools use aluminum as the primary material. Aluminum has a higher strength-to-weight ratio, and it can typically support more load when compared to chairs made of other materials. It is also very lightweight, so you can store and move it around with ease.
Conclusion:
If you are outdoor enthusiasts and looking for a heavy-duty camp stool for 300 lbs at least. Especially focusing on weight capacity this guide presents you with every aspect of stools such as durability, comfort, size, pros, and cons as well. These stools are all in one package also with a fair price.
We provided comprehensive information about these stools so that you can make your mind according to your desire. That's why no need to waste your precious time elsewhere, buy one of these to enjoy your weekend. Please, let us know your experience using these stools.
Check out also:
References: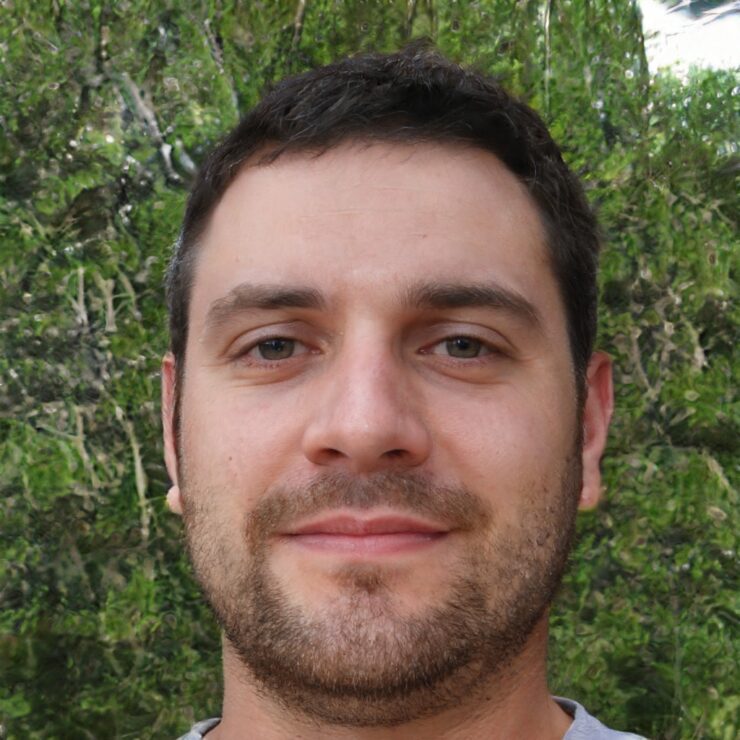 I love camping! There's nothing like being in nature, getting away from the hustle and bustle of everyday life.