In case you are looking to buy a brand new tent, you might find yourself in a bit of a dilemma since today's market is packed with so many types, enough to make your head spin. From materials to other important features, you can find varieties that will possess attributes that you did not even know existed in tents. To help you understand these choices better, we will take a look at the types of tents you can find in today's market.
When you get to understand the types available, you will certainly be able to make a better choice when you decide to make this purchase. We will cover different types and present to you the advantages and disadvantages that each carries, so sit back, relax, and let us get right into it.
1. Dome Tents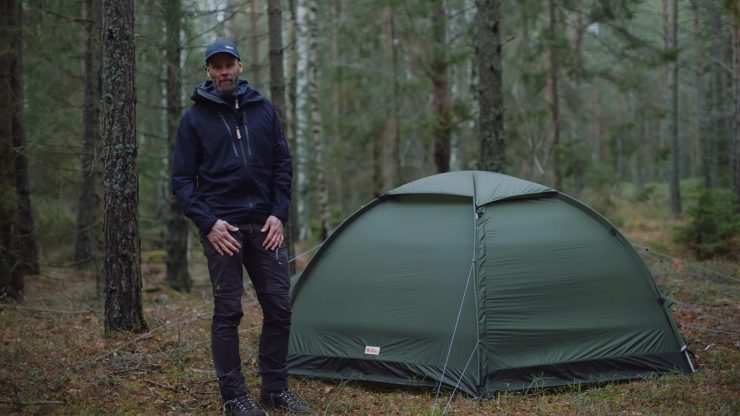 As the name implies, a dome tent is designed and shaped to look like a dome. These tents typically feature two to three poles, with two of them crossing to form a half-dome appearance. The third pole usually serves to prop up the rain fly for a larger vestibule space in a dome tent.
Generally, dome tents have rectangular floors and are available in a wide variety of sizes. They are also very easy to set up, and it is a process that does not take much time. You can find them in different styles, shapes, and forms, so there is something for everyone.
Dome tents are also built to withstand strong winds, so they are an excellent choice for camping in harsh weather conditions. They can also be freestanding, meaning that you can pitch them without stakes, which can be very convenient in certain situations. Overall they are a common and popular choice that will get the job done.
Pros
Very easy to set up
They can also be freestanding
They hold strong in windy conditions
Large vestibules and plenty of storage space
A good amount of head space
Lighter than some types of tents
Cons
Sloping sides can be a bit constraining
2. A-Frame and Wedge Tents
A-Frame tent is something that most people have in mind when someone mentions such products. They are the ones with a traditional ridge with a triangular (A-shape) frame. Same as the dome tents, they have rectangular floors and steeply sloping sides.
These sides can sadly reduce the amount of space in the tent, but it is a minor drawback. However, these sides come with some advantages when it comes to rain and snow and other damp conditions as they slough off your tent. Generally, A-frame tents are pretty good in harsh weather, so they are a great pick if you want to camp in such conditions.
Pros
They perform amazingly in rain and snow
Stable
Available in various sizes
3. Backpacking Tents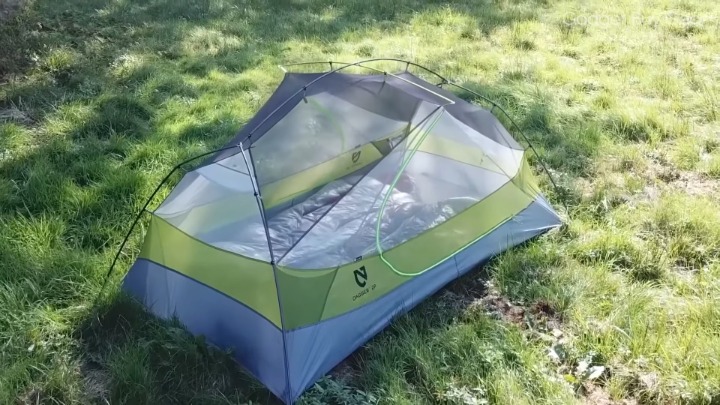 Backpacking tents are a perfect choice for adventurers that do not want to pack much luggage on their camping trips. They are very light and compact, but that does not compromise their strength, especially in heavy winds and rains.
These tents are available in a wide variety of designs and are made of high-quality materials to reduce the overall weight while carrying them on your back. Although they are pretty expensive, they are truly worth every single dime you invest in them. However, you can also find budget varieties, but they will come with fewer features.
Pros
Lightweight
Easy to carry on your back
Durable
Hold excellent on rain and wind
Made of top-notch materials
4. Geodesic and Semi-Geodesic Tents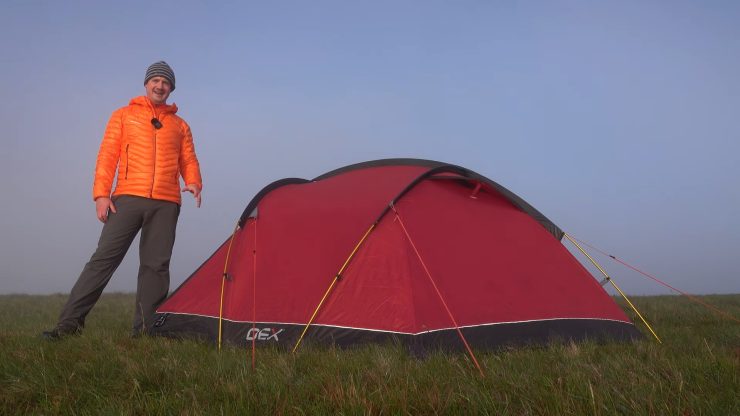 Geodesic and semi-geodesic tents typically have multiple poles that cross each other in their construction. These poles are very solid, and you can find between four and eight in each tent. These types of tents are very popular among mountaineers and family campers since they provide lots of livable space.
These tents are generally made of high-quality materials and possess a pretty strong foundation, thus are typically more expensive than some other models in the market. They can hold no more than four people since larger options provide less stability. However, if you require a shelter that can hold up in pretty much any type of weather and environmental conditions, then a geodesic or semi-geodesic tent is the right pick for you.
Pros
Stands solid in heavy winds and storms
Excellent durability
Great for mountaineers and family campers due to plenty of livable space
A good amount of headspace
Cons
A bit harder to set up
Limited sizes
Heavy
5. Pop-up Tents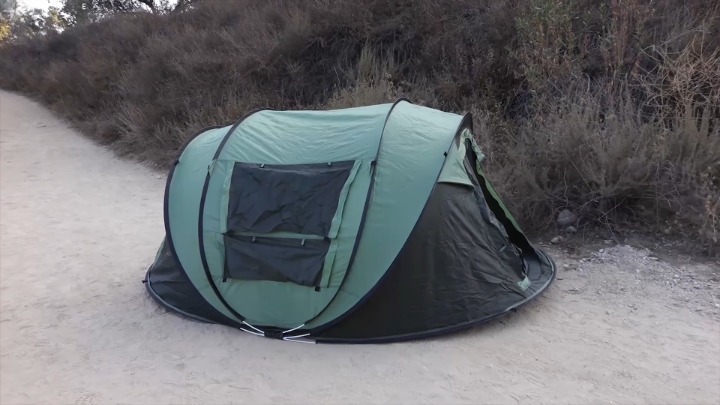 Pop-up tents have grown in popularity over the last couple of decades, and for a good reason at that. They are very convenient and can be used for all sorts of occasions, including camping, barbequing, beach trips, etc. The reason why they are so popular is very simple – they can be set up instantly.
They are designed with spring-loaded poles that can form into shape in just a couple of seconds. Pop-up tents are also highly portable and lightweight, making them super-easy to set up. Perfect for spur-of-the-moment adventures, they can accommodate up to six people. They are also inexpensive and great for summer camping adventures.
Pros
You can set them up in just a couple of seconds
No poles – less hassle
Small size and very portable
Cheap
Cons
Unstable
Does not hold up well in harsh weather conditions
6. Inflatable Tents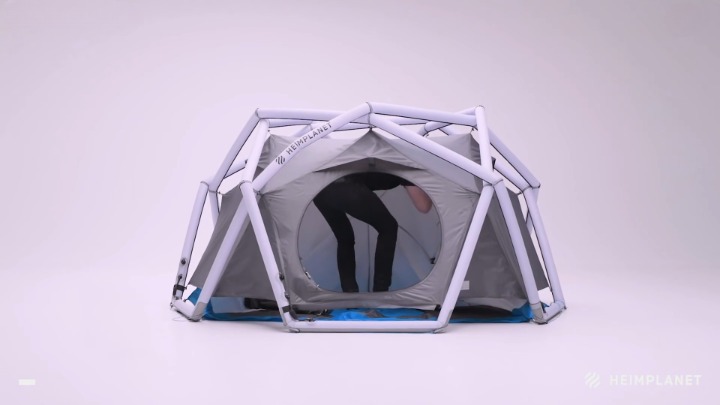 The inflatable tent is another modern-day product that has grown in popularity recently and revolutionized the market that deals in camping gear. Although they are not the best choice when camping in the backcountry, they are pretty good when you need to pitch a shelter quickly.
These tents are an ideal pick for music festivals or overnight camping trips. They are available in various shapes and forms, so finding the one that will suit your needs best is not a difficult task. Some of the main advantages of this unit are quick setup and excellent packability. However, they are quite fragile and can pop when in contact with sharp stones or edges, and they do not hold well in windy conditions.
Pros
Quick setup
Lightweight and excellent packability
No poles
Various size options
Cons
Can pop, rendering them useless
Not convenient in the backcountry
7. Tunnel Tents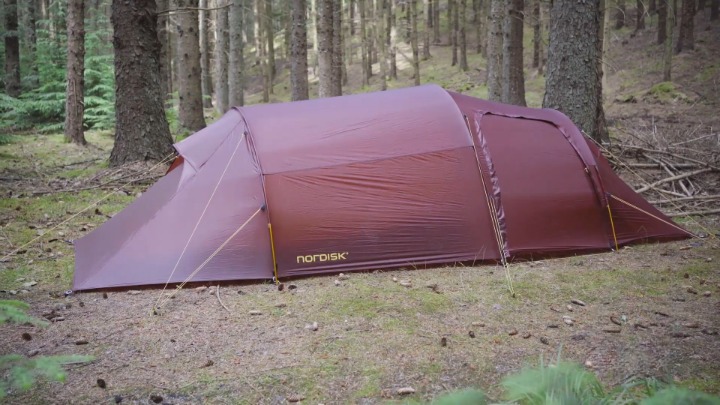 A tunnel tent is a type of tent that you surely had an encounter with at some point. It is easy to recognize due to its distinctive caterpillar-like design. These tents feature flexible poles that are attached on both sides of the tent, and they form a tunnel shape.
When set up properly, tunnel tents can hold up in both windy and rainy weather. They provide lots of headspaces and provide excellent comfort. Tunnel tents are also great in terms of storage space, and they have large vestibules, making them a great pick for longer outdoor adventures.
Pros
Lots of livable space
Comfy for larger groups of campers
It holds very well in both wind and rain
Easy to set up
Cons
Heavy
Top-notch models are very expensive
8. Bivvy Tents, Bivvy Sacks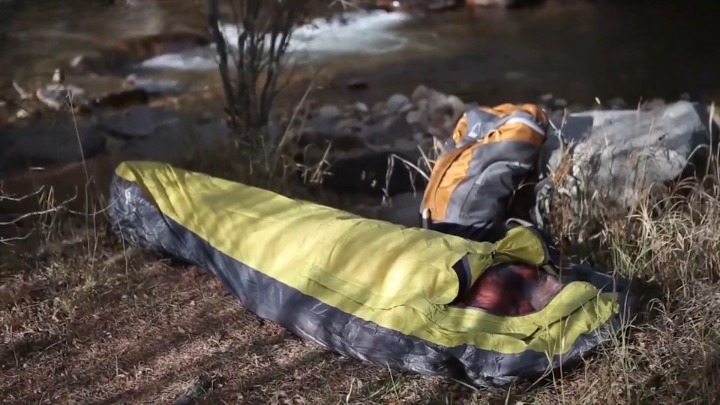 Bivvy tents are an excellent choice for campers and mountaineers who want to save weight and carry as little as they can. This is due to the fact that these tents are rather small and feature just enough material to shelter a single person from various weather and environmental conditions.
These tents are designed for low-profile campers and are not meant for luxury. They are generally made of very light and durable materials to minimize the weight the campers need to carry. This type of quality does not come cheap, so if you plan to invest in such a unit, make sure to save up a substantial amount of money.
Pros
Lightweight
Easy to carry
Compact
An excellent pick for smaller campsites
Cons
It can only fit one person
Bad choice for claustrophobic people
Pricy
9. Multi-Room Tents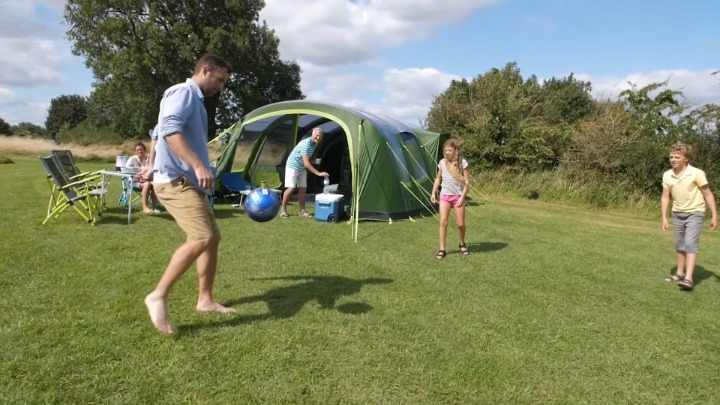 Multi-room tents are by far the best camping choice for families and larger camping groups. As the name suggests, these tents offer several rooms to ensure every camper gets a sufficient amount of living space and privacy inside.
They generally have a cabin or tunnel shape with lots of space. Some types also have several entrances and room dividers to give even more privacy. That being said, these units are not flawless and are usually very heavy and bulky. They also do not hold well in harsh weather, so it is best to use them in dry conditions without wind.
Pros
A lot of room and privacy features
Tall enough to stand up in it
Interior room dividers
Multiple entrances
Cons
Heavy
Bulky
It does not hold well in heavy rain and wind
10. Hammock Tents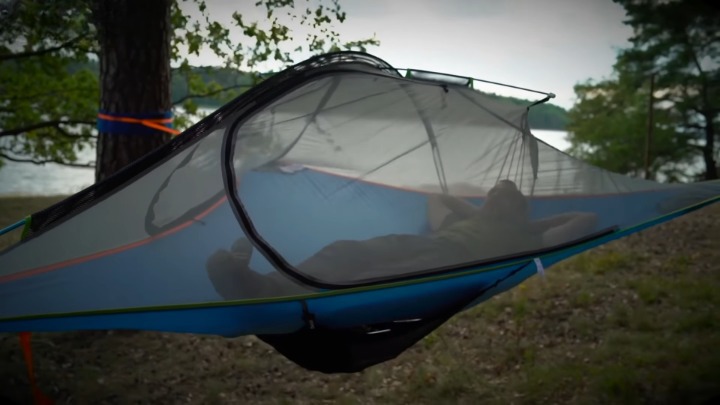 Hammock tents are a fantastic alternative to traditional tents as they can keep you clear from the cold and wet ground. These are small tents that are lifted off the ground and are great for the campsites that do not offer a lot of room to pitch a tent.
They usually have some type of bug net and rain fly that can pitch over a hammock to shield a camper during the night. These are the perfect choice for campers who like hammock camping in pretty much any condition. They are also fairly easy to set up and pretty light, so you will be able to move them from place to place without issues.
Pros
Built-in bug net
Lightweight
It offers all the comforts of a hammock
Easy to set up
Good protection from the rain
Cons
Limited living space
Difficult to find in today's market
Final Words
This concludes our article about types of tents and their uses. We hope you liked our picks because it was difficult to list only ten with so many options in today's rich market. A tent is one of the best outdoor shelters for camping and outdoor living, so when purchasing such a product, you should weigh your options carefully, and we believe that this article will help you do just that.
Sources:
https://www.curated.com/journal/6000/what-are-the-different-types-of-tents
https://www.curated.com/journal/6000/what-are-the-different-types-of-tents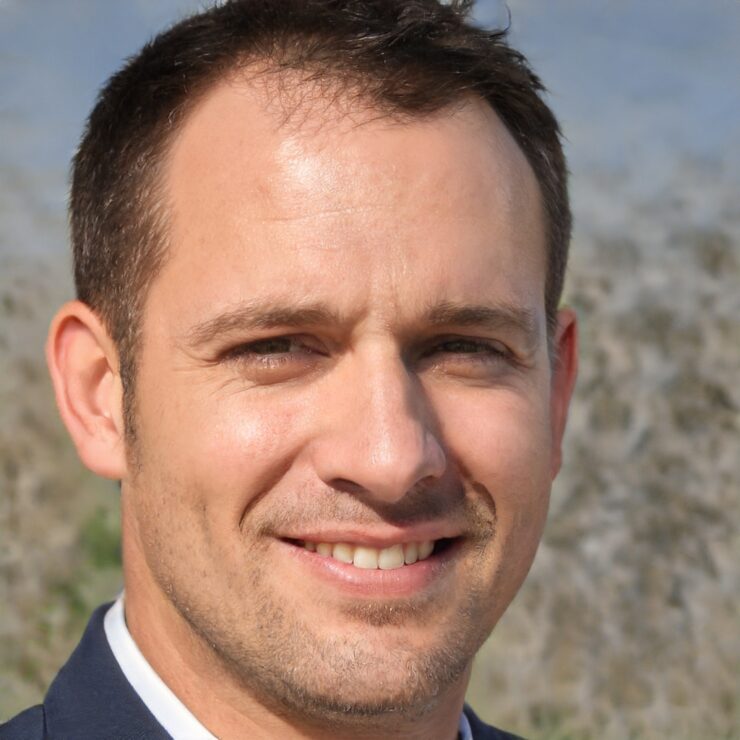 The outdoors is my playground 24/7, 365. Camping, hiking, mountain biking, grilling and all things related to the planet are my jam.