Sleeping in a hammock is ideal for an individual but what about for couples? Many people who have tried to sleep with two people in a hammock have found it uncomfortable but there are a few methods that you can use to make it work.
The methods that I found for sleeping for sleeping with two people in a hammock are; the double hammock, the side by side tandem system, hanging two hammocks vertically and using a Tentsile system. All of these methods have pros and cons which I will take a look at in detail.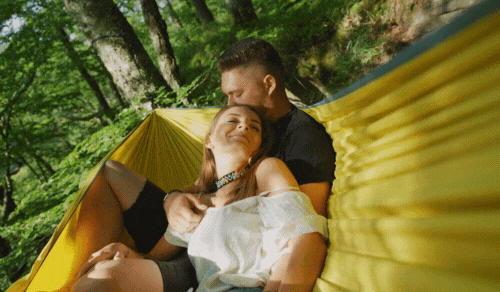 Should Couples or Pairs Switch from a Hammock to a Tent?
Before I start telling you about the options that I have found for hammocking camping as a couple, I will give my opinion whether or not you should leave the tent at home and pick up a hammock.
I think that tenting in a hammock as a couple is more difficult to do comfortably than in a tent but it can be done. The gear that you need in order to do it is more particular and can be expensive. I think that if you are satisfied camping in a tent as a couple then you should stick with it.
If you do decide to try camping as a couple in a hammock then I would suggest doing it knowing that many other people do so and switch back. You may not want to invest too much money when you are starting out doing this.
The Double Hammock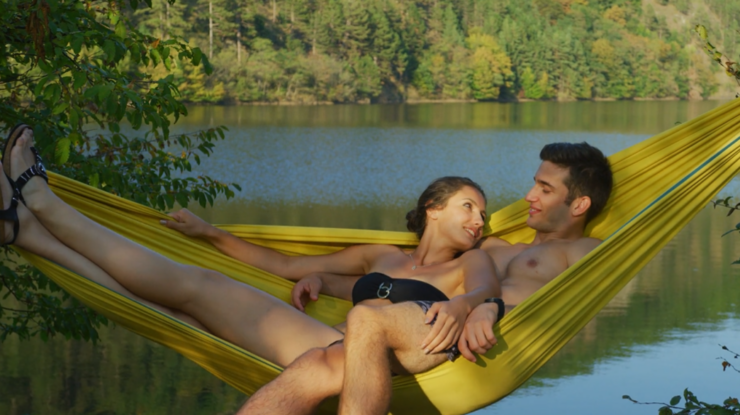 Many companies make double hammocks. Many people try them and find them uncomfortable to sleep in with two people even though they are marketed for that purpose. There are a few things that you can do to make Hammock Camping in a double hammock more enjoyable, but it is not my recommended method for hammock camping as a couple.
Examples of double hammocks would be the Eno Doublenest and the Therm-a-Rest Slacker Double. There are also a number of cheap options on Amazon if you are looking for something that isn't going to cost you very much. I would only recommend cheap hammocks for casual use.
Pros
Lightweight – One of the big Pros to sleeping with two people in one hammock is it is a very lightweight solution to couples hammock camping. it really only adds the weight of a bit of extra fabric to your whole setup.
Togetherness – One of the big reasons that people want to sleep together when they are camping is to have that sense of togetherness. This solution will help you achieve your goal of sleeping together in a hammock but sometimes this is not always a good thing as I will mention in a minute.
Body Heat – One of the benefits of sleeping beside somebody is that you can share body heat. This is great for those cool nights when camping solo just doesn't cut it. You are still going to have to worry about insulation though.
Price – If you were literally starting with nothing then this would be the cheapest option for you. if you're only going to go hammock camping once or twice then you can buy a very cheap hammock on Amazon. If you already have a single hammock then this might not be the best option for you as far as price is concerned
Cons
The warmth from Below – As I mentioned earlier, most of the time when your hammock camping you want to have some sort of insulation to lie on. hammock camping in a double hammock is tricky if you are trying to use a sleeping pad. If you are buying equipment and choose to go with a parachute double hammock then I would suggest trying to find a pad that is wide enough for both of you; two pads will be a nightmare. An underquilt may work best with a double hammock.
Weight Limit – One thing you would think when you're buying a double hammock is that it would be able to hold double the weight of a single hammock. This is not usually the case. For example; according to REI the Eno Doublenest's weight limit is the same as the Singlenest's. with a weight limit of 400 lbs. the solution may not be the best for everyone
Space – I mentioned togetherness as a Pro but it is also a Con as well. When you're sleeping in a hammock with somebody who moves a lot in their sleep, you are not going to be able to get a good night's rest yourself. Also if someone has to go to the bathroom at night then the other person is almost guaranteed to be woken up. To me, the lack of space really kills the double hammock for two people idea.
Side by Side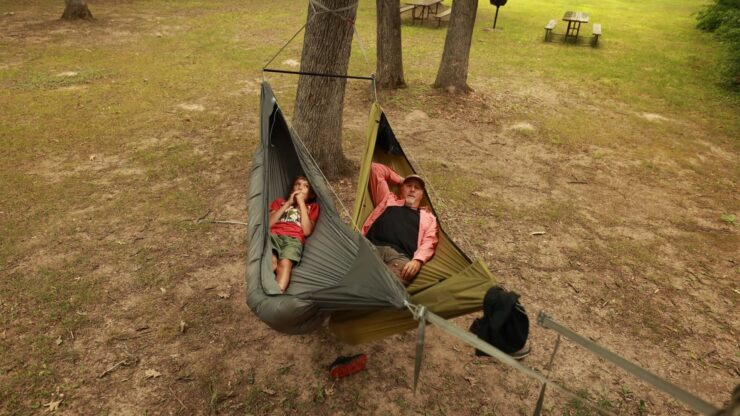 Sleeping side by side in two different hammocks, for me, is the most appealing way to go Hammock Camping. It may not be what everyone thinks of when they think of camping as a couple but it looks like it works. Using a side by side tandem system You are able to lay so close to another person that you can hold their hand. In fact, you are being anchored to the same two trees.
The only product that I'm able to find that allows you to lay side-by-side from the same anchors is the Eno Fuse Tandem Hammock System. It is basically a spreader bar that you hook in between your suspension. If you knew what you were doing this would actually be not too hard to make. Perhaps I will try this and make a guide in the future. If you feel something like this yourself please let me know in the comments below.
If you own an Eno Fuse Hammock System I would also love to hear from you so please drop me a message and let me know what you think.
Pros
Closeness – Although you can't get as close as in a double hammock, you can get pretty close using a side-by-side hammock system. You can get close enough to hold hands, and even sit inwards together for an intimate conversation.
Simple – Hanging two hammocks together using a spreader bar like system is pretty simple, you could even make spreader bars yourself at home. If you do try to make something please make sure that you know for a fact that the material you are using can hold your weight. Remember that anything that you do at home is at your own risk.
It's Easy to Add In – Not only is the science and application behind this type of system simple but it's also easy to add to your existing setup if you have two hammocks. You literally just have to throw the spreader bars in there and you are done.
Cons
You Need Two Sets of Everything – With the exception of maybe a rain fly and a few other small nick-nacks, you need to have two complete hammock setups in order to use the side-by-side method. Though the spreader bars themselves may be light, carrying two sets of suspension (especially easy straps) is not the lightest or most compact way to camp for two.
There Are Not Many Options – As I mentioned earlier there are not many options as far as spreader bars to buy to set up a side by side system. You could buy the ENO Fuse or make them on your own but I couldn't find another way to do it. If you know somebody else who sells something like this please let me know.
Vertical Hang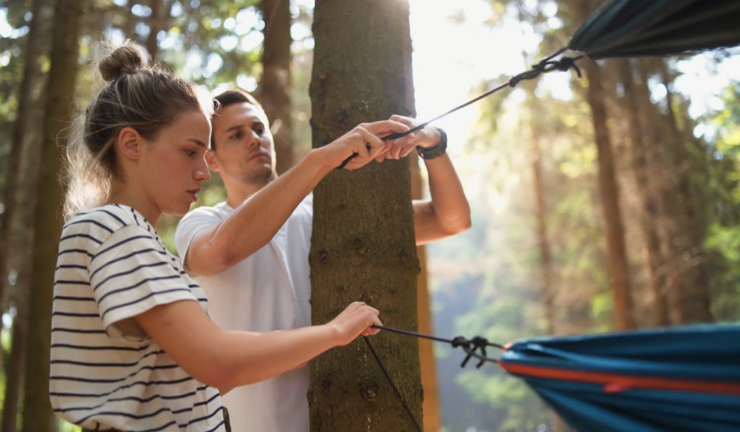 If you've been researching hammocks or have been looking at hammock pictures then you have probably seen people with vertical hangs set up. By this, I mean having multiple hammocks set up one on top of the other between two trees. Some of the setups that I've seen have had up to half a dozen hammocks or more set up this way.
A lot of people find setting up multiple hammocks vertically like this fun but you have to keep in mind that there are some issues with doing this, the most important being safety. It's always important to make sure that you understand the risks of what you're doing and setting up a hammock super high in the air certainly has risks.
Pros
You Don't Need Much Space – The major benefit to doing vertical hangs is that you do not need much space whatsoever. Only two trees are needed and you are not going to be any wider than a single hammock after it's all set up. You can hang a lot of hammocks doing this. Theoretically, the only limit is the height of your anchors.
You Just Need Hammocks – For this setup all you need is hammocks. You can set them up any way you want and they don't have to be the same make and model or shape.
Cons
Safety – I'm going to say this again but safety should be your main concern. You may be able to set up two hammocks one above the other without having to worry about it being at a safe falling height, but you certainly can't do half a dozen without going into unsafe territory.
Convenience – If you are climbing up over someone else's hammock to get into your own then it's just inconvenient for both of you, especially in the dark. Remember you don't only have to worry about your hammock failing but you also have to worry about being able to climb into it.
Tensile Hammock
Tentsile is a company that makes hammocks. The Hammocks that they make are much different than other ones from other companies, specifically in the way that they anchor to trees. Tentsile "Tree Tents" and "Giant Hammocks" anchor to three trees instead of two. These two unique types of hammock are very cool and I haven't seen anything like them anywhere else.
Tentsile Products are not the most cost-efficient but I would have to say that they look like they are the most complete package for somebody looking to sleep two people in a camping hammock. I have never tried a Tensile product, However, it is very tempting to buy one based on how stable and comfortable their tree tents look.
If you have tried a Tensile hammock, or if you have one yourself, please let me know because I would love to hear your feedback. You can leave a comment below and please correct me if something I say below wrong.
Pros
They are More Stable – Because Tentsile products use three anchor points they are super sturdy. This causes less movement when your partner shifts at night or gets up to go to the bathroom. This is a huge problem with double hammocks as I had mentioned earlier.
They Have Higher Weight Limits – These hammocks generally have higher weight limits than your ordinary hammock. The two-person ultralight model that they make can hold up to 485 lbs. Tentsile even makes a hammock that can hold up to 880 lbs and is designed for three people.
All the Things Needed for Camping- If you were to get one of their hammock tents or "Tree Tents" then you will get all of the extras that come with hammocks made specifically for camping. This includes an integrated bug net and rain fly. You can also buy just the hammock itself if you purchase one of their "Giant Hammocks"
There's Lots of Space – There is a lot of space in these shelters. You can stretch out fairly wide and on their website, there are pictures of people laying on their front. This is exciting because space can sometimes be challenging in a traditional hammock system.
Cons
They're heavy Heavy – These hammock tents are not very light, at all. In fact, their Ultra lightweight two-person model weighs in at 7 lb. This is because of not only the camping extras (which should be included in a camping system) but also because it uses poles and ratchets in order for setting up. This looks basically like setting up a hammock and a tent but all in one.
It's Costly – The big reason why I haven't tried this yet is it is costly. You are buying what appears to be a very high quality tent that you can hang in the trees so it sounds like the cost is worth it. That being said I would not recommend this to someone who doesn't go camping often because of the cost. I cannot wait to try this out someday
My Final Thoughts
All four of these methods can be done and can be done so that your camping trip with your partner is comfortable. It is important to realize that having two people camping in one hammock doesn't work out well for everyone and I think people should remember that when they are preparing for their first time.
I think that the most important thing to remember if you are trying to use a double hammock is to have insulation that will work for both of you. I think that the best solution to this is an underquilt, but you may be to make it work with a large enough sleeping pad. You still might find that the two of you end up on top of each other though.
I personally would choose the tandem side-by-side method as it would fit my budget and would still allow for the closeness I am looking for. I do think the Tentsile Tree Tents look really cool and I hope to try them out someday;
There is no doubt in my mind that they are wonderful but I can't afford to try them yet. I'm not a huge fan of the vertical hanging method because of the safety concerns and it's not the type of closeness that I think people strive for when they are going camping as a couple.
There is no wrong way to camp with your hammock. I hope that you are able to find a way to camp comfortably that works for you and your partner. If you found your answer to hammocking as a couple somewhere else please let me know in the comments below, I would love to hear what worked for you.
References:
https://www.healthline.com/health/sleep/sleeping-in-a-hammock